Ever wondered what to do with your waffle maker aside from breakfast treats? Feast your eyes on this list of easy and inventive waffle iron recipes!
A waffle iron is a kitchen must-have. And if you think it's money wasted on a gadget that can only cook one thing, you're about to think twice! With a good quality waffle iron, you can create delicious snacks, mind-blowing desserts, and filling meals. That's a full day's menu on just one appliance! Truly, a waffle iron can provide a selection of sweet and savory treats satisfying enough for the entire family. If you still don't have a waffle iron on hand, don't hesitate to invest in a good brand so you can try these inventive waffle iron recipes. It's worth your money and time!
Inventive Waffle Iron Recipes You Must Try!
Time to discover the waffle iron and its uses. Aside from giving you the best-tasting waffle, did you know that there are tons of recipes you can make with your waffle iron? Waffle an egg? Yes! Waffle a mac and cheese? Yes! Waffle a churro? Absolutely yes! A waffle iron is truly a must-have kitchen helper anyone should keep. It makes your cooking easier and a lot quicker. Not only that, it also creates snacks, desserts and even meals that taste really fantastic! I myself have one sitting on my countertop. My in-laws gave it to me, and I have been absolutely slaying in the kitchen with it ever since. I have already tried few of these inventive waffle iron recipes, and I am so stoked to try the rest!
1. Pumpkin Waffle
This pumpkin waffle isn't too late for the fall season. The mixture is well-spiced and packed with the delicious flavors of fall. Try this waffle with a scoop of vanilla ice cream and it's an instant dessert!
2. Ice Cream Tacos
Who would have thought a simple waffle maker can create a beautiful and drool-worthy concoction. These ice-cream tacos are an absolute crowd-pleaser dessert to serve at your next brunch!
3. Ham, Egg, and Cheese Biscuit Wafflewiches
Start your day off right with these savory and tasty wafflewiches loaded with your favorite morning treats. Ham, egg, cheese, and biscuits, and waffle–all in one easy dish!
The Texas Waffle Maker
FLUFFY, THICK, DELICOUS: Your mouth will water as the smell of waffles fills the kitchen and the steam starts to rise from...
MADE WITH QUALITY: Our premium waffle maker is made of durable stainless steel, boasts large non-stick grids, and has...
EVERYTHING'S BIGGER IN TEXAS: Our Extra Large Non-Stick Grids will make a hearty waffle that would make Texans proud
4. Potato, Egg, and Cheese Waffles
A simple potato and egg mixture cooked in a waffle maker for a more enticing look. These waffles are hearty squares of egg, potato, and cheese great for breakfast, brunch, and even for dinner.
5. Cornbread Waffles
These cornbread waffles can be served as a meal, but all the good stuff like chili and fixins' make for a great appetizer or snack while watching your favorite game.
6. Stuffed Pizza Waffles
All the goodness of your favorite snack in between two squares of biscuit dough. This recipe calls for cheese, pizza sauce, and pepperoni but you can definitely add whatever pizza toppings you want. Just make sure not to overload the dough. It's a quick snack the kids will surely love!
7. Waffle Grilled Cheese
Make your grilled cheese sandwich routine more fun and exciting by whipping them up in a waffle maker. It's a unique way of enjoying your sandwich, giving it a nice texture and crunch.
8. French Toast Waffle Sticks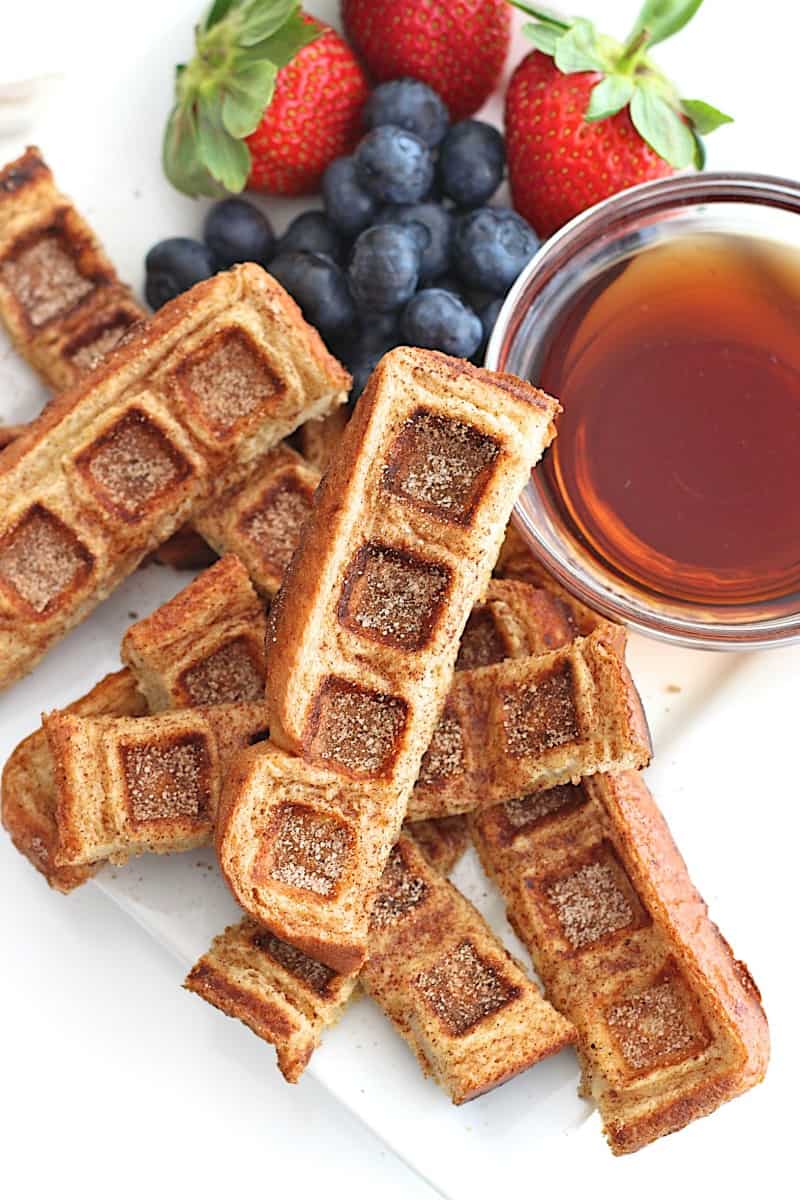 If you're looking for a delightful breakfast or a quick dessert, these waffle sticks got your back! Enjoy these french toast waffle sticks with maple syrup, honey or jam. Yum!
9. Waffle Omelette
If you love having both omelet and waffles every weekend morning but are too lazy to cook both, why not let your waffle maker do the work? Omelet waffles are easy and worth a try!
10. Waffle Iron Quesadillas
Are you looking for the easiest and the quickest way to cook ooey gooey quesadillas? Well, don't forget you have a waffle iron sitting on your countertop. Use that and make a tasty meal in as fast as 15 minutes!
11. Cake Mix Waffles
These cake mix waffles are the perfect go-to dessert you can make every time you're dealing with a last-minute dinner guest situation. They pair perfectly with chocolate syrup and a scoop of ice cream.
12. Apple Pie Waffles
These delicious treats are apple pies taken to a whole new level of yumminess! By using a waffle maker, you can quickly transform a simple apple pie to a dessert everybody will drool over!
13. Bruschetta Waffle Panini
This waffle panini sandwich features a refreshing taste which perfectly complements with the melty cheese and bread. Every bite is bursting with tangy and fresh flavors from onion, tomato, basil, and balsamic vinegar.
14. One Minute Waffle Iron Baked Apples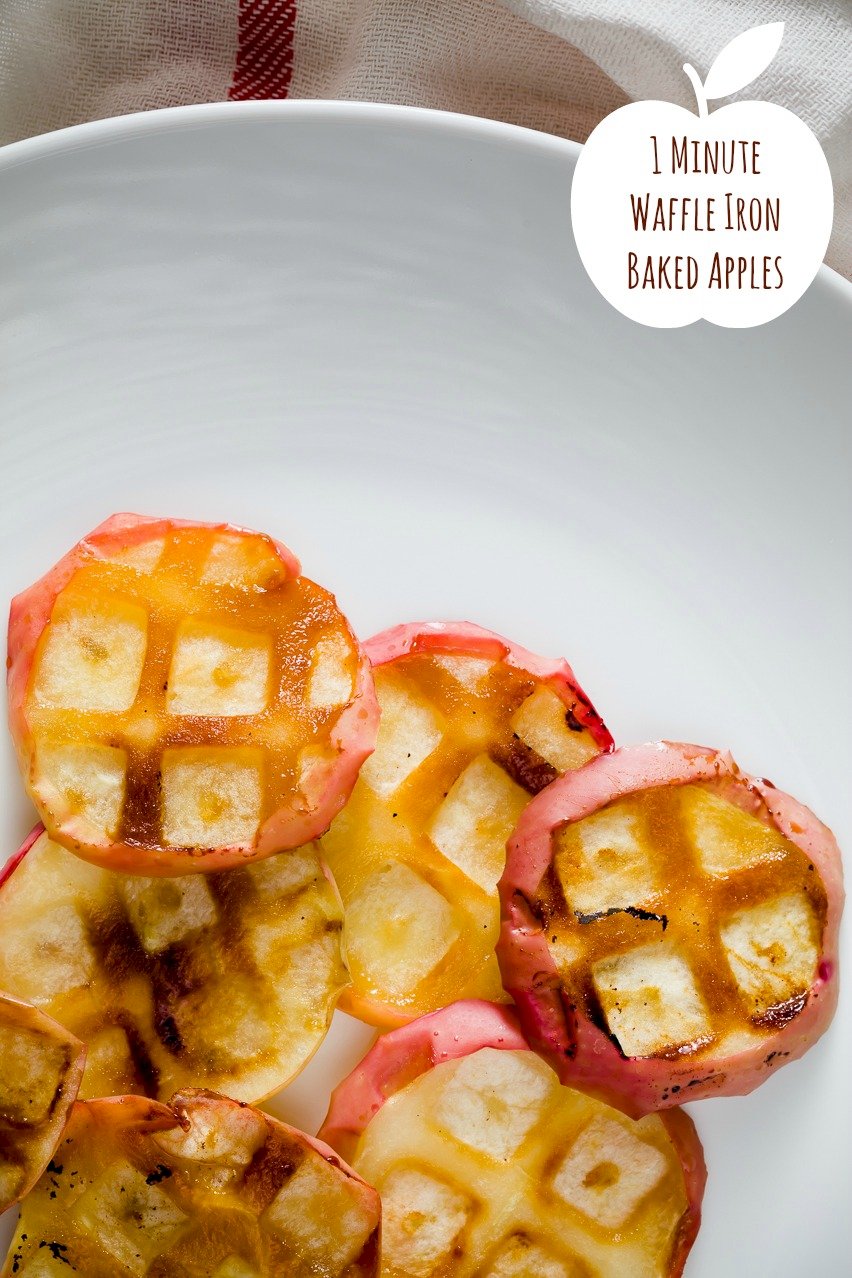 In one minute you can whip up a delicious and healthy treat for your kids. So instead of serving a bowl of chips, plug in your waffle maker and try these waffle iron baked apples.
15. Waffle Macaroni and Cheese
Breakfast for dinner, anyone? Bring your leftover mac n' cheese back to life with this easy and fun recipe. This waffled macaroni and cheese is perfect for brunch, snack time and for a quick and light dinner.
16. Honey Dipped Doughnut Waffles
With one bite, indulge in the heavenly goodness of waffles and doughnuts made even tastier with applesauce and a splash of honey on top. These doughnut waffles are the perfect treats to pair with coffee.
17. Peanut Butter and Strawberry Jelly Compote Waffles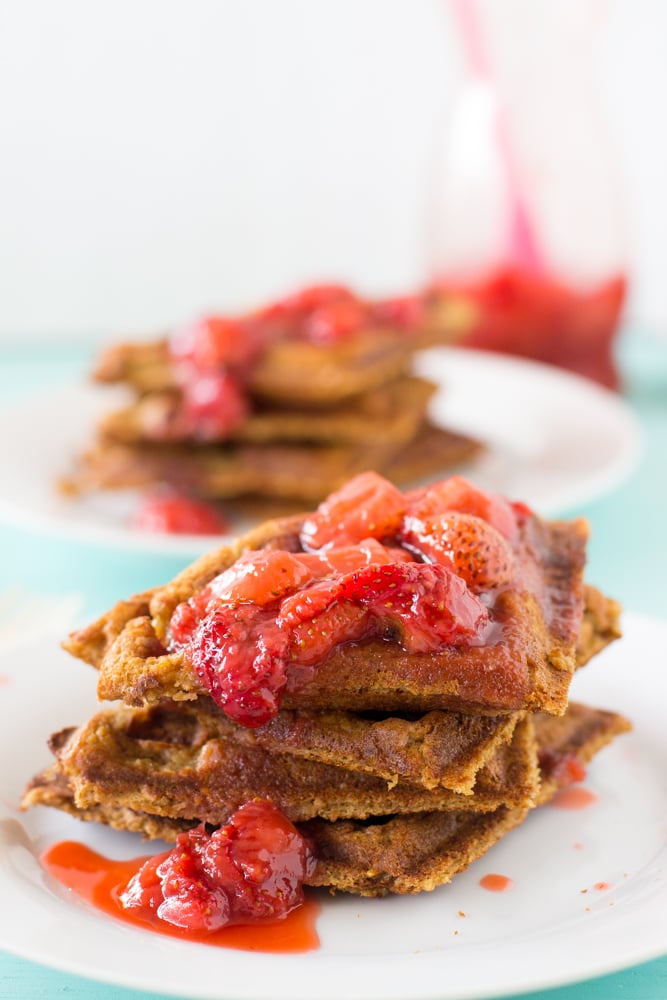 Peanut Butter and Strawberry Jelly Compote Waffles are the ideal treats for our health-conscious friends. They're completely gluten-free and vegan-friendly, so you don't have to worry about overeating. You will stun everyone with this delightful dessert!
18. Mashed Potato, Cheddar and Chive Waffles
Enjoy a classic all-time favorite in a more exciting way. These mashed potato waffles are no ordinary globs of carbs. They are covered with oozing cheese and sprinkled with chives!
19. Leftover Stuffing Waffles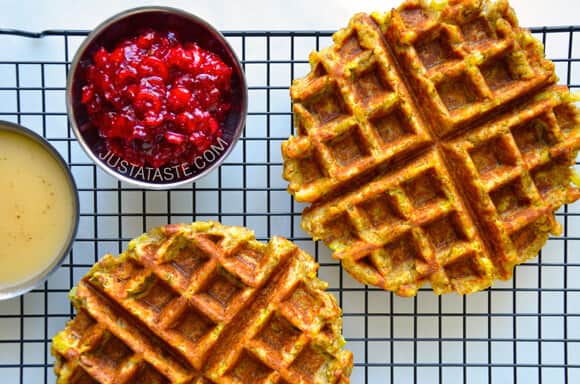 Leave nothing to waste with these awesome leftover stuffing waffles. You can also pair these waffles with you leftover cranberry sauce sitting in your fridge. Super easy recipe that is sure to please!
20. Churro Waffles
When churros and waffles met, it gave rise to a decadent treat! It's easy and insanely tempting! If you haven't tried churros before, this recipe is the best way to start with.
21. Waffled Cinnamon Rolls
I've been trying to switch things up every week, and that's how these waffled cinnamon rolls landed on our breakfast plates. And since they're so easy and so yummy, I don't get tired preparing these waffles for my family.
22. Waffled Soft Pretzels
Simply prepare some pretzel dough and cook it in a waffle maker and you can enjoy these soft and tasty waffled soft pretzels. Dip it in your favorite syrup and jam for an extraordinary dessert experience.
23. Oatmeal-Chocolate Chip Waffle Cookies
These mini waffles a.k.a. oatmeal chocolate chip cookies are the cutest things you can make in your waffle maker. They make a great snack to put in your kid's lunchbox or as after-school snacks.
24. Jam-Filled Waffle Pops
Who doesn't love waffles on a stick? And not only that! These treats on a stick are filled with strawberry jam, making them the sweetest waffle you'll ever have!
25. Sweet Potato Waffles
Try these sweet potato waffles and have a tasty and healthy option for your meals and snacks. Use them as sandwich bread or just eat them plain or with dipping sauce.
Watch this quick video tutorial from Tasty and learn how to use your waffle maker for delicious waffle recipes:

I'm sure you're going to want to invest in a good waffle maker after these incredibly unique waffle iron recipes. You should! These recipes are just some of the most amazing things you can cook with your waffle maker. Now, your waffle maker is an indispensable kitchen gadget from breakfast until dinner. That's why it's a must-have appliance for your kitchen. I hope you enjoyed these inventive waffle iron recipes as much as I do!
What do you think of these inventive waffle iron recipes? Which recipes are you planning to try? You might also love these 14 Muffin Recipes To Stuff Your Face With. Share your experience with us in the comments section below.
Don't forget to keep in touch, foodies!
Sign up for our newsletter here!
Also, make sure to follow us on social media too:
Facebook
Instagram
Pinterest
Twitter
Tumblr