Enjoy healthy living with these flavorful black bean quesadillas. These quesadillas recipes are fast and simple to prepare, and taste fantastic with less calories!
Flavorful Black Bean Quesadillas Without The Guilt!
Black beans are a great source of fiber and essential vitamins. One of the best ways to enjoy black beans and add them to our meal is by throwing them in a quesadilla (one of my favorite Mexican dishes). Aside from being quick and very easy to cook, they also are perfect any time of day whether you crave for a quick lunch, a guilt-free snack, or a light dinner meal. Go ahead and take a look at this list of healthy black bean quesadillas.
1. Black Bean and Corn Quesadillas
These black bean and corn quesadillas are the perfect addition to your diet plan. They're made with low carb wraps, veggies, cheese, and taco seasoning. This recipe takes 10 to 15 minutes to prepare from start to finish.
2. Chipotle Black Bean and Avocado Quesadillas
Eating healthy doesn't mean bland snacks. These quesadillas are an example of healthy, delicious, and flavorful snacks. How to make it? Just combine cooked black beans with avocado mixture and cheese, sandwich them in between two tortillas, brush the sides with olive oil and cook over low heat until brown and crisp.
3. Black Bean and Sweet Potato Quesadillas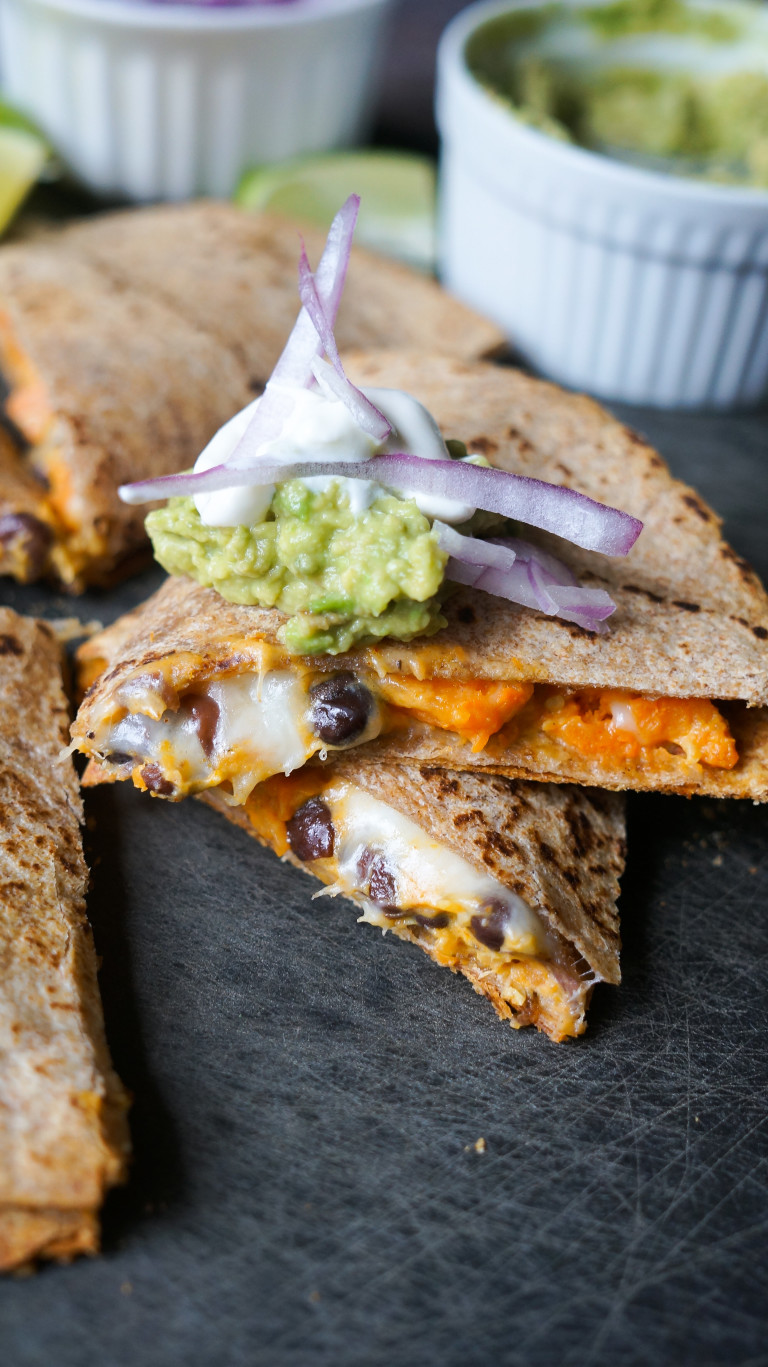 You can't go wrong with sweet potatoes, especially when you put them in quesadillas along with black beans, cheese, and incredible seasonings. If that tickles your taste buds, this recipe is worth a try! These black bean and sweet potato quesadillas also taste fantastic when served with red onions, avocado, lime juice, and a dollop of sour cream.
4. Oven Baked Black Bean and Cheese Quesadillas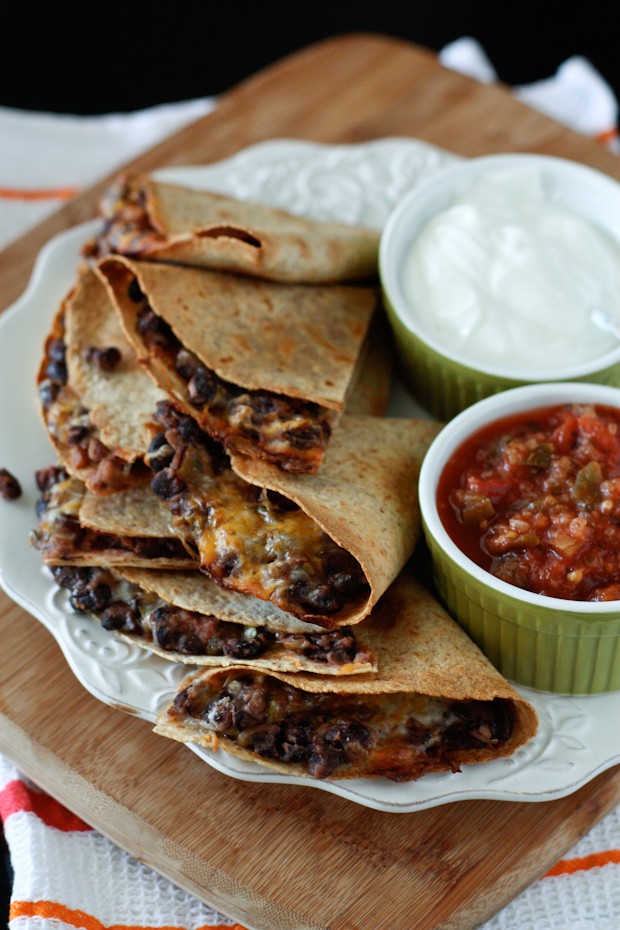 These black bean and cheese quesadillas make a great healthy snack any time of the day. They are quick and easy to make plus they're a great source of fiber. You can make these quesadillas by mixing black beans with salsa, cumin, and cheese. Spread the mixture evenly on a tortilla and bake for 20 to 25 minutes. You can also tweak the recipe a bit by adding some onions and chopped cilantro.
5. Chicken and Black Bean Quesadillas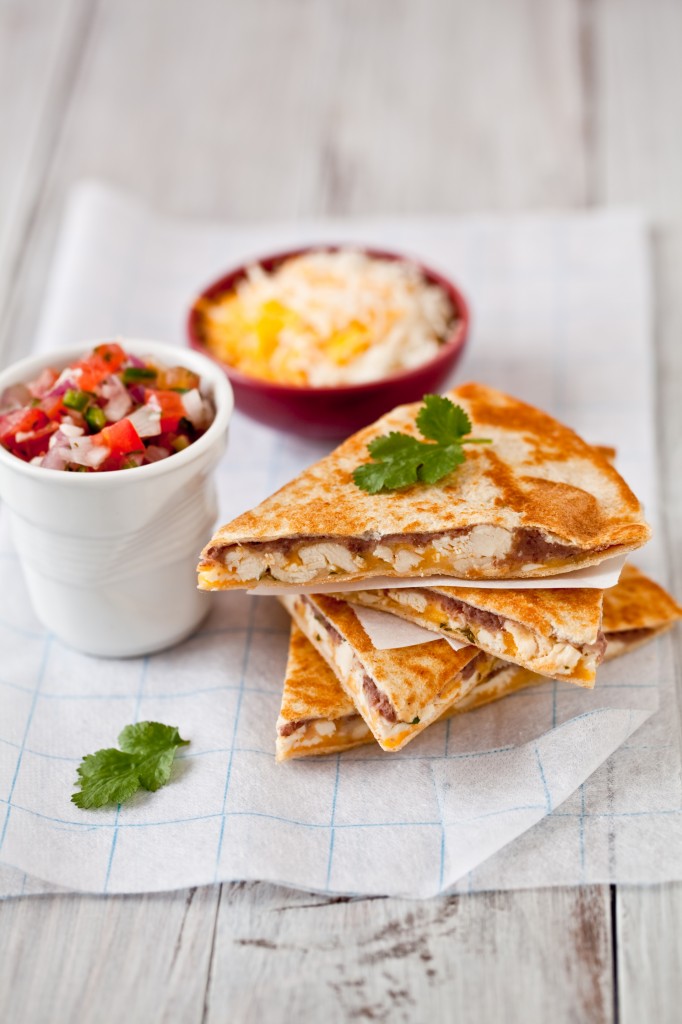 If you're looking for a light dinner, these chicken and black bean quesadillas will be a big hit tonight! These are loaded with marinated chicken and black beans mixture which is cheesy, zesty, and so good! These quesadillas also take a few minutes and cook really fast!
Transitioning to a #vegetarian lifestyle has never been this satisfying and easy!https://t.co/8OyiPWDMAs pic.twitter.com/kHGDolKLRj

— Homemade Recipes (@BestHomeRecipes) February 23, 2017
6. Black Bean and Tempeh Quesadillas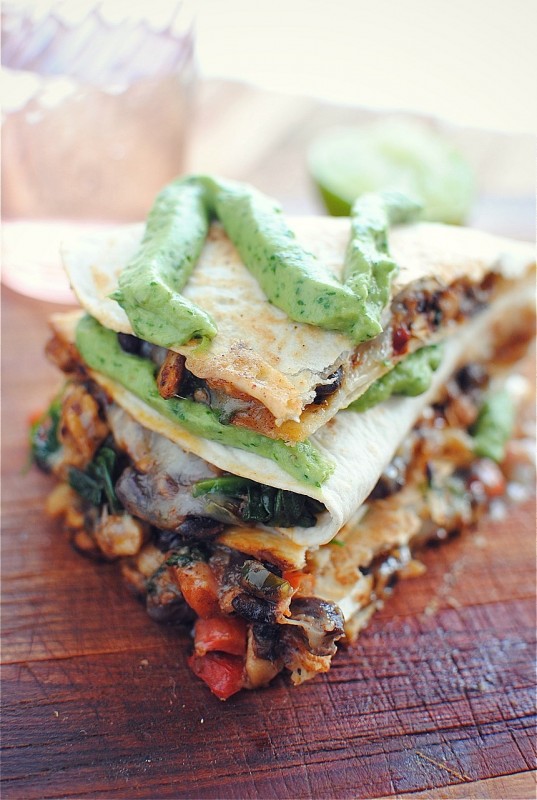 Have you ever heard of tempeh before? Tempeh is a soy product from Indonesia. It's like tofu, but not quite. If you want to try it, these black bean and tempeh quesadillas are a great way to get you started. To make the filling, you just need to saute bell peppers, garlic, black beans, spinach, and tempeh then add the seasonings. Cook the tortilla with the fillings and cheese and that's it!
7. Black Bean Quesadillas with Garlicky Shishito Peppers
What makes these black bean quesadillas really flavorful is the presence of shishito peppers in the filling. Shishito peppers add a nice flavor which is mild and slightly sweet. This recipe takes 25 minutes and it's simple to put together all you have to do is to saute the ingredients together, put them in a tortilla and voila!
8. Quinoa, Corn, & Black Bean Quesadillas
These black bean quesadillas are seriously cheesy and gooey, you can't even tell they're actually healthy and good for you! These are stuffed with superfood quinoa, black beans, corn, and shredded cheese. If you want them more delectable pair them with a yogurt dipping sauce.
9. Kale, Sweet Potato, and Black Bean Quesadillas
Every time I think of this healthy quesadilla, I can only think of yogurt and barbecue dip. To prepare the dip, all you need to do is combine yogurt with barbecue sauce. For the quesadillas, simply sautee kale, corn, and black beans. Once done, place the filling on the tortilla along with cheese and cooked sweet potatoes. And that's it!
10. Broccoli Rabe and Black Bean Quesadillas
Add these broccoli rabe and black bean quesadillas to your vegetarian feast. They're a vitamin-rich meal which you can make in 30 minutes or less. These quesadillas are filled with marinated broccoli rabe, refried black beans with lots of Monterey Jack cheese.
11. Baked Cheese and Black Bean Quesadillas
If you're hungry and looking for a quick recipe, these baked cheese and black beans quesadillas are what you need! To make these hearty quesadillas, you need to mix black beans with corn and onions. Spread the mixture on a tortilla and top it with cheese. Pop them in the oven and wait for 5 to 10 minutes!
12. Black Beans, Beef, and Avocado Quesadillas
Avocado, black beans, ground beef, and cheddar cheese come together and make a delicious filling for this quesadilla recipe. In 20 minutes, you're bound to enjoy a meaty and flavorful black beans, beef, and avocado quesadillas for lunch, snack time, and dinner.
13. Black Bean and Cilantro Quesadillas
This recipe for black bean quesadillas uses canned black beans and brown rice, but feel free to use homemade. You'll also love how easy they're to prepare. This is also so versatile, you can prepare this non-vegan, vegan, or gluten-free.
14. Black Bean & Avocado Quesadillas with Grilled Shiitake
Grilled shiitake is a great replacement for meat. It gives any dish a nice meaty taste without the fats. That's what makes these black quesadillas better than any other recipe. They're filled with black beans, creamy guacamole, and grilled shiitake. Serve these with coriander and enjoy a healthy and tasty snack!
15. Avocado Black Bean Quesadillas
These quesadillas are packed with a delicious filling made with sauteed onions, bell pepper, black beans, and taco seasoning. Don't forget the mashed avocado and lots of cheese for the ultimate healthy and yummy meal.
16. Spinach and Black Bean Quesadillas
These quesadillas are very convenient, you probably have all the ingredients in your pantry and fridge. You don't need special cooking skills to whip up these quesadillas. All you need to do is rub each tortilla with garlic, drizzle with olive oil, sprinkle with cheese, and fill with cilantro, fresh spinach, and black beans. Add a squirt of lime, then cook for 3 to 5 minutes!
17. Mango Quesadillas with Black Beans
This recipe is a good way to use your favorite tropical fruit and incorporate them into your meal. Sweet mangoes are tossed with salt and lime juice and place on a tortilla along with cheese and black beans mixture. To make them more satisfying, a dollop of sour cream is added in every serving.
Are you still looking for black bean quesadillas recipes to try at home? Watch this video from PersonalChefChris and learn the recipe for black bean and corn cajun shrimp quesadillas:

There you have it, folks! These black bean quesadillas are perfect every time you crave for a delicious and healthy meal. These amazing recipes are made with only wholesome ingredients! If you're looking for healthy, quick and easy recipes, this list got you covered!
Which of these black bean quesadillas are you planning to make? Let us know in the comments section below! If you can't get enough of black beans, check out this recipe for One Pot Chicken & Lime Rice Bowl With Black Beans. You'll love it as well!
Don't forget to keep in touch, foodies!
Also, make sure to follow us on Facebook, Instagram, Pinterest, and Twitter!