Nothing goes better with slices of tender chicken than zesty lime rice and black beans, all inside of a delicious bowl.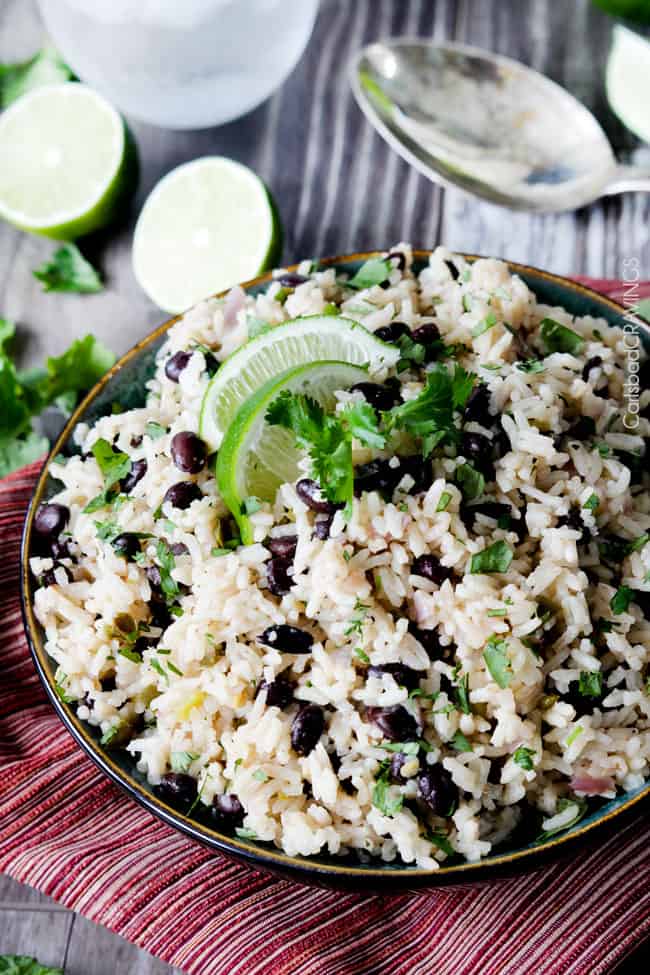 One Pot Chicken & Lime Rice With Black Beans
Just because a dish may be simple to prepare, that by no means should be an indicator of how delicious it will turn out.
Quite the contrary.
All you need are a few select ingredients, and as long as you know what to do with them, you can prepare an amazing dish such as this one pot chicken & lime rice with black beans. Best of all, you can whip up this recipe in a single pot (or pan), making the process in the kitchen as painless as possible for you (less to clean, yay!).
Ingredients:
1 lb. chicken thighs (boneless/skinless) cubed
4 green onions (white ends) chopped
2 cloves garlic (chopped)
1/2 jalapeño (chopped)
3 c. chicken broth
2 tsp. lime zest
1 1/2 c. white rice
14.5 oz. black beans
3 tbsp. lime juice
4 green onions (green ends) chopped
1/3 c. cilantro
Instructions:
Brown the chicken in a deep pan with a little bit of oil, then add green onions, garlic, jalapeño.
Stir then add chicken broth, zest and rice.
Stir again then add beans.
Cook the entire thing while covered under low heat for about 20 minutes (or until the rice is done).
Finally, add lime juice, green onion and cilantro.
Serve.
Watch the GIF below to help you when cooking this one pot chicken & lime rice with black beans recipe!
Don't forget to keep in touch, foodies!
Sign up for our newsletter here!
Also, make sure to follow us on social media too: