Your traditional pot roast will always be the star of the menu, but it's the Christmas side dishes that help it shine making the night extra special!
Nothing completes a Christmas meal like a delightful and yummy side dish on the table. Side dishes add to the feeling of joy and excitement we have while savoring our main course. If you love your side dishes more than anything else, then that make us twins, cheers to that! I know how you feel. Side dishes enhance the flavor and taste of every meal and that's what I love about them. This Christmas season, let us enjoy every moment with the friends, family, and food we love very much.
18 Extraordinary Christmas Side Dishes!
Will you judge me if I say five side dishes just won't cut it? Yes, you heard me right! Every Christmas season, my family are the busiest bees in town. From home decorations, lights, and decorated Christmas cookies for children passing by, my family is all prepared. Of course, you'll see me working my ass off in the kitchen. That's what I enjoy best! And as I have said, five Christmas side dishes isn't enough for me. I want to make many options for my family. As I browsed the Internet for recipe ideas, I decided to collect a bunch and share them with you so you too can have the most delicious side dishes on Christmas day. Take a look at this list, try as many recipes as you want, and enjoy!
1. 
Garlic & Rosemary Skillet Bread
You'll love how this skillet bread transforms from frozen dough into fluffy and delicious Christmas roll that's perfect to pair with soup and creamy chowder on a cold Christmas evening. These are flavored with garlic and perfectly scented with rosemary. Hmmm!
2. 
Roasted Brussels Sprouts, Cinnamon Butternut Squash, Pecans, and Cranberries
This side dish recipe features the best flavors of the winter/fall season. They're roasted and mixed together creating a festive and super flavorful side dish for Christmas dinner. Something really inviting to bring to the table!
3. 
Saffron Rice with Golden Raisins and Pine Nuts
This unpretentious rice dish is a gluten-free and vegan-friendly side dish flavored with saffron threads, golden raisins, and toasted pine nuts. If you can't live without rice like we do, this recipe is something to consider for Christmas dinner.
4. 
Honey Roasted Butternut Squash with Cranberries and Feta
A simple side dish becomes extra special and fancy with a touch of cranberries and cheese on top. Take it from this honey roasted butternut squash with cranberries and feta. It's a side dish with the perfect blend of sweet and savory tastes that's festive enough for Christmas.
5. 
Whole Wheat Lion House Rolls
This bread roll recipe is a guaranteed must-try this Christmas season. It's a healthier choice since it uses whole wheat flour. And though it's healthy, it's still delightful and doesn't skimp on flavor.
6. 
Easy Creamed Corn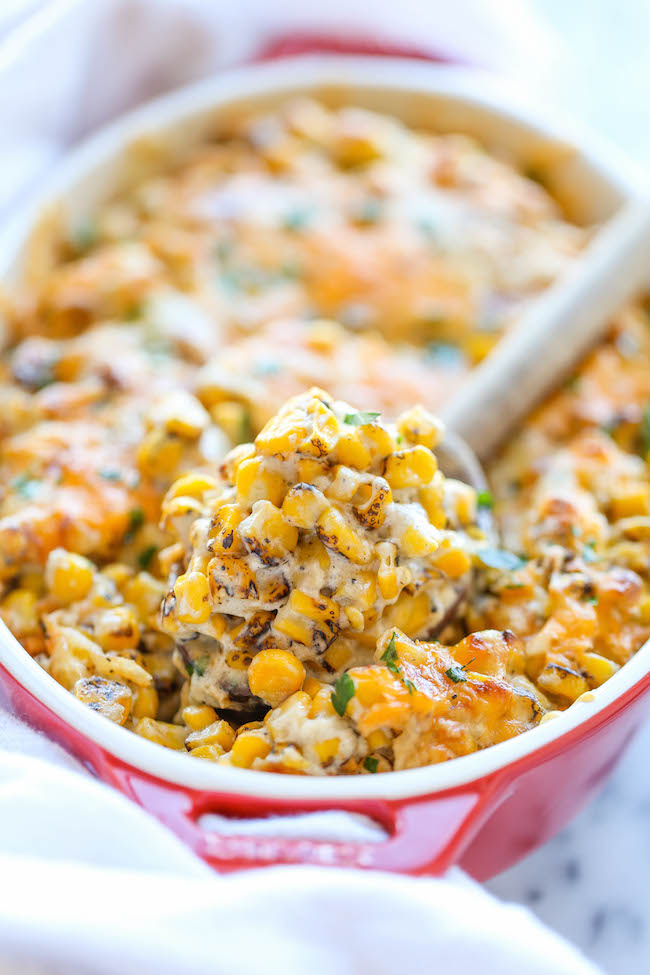 Creamed corn is one of the most famous side dishes during the holiday season and this recipe is probably the creamiest and dreamiest creamed corn you'll ever taste! It's literally the easiest thing ever to make and guaranteed to make everyone go crazy on Christmas day.
7. 
Cranberry Millionaire Salad
Any main dish will become even more extraordinary with this scrumptious cranberry millionaire salad on the side. Thanks to a homemade cranberry sauce, this salad comes with the perfect mellow sweet taste you'll truly love!
8. 
Cream Cheese and Parmesan Asparagus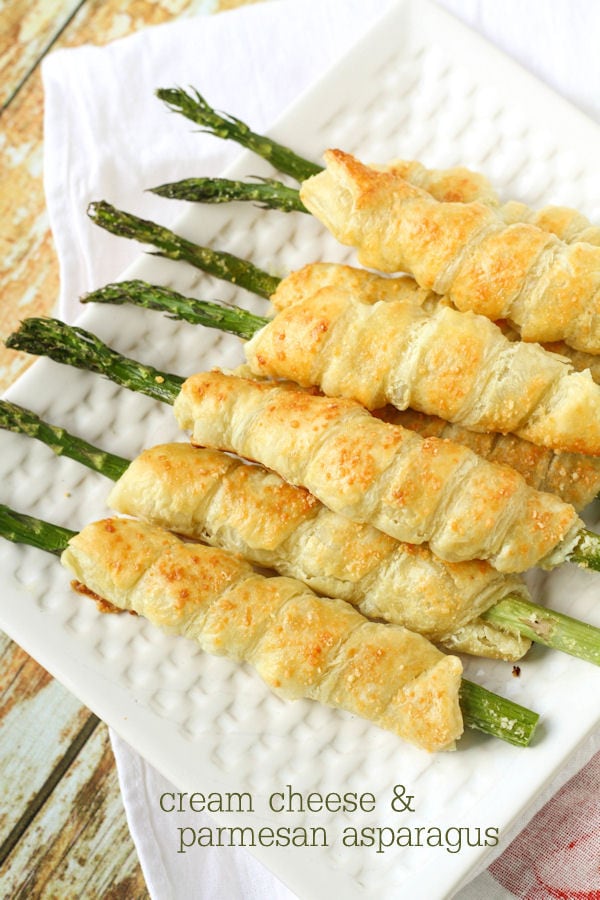 These asparagus spears wrapped in a cream-cheese layered puff pastry and loaded with parmesan cheese are not only elegant enough to serve to adults, they're a kid-friendly side packed with cheesy goodness. A delicious way to enjoy veggies on Christmas day.
9. 
Orange Cranberry Sauce
Cranberry sauce is really hard to resist, especially when it's this good and tasty. The sweetness is complemented by the zesty tang of orange. Imagine this sauce paired with your turkey, bread, and sandwiches.
10. 
Easy Ranch Baby Carrots
Looking for a Christmas side dish recipe? Why not try these baked baby carrots topped off with delicious ranch dressing? It's insanely easy to put together and will add some vibrant color to your Christmas table.
11. 
Corn and Bacon Casserole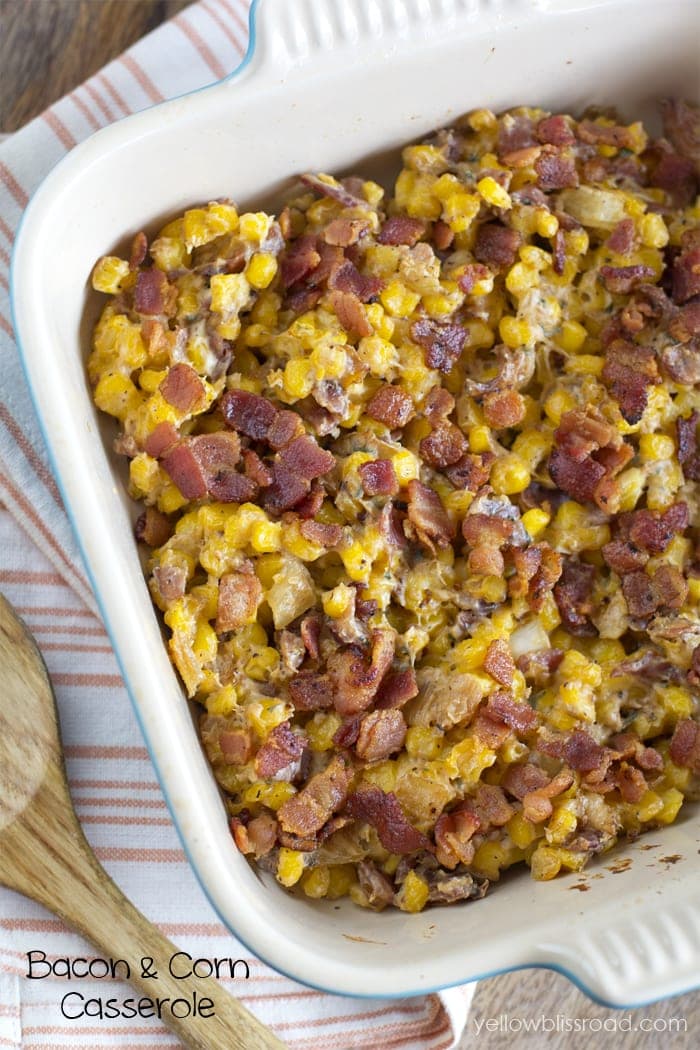 Revamp a simple corn casserole by adding a cup of crispy bacon and you'll have a crowd-pleasing side dish for everyone! A dollop of this tasty sweet corn and bacon casserole alongside your favorite meal will make the evening more special.
12. 
Italian Green Beans
If you don't find this side dish special, just wait until you taste it! I'm sure you'll be surprised and convinced for it tastes so fresh and savory. This is certainly the simplest and the most delish way to eat your green beans on Christmas day.
13. 
Loaded Garlic Ranch Mashed Potatoes
Adding ranch seasoning, bacon, and cheese is a genius way to make your mashed potatoes amazing. You need to try this side dish recipe on Christmas day and experience the awesomeness!
14. 
Cranberry Apple Pecan Wild Rice Pilaf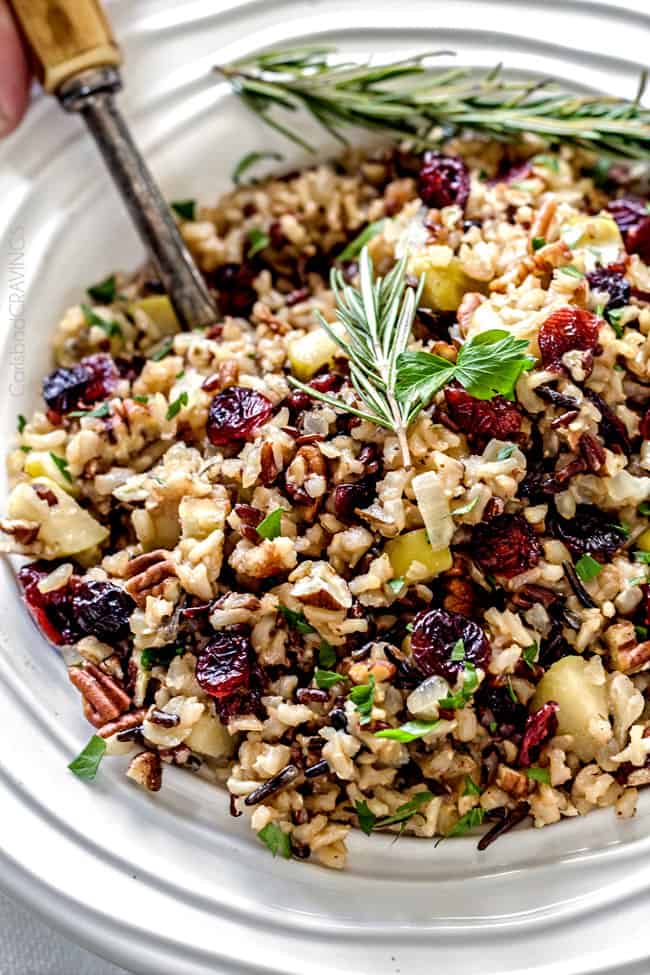 What better way to serve rice during the holidays than by cooking it in herb-seasoned chicken broth? Add even more flavor to it with apple juice, cranberries, pecans, apples, and apple cider vinegar. This is a classy yet super easy one-pot recipe.
15. 
Sweet Potato Casserole with Marshmallows
This is a sweet and pleasing side dish made with sweet potato mixture and a layer of marshmallows on top. Make everyone, especially your kids, extremely happy with this recipe.
16.
Parmesan Garlic Roasted Potatoes
Roasted potatoes can be fantastic and very easy at the same time. This is a straightforward recipe, yet so savory and appetizing! Every mouthful is bursting with flavors you never thought possible with just potatoes, cheese, and seasonings. It's simply amazing!
17. 
Browned Butter Mashed Parsnips with Coriander and Thyme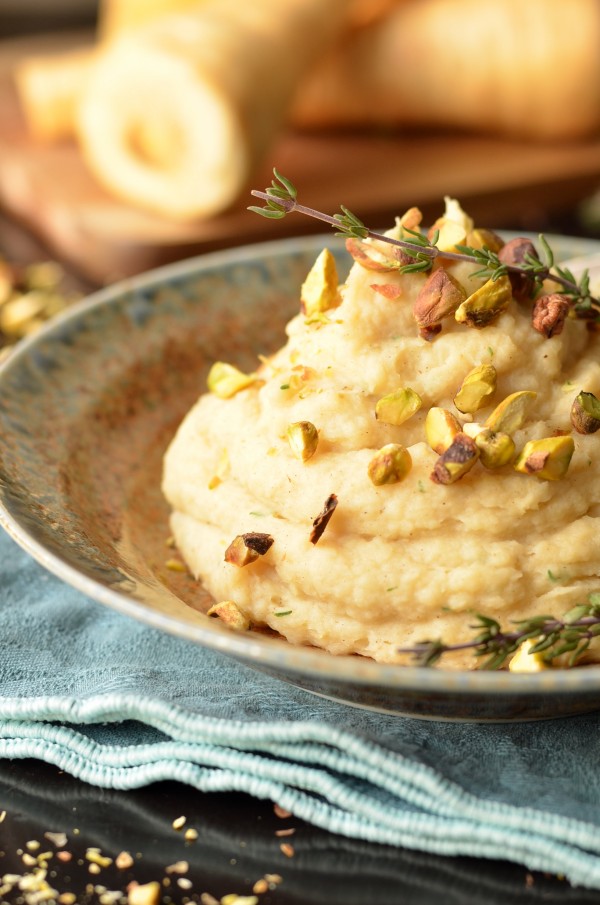 Browned butter, coriander, thyme, and pistachios make these mashed parsnips a perfect substitute for mashed potatoes. It looks pretty and perfect for a Christmas table.
18. 
Hawaiian Macaroni Salad
Few words to describe this macaroni salad recipe…. sweet, savory, creamy and chock-full of Hawaiian goodness! It's a delicious summery side dish you can actually try this Christmas season.
Want more ideas for your Christmas Side Dishes? Here are more amazing recipes you can try from French Guy Cooking:

Sides are just as important as your main dish! If you have a special main dish recipe then you must also have a festive side dish recipe serve on the table. You'll surely love these recipes, whether for Christmas day or even at any time of the year. We're glad to see these side dishes on your Christmas table. May you have a merry and a happy holiday!
What do you think of these Christmas side dishes? Which recipes are you planning to try? See these 11 Outrageously Delicious Whole Chicken Recipes that would pair perfectly with all the side dishes on the list. Let us know how it went and share your experience with us in the comments section below.
Don't forget to keep in touch, foodies!
Sign up for our newsletter here!
Also, make sure to follow us on social media too: