In need of Christmas dinner ideas as the holiday approaches? For a once-in-a-year affair, Christmas dinner calls for a special menu. Look no further, because we have all these exciting Christmas dinner ideas I'm sure will inspire you!
Christmas Dinner Ideas You'll Love For Christmas
Is Christmas your all time favorite holiday of the year? It sure is mine, when it's the one time of the year I can say, diet be damned. Who doesn't look forward to mom's special pudding recipe or grandma's pumpkin pie or Dad's prime rib roast? While I have a child-like anticipation for Christmas, I also have a grown-up's dread for preparation. How do I make this one-day affair successful and unforgettable? Luckily, Christmas dinner ideas are in no short supply these days. I've collected and listed only the most popular and tried Christmas dinner ideas, and I am more than happy to share them with you in the spirit of the holiday.
1. Prosciutto-Wrapped Pork Loin With Roasted Apple
This beauty is pork loin loaded with kale and ground pork stuffing, rolled and wrapped with a layer of salty-sweet prosciutto, a type of Italian cured ham. The whole thing is then roasted with deliciously crisp apples.
2. Triple Layer Vintage Christmas Jello
This classic might be old-fashioned, but it's one of the sweets I look forward to at Christmas dinner. My mom makes some mean jello and I can't quite perfect the recipe, but I'm loving the look of this triple layer jello.
3. Easy Seafood Paella
Celebrate the abundance of Christmas with this Mexican paella recipe that has it all. Gooey risotto rice seasoned with chicken broth and herbs, then topped with sausages and an assortment of seafood is definitely a welcome change from the usual.
4. Christmas Sugar Cookie Truffles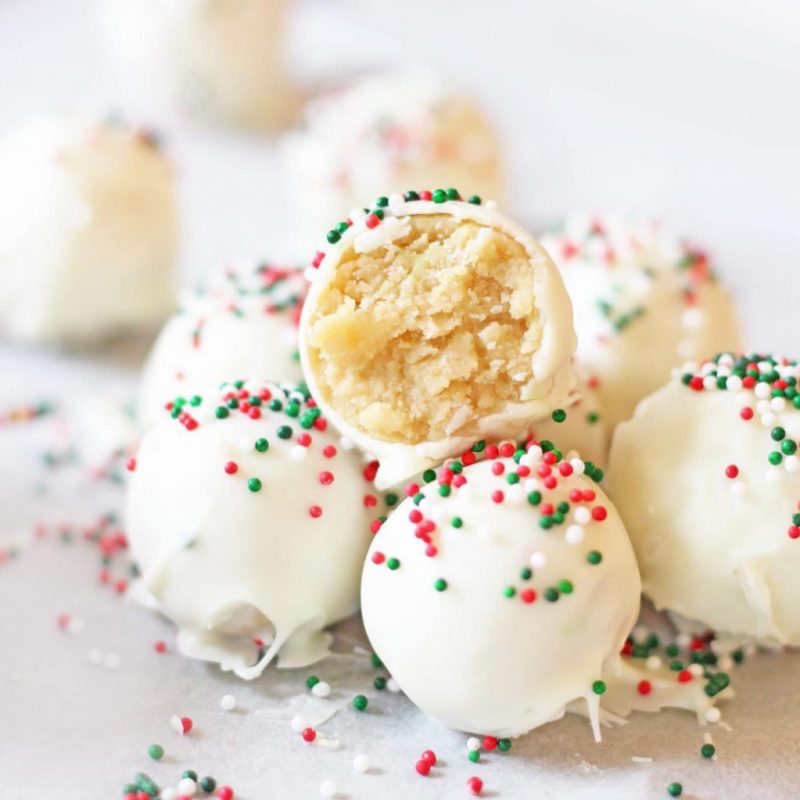 Cakes and pastries are what I love about Christmas too. Take these Christmas sugar cookie truffles–nutty sugar cookie balls coated in rich white chocolate and decorated with sprinkles. An easy Christmas pastry idea that is a sure hit with kids and grownups alike.
5. Italian Roasted Mushrooms And Veggies
Vegetarians rejoice! You too can enjoy Christmas just as much as everybody else, especially when you have this Italian roasted mushroom, cauliflower, and cocktail tomato dish.
6. Tuscan Garlic And Herb Whole Roasted Chicken
Last year, my family asked for a good roasted chicken and sadly, the one I made fell short. So, this year, I hope to redeem myself by choosing the most foolproof roasted chicken recipe, and it looks like this could be it!
7. Christmas Champagne Cocktail Recipe
What's Christmas dinner without a refreshing and celebratory drink to go with the food? I'm certainly eyeing this bubbly and fizzy drink, so Christmassy, I'm excited to try it!
8. Easy Orange Honey Ham
Add some sunshine to your favorite Christmas ham with oranges. This easy orange honey ham recipe will surely light up your Christmas table.
9. Baked Camembert With Brioche Centerpiece
A Christmas table is never complete without warm, freshly baked rolls. And what better way to complete the table than with this festive filled brioche centerpiece with baked Camembert that looks like a wreath.
10. Roasted Veggies, Pecans, And Cranberries
Pecans and cranberries are staples in my Christmas menu and what better way to incorporate them than with this veggie recipe. This roasted brussels sprouts, cinnamon butternut squash, pecans, and cranberries will certainly please your party.
11. Christmas Tree Veggie Tray
Do I hear some Ahhs from my fellow veggie-lovers? This Christmas tree veggie tray is truly every vegetable lover's dream, but I can imagine this to be a hit for all.
12. Garlic Rosemary Chicken And Cranberries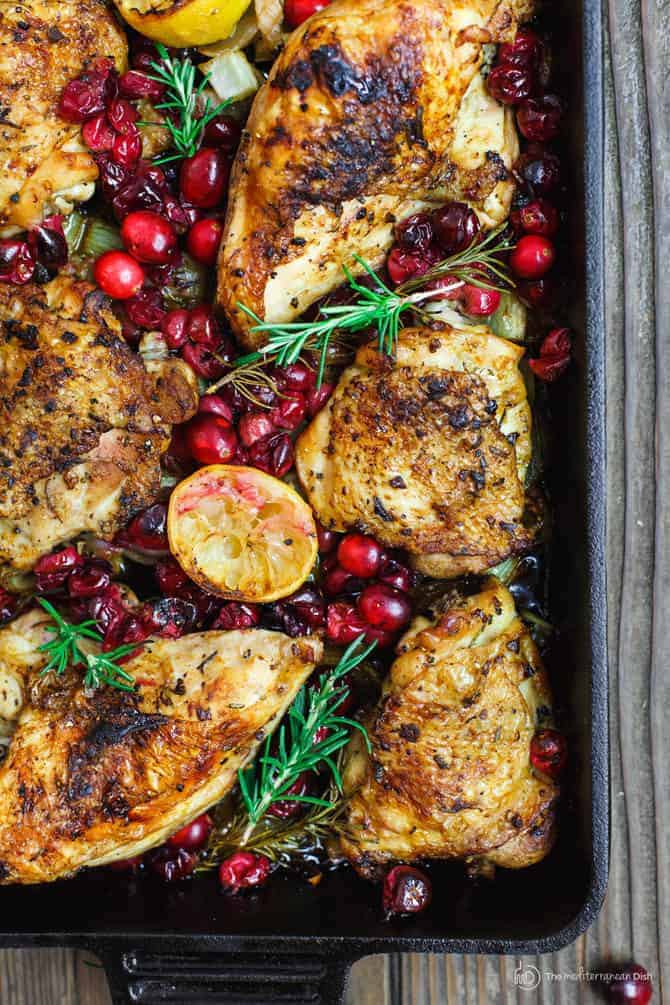 Another chicken dish to please your Christmas dinner guests. Oven-roasted chicken with cranberries, rosemary, and spices in one pan for an effortless but special main course.
13. Cranberry Fluff
Desserts for Christmas dinner can take a lot of work. Good thing I got this easy, creamy, and fluffy fruit dessert to satisfy every guest's sweet tooth.
14. Sweet Potato Casserole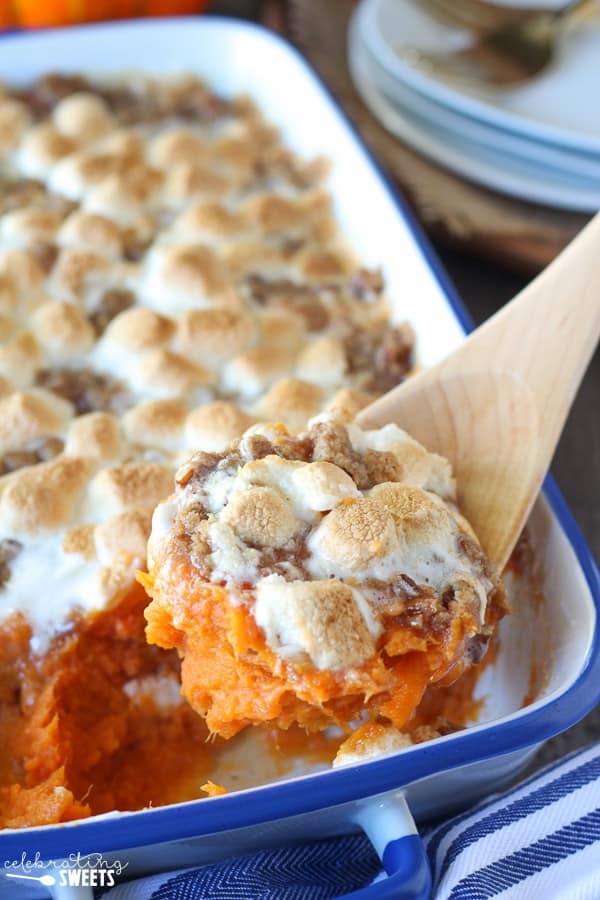 Carrying over a Thanksgiving hangover into Christmas? Try this sweet potato casserole for an interesting savory and sweet combination from sweet potatoes, marshmallows, and streusel.
15. Chocolate Covered Strawberry Christmas Tree
This chocolate covered strawberry Christmas tree is so adorable I'd rather keep it as a centerpiece than let the guests at it! A lovely Christmas tree with strawberries and chocolate for a tree and sugar powder for snow dust is sure to make it to my menu every Christmas.
16. Slow Cooker Loaded Baked Potato Soup
You should always have something warm and comforting on a cold Christmas night. This slow cooker potato soup recipe has all the elements to warm you up on a chilly holiday evening.
17. Make Your Own Holiday Cheeseboard
I love preparing and enjoying a holiday cheese board and this one is looking like a dream. This makes me happy since this means one course off the menu to cook.
18. Holiday Salad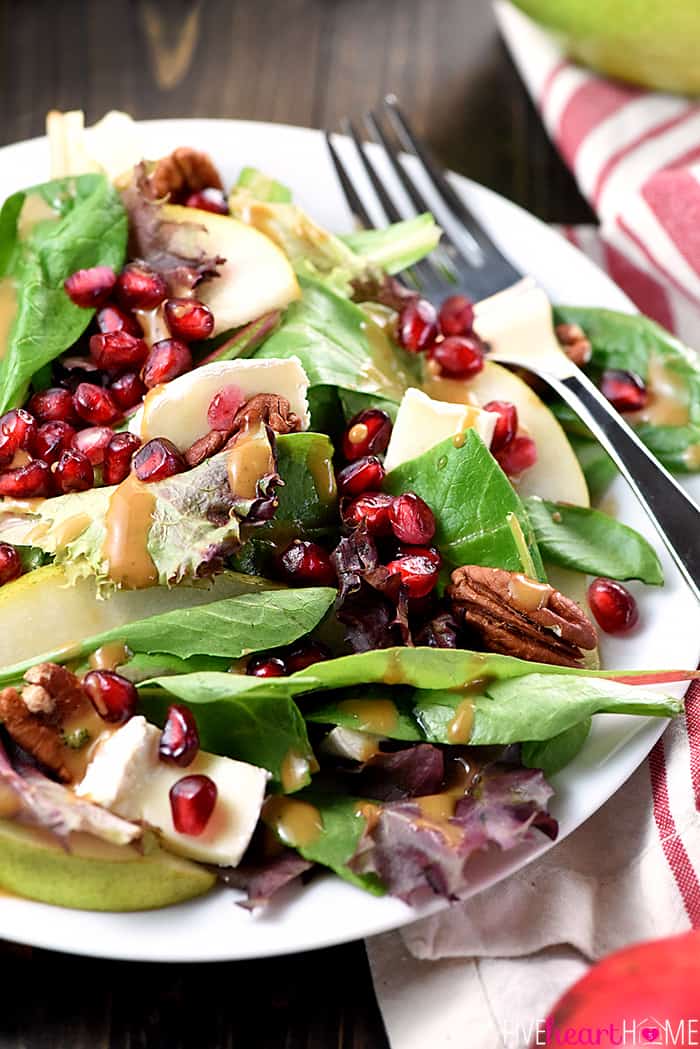 While I love my Christmas dinner all greasy and smothered in gravy, I can't have it without a complementary fresh veggie salad recipe. This pomegranate, pear, pecan, and Brie salad should be perfect for Christmas Eve too.
19. Spiked Eggnog Cake
Family and friends trot out their best recipes for Christmas dinner, and I'm not one to be left behind. This spiked eggnog cake should come out a winner.
20. Slow Cooker Creamed Corn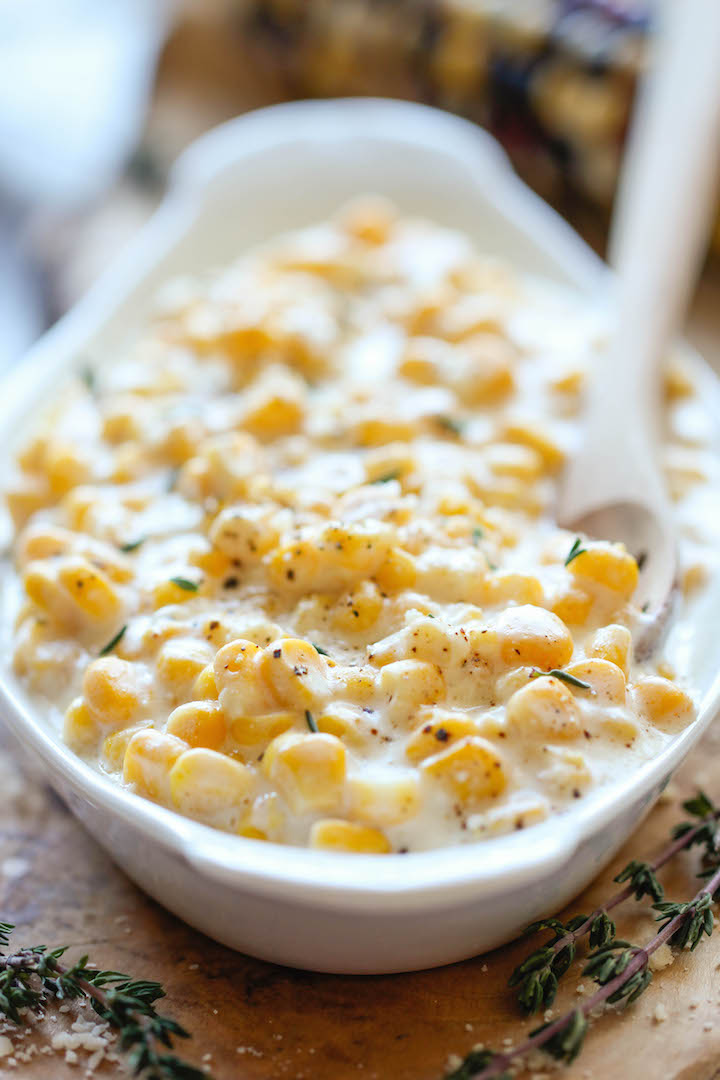 Fill your guests up with a helping of this traditional creamed corn perfect for a chilly Christmas Eve. This should also be a perfect side dish for your chicken, pork, or beef main course.
21. Prime Rib Roast
The aroma beef roasting in the oven hours before Christmas dinner is nothing short of heaven. Try this prime rib roast recipe perfected with time and thyme to know what I mean.
22. White Hot Chocolate
You will probably pamper yourself with a mug after mug of hot chocolate these cold days until and after Christmas. So for Christmas Eve, try this merry looking white hot chocolate for a change.
23. No Bake Triple Layer Pumpkin Pie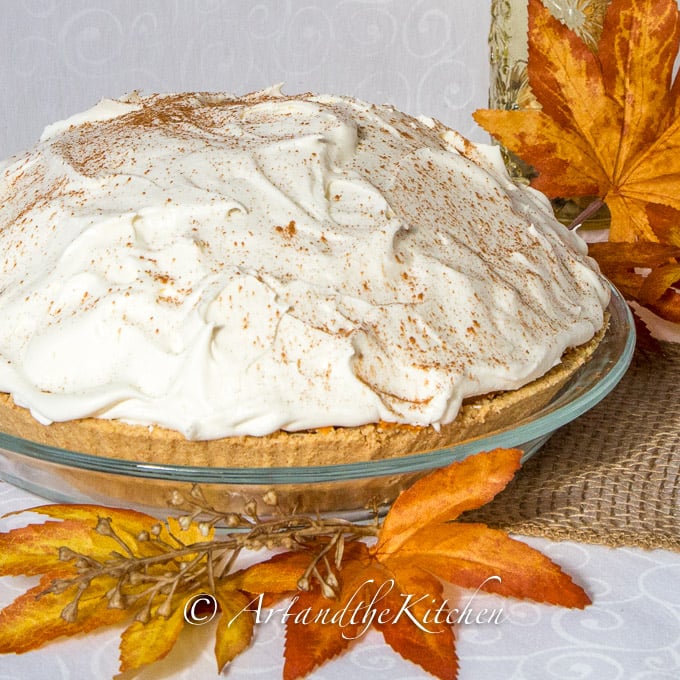 Pumpkins are abundant this time of the year, but you can make a special recipe with some like this triple layer pumpkin pie. It's easy to make since it's no bake, just smother it in cream and voila! Special pumpkin Christmas pie!
24. Beef Wellington With Green Peppercorn
Special holiday recipes almost always take time and effort to make, and you can really taste the efforts paying off. This special and savory beef Wellington with green pepper corns is exactly what I am talking about!
25. Oven-Roasted Cranberry Dijon Glazed Ham
Over the years, ham has endured and was never absent from our Christmas Eve dinner table. But, I think it's time for a different take on it this year, and this oven-roasted cranberry dijon glazed ham sure looks delicious.
Boost the appetite with an amazing table setting. Here's how-to in this video:

Now, the dinner table is ready! Make sure to create good memories with your loved ones. Good food is always a big part of Christmas Eve. I hope you try these Christmas dinner ideas, as I am sure I will be!
Which of these Christmas dinner ideas are you eyeing on for this year? Tell us all about it in the comments section below!
UP NEXT: 15 Christmas Candy Recipes Every Kid Will Love
Don't forget to keep in touch, foodies!
Also, make sure to follow us on Facebook, Instagram, Pinterest, and Twitter!
Editor's Note – This post was originally published in December 2016 and has been updated for quality and relevancy.