Whether it's a childhood dish mom always used to make or a snack shared with a friend in school, food is a bearer of some of our best experiences. So, this Christmas, create only happy and heartwarming memories with these sumptuous Christmas Crock Pot Recipes for the family! Make the best slow-cooked dishes your loved ones will remember for a lifetime along with their fondest Christmas memories!
Christmas Crock Pot Recipes To Make Family Moments Last
Christmas dinner is always a special time because everyone is together. What adds to its meaning are the delicious dishes that the family bonds over. So, I make sure only the most scrumptious meals are on our Christmas table! When it comes to making unforgettable food, I turn to my Crock Pot! It's such a versatile and durable kitchen appliance I can always rely on! After years of making slow-cooked meals, I've finally put together a list of Christmas Crock Pot recipes you can try yourself!
Everyone will surely be glued to their chairs with these amazing Christmas Crock Pot recipes! The cheer and conversations with your family will last the entire night because they won't get enough of these dishes! I've spent many Christmas dinners (and breakfast on Christmas morning) with my kids wanting more of my Christmas Crock Pot recipes! Every year, they remind me of their favorites, and until this day, they haven't forgotten their first one! So, try these recipes out for an indelible Christmas memory!
1. Crock Pot French Onion Soup
It's always a good idea to start dinner with a warm soup! A slow and careful cooking process will squeeze out every single flavor from every ingredient, making your French onion soup the most invigorating one yet!
2. Leftover Hambone Soup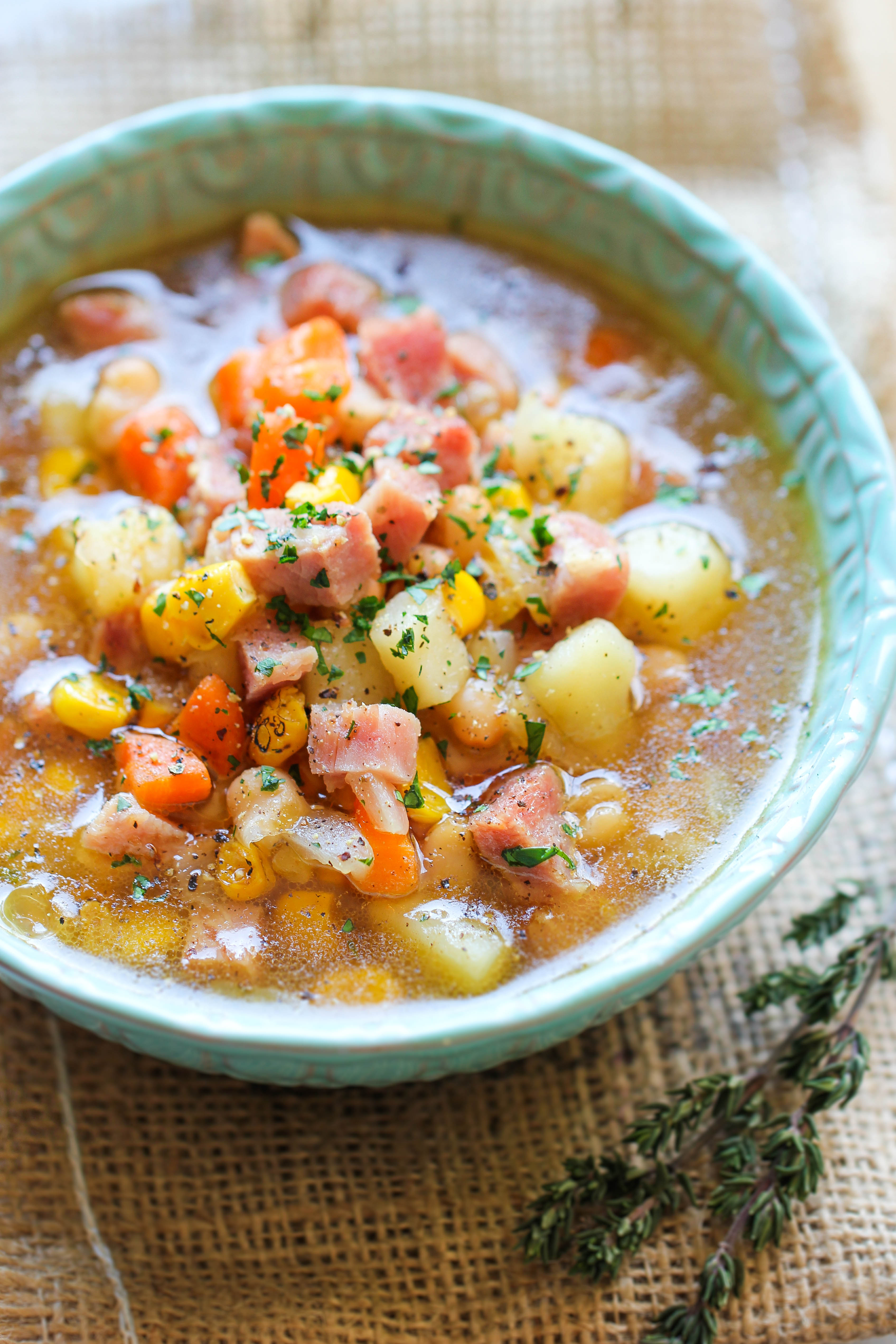 Christmas is a season of giving, not throwing stuff away! Save your leftover hambone and turn it into a soup with your Crock Pot! You'll be amazed by how much your soup anticipates a main course.
3. Slow Cooker Maple Brown Sugar Ham
A well-seasoned ham for the most joyous season! With your slow cooker, the unique maple brown sugar taste will surely seep into every tender bite!
4. Crock Pot Pumpkin Red Lentil Chili
Chili on a cold Christmas day! Add that touch of pumpkin for a complete holiday experience! Chili is one of those classic Christmas Crock Pot recipes because using a slow-cooker is the best way to achieve the texture and consistency of chili!
5. Crock Pot Tater Tot Egg Bake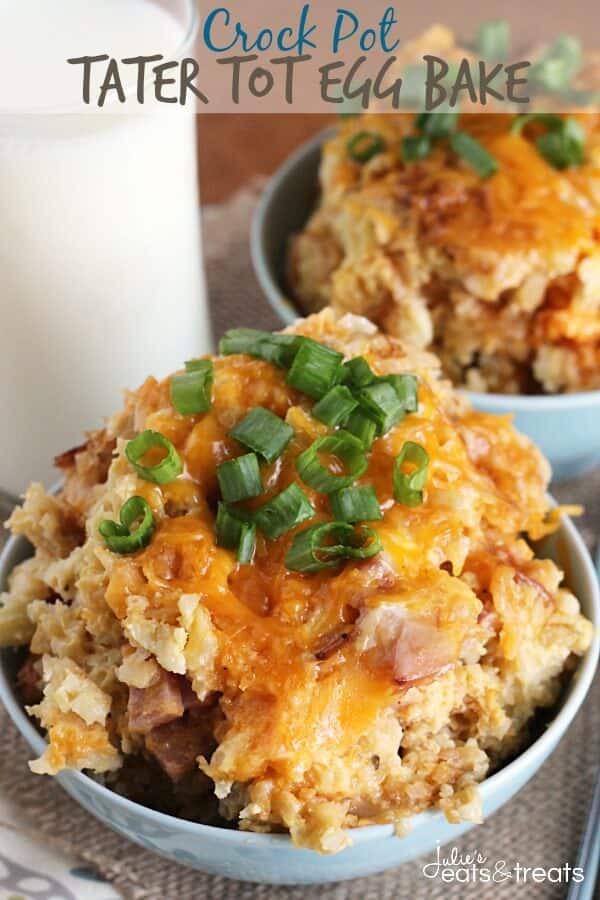 This recipe veers away from the usual way of making egg bakes. It uses potatoes instead of bread, and adds cheese and bacon! If you're looking for a new way to make a holiday dish, this one's for you!
6. Slow Cooker Balsamic Brussels Sprouts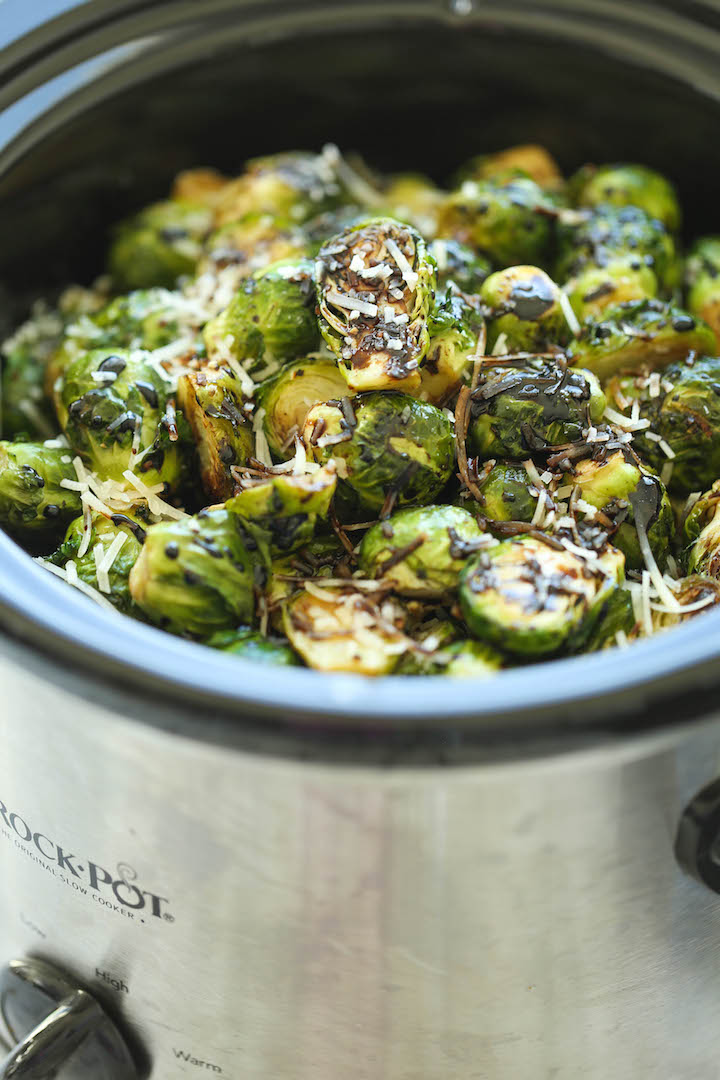 There has to be some way to offset the gluttony during the holidays. But it doesn't have to be unappealing and boring! Cook your brussels sprouts in a Crock Pot and season them with balsamic vinegar! This dish can be made in 10 minutes or less!
7. Sweet and Spicy Meatballs
The great thing about cooking meatballs in a Crock Pot is you're confident they'll come out tight, perfect, and well-stuffed! Plus, the spicy flavor which is perfect for the chilly holidays, embraces the meatballs in the most mouth-watering way possible!
8. Buttery Garlic Herb Mashed Potatoes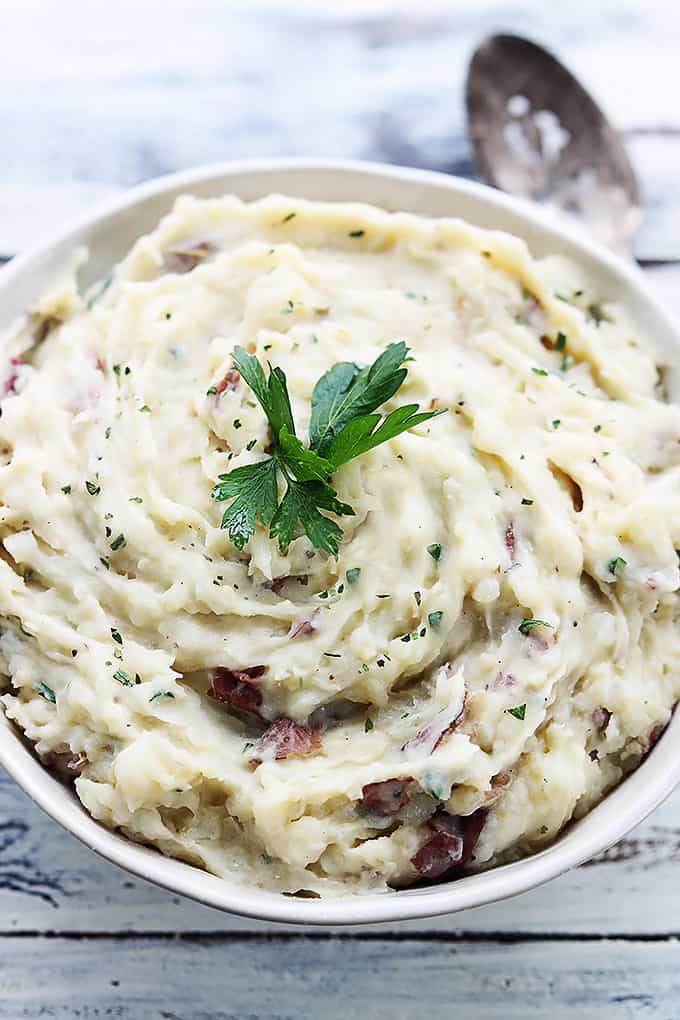 There are always potatoes during the holidays, and our job as the designated chefs of the family is to find a way to keep making them without boring our families! Don't go over the top! Just put in the right herbs and seasoning on your potatoes and let the Crock Pot do the work!
9. Juicy Slow Cooker Turkey Breast
Thanksgiving hangover? I understand. Turkey, especially good turkey, should not be restricted to one special occasion! Cut the cooking time in half by using just the turkey breast! It's the best way to maximize your Crock Pot's capacity.
10. Falling-Off-the-Bone Short Ribs
A list of Christmas Crock Pot recipes wouldn't be complete without some classic ribs! The beauty of using a slow cooker for this dish is achieving that falling-off-the-bone tenderness that we all want and deserve! After all that holiday rush, no one needs extra effort eating their food!
11. Slow Cooker Beef Stew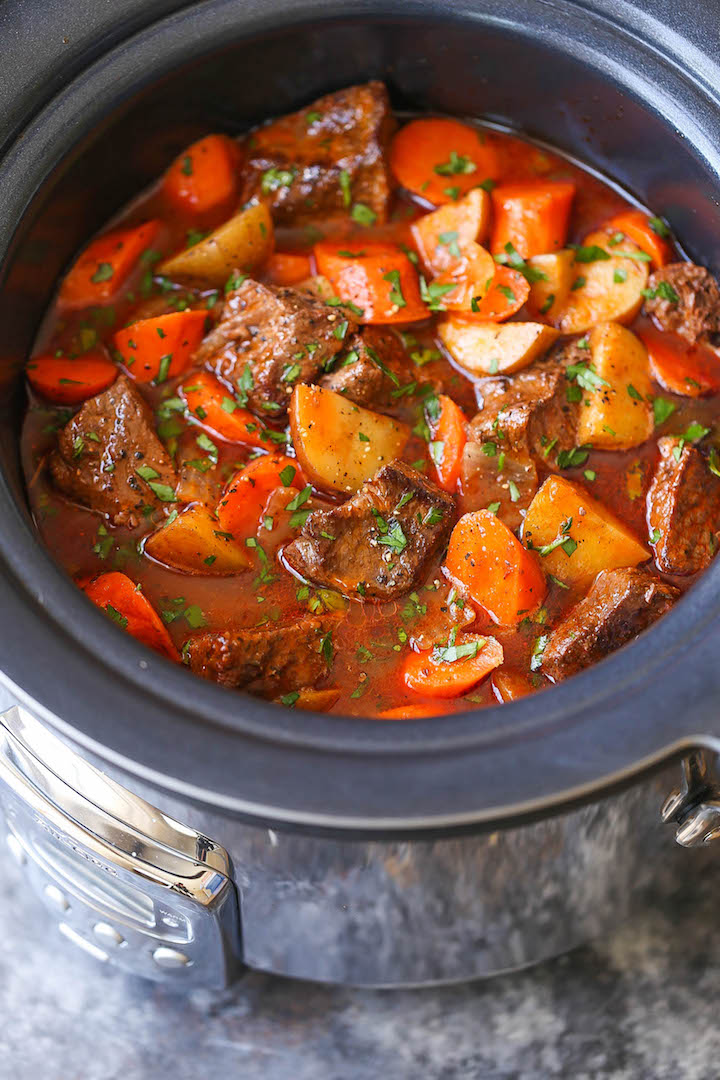 Expect a great stew to always make it in a list of good Christmas Crock Pot recipes. Hefty meat swimming in a constant warm savory sauce is the perfect dish for a chilly Christmas eve!
12. Overnight Slow Cooker Eggnog Steel-Cut Oatmeal
Why limit Christmas Crock Pot recipes to Christmas dinner? Breakfast on Christmas morning should just be as good too! Make an oatmeal out of eggnog with this simple recipe!
13. Crème Brûlée French Toast
Here's the right amount of sweetness to pair with your Christmas morning eggnog oatmeal! Slow-cooking bread should open it up to take in all the saccharine goodness!
14. Loaded Hash Browns
There will be leftover potatoes from Christmas dinner, for sure! Bust out the Crock Pot again and this time make some loaded hash browns for Christmas morning breakfast!
15. Snowman White Hot Chocolate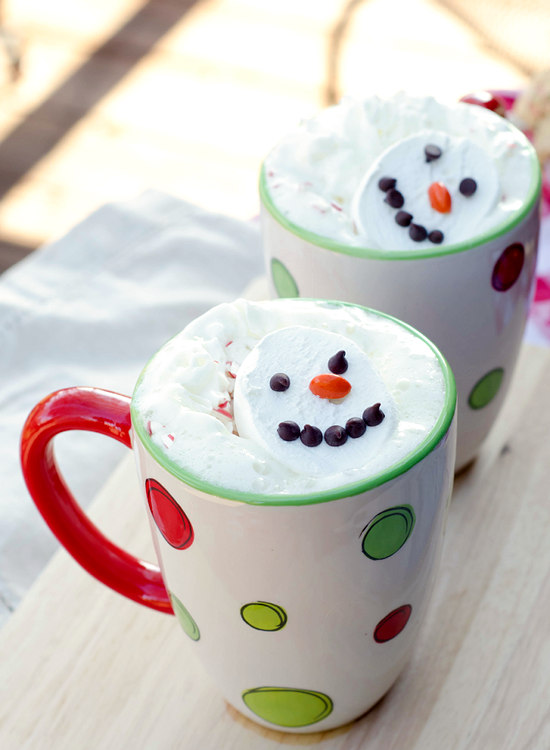 There's no need to restrict Christmas Crock Pot recipes to main courses, sides, and starters! A Crock Pot is an all-around kitchenware you can use to make Christmas drinks too! Instead of old-fashioned milk chocolate, why not use white chocolate this year? This recipe will show you how it's done!
16. Slow Cooker Cinnamon Pecans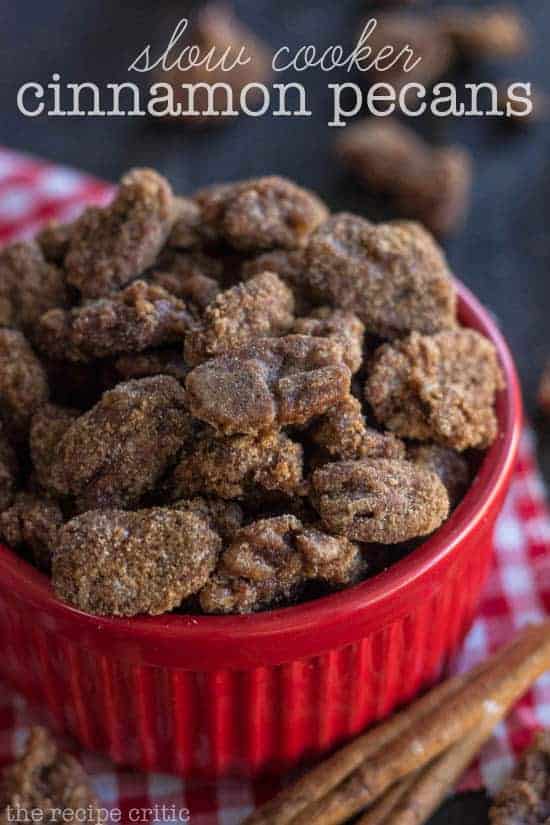 One does not practice restraint during Christmas. There is always something to eat every minute of every day! With your slow cooker, you can easily make these cinnamon pecans, put them in a bowl, and place them in every room of the house!
17. Slow Cooker Fudge
If you think this is your regular hot chocolate for Christmas, think again! Christmas Crock Pot recipes are about using a well-loved kitchenware to upgrade classic favorites. This recipe uses dark chocolate and honey to achieve the beloved taste of chocolate minus the health risk!
Watch this video from Tasty for more Christmas Crock Pot Recipes!
I know these sumptuous Christmas Crock Pot recipes will have you investing in a good slow cooker right away! As well you should! Yes, it's very useful during the holidays for the variety of dishes it can cook, but its purpose can be harnessed all-year round! With such an amazing kitchen appliance, the only thing you'll have to think about is the time and patience needed for a good slow-cooked meal. But you know what they say, good things come to those who wait! And these Christmas Crock Pot recipes will prove it!
Want more Christmas Crock Pot recipe ideas? Try these 10 Homemade Crock Pot Chili Recipes! Which Christmas Crock Pot recipe will you be trying out this holiday? Let me know in the comments section!
Don't forget to keep in touch, foodies!
Sign up for our newsletter here!
Also, make sure to follow us on social media: