Use raspberries, peaches, watermelon, green apples and the rest of your favorite fruits to create fun and flavorful fruit roll ups.
14 Fruit Roll Ups Recipes That Your Kids Will Really Love
Are your kids not eating enough fruit? Make them fruit roll ups! No, these aren't the same as the store-bought kind…they're healthier, less expensive and tastier! Made from all-natural ingredients (no sugar), these homemade fruit roll ups (also known as fruit leather) are a fun way for your kids to chow down on fruits they would otherwise not eat. Just unwrap them and enjoy all of the benefits of fruit…in the best way ever!
---
---
1. Raspberry Peach Swirl Fruit Leather
Swirls are just amazing and the sweet and sour taste just blends so well. You need to try this so here's the recipe.
2. Watermelon Fruit Leathers
Enjoy watermelon without the mess! Get the recipe here.
3. Green Apple Fruit Leather
A green apple fruit roll up that sneaks in some spinach, but your kids will be none the wiser! Check it out here.
4. Very Berry Fruit Leather
A berrylicious recipe jam-packed with fresh strawberries, blueberries, raspberries and blackberries. A fun and healthy treat for the entire family. Full recipe.
5. Mango Fruit Roll Ups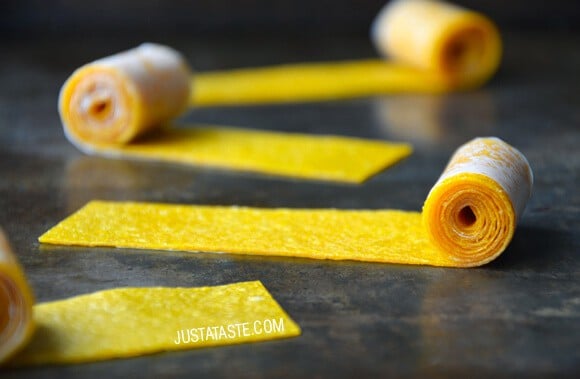 Grab a ripe mango and make these colorful and tasty fruit roll ups. Grab the recipe here.
6. Blueberry Chia Fruit Roll Ups
A fruity snack loaded with protein and fiber from chia seeds and antioxidants from blueberries. A fun way to keep healthy! Learn how to make it here.
7. Apple Cinnamon Fruit Leather
An apple fruit roll up a day keeps the doctor away…right?! Here's the recipe.
8. Plum Fruit Leather
Plums are a very good source of vitamin C, vitamin K, copper, dietary fiber, and potassium. Recipe.
9. Spiced Sweet Potato Apple Fruit Leather
Who knew that sweet potato and apple would taste so good together?! Get the recipe here.
10. Blackberry Mint Lime Fruit Leather
Dark and sweet fruit roll ups with blueberry, mint and lime. Full recipe.
11. Strawberry Peach Fruit Roll Ups
Strawberry peach fruit roll ups are the best surprise to put inside your kid's lunch boxes. Here's the recipe.
12. Pineapple Fruit Leather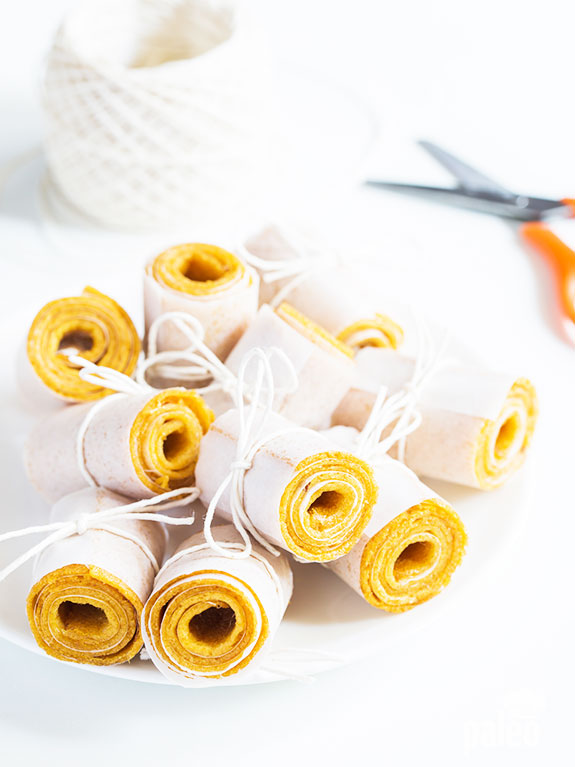 These refreshing pineapple treats will get you in a tropical mood. Grab the recipe here.
13. Blueberry Peach Fruit Roll Ups
Mix blueberries and peaches to create this amazing fruit roll up. Check it out here.
14. Raspberry Homemade Fruit Roll Ups
Throw away those unhealthy store-bought fruit roll ups and make your own raspberry ones! Get the recipe here.
Learn the basic way of making homemade strawberry fruit roll ups. Watch this awesome video from Divas Can Cook:
What do you think of these fruit roll ups recipes? Which recipe are you planning to try? Share your experience with us in the comment section below.
Related Posts: