This is a collection of yummy marshmallow recipes for kids to adore. If you want them to be happier, make any of these treats at home!
Fun & Yummy Marshmallow Recipes For Kids To Enjoy
Kids are always in for something fun and fascinating. They love treats that taste as good as they look! It's not actually as hard as it sounds because there are tons of amazing recipes to try. This list of marshmallow recipes for kids is honestly my son's favorite treats. I prepare any of these as often as I can. These kid-friendly recipes are quick, easy, and sure to please any crowd!
1. Spring Confetti Bars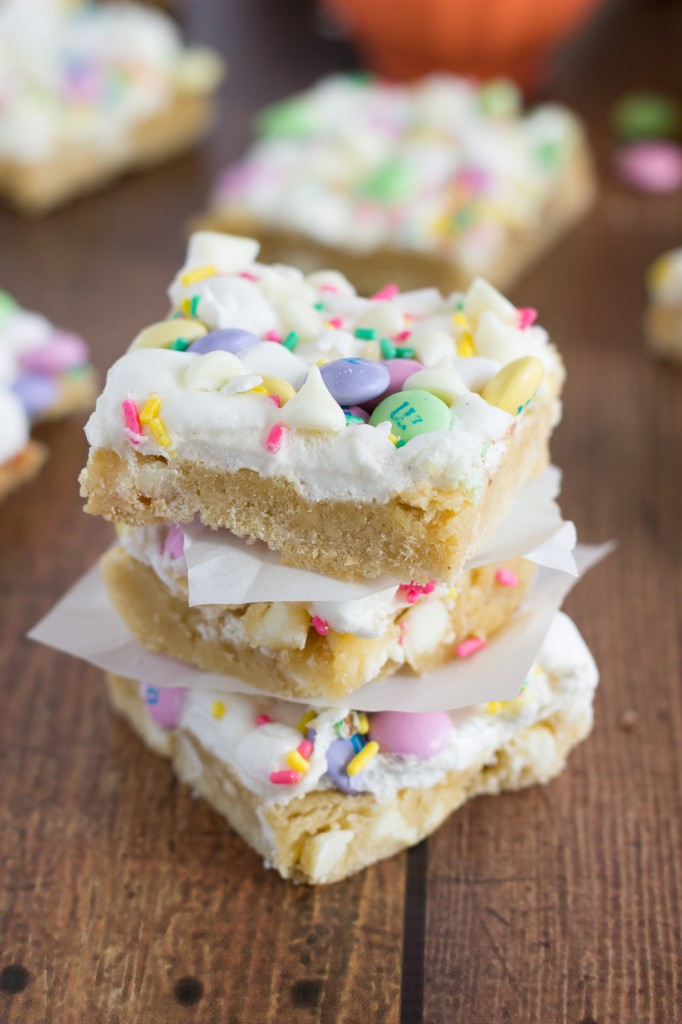 Can you think of better toppings to put on your bars than colorful sprinkles, white chocolate, spring-colored M&M's, and molten marshmallows? These Spring confetti bars are every child's dream!
2. S'mores Brownie Pie
You don't need to set up a campfire to indulge in gooey and yummy smores treats. I know campfire gives us unique and memorable outdoor experience, but if you can't afford to go camping (or the weather doesn't allow you) remember this recipe and it will give you the same experience while you're at home.
3. Springtime Marshmallow Wands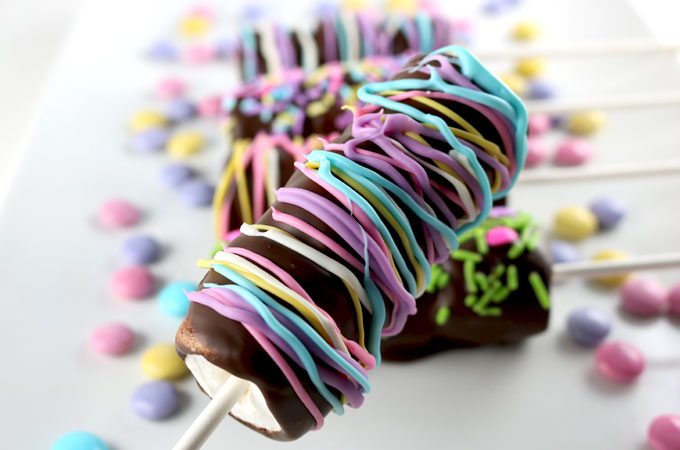 These springtime marshmallow wands will look adorable on any holiday table. They look really pretty even though they're simple and easy to make. Whether you use candy melts or sprinkles, these marshmallow wands are where the magic begins!
4. Mini Fruit Pizzas
Always make sure to give your child a delicious treat he or she will surely love. These mini fruit pizzas made with cookies, marshmallow, and fresh fruit slices will show you how!
5. Chocolate Whoopie Pies with Marshmallow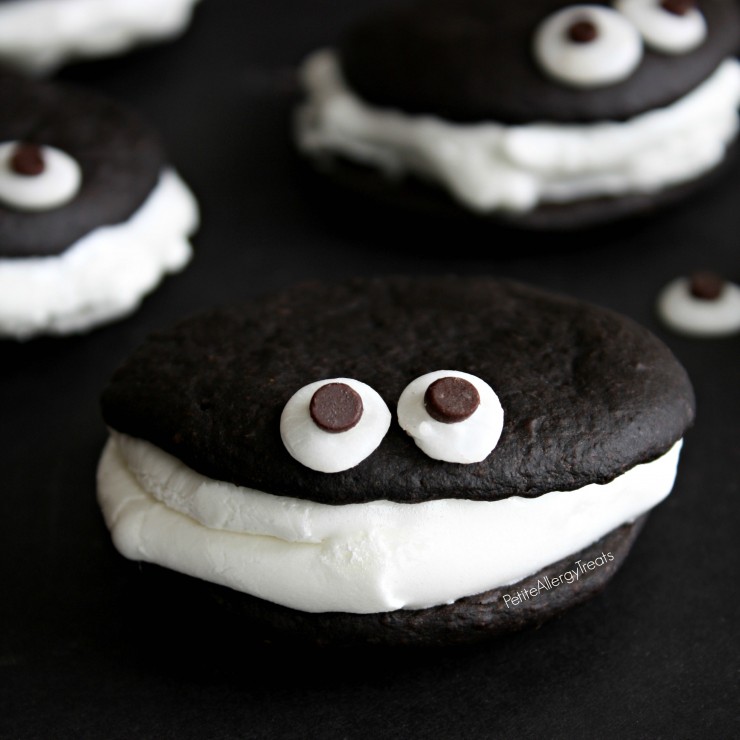 These marshmallow-filled chocolate whoopie pies are completely gluten-free and allergy-friendly. These treats are not only safe and healthy, but they are also delightful and tasty! Try this recipe at home and ask your kids how good it is.
6. Rainbow Fruit Loops Marshmallow Bars
Grab some fruit loops cereal, marshmallow, and butter and make a batch of these fun and colorful fruit loops marshmallow bars. This recipe is quick and is possible to make without baking skills required.
7. Chocolate Caramel Marshmallows
What could make marshmallow even more delectable? Coat them with luscious caramel, dip them in rich chocolate, and serve them on a stick! I'm pretty sure you'll love this recipe as much as I do!
8. Marshmallow Jello Pinwheels
These treats are the best way to use those extra Jello and marshmallow you have in your pantry. It's certainly a very easy marshmallow recipe which I'm sure kids and kids-at-heart will enjoy. These are sweet and fruity, no wonder why my son loves these marshmallow Jello pinwheels so much!
9. Frozen S'mores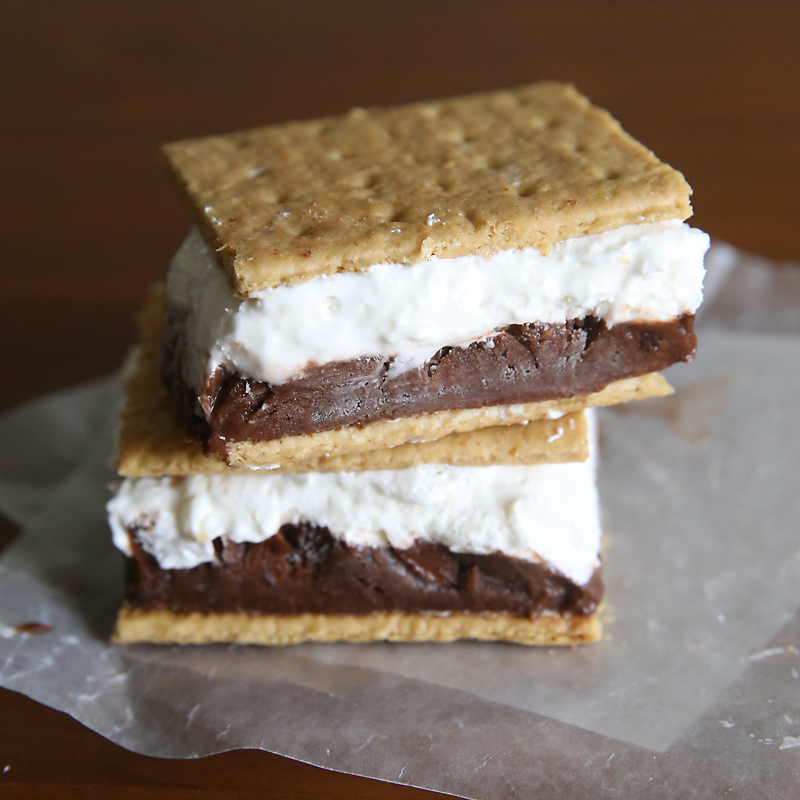 I love summer as much as I love spring and what makes me more excited about the sunny weather are my favorite frozen treats. Recently, I discovered this easy and delicious marshmallow recipe. These frozen s'mores are so good my family begs me to whip up more.
10. Marshmallow Popcorn
Take a break from caramel popcorn, and try this marshmallow popcorn instead. It's a fun and a unique way to enjoy popcorn at home especially when you use varieties of food coloring.
11. Marshmallow Penguins
Aren't these marshmallow penguins cute? If you're throwing a children's party anytime soon, make sure to try this fun marshmallow recipe. But make a point to prepare two or three batches of these treats. They'll be gone in a flash!
12. Homemade Marshmallow Peeps
These marshmallow candies are pretty popular in the United States. If you want some of these treats, I recommend you to try homemade ones. Homemade peeps are very easy to make and trust me, they're tastier and way better than the store-bought version.
13. Marshmallow Creme Dip
Your kids will always look forward to dessert and snack time knowing you're about to serve them this yummy dip. This marshmallow creme dip will make eating fruits and pretzel sticks more fun and delicious.
Watch this video from How To Cook That for more yummy marshmallow recipes:

These marshmallow recipes for kids are the best way to make them extremely happy. With these treats, they will not ask for anything more, not even toys! These recipes are very quick and easy to master in your kitchen. I'm sure the kids are not the only ones who will fall in love with these treats, even the adults too!
Which marshmallow recipes for kids are you going to make at home? Let us know in the comments section! Want more recipes your kids will love? Check out this list of 14 Fruit Roll-Ups Recipes! 
Don't forget to keep in touch, foodies!

Also, make sure to follow us on Facebook, Instagram, Pinterest, and Twitter!