Make the most of Spring season with these healthy Spring recipes. These recipes are fresh, delicious, and packed with essential nutrients our body needs!
Healthy Spring Recipes For Everyone To Enjoy!
Spring is one of my favorite time of the year. It's the season of new life and new beginnings where the buds bloom to flowers and the ground becomes bright and colorful again. Fresh produce excites me to cook delicious food for my family, and I also love to share with my friends. And because Spring is almost here, I must be equipped with awesome recipes which lead me to come up with this list of healthy Spring recipes.
1. Rainbow Spring Rolls
These rainbow spring rolls are edible art if you ask me! If you wish to make a batch of these healthy and gorgeous treats, you should start first by soaking the rice paper in warm water until it softens. Next, layer the fruits, veggies, and noodles. Roll them gently and you're done! Aside from the fresh produce, your creativity is the key to make these spring rolls taste good and look good!
2. Mediterranean Chickpea Salad
If you're a big fan of salad like me, you'll definitely fall in love with this hearty Mediterranean chickpea salad. Not only does this salad tastes really good, it is also so quick and simple to cook. You can make this dish by simply tossing the ingredients together over medium heat. Serve this salad with grated feta cheese. Yum!
3. 
Strawberry Pineapple Lemonade Bars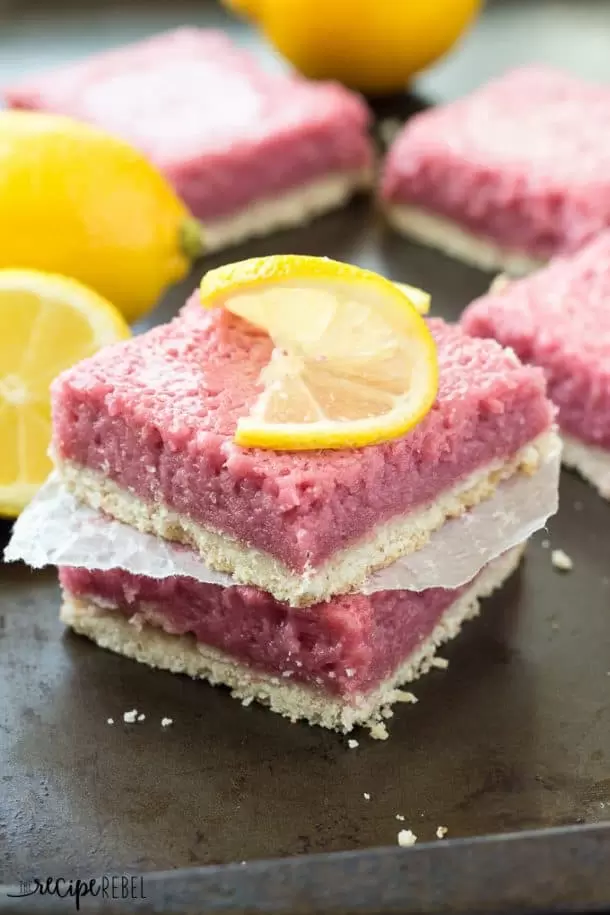 Strawberry pineapple lemonade bars! I can tell how my son will truly love these fruity bars for dessert. These lemonade bars are packed with summer flavors and would also be great for Spring. These are strawberry and pineapple filling atop of a simple shortbread crust. I'm stoked to try this recipe later!
4. 
Grilled Veggies French Onion Flat Bread
If you think you can't have the kids enjoy these flatbreads, then wait until they have their first bite. They're going to beg you to cook more of this healthy dish. Don't worry because these are simple to prepare. First, you need to grill the veggies. Spread some French onion dip in each flatbread, layer the grilled veggies, and place them on the grill for 3 to 5 minutes. Easy-peasy!
5. Pineapple Mint Smoothie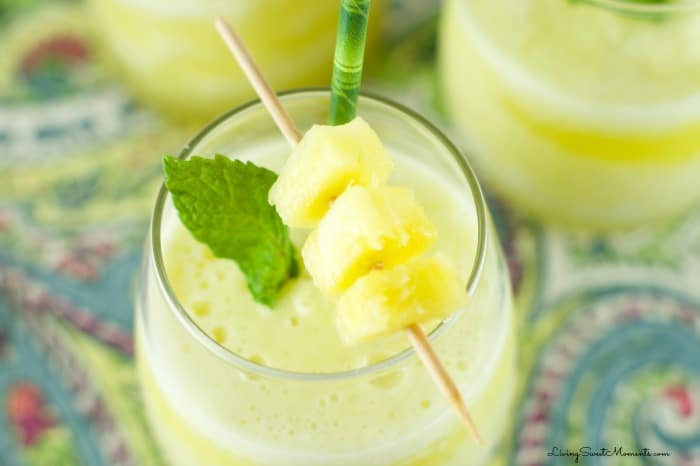 We all crave for a refreshing drink every Spring (and definitely every Summer too!). I'm pretty sure kids and adults will both enjoy this smoothie with lots of tropical vibes and fresh minty taste. How to make it? Grab some fresh pineapple and mint leaves. Blend them with ice and water, then enjoy!
6. One-Pan Spring Tuscan Quinoa Bake
There's no season for comfort foods and this one-pan spring Tuscan quinoa bake is a good try this Spring or any time of the year. It's so hearty and family-friendly. This dish is loaded with Spring veggies, fresh herbs, and lots of cheese, the reason why it's healthy and oh so gooey!
7. Lemon Poppyseed Pancakes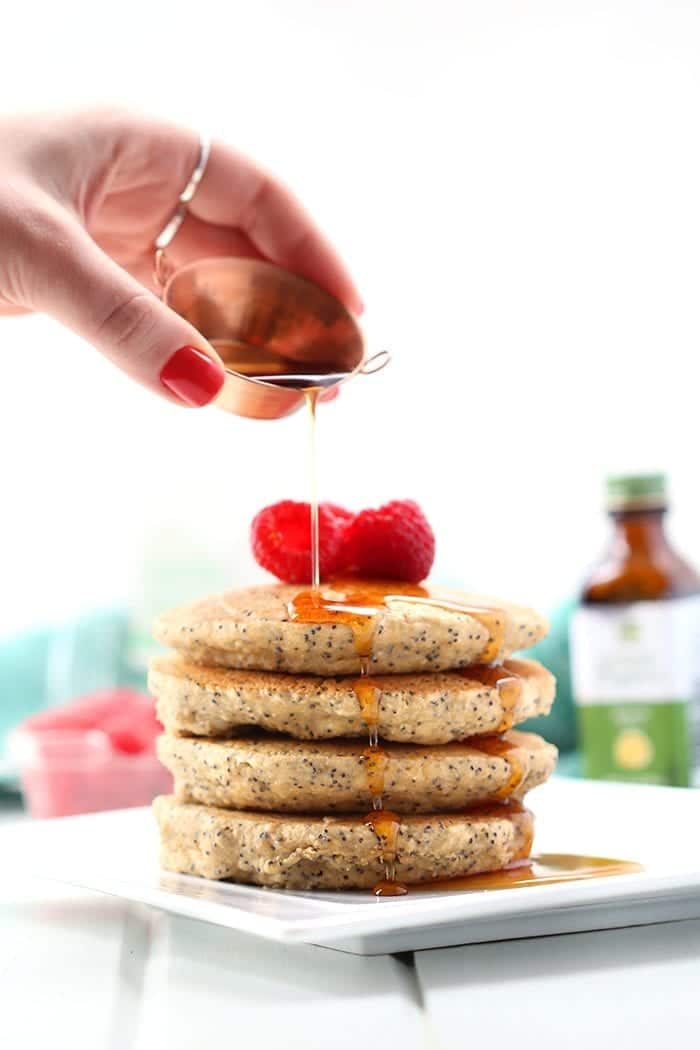 Get your Spring morning off to a good start with this pile of healthy lemon poppyseed pancakes. Why are these pancakes healthy? They're made of oat flour and loaded with organic poppy seeds! These are delightful pancakes without the fuss and the guilt!
8. Strawberry Balsamic Chicken Salad Wrap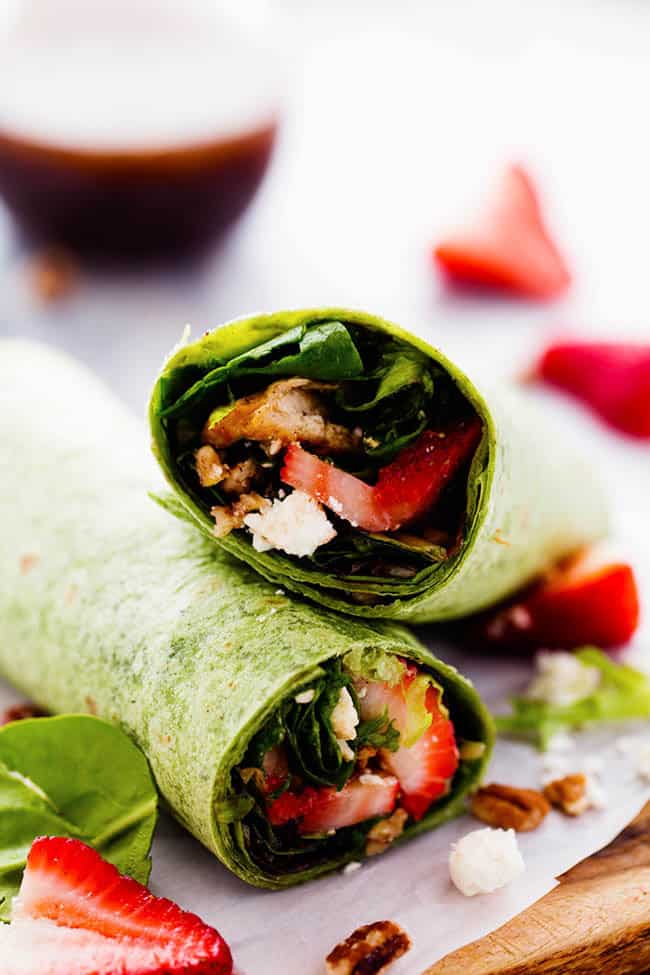 With strawberry slices, I know even the kids would love to munch on these healthy wraps every now and then. This is a sweet and savory strawberry balsamic chicken salad stuffed in tortilla wraps. They're the perfect on-the-go Spring treats ready on the table in 15 minutes!
9. Healthy Blueberry Muffin Smoothie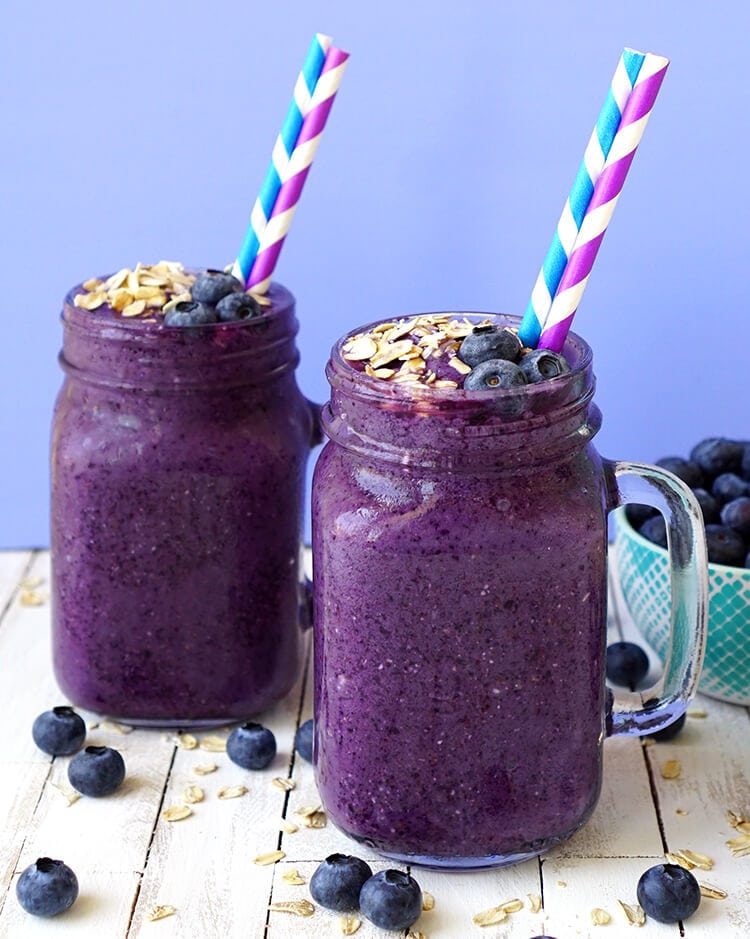 Spring is what comes into my mind the first time I saw this blueberry muffin smoothie. It looks really satisfying with its bright purple hue. This smoothie tastes as good as it looks and it's filling enough to keep you full and energized. It's easy to make just like any other smoothie, all you have to do is to blend all the ingredients and wait until smooth and well combined.
10. Springtime Veggie Pasta Primavera
You can enjoy this pasta salad as a Spring side dish or a healthy dinner. It's a tasty and hearty dish to feel good any time of the day. Prepare this dish by cooking the veggies in a skillet over medium heat. Toss them with cooked pasta, basil, lemon juice, and salt and pepper to taste. And don't forget the Parmesan cheese!
11. Greek Yogurt Fruit Tart
This recipe is a great way to use Greek yogurt in a more satisfying and soul-glorifying way! This Greek yogurt fruit tart is packed with protein and vitamins. You only need fresh fruit slices, Greek yogurt, and a two-ingredient gluten-free crust. To make the crust, just blend cashews with dates.
12. 4-Ingredient Spring Pasta
A 4-ingredient Spring pasta? Yes, please! Don't think of this pasta to be bland and boring. Even though you only need four ingredients for this–cooked pasta, pesto sauce, frozen peas, and chicken, you'll still have a healthy and delectable dish to share with your kids, family, and friends.
13. Mojito Fruit Salad
This non-alcoholic fruit salad tastes exactly as sweet and refreshing as your favorite beverage. It's a simple recipe, all you have to do is toss the ingredients in a bowl, place it in the fridge for at least 15 minutes, and that's it!
Bean and Zucchini Cutlets as a substitute for beef patties!https://t.co/8OyiPWDMAs pic.twitter.com/17tHhEC7xm

— Homemade Recipes (@BestHomeRecipes) February 22, 2017
14. Avocado and Egg Spring Sandwich
There's nothing easier than whipping up a delicious sandwich. What makes this sandwich special is the seed bread. Aside from avocado, boiled egg, scallion, radishes, and mixed seeds, you can add anything as long as the flavor blends in.
15. Coconut-Rhubarb Cake
If you don't like rhubarb, this recipe will make you love them for sure. Coconut-Rhubarb Cake is also a great way to practice your baking skills. Though it takes an hour to bake this goodie, it's totally worth the wait!
Are you still looking for healthy Spring recipes? Watch this amazing video from Ingrid Nilsen and learn three more healthy Spring recipes:

I hope you enjoyed this list of healthy Spring recipes. These are the perfect recipes to welcome the Spring season. They are all healthy and delicious and look really fabulous–even the kids won't be able to resist! Have fun and enjoy the Spring season by adding these recipes on your feast!
Which of these healthy Spring recipes are you planning to try? Let us know in the comments section below! You might also want to check out this list of 400 Easy Vegetable Recipes For A Healthy Lifestyle.
Don't forget to keep in touch, foodies!
Also, make sure to follow us on Facebook, Instagram, Pinterest, and Twitter!