Are you on a hunt for a traditional Easter dinner menu? Find great recipes in this list and prepare them for your family and friends for Easter dinner!
Traditional Easter Dinner Menu You Must Try!
After Christmas and New Year, Easter is one of the most awaited and celebrated time of the year. It's one of the most important holidays for Christians celebrating the resurrection of Christ. What is an Easter celebration without delicious foods to share with your family? Easter dinner is the time where the family spends the whole evening praying, sharing thoughts, and delicious meals with each other. Easter has always been a special holiday for my family that's why I keep a collection of fuss-free and delectable traditional Easter dinner menu my family loves to have every year. I hope you like them as much as my family does!
1. Carrot Chorizo Blini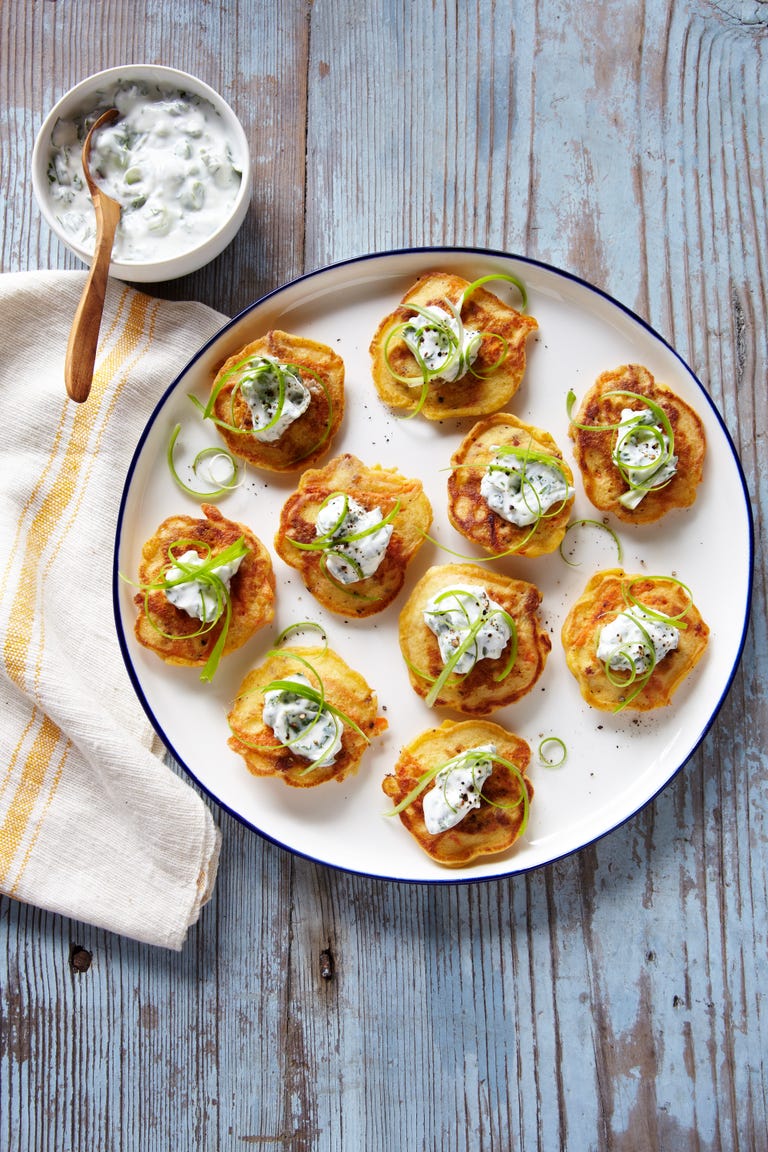 This carrot chorizo blini is a unique take on pancakes. Far from the classic pancake recipe, chorizo and carrots are mixed into the batter mixture. Once the pancakes are cooked, they are served with a dollop of savory and zesty yogurt sauce. These pancakes make a great appetizer for Easter dinner.
2. Green Beans + Egg Salad with Garlic Parmesan Vinaigrette
Salad dishes always make their appearance in any holiday celebration including Easter. This fresh green beans salad has hard boiled eggs, bacon, and lettuce flavored with special vinaigrette. To make the homemade vinaigrette simply add Parmesan cheese with the basic mixture of olive oil, choice vinegar or lemon juice along with the herbs and spices. Simply toss the veggies with homemade vinaigrette and serve with hard boiled eggs, crumbled bacon, and croutons.
3. Polish Easter Soup
If you want something hearty and comforting for your Easter dinner, this Polish Easter soup is what you need! It's a creamy soup loaded with kielbasa, potatoes, grated horseradish, and sour cream. Just like any other soup recipe, you need to simmer everything until they become soft and tender and until the soup becomes smooth and thick. This soup is best enjoyed with parsley and hard boiled egg.
4. Honey Garlic Roasted Carrots
Easter is the perfect time to try these honey garlic roasted carrots. After the first try, you'll want to make this dish all year round. It's an easy recipe with simple ingredients you can find in your pantry. By simply whisking together honey, olive oil, butter, balsamic vinegar, and spices, you will instantly have the best glaze to bath your baby carrots before placing them in the oven. To make this dish even better, a quarter cup of apricot preserves is the answer!
400 Easy #Vegetable Recipes For A #Healthy Lifestyle https://t.co/EQi71AMbub pic.twitter.com/4sjxiZ9JEa

— Homemade Recipes (@BestHomeRecipes) February 28, 2017
5. Roasted Snap Peas & Mushrooms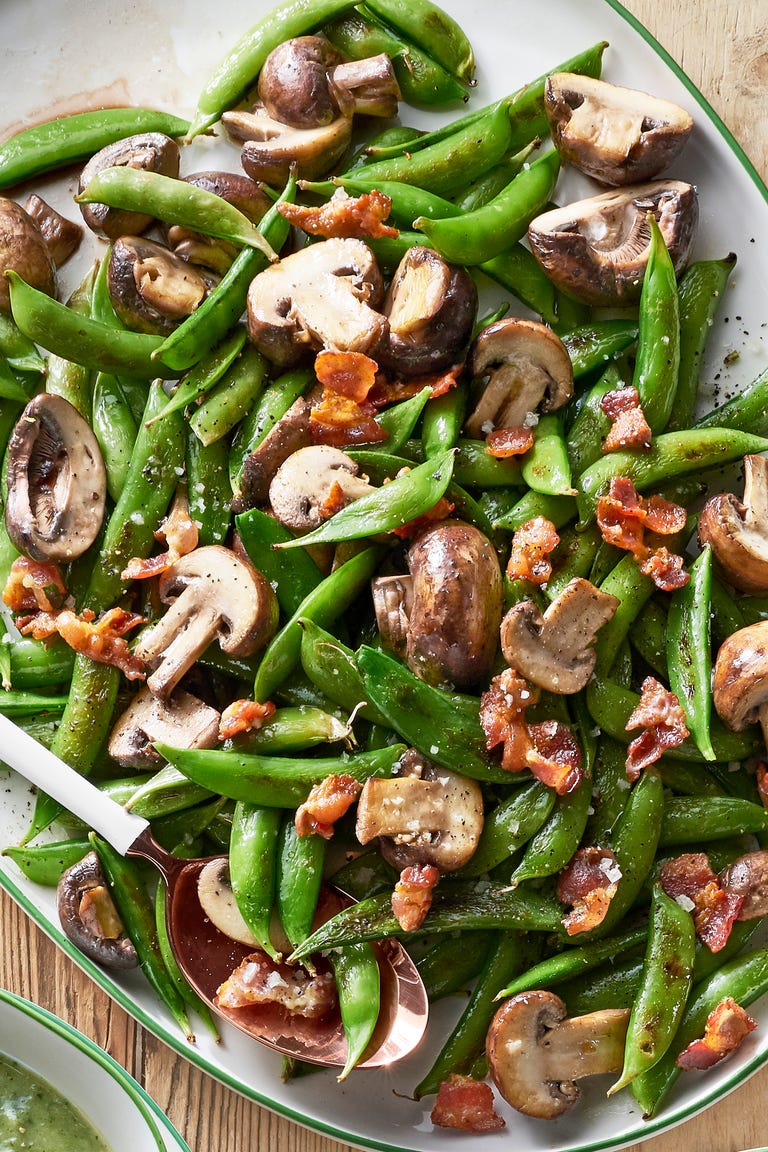 This recipe is a simple side dish which tastes as good as your main dish! Bacon, snap peas, garlic, and mushroom come together and make a tasty recipe to make your Easter dinner a night to remember. How could you not prepare this dish? It's really easy! You just place everything in the oven and roast to 450°F. Toss, then season with salt and pepper. Done!
6. Cheesy Green Beans Casserole
A delicious and unforgettable side dish is always a must-have for a special occasion. To make your Easter dinner even more memorable, you should give this cheesy green beans casserole a try! It's a cheesy way to enjoy veggies and make them more enjoyable. This dish is also easy to put together. All you have to do is mix the ingredients together, pour the mixture on the green beans until evenly covered. Pop it in the oven for 15 to 20 minutes. Enjoy!
7. Herb-Roasted Tri-Colored Carrots
This Easter dinner menu is so easy you basically need tri-colored carrots, herb, and spices for this. After you serve this side dish on Easter evening, you'll be convinced it's the best way to eat carrots any time of the year. It's very easy to prepare. Just drizzle the carrots with olive oil, season with herbs and spices and bake for approximately 30 to 35 minutes.
8. Creamed Peas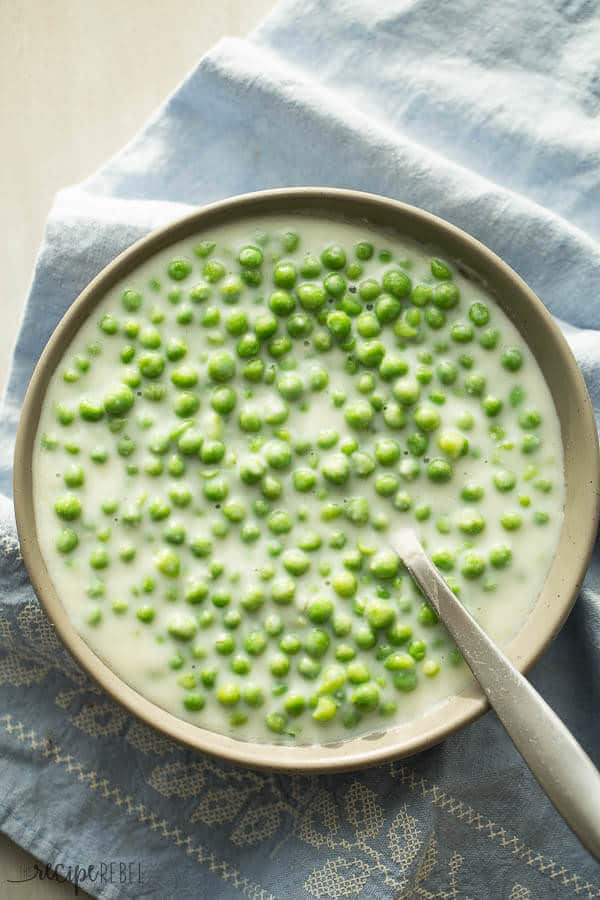 Creamed peas are a quick and easy holiday side dish which pairs well with any main course you prepared. It's a simple recipe with a nice texture and insanely delicious flavor. Although it's made with simple ingredients such as frozen peas, milk, butter, flour, and salt, this dish is still packed with amazing flavors everyone at the table will adore. For this recipe, you need to whisk the butter and flour until smooth, then add frozen peas and salt. That's it!
9. Torta Pasqualina (Italian Easter Pie)
Torta Pasqualina is a savory pie filled with spinach and ricotta cheese. If you're planning to make this pie for Easter, you will need spinach, puff pastry, egg, whipping cream, cheese, herbs, and spices. First, saute the spinach, drain, then set aside. Then, combine the remaining ingredients in a bowl except for the puff pastry. Now time to assemble the pie. Stuffed the spinach-ricotta mixture in between two puff pastry sheets, and carefully crack one egg in each pie, then seal the edges. Bake for 40 to 50 minutes and wait for it to set.
10. Pistachio Crusted Lamb Chops with Cherry Port Sauce
These impressive lamb chops covered in a thick pistachio crust will make a great main entree for your Easter dinner. Serve these pistachio crusted lamb chops over rich goat cheese polenta and drizzle them with a sweet and tangy cherry port sauce to really draw out the flavors. The polenta and the cherry sauce are both as easy as the lamb chops to cook. For the goat cheese polenta, combine water, cornmeal, and goat cheese in a pot, and bring to boil. Same goes with the cherry sauce. Mix the cherry port sauce ingredients in a saucepan, bring to boil and let it simmer until the sauce becomes thick.
11. Baked Ham with Honey Mustard and Apple
Your Easter celebration isn't complete without a delicious and sweet ham recipe served on the table. This baked ham deserves to be on your Easter menu. For this recipe, you need a spiral-cut smoked ham, apples, whole grain mustard, Dijon mustard, honey, and ground cardamom. First, cut the apples thinly and tuck them in between ham slices. Brush the entire ham with cardamom, mustards, and honey mixture. Pop it in the oven for an hour, then glaze again with the sauce. Bake for another one hour, and now it's perfect and well-done!
12. Roasted Chicken with Citrus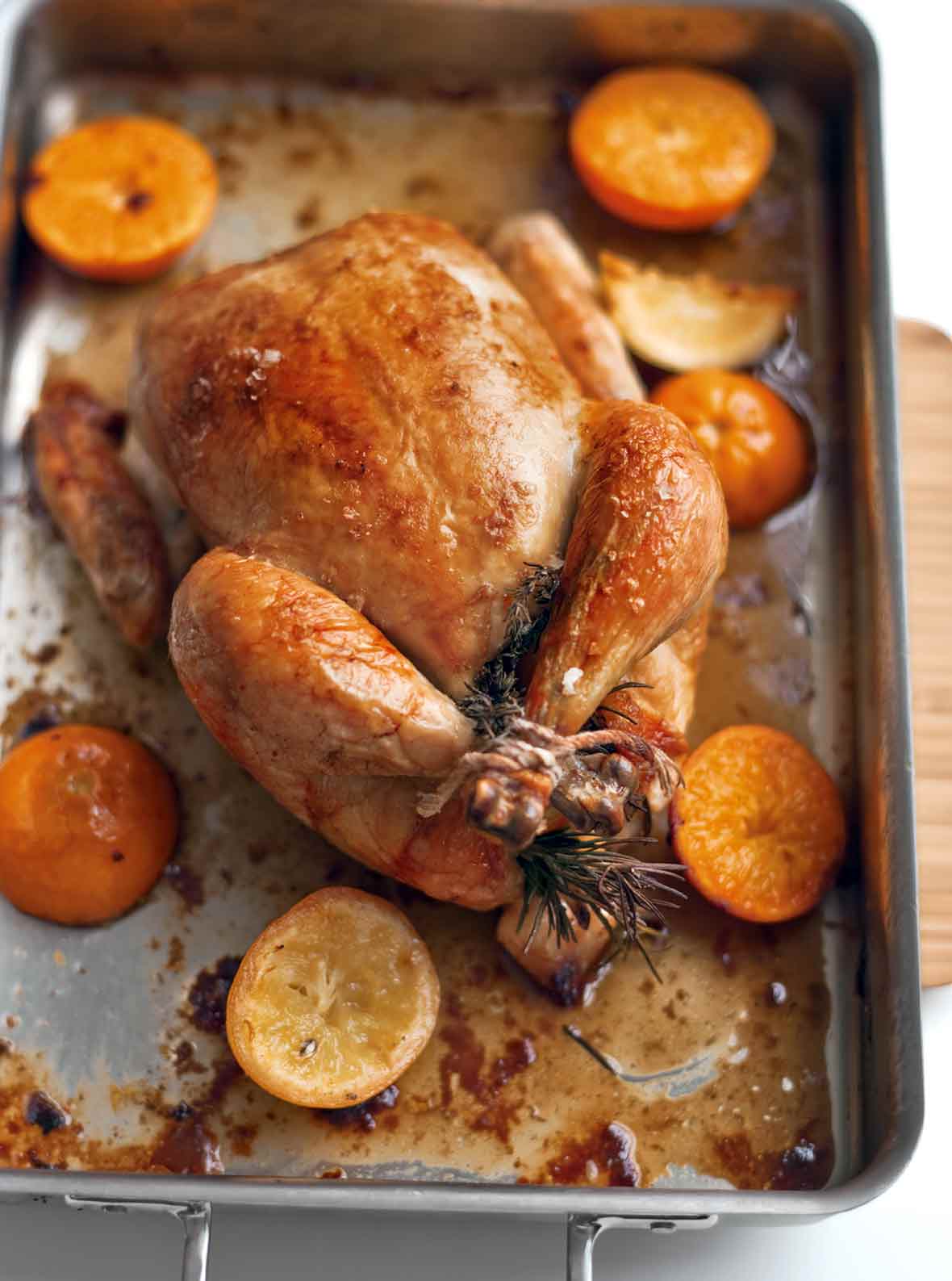 Aside from lamb chops and glazed ham, a good roasted chicken is always impressive during Easter evening. This roasted chicken with citrus is great as a centerpiece for your Easter table. It will fill the house with a soothing aroma of orange and rosemary sprigs. This roasted chicken takes approximately 1 to 2 hours to cook depending on the size of the chicken you're going to use.
13. Herb-Stuffed Leg of Lamb with Mint Gremolata
Because the Christians refer to Jesus as the "Lamb of God", serving lamb becomes a tradition every Easter. This herb-stuffed leg of lamb is the best way to prepare lamb. Herbs are the key to this moist and tender leg of lamb recipe. A paste made of herbs is layered inside a boneless leg of lamb, then it's rolled and tied with a cooking twine. The leg of lamb is placed in the oven atop of veggies for one hour. This dish is served with roasted veggies and a tasty mint gremolata.
14. Hot Crossed Buns
Hot cross buns are made with raisins and marked with a cross on the top. They are traditionally eaten on Good Friday. These buns are now enjoyed all year round and are available in various stores. But for me, homemade hot crossed buns are always the best! These spiced sweet buns bake for 20 to 25 minutes. Before serving, the buns are brushed with sugar syrup and marked with cream cheese icing to form a cross.
15. Carrot Cake Cheesecake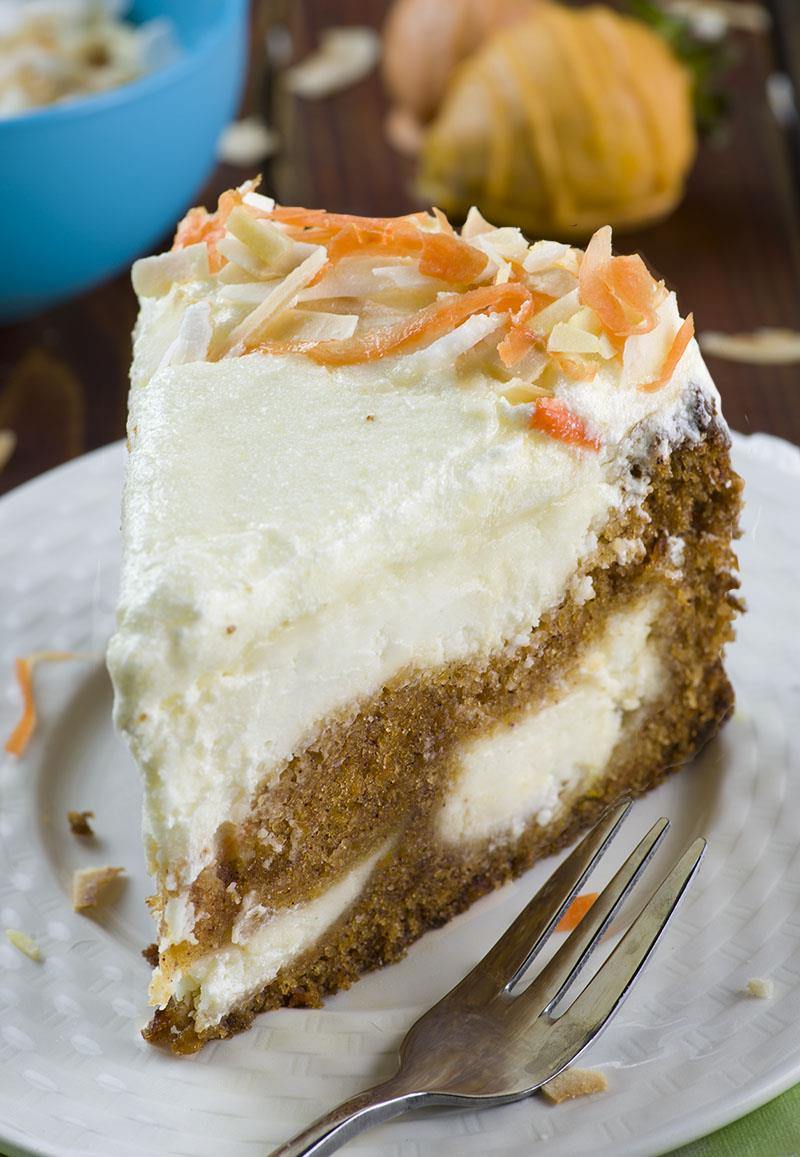 End your Easter dinner on a sweet note with this delightful carrot cake cheesecake. This recipe gives a slight tweak on a classic Easter carrot cake. It is made even more delightful with cream cheese frosting and a layer of creamy cheesecake. This cake is so impressive, but it's actually easy to put together. Mix the ingredients of each layer and spread them evenly in pan and bake for 60 to 70 minutes with supervision especially for the last 30 minutes. For the final touch, spread the cream cheese frosting over the top and pop it in the fridge until ready to serve.
Do you still have time for more traditional Easter dinner menu recipes? Watch this video from Coupons.com and learn more Easter recipes on a budget:

Everyone is excited about Easter, but this traditional Easter dinner menu will make us even more excited about the special holiday! Each recipe deserves to be on your Easter table as they are all mouthwatering and will surely be a smash hit! These recipes come together quickly and easily, anyone at home can prepare.
Which of these traditional Easter dinner menu recipes are you planning to try? Let us know in the comments section! You might also need this list of 11 Oven Baked Pork Chops Recipes.
Don't forget to keep in touch, foodies!
Also, make sure to follow us on Facebook, Instagram, Pinterest, and Twitter!