Easter wouldn't be complete without a decadent Easter Peeps cake! For creative and delicious ways to make your cake, keep on reading!
RELATED: 13 Yummy Marshmallow Recipes For Kids
Easter Peeps Cake To Complete Your Easter Celebration
There are so many reasons why Easter is the celebration of life. Aside from its traditional meaning, Easter happens to coincide with spring—the signal that nature is starting life anew. 
In more practical terms, lovers of sweets and desserts feel so alive during Easter because of indulgent Easter Peeps cake! Whether you prefer chicks, bunnies, or flowers to symbolize life, I've got the Easter Peeps cake recipe right here!

1. Super Easy Easter Peeps Cake
Among these Easter Peeps cake recipes, this super easy Easter Peeps cake is the quickest to make! If you're running out of time for preparation, just bake a simple cake (it can be from a store-bought mix), coat it in green frosting, sprinkle green coconut bits on top, and add bunny Peeps all around the edges!
2. Easter Dirt Cake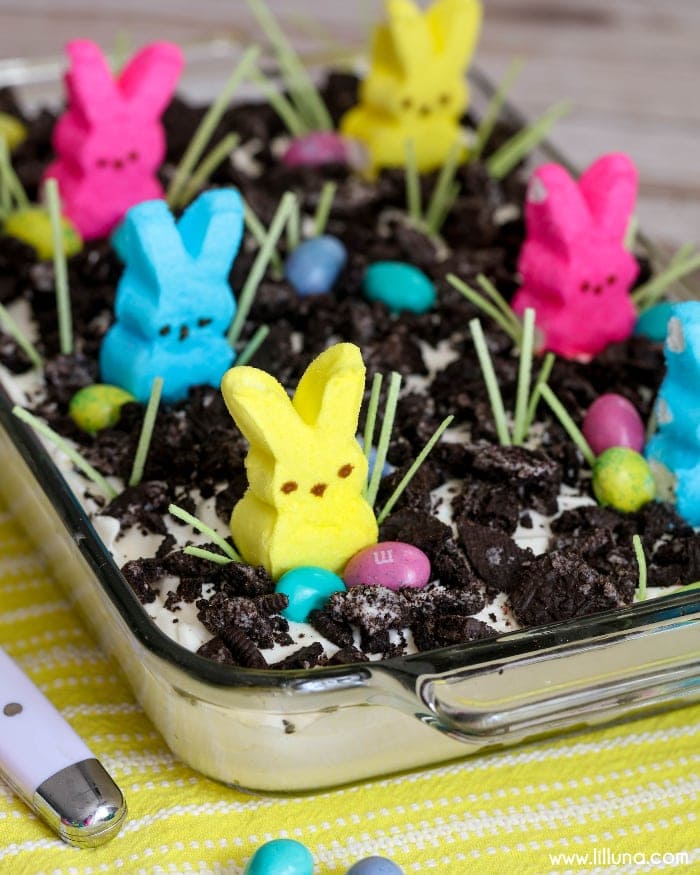 Who knew we'd be so excited to eat dirt? This Easter dirt cake uses Oreos for the 'dirt', a mixture of margarine, milk, cream cheese, and vanilla for the frosting, and edible grass candy to complete the dirty garden effect! Look at how happy the peep bunnies are!
3. Funfetti Peeps Cake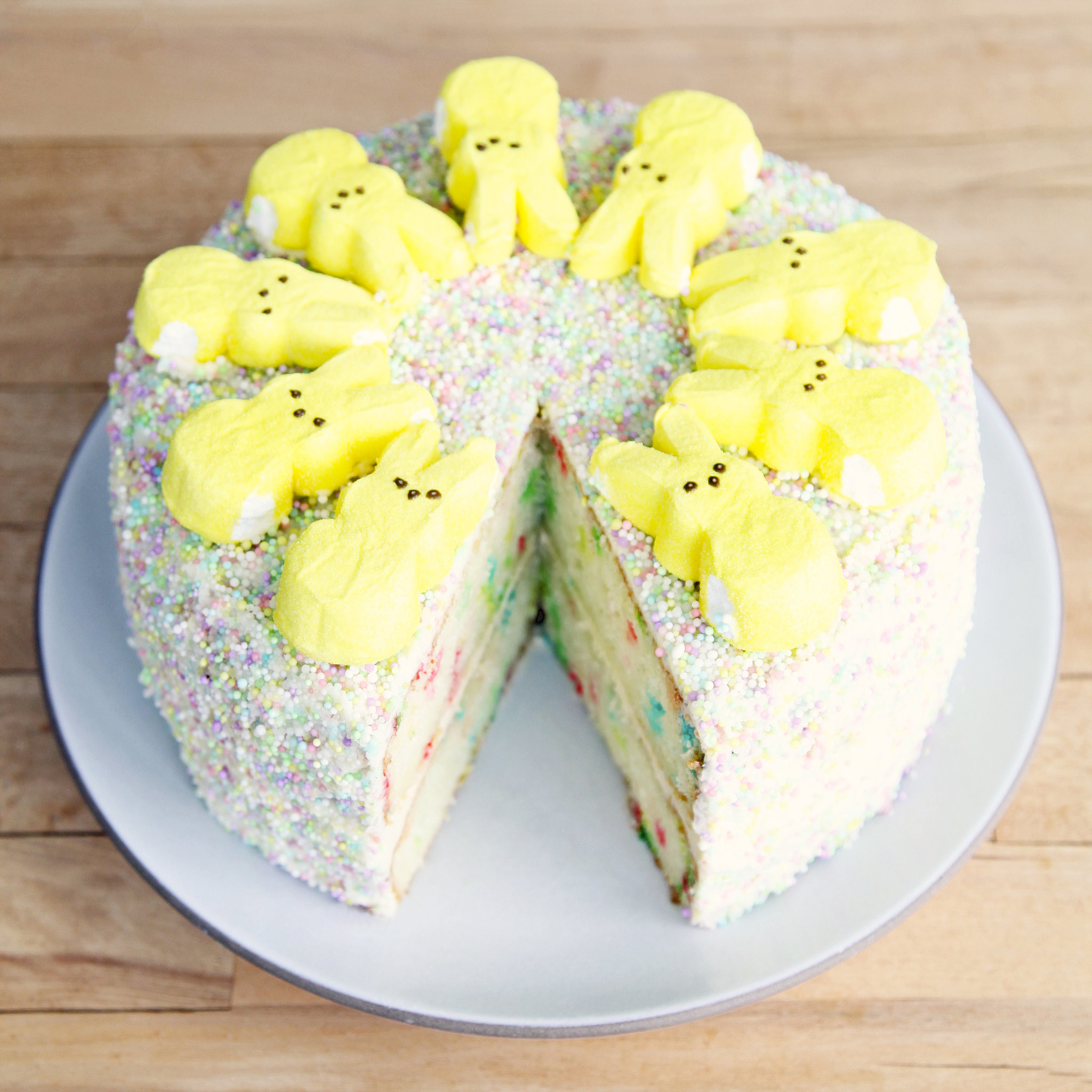 An Easter Peep cake should always be fun and festive, and there's no easier way to achieve that than making this funfetti Peeps cake! Bake your funfetti cake mix, mix butter, sugar, vanilla and milk for the buttercream frosting, and add colorful sprinkles and yellow Peeps bunnies for decoration!
4. Chocolate Easter Peeps Cake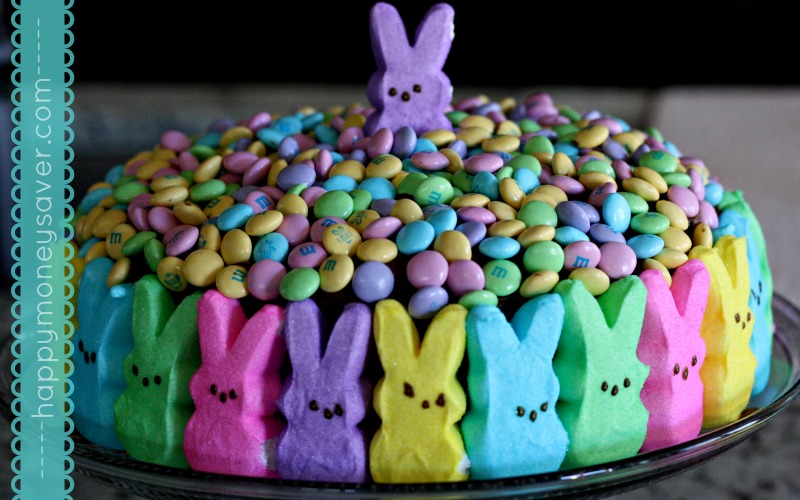 This chocolate Easter Peeps cake will make chocolate-lovers swoon! All you need is your favorite chocolate cake mix, chocolate frosting, and the Easter dessert essentials: Peeps bunnies and Easter M&M's!
Make #dessert time extra exciting with this #Marshmallow and M&Ms #recipe: https://t.co/gi4nBtbTo7 pic.twitter.com/cqAZ942Uq5

— Homemade Recipes (@BestHomeRecipes) March 21, 2017
5. Peeps Cake With Marshmallow Frosting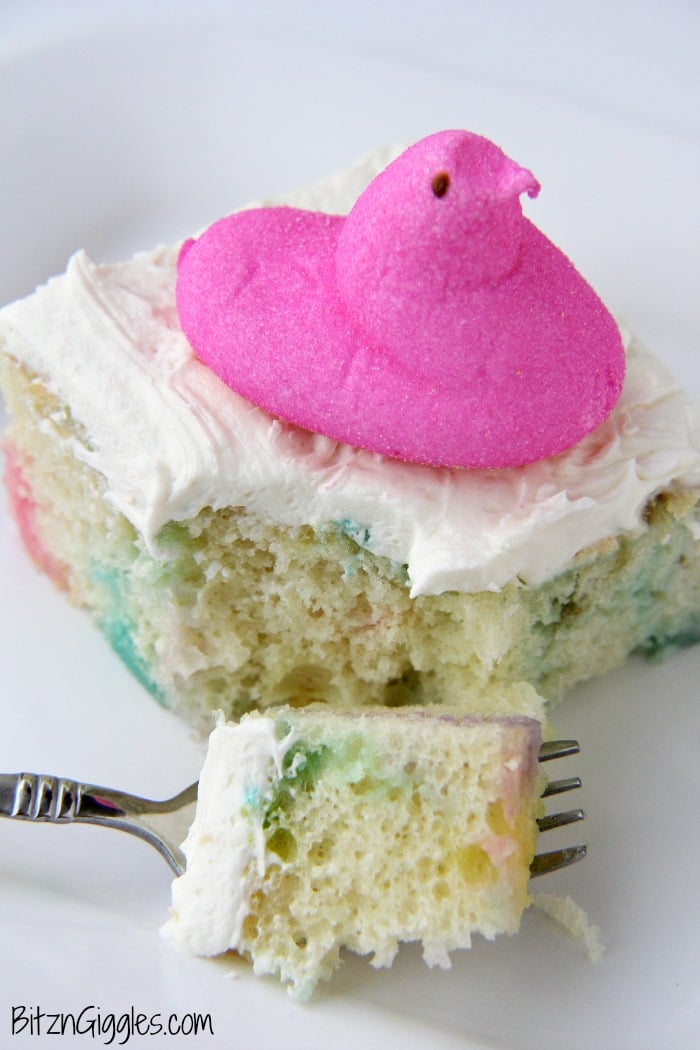 Double the Peeps fun with this Peeps cake with marshmallow frosting! Instead of baking your traditional white cake mix on its own, throw in some Peeps marshmallows in the cake mix itself. For the frosting, mix the Peeps marshmallows with butter to get an extra fluff! This Easter Peeps cake is insanely good.
6. Easter Garden Cake
Bunnies jumping out of the garden soil might be the most popular image of Easter. So, use it as inspiration for your Easter Peeps cake! To re-create a garden for dessert, you'll need a devil's food cake mix, creamy chocolate frosting, and some orange and green icing. Make this Easter garden cake come to life by adding your Peeps bunnies!
7. Classic Easter Peeps Cake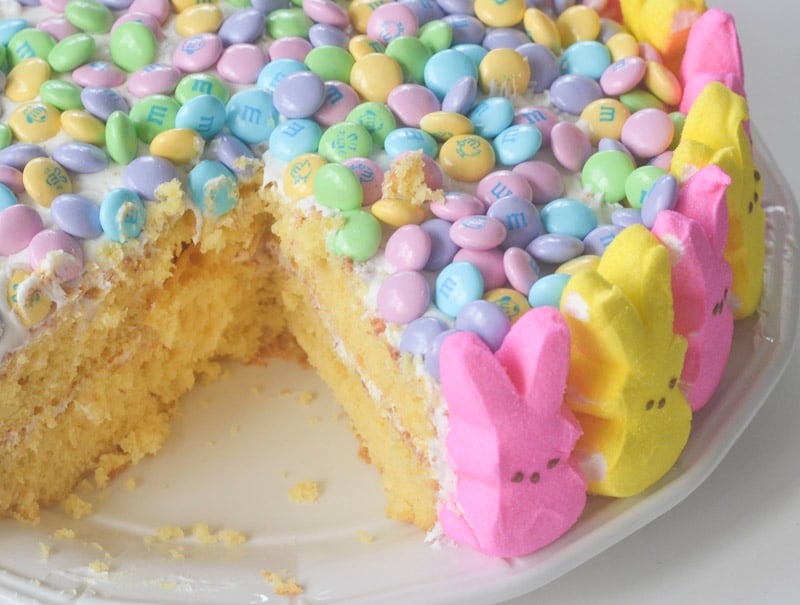 You can't go wrong with a classic Easter Peeps cake. The Easter dessert staples Peeps bunnies and pastel M&M's go best with your yellow cake mix. Every bite of this Easter Peeps cake will have that burst of Easter colors!
8. Sunflower Peeps Cake
Like chicks and bunnies, flowers are also symbols of life. Make the sweetest and loveliest Easter Peeps cake by making this sunflower Peeps cake! Once you've got your chocolate cake mix, chocolate icing, chocolate chips, and yellow Peeps, it's all a matter of decoration and arrangement!
9. Oreo Easter Dirt Cake
You don't always have to crowd your Easter Peeps cake with Peeps. Sometimes, putting them on the side creates a new and genius Easter dessert everyone will adore! Take this Oreo Easter dirt cake, for example. Cover your cake with a thick layer of Oreos, and decorate it with planted carrots. For these carrots, you'll need vanilla frosting and some food coloring. To finish the cake, add your Peeps on the side like they can't wait to get to those carrots!
10. Ultimate Easter Peeps Cake



If you love Easter, you'll love this beautiful Easter Peeps cake. You don't have to love Peeps candy to enjoy this colorful cake.
Combine a simple vanilla sponge cake with food coloring, and you get a beautiful checkered surprise.
11. Giant Easter Bunny Peeps Cake



Bunnies are the Easter mascot, and Easter is not the same without them. In honor of the Easter bunny, make this

giant bunny cake

this year.

12. Easter Peeps Pizza


Tired of the usual Peeps cake for Easter? Make a Peeps pizza instead! Made with a Krispie treat base and topped with frosting. As simple as that.
13. Peeps Cake Batter Candy
Peeps are so versatile! Here's another take on the classic Easter Peeps Cake: cake batter candy.
Make these fudgy candies in a microwave and decorate. Quick, simple, and easy!
Watch this video from Cookies Cupcakes & Cardio for more Easter Peeps cake ideas:
No matter how many Easters we celebrate, there will always be new and exciting ways to make your Easter Peeps cake! Peeps are such a classic, they can be reinvented in so many ways every year! And because they provide room for creativity, there's always a way to have what you want—whether it's a layered cake lined with frosting or a simple one covered in Oreos. This Easter, share some sweetness with these Easter Peeps cakes!
Which Easter Peeps cake are you making for your loved ones? Let us know in the comments section!
Up Next :

Don't forget to keep in touch, foodies!

Also, make sure to follow us on Facebook, Instagram, Pinterest, and Twitter!