Love Easter desserts? From Easter cupcakes to Easter cakes, there's an Easter treat for everyone, and I've got them all here for you!
Easter Desserts for an Awesome Easter Celebration
Easter is all about celebrating new life. And is there a better way to celebrate life than by having some of the sweetest desserts? I don't think so! I always try to serve my kids the best Easter desserts they just simply adore. Cupcakes and cakes are their favorites, but I try to be creative every year. Now that Easter is around the corner again, I've gathered some of the most delightful Easter dessert recipes that are not just pleasing to the eyes, but delicious as well! Keep on reading because you're in for a real treat!
1. Easter Krispie Treat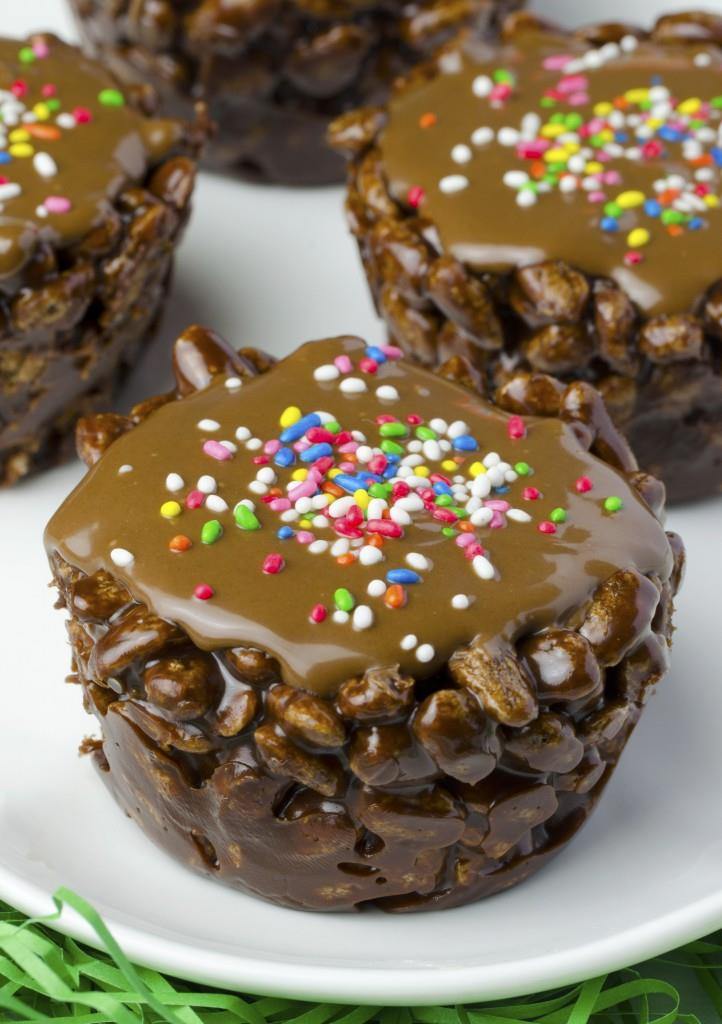 Be careful: this is one of those Easter desserts which will be gone once you turn around from the table. How could it not? With choco krispies, chocolate, and Nutella, this Easter krispie treat is a smash hit!
2. Easter Bunny Dirt Cake
An Easter cake that will have you hopping around in joy! Isn't this cake just adorable? Cute pastel-colored bunnies in a field of greens.
3. Layered Peeps Crispy Rice Treats
What's better than crispy rice treats? Layers of crispy rice treats, of course! Each of the layers of this layered peeps crispy rice treats is also in pastel color! Pleasing to the eyes and to the tummy.
4. Homemade Reese's Eggs
Would a spread of Easter desserts be really complete without some egg-inspired treats? If you're going to make egg-shaped treats, why not make it an egg made of Reese's peanut butter cups? They're the best eggs I've had so far.
5. Easter Chick Cupcake
Wondering what ever happens to leftover Easter eggs? They become really sweet Easter chick cupcakes! As a bonus, the presentation of these Easter desserts is in theme too: a nest made of confetti!
6. Bunny Butt Cookies
When my kids ask me what this Easter dessert is, they can't help but start laughing! These Easter bunny butt cookies are the best way to break the ice at an Easter party!
Leave your guests in awe with these amazing #trifle recipes!https://t.co/jpE7x4FqMk pic.twitter.com/E511xK5YK1

— Homemade Recipes (@BestHomeRecipes) March 10, 2017
7. 4-Ingredient Easter Egg Oreo Truffles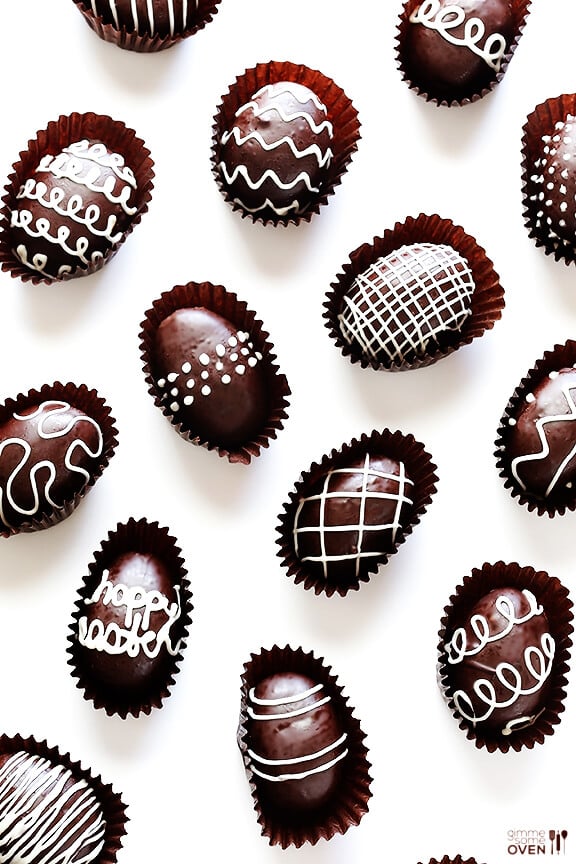 Truffles with just four ingredients? Who knew Easter desserts could be this fancy and this easy! Don't think twice. Just get some Oreos, cream cheese, chocolate chips, white almond bark, and make this recipe.
8. Chocolate Egg Nest Cookies
If you're looking for a way to serve some eggs for Easter desserts, then these chocolate egg nest cookies are for you! Sweet, creative, and no-bake! It doesn't get any better than that!
9. Easter Bunny Chow
Cereal covered in a peanut butter and white chocolate mixture? This is what Easter desserts are all about! If I can get away with it, I'd eat a bowl of this Easter bunny chow everyday!
10. Skinny Easter Egg Cake Balls
Now these Easter desserts are for moms on a diet. Just because you're following a regimen, doesn't mean you have to deprive yourselves of Easter goodies! These skinny easter egg cake balls are the answer! Make this skinny cake balls recipe.
11. Easter Egg Cookie Dough Truffles
Beautifully designed Easter desserts which are also delicious—this will make your Easter celebration extra special! These Easter egg cookie dough truffles are so irresistible your guests will ask for some take-home!
12. Easter Basket Cookies
This year, if you want to put a twist to your Easter desserts, then make cookies shaped like an Easter basket filled with Easter eggs! I know, even I have a hard time understanding these Easter basket cookies. But that's what makes them really fun!
13. Cake Batter Blondies
These blondies can be made without using any mixer and in under 30 minutes. If you're in a hurry to put together an Easter feast, these cake batter blondies are the Easter desserts for you.
14. Easter Pretzel Chicks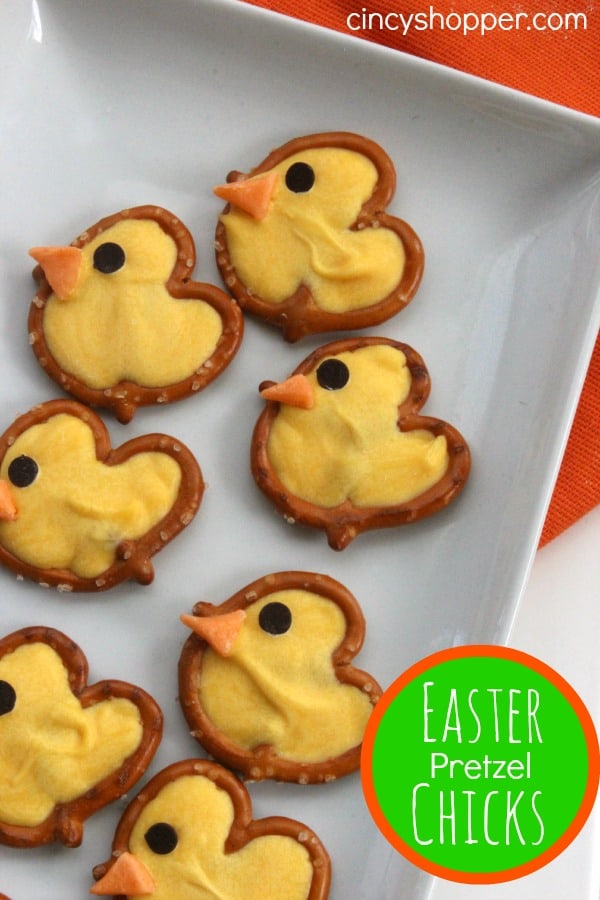 I've seen many ways on how to make chicks when it comes to Easter treats, but these Easter pretzel chicks are by far the most creative! Definitely one of the best Easter desserts out there!
15. Easter Marshmallow Bark
The great thing about using marshmallows for your Easter desserts is their colors already go really well with the Easter color palette. Transform them into a white chocolate-flavored Easter marshmallow bark! It's so easy!
16. Carrots and Dirt Cupcakes
If you're tired of seeing the Easter bunny, then just turn its favorite food into an Easter dessert. These carrots and dirt cupcakes have a surprise for those who are willing to try them: strawberries inside!
17. Flower Pretzel Bites
There are just so many things you can do with pretzels! Put spring and Easter into one amazing dessert with these flower pretzel bites!
18. Jell-O Easter Eggs
We've made Easter eggs out of chocolate, candy, pretzels—you name it! At this point, anything is possible. So, why not try making these cool Jell-O Easter eggs!
19. Rainbow Pinwheel Cookies
If you can't decide which of the pastel colors of Easter you want to put in your cookies, then just put them all in a single cookie! These rainbow pinwheel cookies will make sure you enjoy every shade of the occasion in every bite!
20. Easter Bunny Coconut Cupcakes
If you thought there's no place for your favorite coconut cupcakes in the Easter desserts spread, then think again! All you need are some marshmallows to transform your regular coconut cupcakes into Easter bunny coconut cupcakes!
21. The Best Carrot Cake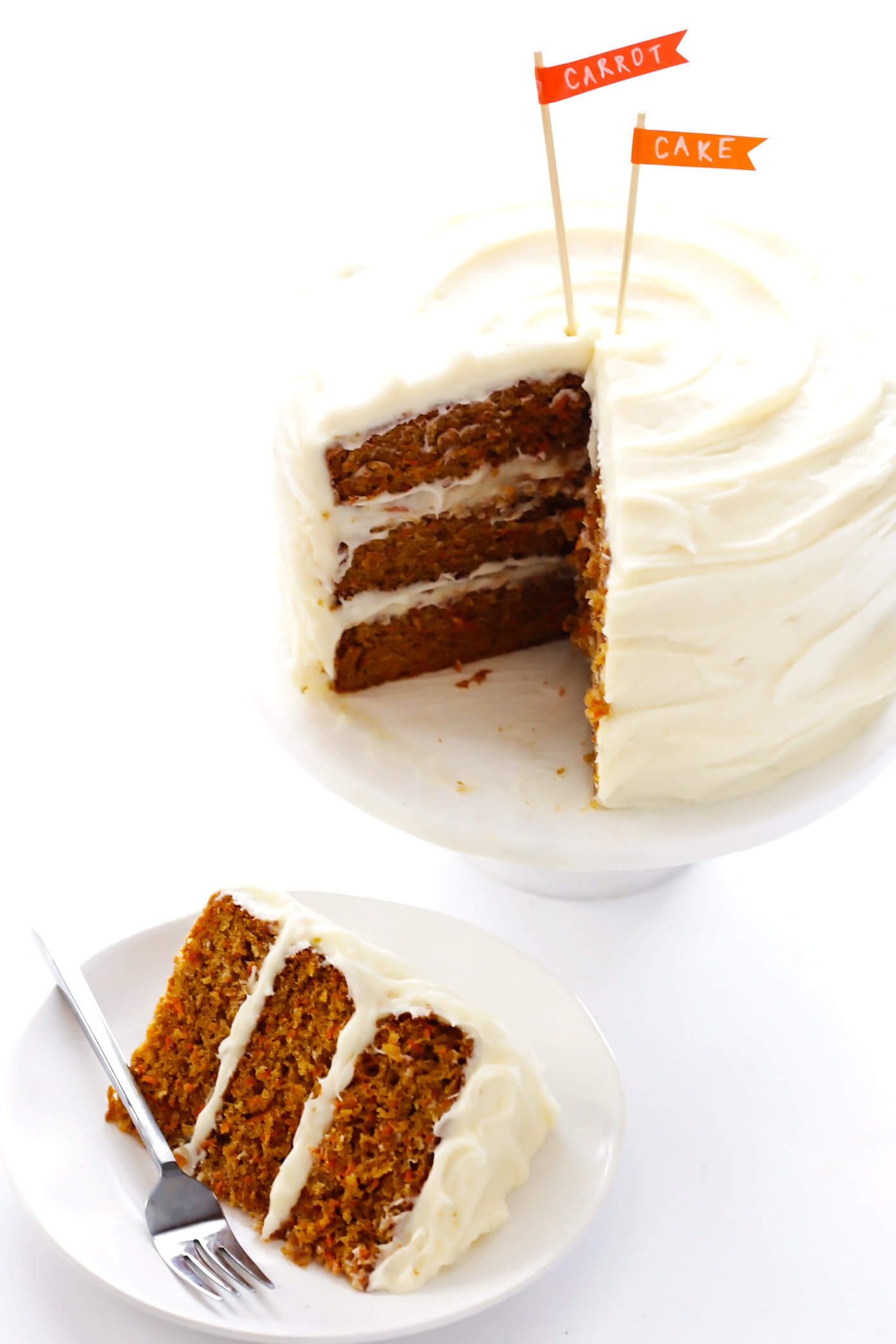 This carrot cake is so good, a gigantic Easter bunny might just appear to steal it! So, I suggest making two of these since it's so delicious, everyone will want to have more than you expected.
22. Chocolate Covered Pretzels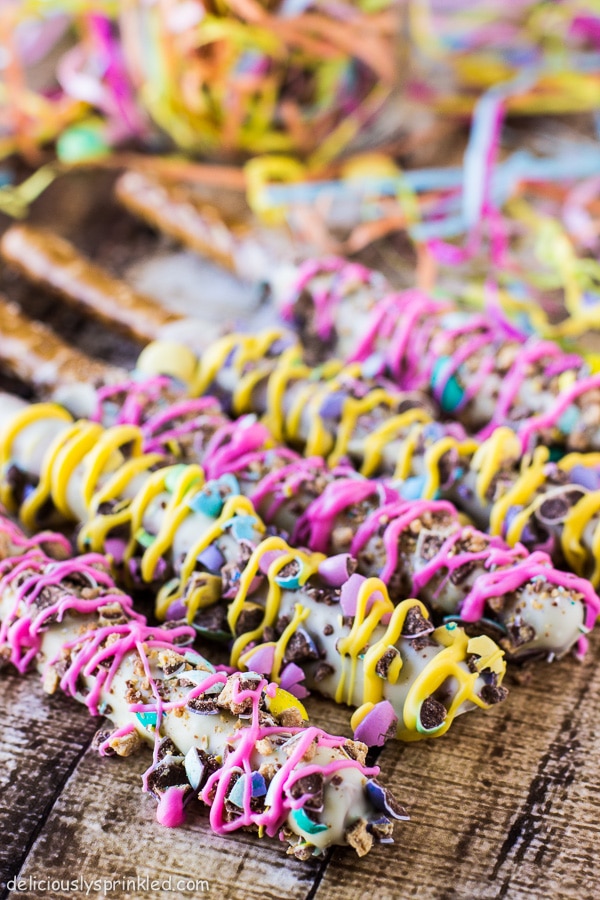 I love pretzels, but I have to admit they can seem kind of plain sometimes. If you want to add some Easter touches to them, then make these chocolate-covered pretzels! It's the Easter dessert kids will surely enjoy.
23. 30-Minute Easter Basket Cake
An entire cake in 30 minutes? Easter desserts are here to help the busy, bustling, and hustling moms! This Easter basket cake has all the Easter essentials: rice krispies, marshmallows, and Easter egg candy!
24. Hollow Chocolate Confetti Eggs
Eggs in an egg? It's an egg-ception! Simply, egg-ceptional! Okay, that's the last of my egg puns. What's not a joke is how good these hollow chocolate confetti eggs are! Just imagine finding more chocolate upon finishing one layer! Easter desserts are not messing around.
25. Easter Egg Cookie Cake
A cake and a cookie in one Easter dessert? Your guests will be demanding you celebrate Easter every day and serve this Easter egg cookie cake!
26. Peeps Pops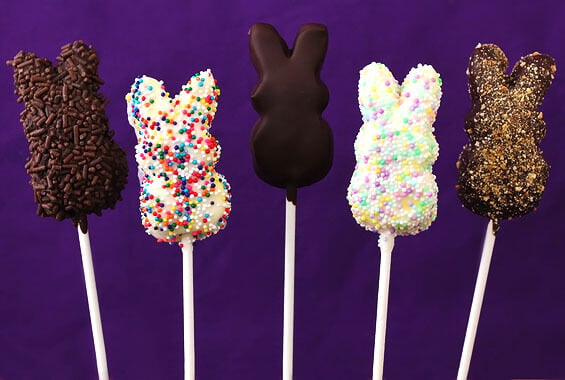 I know a couple of friends who are simply addicted to cake pops, so I've decided to make this Easter version! They're made of graham crackers and melted chocolate—what more could you ask for? Easter dessert heaven!
Watch this video from Zoella for more Easter desserts:
Now I know why the Italians have the phrase "la dolce vita"! They were absolutely right. A sweet life is indeed a good life! And I'm sure these Easter desserts will show you just what the Italians mean in the most delicious way possible! So, this year, be a little more adventurous and serve your guests these amazing Easter desserts. One bite, and they'll be filled with life.
Which of these Easter desserts are you dying to try? Let us know in the comments below!
Still want more desserts? Try these 16 salted caramel desserts to sweeten up your life!
Don't forget to keep in touch, foodies!
Also, make sure to follow us on Facebook, Instagram, Pinterest, and Twitter!
Editor's Note – This post was originally published in March 2015 and has been updated for quality and relevancy.