Make great Easter desserts and have fun with these easy Easter dessert recipes.
Fun Easter Recipes to Make This Easter One to Remember
When it comes to celebrations, nothing beats sweets—and with the coming of a new life, Easter dessert recipes make the get-together.
I always enjoy serving my family with the best Easter desserts. Cupcakes and cakes are their favorites but I try to be creative with my ideas every year.
Now that Easter is around the corner again, I've gathered some of the most delightful Easter dessert recipes that are not just pleasing to the eyes but delicious as well.
Keep on reading because you're in for a real treat!
RELATED: 15 Traditional Easter Dinner Menu
Easy Easter Dessert Recipes
Easter is a great time for families to get together and celebrate. Here are some easy Easter recipes you can make with your kids:
1. Layered Peeps Crispy Rice Treats
[instagram url=https://www.instagram.com/p/Bvu69y6pT7k/ hidecaption=true width=1000]
What's better than crispy rice treats? It's layers of crispy rice treats, of course! This classic Easter treat gets a new life with pastel colors.
It's quick, easy, and delicious. Your kids will love making this and enjoy eating it even more.
2. Easter Krispie Treat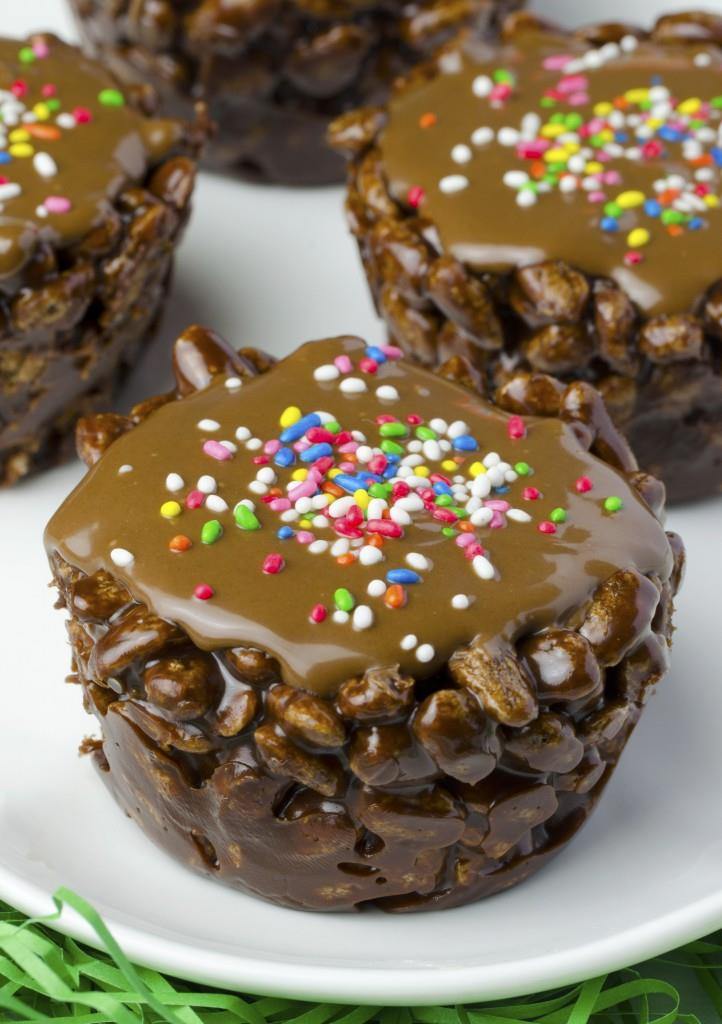 Another simple treat that everyone loves. This is one of those Easter desserts that disappear in a blink of an eye—the combo of rice Krispies, chocolate, and Nutella creates a smash-hit Easter dessert.
You can decorate your Krispie treats with peanut M&M's or egg candies to make it Easter themed.
3. Skinny Easter Egg Cake Balls
|
This is an Easter dessert specially for moms on a diet. These skinny easter egg cake balls a light version made with Greek yogurt, less butter, and no yolk.
You can get creative with the decorating and your kids can help too.
4. Homemade Reese's Eggs
Would a spread of Easter dessert recipes be really complete without some egg-inspired treats? Make them from Reese's peanut butter cups—they're the best eggs I've had so far.
5. Easter Chick Cupcake
What happens to leftover Easter eggs? They become Easter chick cupcakes! As a bonus, the presentation of these Easter desserts is a nest made of confetti.
6. Bunny Butt Cookies
[instagram url=https://www.instagram.com/p/BwhhFnNA7YI/ hidecaption=true width=1000]
These Easter bunny butt cookies are the best way to break the ice at an Easter party. It's quick and easy. Your kids will have a lot of fun decorating the cookies and your attendees will surely have a good laugh.
7. 4-Ingredient Easter Egg Oreo Truffles
|
You'd think making truffles is hard but this easy Easter recipe will change your mind. All you need are some Oreos, cream cheese, chocolate chips, white almond bark, and you're ready to impress family and friends with this great dessert.
8. Chocolate Egg Nest Cookies
Here's an easy Easter dessert recipe for when you don't want to be bothered: no-bake chocolate-coated noodle cookies. All you need is a muffin pan and a microwave oven!
9. Easter Bunny Chow
Cereal covered in peanut butter and chocolate is what Easter dessert recipes are all about! If I can get away with it, I'd eat a bowl of this Easter bunny chow every day!
This Easter dessert recipe is so simple you can leave your older kids to do this one on their own.
**Make sure to use oven mitts, heating a bowl in the microwave can get quite hot!
10. Easter Bunny Dirt Cake

This is an Easter cake recipe that will have your kids hopping around. Look at those cute bunnies in a field of greens that are just adorable.
11. Easter Egg Cookie Dough Truffles
|
Get takeaway bags ready! This beautifully designed Easter dessert is so delicious and irresistibly colorful, your guests will surely ask for some take-home!
Keep your kids entertained by decorating these truffles.
12. Easter Basket Cookies
Easter basket-looking cookies? Sounds new, right? But they sure look pretty fun. This Easter dessert recipe even throws in the all-time favorite jelly chewables.
Once you've baked the cookies, keep your kids busy with decorating them!
13. Cake Batter Blondies
[instagram url=https://www.instagram.com/p/BEGtX55OIvM/ hidecaption=true width=1000]
These blondies can be made without using any mixer and in under 30 minutes. If you're in a hurry to put together a feast, these cake batter blondies are the Easter desserts for you.
14. Easter Pretzel Chicks
I've seen many how to make Easter chicks tutorials, but these pretzel chicks are by far the most creative. It's a must-add to your list of dessert recipes for Easter.
This Easter dessert has only 4 ingredients. It's a wonderful option if you're looking for
a quick, budget-friendly Easter dessert.
15. Easter Marshmallow Bark
Marshmallows can be any color and can match any color palette. That's why they're perfect for Easter and this chocolate-flavored marshmallow bark.
16. Carrots and Dirt Cupcakes
|
These carrots and dirt cupcakes have a surprise for those who are willing to try them: strawberries inside! Give them a try for when you're not too keen to see any more bunny desserts.
17. Easter Bunny Coconut Cupcakes
If you thought there's no place for your favorite coconut cupcakes in the fun Easter dessert recipes spread, think again. This is the best coconut cupcake recipe and it's perfect for Easter. All you need are some marshmallows to transform your regular coconut cupcakes into Easter bunny coconut cupcakes.
Decorating these cupcakes is so much fun and the result is delicious cute cupcakes that the who;e family can enjoy.
18. Jell-O Easter Eggs
[instagram url=https://www.instagram.com/p/Bwh76rjAeLD/ hidecaption=true width=1000]
Try something different this year and make Jell-O Easter eggs.
It takes a bit of time to make the different layers but your kids can help! You can make as many or as few layers as you like.
The end result is cute, delicious Easter eggs your kids have never seen before.
19. Rainbow Pinwheel Cookies
Put the colors of Easter in a single cookie to enjoy every shade of the occasion in every bite. These rainbow pinwheel cookies will do the trick.
It's super easy to make these swirls and everyone will be impressed. Choose your favorite colors and ask your kids to help you roll out the swirls.
RELATED: 28 Easy Easter Recipes You'll Crave All Year Round
20. Flower Pretzel Bites
[instagram url=https://www.instagram.com/p/BFHU8wdqemN/ hidecaption=true width=1000]
Pretzels are so versatile. You can combine them with almost anything and you'll have an easy creative snack.
Take this no-bake spring/Easter flower pretzel bites for instance. Take some pretzels, candy melts and M&M's and you have an Easter flower!
This is another great pretzel recipe your kids can help with. The flowers are beautiful and make an awesome addition to your Easter dessert table.
21. The Best Carrot Cake
|
Nothing says Easter like carrot cake. This carrot cake boasts a heavenly cream cheese frosting and fresh carrot bits on the inside.
I like to myself carrot cake is healthier so you can count this as a vegetable… Only kidding.
On a more serious note,, I suggest you bake two because everyone will take second (or third) helpings!
22. Chocolate-Covered Pretzels
I love pretzels, but I have to admit they seem kind of plain for kids. But coating them with milk chocolate will turn them into kiddie Easter dessert!
Simply cover pretzels in chocolate, add some sprinkles and voila! You can also add some crushed M&M's for more variety.
23. 30-Minute Easter Basket Cake
|
An entire cake made in 30 minutes is possible with this Easter basket cake recipe. It even has rice Krispies, marshmallows, and Easter egg candy.
The best part about this Easter recipe is how beautiful it looks!
24. Hollow Chocolate Confetti Eggs
Remember those chocolate eggs with a surprise inside kids go crazy over at the groceries? You can make them at home! But instead of toys, put sprinkles and M&Ms inside.
This is one of my favorite Easter dessert recipes and your guest will be surprised when they find all the candy inside!
25. Easter Egg Cookie Cake
[instagram url=https://www.instagram.com/p/B2aApZ0JmqW/ hidecaption=true width=1000]
This Easter dessert recipe is the best of both worlds and is highly recommended for the sweet-tooth—it's a cake and a cookie. It's a cookie cake!
26. Peeps Pops
I know a couple of friends who are simply addicted to cake pops, so I've decided to make this Easter version. This heavenly recipe is made of graham crackers and melted chocolate.
27. Cheesecake Eggs
[instagram url=https://www.instagram.com/p/B9Czx_xpbfD/ hidecaption=true width=1000]
Try this cheesecake egg recipe to taste that cheesy yet chocolaty flavor. All you need is an egg-shaped chocolate piece filled with no-bake cheesecake and apricot jam.
This recipe uses balloons to make the egg shapes but you can also make them with hollow chocolate eggs to save time.
28. Egg Pudding Shots

For a one-of-a-kind Easter dessert recipe, here are egg pudding shots you can make in 15 minutes. This recipe is specifically designed to keep the adults happy but a small tweak can make it a welcome addition to the dessert table for everyone.
Add vanilla vodka to beef up its flavor. Or leave out the vodka to make a family friendly treat.
29. Easter Bread
[instagram url=https://www.instagram.com/p/B9zDfOGhiT-/ hidecaption=true width=1000]
This magical Easter bread recipe is common in Greek and Italian Easter events. You can add food coloring to the eggs for color or enjoy it with ice cream!
30. Banana Pudding Cheesecake Bars
The banana cheesecake blondie bars are tastier when served hot, and the topping and crust should perfectly blend together within 45 minutes.
31. Cherry Cheesecake Egg Rolls
What do you get if you combine cheesecake and cherry pie? This cherry cheesecake egg roll. If you're looking for an alternative for the regular egg pie, this is it.
32. Easy-to-Make Lemon Bars

The filling in this Easter dessert recipe is thick and creamy and sits on an amazing shortbread crust. These lemon bars are also great for bridal and baby showers, spring brunches, and picnics.
33. Lemon Meringue Pie
[instagram url=https://www.instagram.com/p/BzdIPTMp230/ hidecaption=true width=1000]
Easter just wouldn't be the same without lemon meringue. This Easter recipe has lemon-custard and tart filling with billowy meringue on top of a crust with a perfect buttery flavor. It's a classic favorite you can whip up in an hour and a half.
34. Mini White Chocolate Strawberry Cheesecake
The blend of sweet chocolate and bitter fresh berries creates a winning combination for Easter, not to mention the additional flavor of cheesecake. The bite-size cakes are perfect for impressing your guests.
35. Lemon-Berry Shortbread Mousse Cake
|

Another berry inspired Easter dessert, Lemon-Berry Easter mousse cake is almost no-bake and wonderfully light. The tasty layers are a shortbread crust, white chocolate ganache, and lemon and berry mousse.
36. Bunny Hug Cookies
Kids love variety, especially on cute snacks and desserts. These bunny hug cookies will go well with the Easter bunny butt cookies on this list.
37. Peep Brownie S'mores
|

S'mores may be campfire favorites but it doesn't mean you can't have them for Easter. You need to place the Graham crackers first, brownie mix, chocolate bars, and colorful candies for this recipe.
38. Easter Bunny Macarons
These adorable bunny macarons make a great addition to you Easter dessert list. They're so easy to make and taste great.
Use a simple macaron recipe, add some food coloring and decorate with chocolate.
39. Lamb Marshmallow Pops
These cute lambs come together in minutes and your kids will love them. Use white chocolate, marshmallows, coated sunflower seeds, black gummies, and nonpareils (flat round candy, covered in sprinkles) to make irresistible little sheep.
Thanks to these Easter dessert recipes, I now know why the Italians have the phrase "la dolce vita!" Sweet life is indeed a good life! I hope you have a good Easter with the help of this list.
Which of these dessert recipes for Easter are you dying to try? Let us know in the comments below!

UP NEXT:
Don't forget to keep in touch, foodies!
Also, make sure to follow us on Facebook, Instagram, Pinterest, and Twitter!
Editor's Note: This post was originally published in March 2015 and has been updated for quality and relevancy.