Whole chicken recipes aren't just for the holidays. You can easily prepare a worthwhile meal without all the hassle —thanks to these easy yet flavorful dishes. If you want to know what other scrumptious recipes to do with a whole chicken aside from roasting, then this article is for you. Scroll down to learn these quick whole chicken recipes!
Whole Chicken Recipes To Send You in Sheer Delight
1. Slow Cooker Lemon Garlic Chicken
Enjoy a garlic and herb-flavored whole chicken with the perfect hint of lemon. Cook the whole chicken in the slow cooker with slices of fresh lemon, garlic, and fresh herbs. This recipe uses fresh rosemary but fresh thyme would work great as well.
2. Smoked Paprika Roast Chicken
Spices impart a rich, sweet, and smoky flavor which can be tasted in every part of the chicken. Sink your teeth in this gratifying spicy chicken roast recipe!
3. Thai Roast Chicken in Coconut Milk
Coconut milk definitely gives this whole chicken recipe a unique flavor. This dish is popularly credited to Jamie Oliver. If you are avoiding dairy products but wants to try something different with a whole chicken, then this roast chicken in coconut milk will be a sure-fire hit on the dinner table.
4. Tuscan Garlic & Herb Whole Roasted Chicken
Whole chicken cooked in a simple garlic and herb sauce, mixed with spices and lemon juice. The result is a succulent and oh-so-juicy dish which will make you giggle in sheer delight.
****
Give your roasted chicken an exceptional twist. The combination of orange and thyme is ideal for any season. You can add any side dish and serve it as a main dish for your dinner.
6. Chimichurri Roasted Chicken
Chicken rubbed and cooked in an easy-to-make chimichurri sauce. Make your chimichurri sauce with fresh herbs, lime juice, vinegar, garlic, and butter. The delectable blend of roast chicken and the famous Argentinian sauce will make you say "Muy Deliciosa!"
7. Whole Roast Masala Chicken
Indian-style whole roast chicken with flavors you'll surely fall in love with. The irresistible combination of aromatic spices makes this roast masala chicken a must-try!
8. Crock Pot Honey Lemon Chicken
[instagram url=https://www.instagram.com/p/BJGlA4PDdhd/ hidecaption=true width=625]
A sweet and zesty chicken slow cooked to juicy perfection can be the best description of this dish. This delicious fall-off-the-bone recipe is ideal for rice or noodles.
9. Crock Pot Whole BBQ Chicken
To some foodies, a BBQ-flavored meal will never get old. Pouring BBQ sauce over a roasted chicken is one of the easiest recipes for whole chicken out there, yet it is one of most favored one!
10. Crispy Roasted Chicken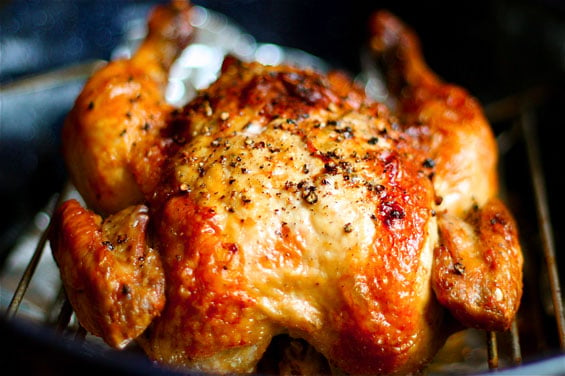 Elevate your dinner to a spectacular level with this easy and crispy roasted garlic chicken. You only need four main ingredients for this recipe: whole chicken, minced garlic, ground black pepper, and butter. Packed with unbelievable flavor, aroma, crunchy skin and succulent meat, this recipe can be a new favorite!
11. Brown Sugar Butter Roasted Chicken
This dish is one of the most simple yet flavorful whole chicken recipes you can make. All you need is brown sugar and butter! This butter roasted chicken is a clear proof that delicious meals do not have to be too complex to cook.
12. Roast Chicken and Vegetables

Stuffing chunks of herb butter, garlic, and lemons under the chicken skin is therapeutic. Its aroma alone is truly enticing and will make you crave for more! This roast chicken and vegetables recipe will make your dinner one for the books.
13. Skillet Roast Chicken
This roasted chicken is positively finger-licking, all thanks to your good ole' reliable everyday iron skillet! It is very easy to prepare and ready for plating in no more than an hour. So if you're looking for a simple yet impressive way to roast a chicken then you must give this recipe a try!
Hungry for more chicken recipes? Watch this video from Gordon Ramsey and learn his top 5 chicken recipes:
These whole chicken recipes along with their intoxicating aroma will send your palate in a delightful paradise. They are easy to prepare and loaded with nutritious benefits as long as you consume it in right quantities. So what are you waiting for? Choose a recipe above and start cooking!
What do you think of these whole chicken recipes? Which recipe are you planning to try? Share your thoughts with us in the comments section below.
Up Next: 662 Easy Homemade Recipes Every Beginner Should Master
Don't forget to keep in touch, foodies!

Also, make sure to follow us on Facebook, Instagram, Pinterest, and Twitter! 
Editor's Note: This post was originally published on October 7, 2016, and has been updated for quality and relevancy.