Have you been passing up on ground beef at the grocery store because you've long run out of ideas to make with it? Check out these simple ground beef recipes to know how you can make more than just spaghetti, and we've got quite a few! From healthy beef zucchini boat to hearty taco soup and flavorful meatball bombs, this roundup is the right place to find the best ground beef recipes in town!
23 Easy Ground Beef Recipes You'll Crave
1. Bacon Cheeseburger Egg Rolls
These
bacon cheeseburger egg rolls
are a great breakfast dish to start your day with! You only need ground beef, bacon, shredded cheese, egg roll wrappers, vegetable oil, and condiments. This is an easy recipe to make from scratch and will keep well throughout the week. You can store these bad boys in the freezer, grab a couple, and be set for the day.
2. Beef Zucchini Boat
Looking for a healthy dish to balance the calories in your ground beef? You've got the answer in this beef zucchini boat recipe which is just as healthy as it is delicious and tasty. It's a low-carb meal packed with meaty and cheesy goodness. You can make this dish tastier by adding diced tomatoes and avocado plus a drizzle of lime juice on top.
3. Mozzarella Stuffed Meatballs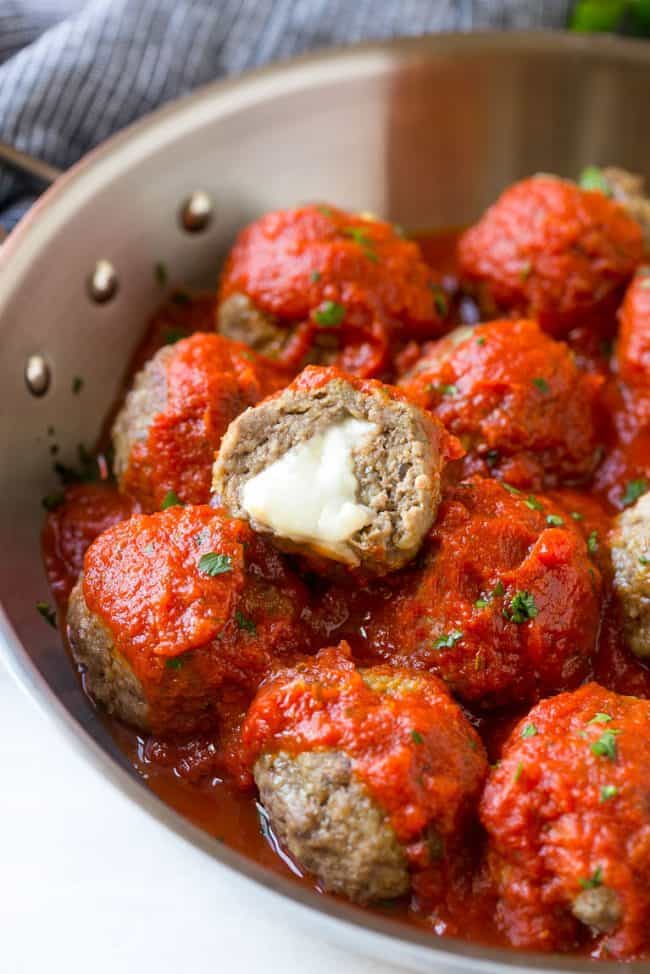 Tired of the same old regular meatballs? You're in for a surprise with this meatball recipe. Take a bite of these mozzarella stuffed meatballs and spoil your palate with a gooey and creamy dairy delight.
A gluten-free extremely saucy meatball appetizer that #FourthOfJuly special! #bbq #IndependenceDay

Recipe here – https://t.co/wHI5pGkTwA pic.twitter.com/natgyIxAU9

— Homemade Recipes (@BestHomeRecipes) July 3, 2017
4. Cheeseburger Macaroni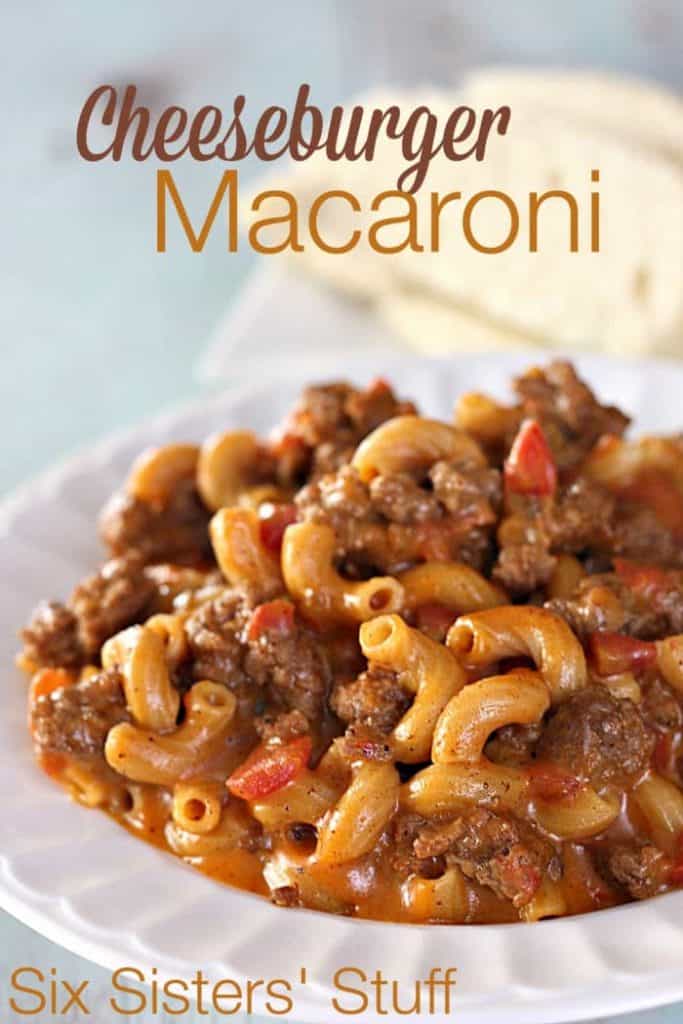 This pasta dish is loaded with lots of meaty ground beef, spices, and more cheese! In just 20 minutes, this homemade cheeseburger macaroni is ready on the table and makes for a quick and easy weeknight meal.
5. Taco Soup
If you're watching your carbs, but miss the taste of authentic Mexican ground beef recipes, this taco soup recipe is a wonderful compromise! A homemade soup, packed with energy-rich ingredients like beans, corn, and ground beef.
6. 25-Minute Quick-Draw Cowboy Chili
Looking for a comforting meal to enjoy while reading your favorite book? This Cowboy chili might be the one for you! A soup, so hearty and comforting and made meatier with the added adobo sauce and chorizo!
7. Meatball Bombs
Got some leftover ground beef dish in the fridge? You can actually transform a leftover into a new scrumptious dish with this meatball bomb recipe. If you haven't tried Chinese dumplings before, this can be a good start.
8. Korean Ground Beef Rice Bowls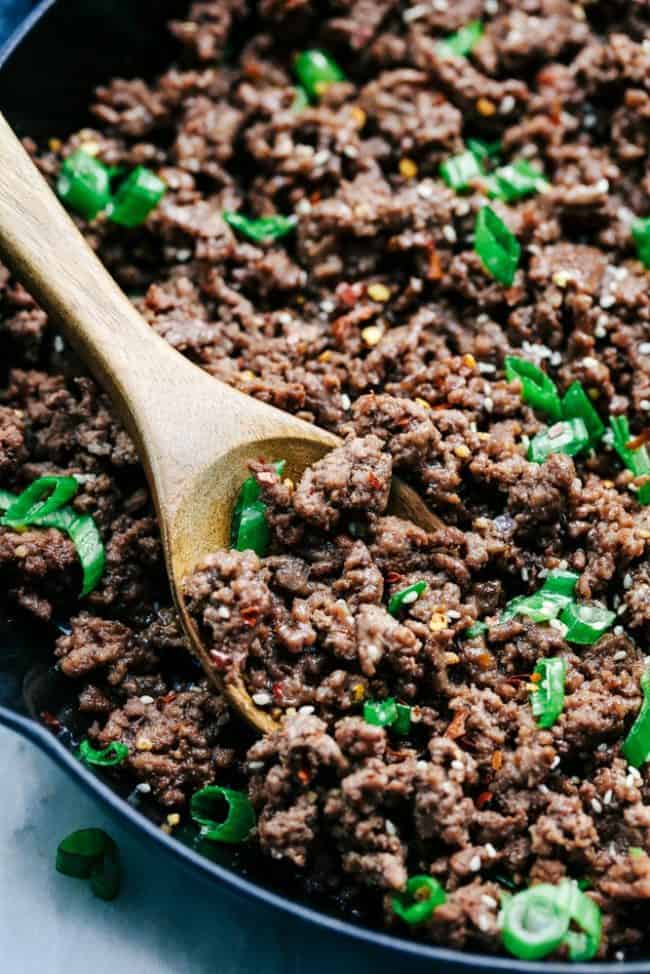 If you've got no time to prepare a side dish, an entree, an appetizer, consider this Korean ground beef rice bowl. You've got all you need in one dish, plus you get to go oriental this time.
9. Ground Beef Enchilada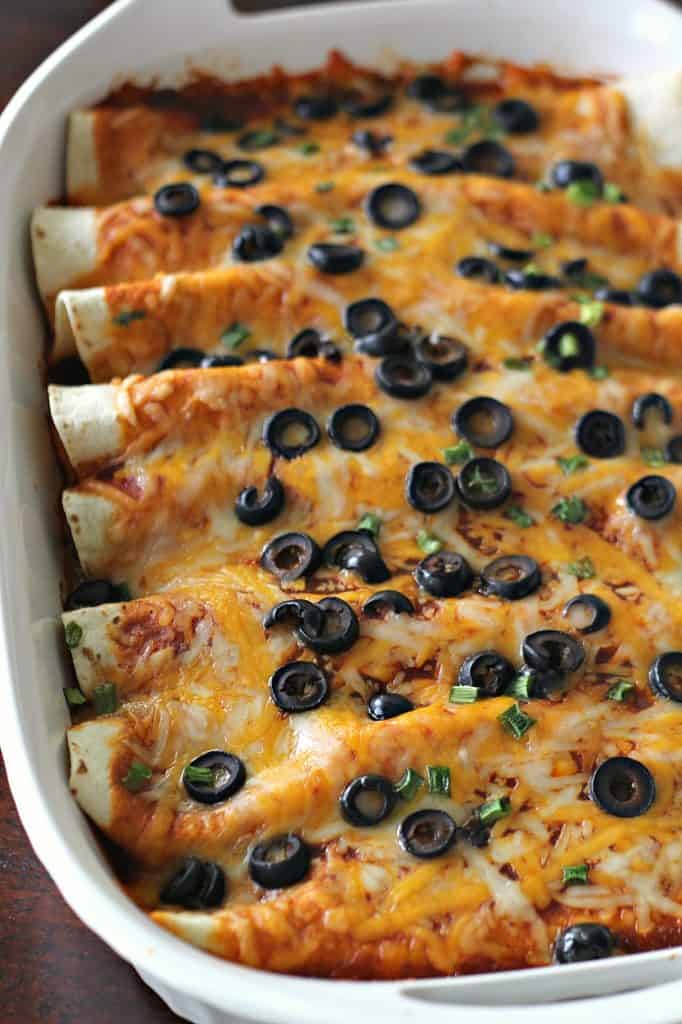 This beef enchilada is pretty easy to prepare. All you need to do is cook your filling, dole them into your tortillas, roll your tortillas into taquitos, place them in a baking pan, pour your sauce over it, and let your oven do its magic!
10. Easy Cheeseburger Casserole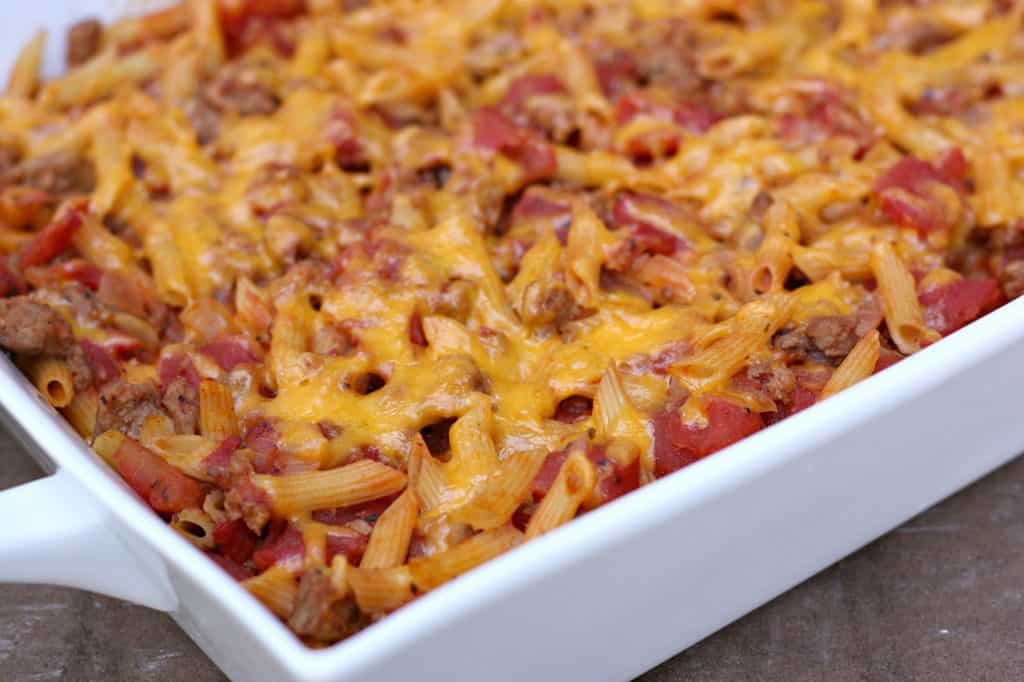 Ground beef pasta casserole recipes are no doubt one of the best ways to feed your family and impress a crowd. By just spreading pasta in a pan, adding a rich sauce and cheese, and placing the pasta into the oven, you've got yourself an easy casserole ready in a jiffy, plus you've got less dishes to think about.
RELATED: 23 Delicious And Healthy Casserole Recipes | Homemade Recipes
11. Super Shepherd's Pie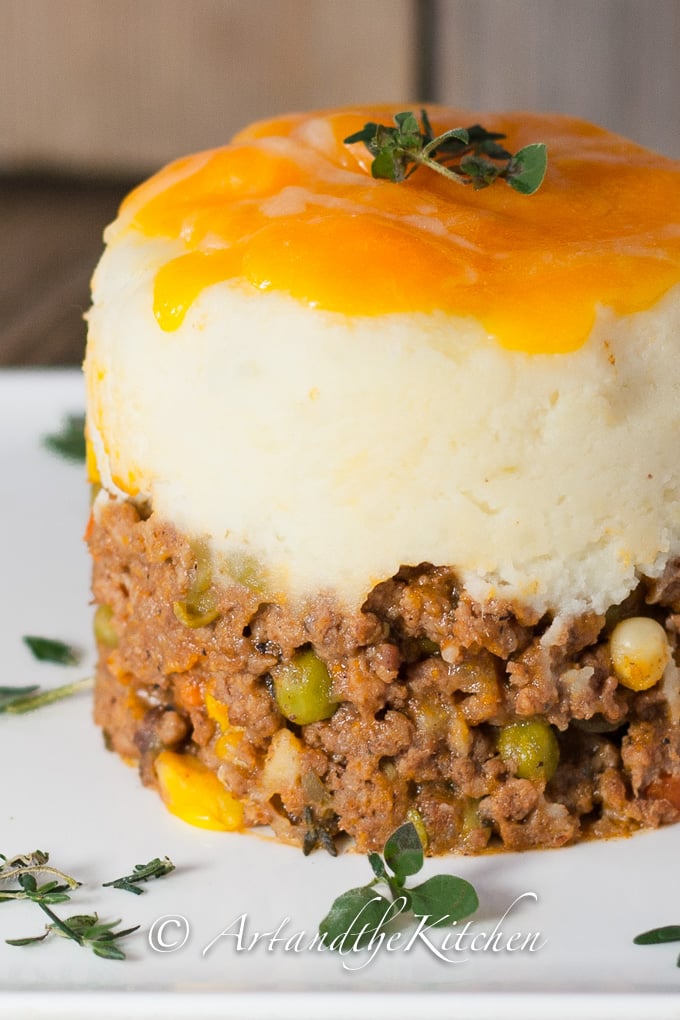 Take on this English comfort food sure to warm you up on a winter's night or on a rainy afternoon. A soft layer of mashed potatoes over a meaty filling topped with a rich and silky beef gravy–this is surely a must try!
12. Slow Cooker Stuffed Bell Peppers
Bell peppers and ground beef complement each other well–you would think so too with this stuffed bell pepper recipe. Spicy, sweet, and tangy bell peppers with juicy and meaty ground beef will fire up your date night.
13. Philly Cheese Steak Sloppy Joes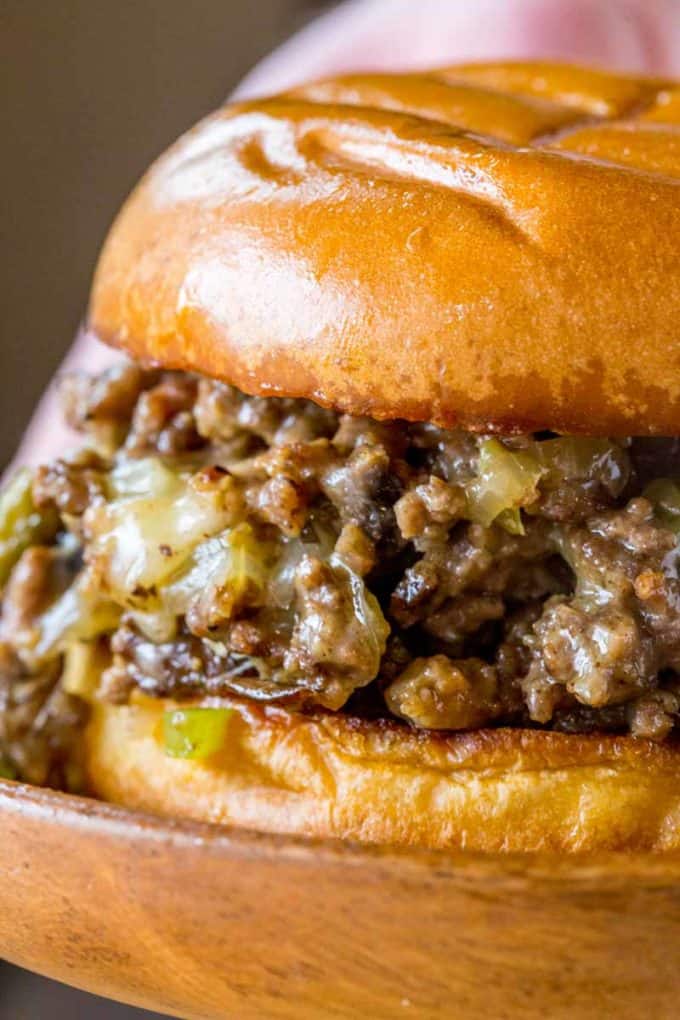 We know you have something good going in your mouth when your hands are greasy and messy. These Philly cheese steak sloppy joes are more than just ground beef sandwiched in two soft buns. If you'll eat these for lunch, you'll still feel full and satisfied until your dinner comes.
14. Ground Beef Stroganoff
Ground beef and fresh mushrooms are good enough as they are. Smother them with a thick, creamy, and silky sauce and this ground beef stroganoff will have you melting!
15. Ground Beef And Butternut Squash
This could be your new comfort food, just healthier and meatier with homegrown butternut squash and ground beef. Easy ground beef recipes with few ingredients deserve a place in your favorite go-to healthy ground beef recipes.
16. Ground Philly Cheese Steak Grilled Cheese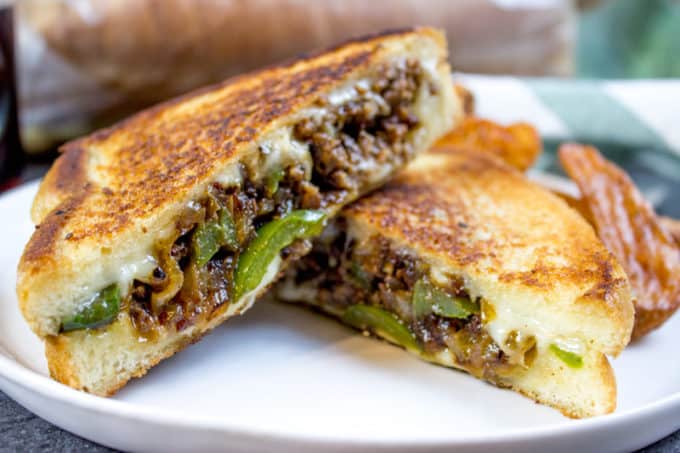 This easy grilled cheese recipe is a lovely dish to make for your dad, brother, husband, or son on Father's Day but it's also great year round any time of the day. This sandwich is filled with gooey cheese, bell peppers, caramelized onions, and ground beef.
17. 10-Minute Beef Teriyaki Skillet
Got a little time to prepare breakfast, lunch, or dinner? This 10-minute beef teriyaki skillet recipe will save your day! With quick-cooking ground beef and a few spices and seasonings, meal ready in a cinch!
18. Mexican Stuffed Shells
When cooked right, these jumbo-sized pasta shells are soft and loaded with oozing cheese and decadent perfectly-spiced ground beef. A mouthful of this Mexican stuffed shell will have you asking for more!
19. Slow Cooker Cabbage Rolls In Tomato Sauce
Cabbage rolls aren't the quickest recipe around but the finished dish is well worth your effort. Wrapping up the ground beef mixture in cabbage leaves can be tricky but you'll get it with practice. What makes these cabbage rolls more delicious is the thick tomato sauce which you can easily cook at home.
20. Swedish Meatballs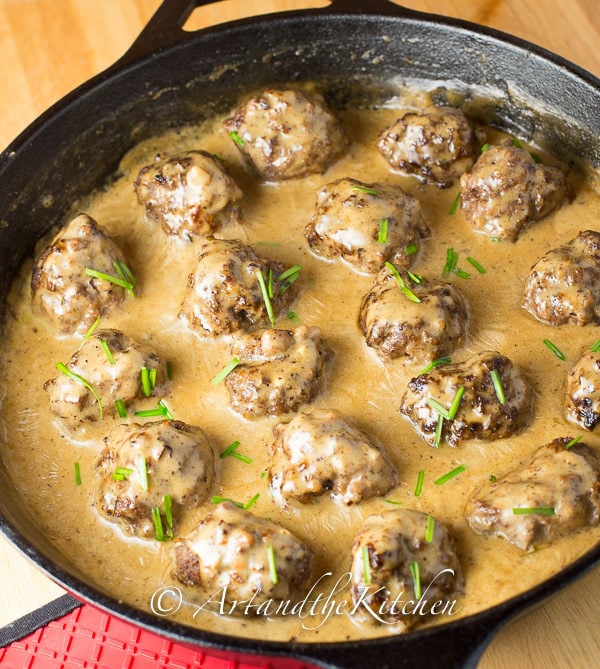 Most households keep a good meatball recipe and each child has their favorite meatball recipe from their granny. This Swedish meatballs recipe tastes as good as my grandma's recipe. Check out this simple and amazing dish and discover the secrets to creamy and juicy meatballs.
21. Easy Salisbury Steak
Salisbury steak is one fancy name, you'd think it'll be complicated to make. Well, this recipe isn't with only ground beef and breadcrumbs as the main ingredients. The seasonings just make the difference.
22. Italian Wedding Soup
Most ground beef recipes are either smothered in tomato sauce or creamy white sauce but this wholesome Italian wedding soup is different with its clear and clean soup which can make you feel warm to toes. It's not only great for wedding or special occasions but also perfect to make you feel better when you're under the weather.
23. Best Ever Meat Loaf
Experience a childhood comfort food and try this classic meatloaf recipe at home. What makes this meatloaf recipe apart from the rest is the sauce which is easy to make using only brown sugar, ketchup, apricot preserves, and Worcestershire sauce.
You might also want to try this ground beef recipe with cabbages from JennyBelly1983:

Ground beef is easier to cook especially with these savory and quick ground beef recipes. With awesome recipes like these, we're sure you're about to stock up on ground beef on your fridge. Too much of everything is bad but so is a table without variety. Give these ground beef recipes a try and give your brood some dishes to remember for life!
What do you think of these ground beef recipes? Share your thoughts with us in the comments section below!
Up Next: 147 Quick and Easy Chicken Recipes | Homemade Recipes
Don't forget to keep in touch, foodies!
Also, make sure to follow us on Facebook, Instagram, Pinterest, and Twitter!
Editor's Note – This post was originally published on September 20, 2017 and has been updated for quality and relevancy.