A selection of vegetable soup recipes ranging from Mexican soup to creamy and cheesy vegetable chowder. These are delicious ways to keep you in good shape!
Scrumptious Vegetable Soup Recipes To Warm Your Tummy
My hunger for the most delicious soup gave birth to this list of homemade vegetable soup recipes entirely made with fresh vegetables and wholesome ingredients. These are easy soup recipes–you can probably find everything you need in your fridge and pantry, which is definitely a good thing. What more could you ask for? Your loved ones deserve only the best and the healthiest food that's why they deserve these soups! Enjoy!
1. Mexican Vegetable Soup
If you're into healthy comforting soup, this recipe is exactly the right one for you! It contains legit Mexican flavor to satisfy every soup lover, especially those who like the heat.
2. Vegan Soup with Cherry Tomatoes and Chickpeas
This is a vegan and a gluten-free soup recipe full of vitamins and essential nutrients. And not because this soup is healthy doesn't mean it's bland and not satisfying. Wait until you try it at home!
3. Bean and Barley Vegetable Soup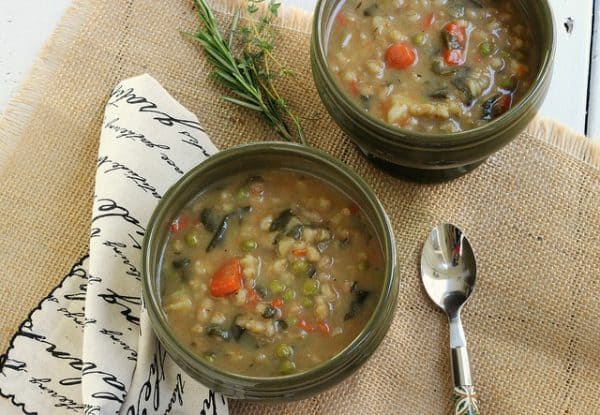 I've been hearing about barley lately and found out how good and helpful barley is to our bodies. I just can't help but look for the perfect recipe to finally experience for myself its amazing benefits. I'm lucky I found this vegetable soup recipe loaded with veggies and of course, barley! You should try it, too!
4. Curried Kale, Potato & Lentil Soup
How about a one pot soup dish which is entirely quick and easy to make? Also, did I mention hearty and healthy? This curried kale, potato, and lentil soup is exactly what I'm talking about. This soup is so good in every way!
5. Green Pesto Vegetable Soup
Green pesto vegetable soup is a fresh and nourishing soup made with pasta, fresh herbs, celery, and zucchini. This soup is healthy to the max and it's also so tasty–even the kids will love it, too!
6. Spinach and White Bean Soup
If you only have 30 minutes and want something healthy and comforting to eat (and sip) this spinach and white bean soup is what you really need! It's a simple vegetable soup which is quick to prepare yet chock full of fresh flavor from orzo pasta and vegetables.
7. Cheesy Roasted Vegetable Soup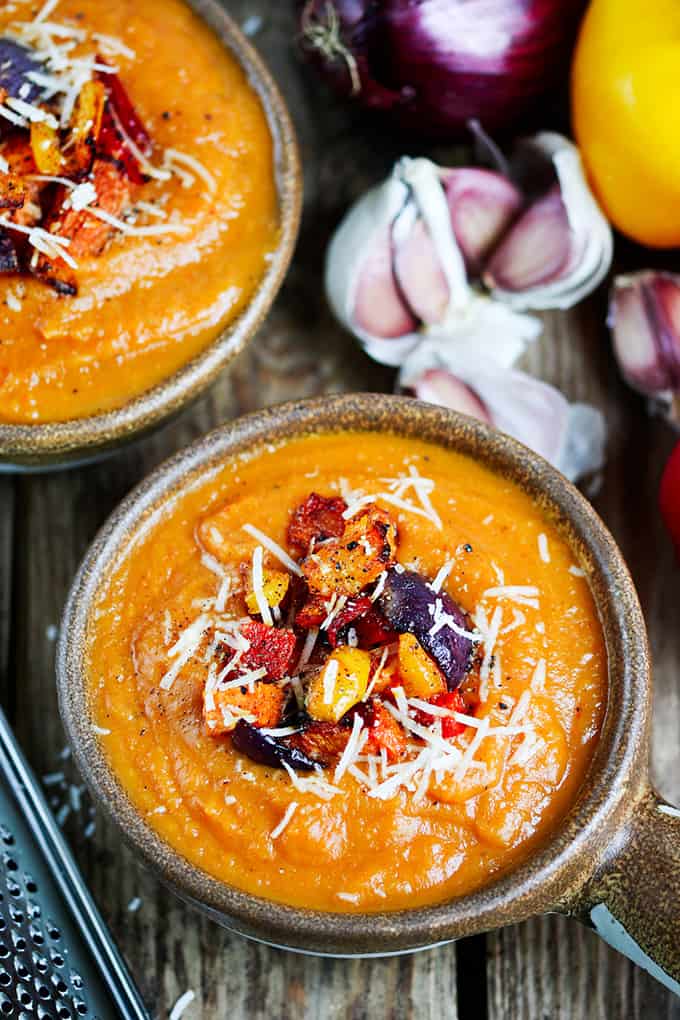 Perfectly-roasted vegetables give this velvety soup a nice smoky flavor which soothes your soul with every spoonful. It is a plant-based meal with flavors you'd think you can only get from meat. It's soup-er delicious, you just can't get enough!
8. Asian Style Vegetable Soup
Bring the goodness of Asian cuisine to your kitchen with this easy-to-prepare soup recipe. With this vegetable soup dish, you're giving your family good reasons to eat veggies even if mushrooms and brussels sprouts are their only option.
9. Mediterranean-Style Homemade Vegetable Soup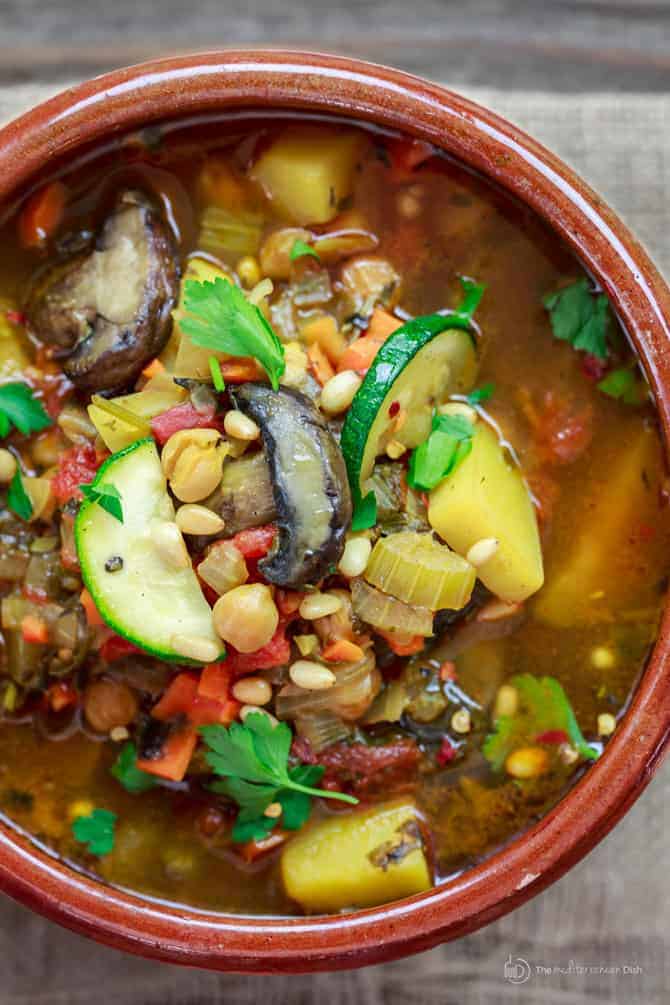 If this is the only way to detox and stay fit, I willingly engage myself in a healthy lifestyle. This soup is loaded with nourishing ingredients and wonderful Mediterranean spices which add so much flavor to it. How I wish I could eat this soup all day!
10. Roasted Brussels Sprouts and Cauliflower Soup
If it has always been a tough job for you to make the kids eat veggies, then why not try this recipe? This is a delicious soup with a lovely and creamy consistency! Roasting vegetables then blending them until smooth is a great way to fool your picky eaters into eating their vegetables. Genius, right?
Can't get enough of #homemade #potato dishes? Here's more recipes to complement the chilly weather, and your taste!
👉https://t.co/qGj9kla09n pic.twitter.com/kVdypYiAiJ

— Homemade Recipes (@BestHomeRecipes) February 3, 2017
11. Vegan Potato Soup Recipe with Beans & Kale
This comforting vegetable soup is so simple, you probably already have the ingredients in your pantry and fridge. It's the perfect easy and healthy meal to get cozy on a chilly evening.
12. Broccoli Cheese Potato Soup
This is basically a cheesy and creamy vegetable chowder with lots of carrots, celery, broccoli, and potatoes. With this soup, you are getting a savory and mildly sweet blend of vegetables and cheese. This is oh so good!
13. Vegetable and Dumpling Soup
Get the comfort without the vast amount of calories with this easy vegetable and dumpling soup. It's made with onions, carrots, potatoes, and chewy homemade dumplings. Very easy yet so filling!
Watch this step-by-step video tutorial from Allrecipes and learn how to cook a delish and rich broccoli cheese soup:

I'm sure you already found your favorite vegetable soup recipes on this list. There are lots of recipes to cook whenever you feel sick and cold but these vegetable soup recipes are all you need to soothe and satisfy you, especially if you're under the weather. With all these recipes, you can help your family, especially your kids, to get closer with veggies. Soups are also very inexpensive, so you can serve a pot anytime your hungry family asks for some! I hope you love these vegetable soup recipes. Don't forget to share them with your foodie friends and loved ones.
Did you enjoy this list of homemade vegetable soup recipes? Let us know in the comments section below! Want more excellent soup recipes? Check out these 17 Italian Soup Recipes To Make You Manage Chilly Nights!
Don't forget to keep in touch, foodies!
Also, make sure to follow us on Facebook, Instagram, Pinterest, and Twitter!