This is a collection of yummy rice krispie treats which are fun and easy to make. You'll love these recipes as they change your dessert game!
Rice Krispie Treats To Make Your Inner Child Sing
Isn't being a child the best? If I could choose one thing I miss the most from my childhood, it's the food. Remember the days when you were able to scarf down treats, sugary cereals, and chips without having to worry about your waistline? Now that we're talking about the good old days there is one treat I can't afford to not mention and that's the rice krispie treats. I'm reliving those with these roundup of rice krispie treats. They're effortless to make and even easier to enjoy, so treat your kids and your inner child with these 20 amazing rice krispie treats recipes.
1. Rice Krispie Treats with Oreo
Oreo is a versatile cookie which goes with just about any recipe. This treat will make you happy and probably jumpy the entire day. What did you expect, though? This awesome treat is a SUGAR BOMB.
2. Lemon Supreme Rice Krispie Treats
A good dessert doesn't always have to be super sweet or filled with chocolate. I've learned that as soon as I had this recipe. These lemon supreme rice krispie treats are so delicious and lemony–they make for the perfect pick-me-up after a hard day.
3. S'mores Rice Krispie Treat Pinwheels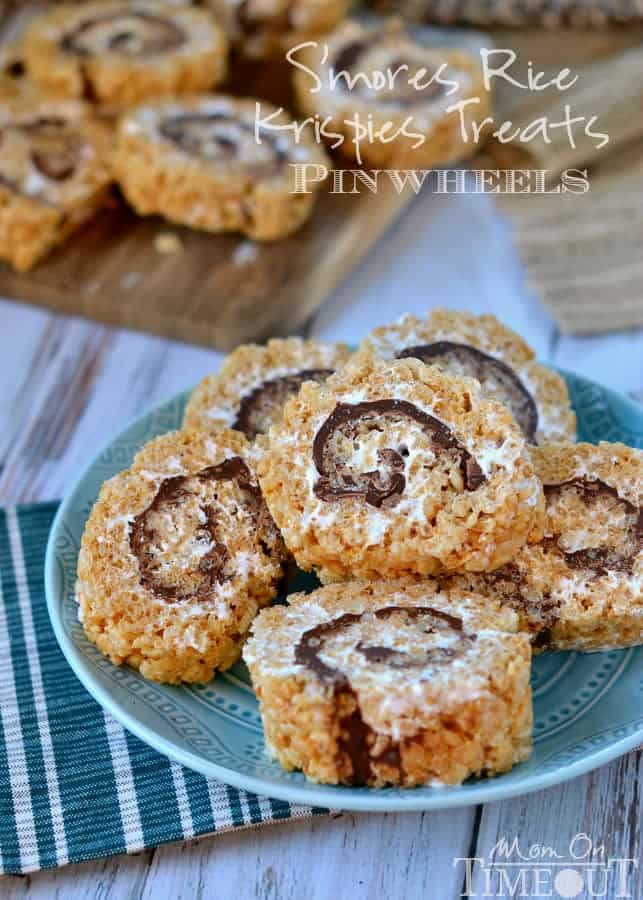 Bored with the usual rice krispie treat shape? It's time to make some changes! Why not make a triangle, or star, how about an oval, or is it a pinwheel you're looking for? These s'mores rice krispie pinwheels are bound to drive you insane with their delicious flavor and pleasing appearance.
4. Coconut Rice Krispie Treats
These bad boys are truly awesome! Toasted coconut adds the awesome nutty flavor to the softness and chewiness of these rice krispie treats. It gives a subtle texture making these treats even more delicious and extremely delightful.
5. Red Velvet Rice Krispie Treats
These yummy bites of sweetness are easier to make than they look. In just a few easy steps, you can have these delicious rich red velvet rice krispie bars. Throwing a party? Make these guys as a sure crowd-pleaser. Because who doesn't like red velvet?
6. Salted Caramel Rice Krispie Squares
After this recipe, you'll never have a plain rice krispie treat again! The coarse sea salt on top of these caramel squares is the perfect compliment. These salted caramel rice krispie squares are a delicious treat you'll want to make over and over again.
7. Classic Rice Krispie Treats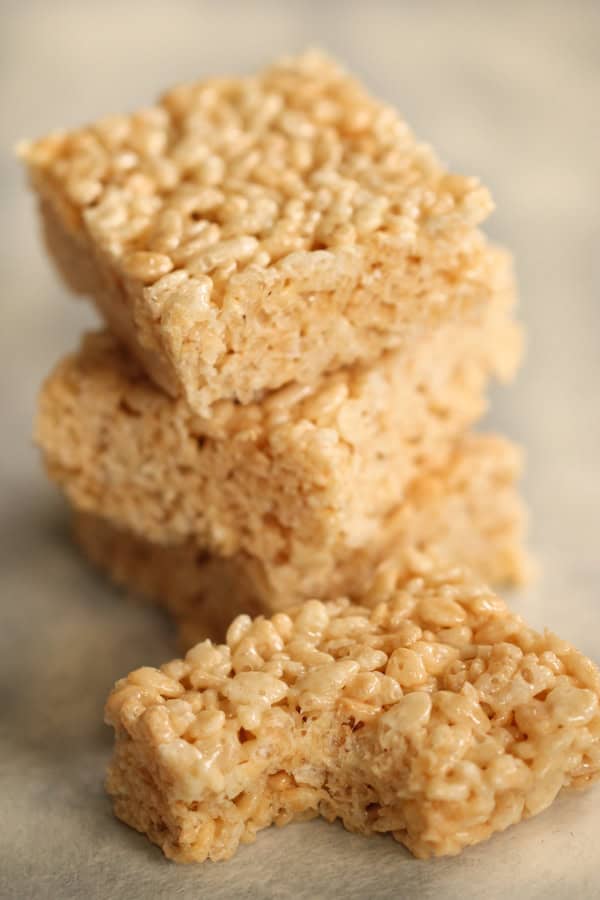 With all of that said, there's nothing quite like the original, right? Original Chuck Taylors, original Doc Martens, and original rice krispie treats! This is a piece of cake recipe to transport you back to the good old days of swing sets and hopscotch.
8. Donut Rice Krispie Treats
This is such a beautiful way to make your rice krispie treats look so adorable and likable to eat. Your kids will love having these donut rice krispie treats at their party or even as an after-school snack. (Bonus points for being the best parent ever!) These treats will make their day extra special.
9. Take 5 Candy Bar-Inspired Rice Krispie Treats
Let's try to stay calm and collected. Are you calm? Great! Now you can scream because these things are definitely scream-worthy! Can you believe your eyes? Rice krispie treats overloaded with candy goodness! This recipe is sure to be a big hit at any get-together.
10. Watermelon Krispie Treats
I love seeing people get more creative with their food! This is definitely a spring-worthy and summer-worthy treat so you better hurry up and make these watermelon rice krispie treats quick!
11. Root Beer Float Rice Krispie Treats
These root beer float rice krispie treats taste just like root beer floats! Which would seem obvious, but there are definitely recipes out there that don't come close to what they're trying to replicate. This fun-tasting treat is family-approved and would pair well with a pint of ice cream. But maybe that's just our excuse to eat a pint of ice cream?
12. Fruit Loops Rice Krispie Treats
Sure, fruit loop rice krispie treats aren't the most sugar-friendly treat, but sometimes it's more than okay to indulge your sweet tooth! When it comes to cereal, fruit loops were one of my favorites, so you can only imagine my surprise and excitement when I came across this delectable treat!
13. Butterfinger Rice Krispie Treats
Your inner child is begging you to indulge in one of these sweet Butterfinger rice krispie treats every once in awhile. It will do your mind and body good.
14. Strawberry Rice Krispie Treats
We all love strawberries, right? My friends, this recipe takes the best berry there is, and pairs it with one of the most amazing, stickiest treats in the world. Also, if you feel guilty, ease your guilt with the fact that you're eating fruit in a different form. These rice krispie treats are jam-packed with huge chunks of fresh strawberry. They taste fresh, bright, and all kinds of sweet.
15. Green Bay Packers Rice Krispie Treats
Are you a Packers fan? Then you'll obviously fall head over heels in love with this recipe! This rice krispie treat is a perfect snack during football season and is the perfect thing to eat as you cheer Aaron Rodgers and the boys along.
16. Crispy Rice Treats (Sugar-Free, Gluten-Free, Marshmallow Free)
If your diet excludes sugary treats altogether, but you're still finding it hard to give up your favorite dessert, rest assured this recipe has got you covered. What's the secret behind no marshmallow and sticky goodness? Organic honey, peanut butter, and vanilla do the trick.
17. Chocolate-Covered Cherry Rice Krispie Treats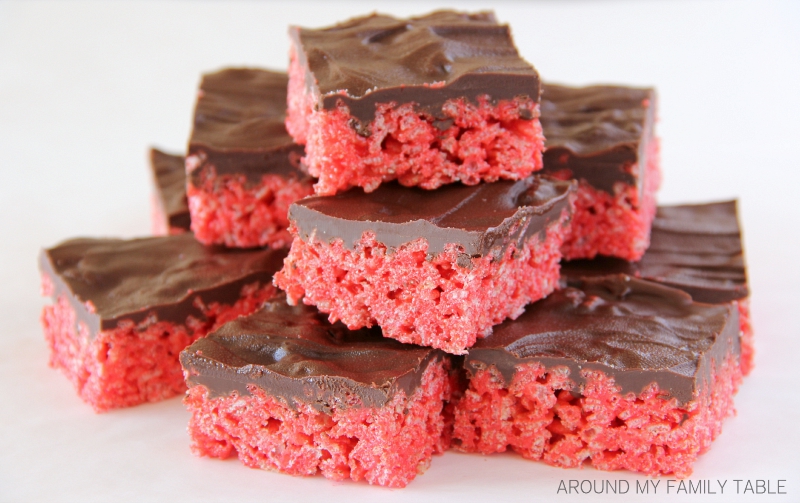 I know someone who just can't control themselves around cherry-infused treats, and I totally understand where the obsession comes from. Well, I do now that I've seen this recipe! Try these chocolate-covered cherry rice krispie treats and see for yourself–you might just develop a new guilty pleasure.
Craving a sweet #Christmas treat? Learn how to make these rice krispies! https://t.co/Q8xu1lpDpq pic.twitter.com/E8icdiHEu4

— Homemade Recipes (@BestHomeRecipes) December 3, 2016
18. Peppermint Rice Krispie Treats on a Stick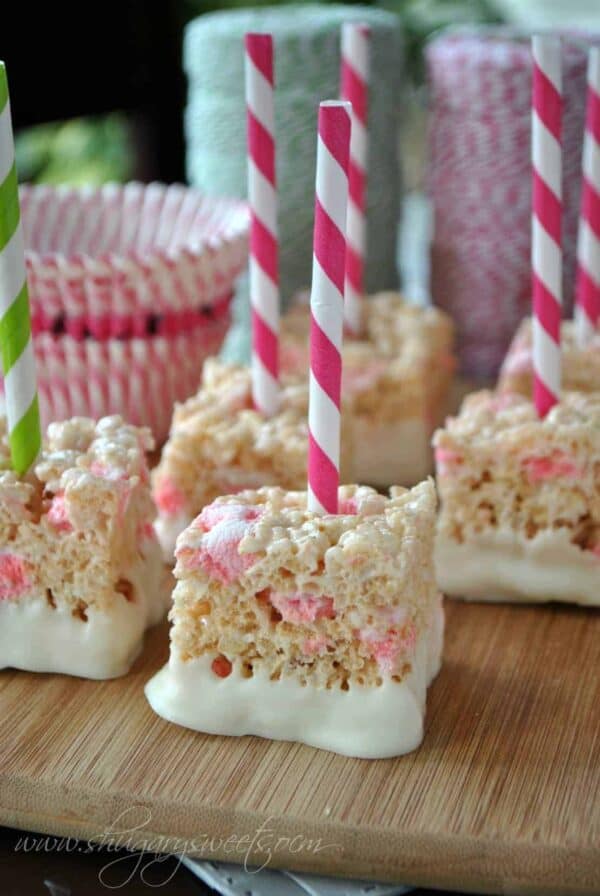 Rice krispie treats on a stick! Aren't they delightful? These treats are perfect for parties and holiday get-togethers. What makes these peppermint rice krispie treats unique from any other treats aside from the vanilla almond bark on top is the joy you feel everytime you hold each rice krispie stick.
19. Mexican Chocolate Rice Krispie Treats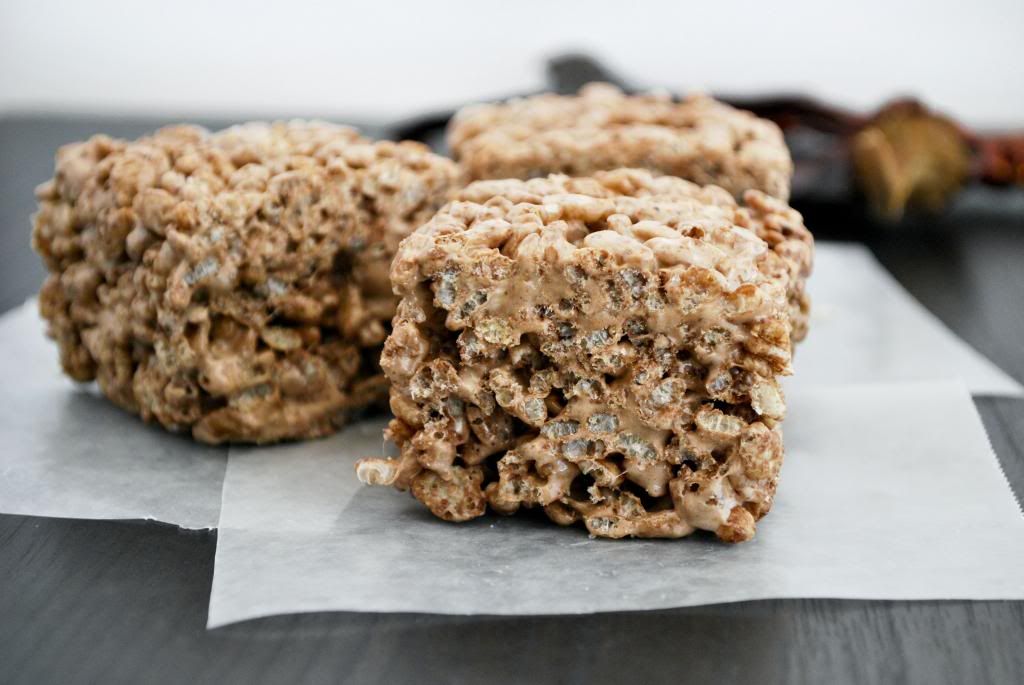 Have you heard of Mexican chocolate before? Mexican chocolate has been prepared with spices such as cinnamon and chili. And believe me when I say it is absolutely amazing! These Mexican chocolate rice krispie treats pair perfectly with some hot chocolate and Seinfeld.
20. Rice Krispie Treat Pumpkins
Halloween may be over, but you can keep this idea until November! These adorable rice krispie treat pumpkins are perfect to make and to show off during the holidays. Imagine how cute they'd look next to a jack-o'-lantern? These rice krispie treats are also great any time of the year.
Watch this video from Honeysuckle and learn three more yummy rice krispie treats with chocolate layers:

These yummy rice krispie treats will give us the feeling of being a kid again. They all look adorable and delightful! Rice krispie treats are easy to fall in love with. They are also perfect as party giveaways and as gifts to friends and to your kid's classmates. They're sweet, colorful, pretty, and fun to make–everything our inner child desires! You should give each recipe a try and share the goodness to everyone.
Which of these rice krispie treats are you planning to try? Let us know in the comments section! You might also love this list of 14 Fruit Roll-Ups Recipes Your Kids Will Really Love.
Don't forget to keep in touch, foodies!
Also, make sure to follow us on Facebook, Instagram, Pinterest, and Twitter!
Editor's Note – This post was originally published in August 2015 and has been updated for quality and relevancy.