Don't worry about gaining weight over the holidays. These high protein low carb snacks will help you stay on track during the holiday season!
I know the holiday season is no time to diet, but that doesn't mean we throw keeping ourselves healthy and in shape out the window. Holiday feasting is supposed to be memorable and happy, so you must not deprive yourself of eating your favorite snacks and desserts. This time of the year comes only once, so make it wonderful for you and your loved ones. If you're still worrying about balancing your diet, just take a look at these amazing high protein low carb snacks and realize how easy it is to stay healthy and fit even during the most impossible time of the year. I'm sure you'll be happy to try them all!
Healthy Recipes To Kick-Start Your New Year!
Just because everyone is punishing themselves with a restrictive diet during the holiday season doesn't mean you have to do the same. You can still enjoy the season without having the shame of ruining your diet. Keep in mind that most recipes can be improvised and transformed into a more guiltless version anyone on a diet plan can enjoy. This New Year, make it possible for everyone to indulge sans the guilt and shame! This list is an amazing selection of high protein low carb snacks you can easily prepare for your family. Enjoy!
1. Balsamic Steak Rolls
Imagine flavorful strips of veggies rolled tightly with melt-in-your-mouth beef steak cooked in a tasty balsamic sauce. These steak rolls are the ideal crowd-pleaser finger food or appetizer you can easily prepare for New Year's Eve.
2. Bell Pepper Nacho Boats
These healthy snacks are nacho boats like you've never seen them before. Bright strips of bell peppers were used instead of chips to make a healthier treat. And you won't be able to get over the filling–super tasty!
3. Baked Buffalo Chicken-Stuffed Artichokes with Blue Cheese
This recipe is how you cook and enjoy artichokes during the holiday season. Easy yet irresistibly good with savory ground chicken, blue cheese, and spicy cheese sauce.
4. Crustless Quiche
Start your New Year off right with this nutritious breakfast quiche loaded with low-fat cheese, lean ham, and broccoli. It's a morning meal to keep you full and loaded with the good stuff until dinner!
5. Cauliflower Pizza with Greek Yogurt Pesto & Grilled Veggies
This recipe is a smart way to make healthier pizza for your family. It's a dish of grilled veggies and Greek yogurt pesto atop of a low carb cauliflower crust. You're lacking meat but not flavors with this healthy pizza recipe.
6. Thai Chicken Lettuce Cups
Enjoy authentic Thai flavor with this easy lettuce cup recipe. This is the perfect meal to stay fit during New Year's and anytime during the holidays. It's packed with protein and packs a refreshing twist with a squeeze of lime.
7. Bacon Wrapped Avocados
Pull out a big platter of these bacon wrapped avocados to make an awesome appetizer. They're just the right size for kids and having a bunch of makes it easy to accommodate everyone's appetite.
8. Balsamic and Honey Chicken Skewers
These grilled chicken skewers are fast and fabulous–and sure to satisfy any palate! These chicken skewers are perfectly flavored with that balsamic and honey taste you'll surely adore.
9. Portabella Pizzettas
I had a feeling that mushrooms would make a great base for my favorite pizza. I'm right! This recipe gave me more ideas to make it tastier and healthier so I can have a delicious dose of protein with every bite. Try this on New Year's Day, it will surely impress!
10. Chicken Salad
This is a creamy chicken salad made even better with chunks of grapes and apples. Everyone will go crazy over this healthy dish which is festive enough to make during the holidays, and easy enough to prepare every day.
11. Low Carb Lasagna Meatballs
Give the classic lasagna a healthier makeover with this terrific recipe. You don't need lasagna noodles to enjoy your fave lasagna dish. Let protein-packed meatballs do the trick!
12. BBQ Chicken Cobb Salad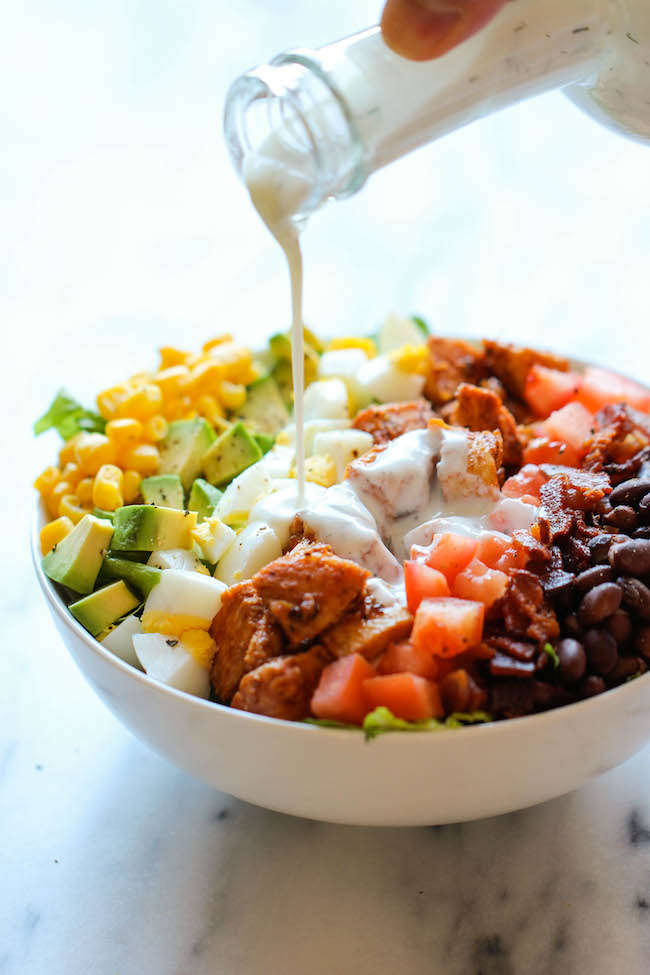 This cobb salad combines all healthy ingredients like chicken breast, lettuce, tomatoes, corn, black beans, eggs, and avocado. It's not just healthy but so satisfying with buttermilk ranch dressing drizzled all over it.
13. Curried Tuna Patties
When the craving for a meaty burger patty hits, don't forget about this awesome recipe. It's healthier and surprisingly flavorful. These tuna patties have sneaked in veggies like zucchini and baby spinach that the kids won't even notice.
How about this high protein low carb mug cake? This recipe also makes a great snack for the New Year! Watch this video by Vishal Haria:

It's no surprise seeing our waistlines expand during the holiday season. It's really impossible to resist the awesome holiday buffet. That's why I am so stoked about all of these recipes. They're all perfect to keep us in shape while still enjoying the holiday season. With these high protein low carb snack recipes, you can still be healthy and fit without missing out!
Which healthy recipes are you excited to try and share with your family? Let us know in the comments section!
Up Next:  
Don't forget to keep in touch, foodies!

Also, make sure to follow us on Facebook, Instagram, Pinterest, and Twitter!