Chocolate is a delicious sweet treat loved by millions of people around the world. It's no surprise then that this ingredient is used to create many other desserts such as the chocolate truffle . This delicacy got its name due to the similarity between a type of mushroom called truffles. Today we'll show you how to make chocolate mint truffles- you're truly going to love this one!
Enchanting Chocolate Mint Truffle Delights
Note: Use a good quality unsweetened chocolate like Callebaut, Vahlrona or Scharffen-Berger (perhaps you have a favorite). Bakers chocolate is very grainy when used in low-carb sweets so it's not recommended. Total carbs 99. You can pipe the mixture into different types of cups for something different or pleasing to the eye. You can also vary the flavoring as you like. Bourbon is especially good with chocolate. (Makes 24)
Ingredients:
1 1/4 cups whipping cream
1/2 lb. unsweetened chocolate, chopped into small pieces
1/3 cup granular Splenda
1/3 cup granular Sugar Twin
1 tsp. peppermint extract
4 Tbsp. cocoa powder
Directions
In a small pot, bring the cream to a boil. Remove from the heat and stir in the chocolate until melted. Stir in the artificial sweetener and peppermint extract. Transfer to a larger bowl and let stand in a cool place until completely cold.
With an electric mixer, beat the chocolate mixture until it becomes light and fluffy. Spread out evenly into a plastic wrap lined 8 by 8-inch pan. Refrigerate until set. Dust the top with 2 Tbsp. of the cocoa powder. Flip out, cocoa side down onto a flat surface. Remove the plastic and dust with the remaining cocoa powder. Run a sharp bladed knife under hot water and dry.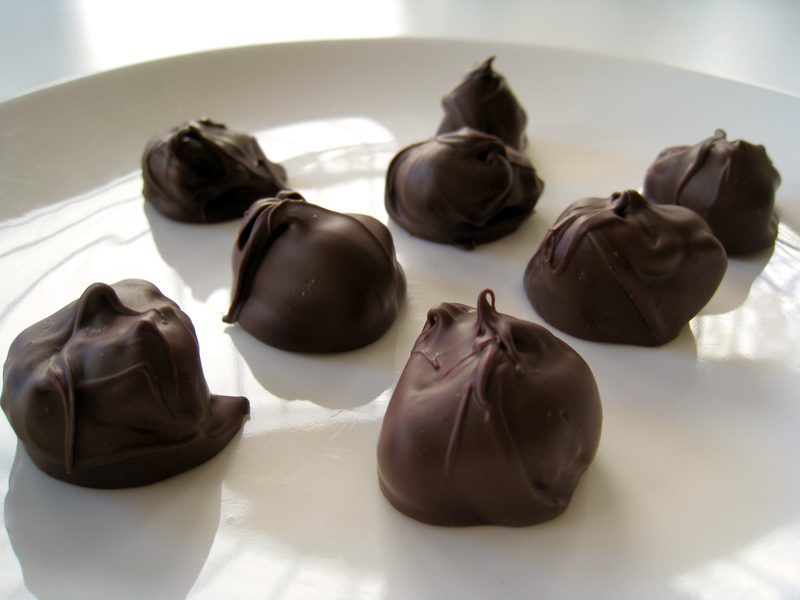 Cut into 24 pieces, heating and drying the knife after each cut. Keep frozen until you are ready to serve them.
We hope you enjoyed this delectable recipe; try it out and leave us feedback in the comment section below!
More sweet sweet recipes below