Looking for delightful Christmas cookie recipes? Check out this post because we're sharing a couple of amazing Christmas cookie recipes with you!
Christmas Cookie Recipes For Sweetness Overload Feast!
Baking cookies has to be one of the most beloved Christmas traditions. The smell of cookies freshly out of the oven, the friendly banter in the kitchen while baking, really put people into a festive mood! We want you to feel good about baking cookies this year, too, which is why we're sharing 15 Christmas cookie recipes with you. Not only do they look wonderful, but they also taste truly delicious and heavenly. Take a look at these wonderful Christmas cookie recipes and we hope you find them all delightful!
1. Eggnog Snickerdoodles
Do you love eggnog and sugar cookies? In this Amy's Healthy Baking recipe, you're in for a real treat! You can get the flavors you want from the two classic treats with these eggnog snickerdoodles. Delightfully soft and chewy, you simply can't resist having one of these 'spiced' sugar-coated Christmas cookies.
2. Chocolate Mint Sandwich Cookies
Nothing screams Christmas more than candy canes, right? Now imagine crushing bits of candy cane and putting them between two rich chocolate cookies—what you'll have are these super festive cookies! The Sweet Twist of Blogging has indeed given us a sweet twist for the holidays with this chocolate mint sandwich cookies recipe.
Do we have any salted caramel fans out there? These desserts are right up your alley ? https://t.co/bjJnknXEKO pic.twitter.com/1WxgqigyvG

— Homemade Recipes (@BestHomeRecipes) December 1, 2016
3. 5-Ingredient Vanilla Almond Snowballs
You only need 5 simple ingredients to make these Christmas treats. Best of all, you can churn out three dozen of these vanilla almond snowballs in less than thirty minutes! We have White Lights on Wednesday to thank for this wonderful recipe.
4. Mint Chocolate Sandwich Cookies
If you're looking for another version of chocolate mint sandwich cookies, check this recipe by the Wood and Spoon. The decadent filling, made with thick and creamy mint chocolate ganache, is just heavenly. These are the cookies you need to have on Christmas morning, along with a glass of milk or a cup of coffee.
5. Rudolph Cookies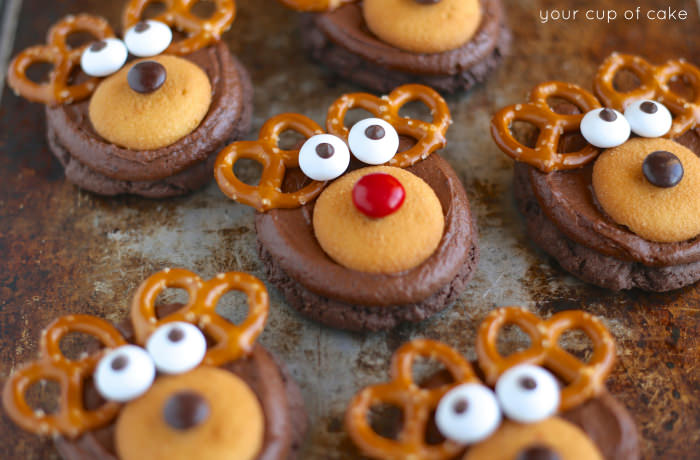 Take a look at Rudolph the Red-Nosed Reindeer…in cookie form! You might think these adorable Christmas cookies are difficult to make. But the process is actually pretty simple. What you need to do is simply follow the recipe by Your Cup of Cake—and enlist the help of your friends and family.
6. Apricot Kolaches
Apricot kolache is a traditional Hungarian Christmas cookie made from a simple dough and fruit fillings. Check out the recipe by American Heritage Cooking so you can bake these decadent treats yourself for Christmas. If you're not into apricots, swap them out for blueberries, strawberries, or even prunes.
7. Christmas Tree Peanut Butter Blossoms
Any cookie can become a Christmas cookie with enough creativity and imagination. These peanut butter blossoms by Java Cupcake are adorned with green frosting and holiday sprinkles. It's simple thing to do but the cookies look awesome.
8. Milky Way Stuffed Cookies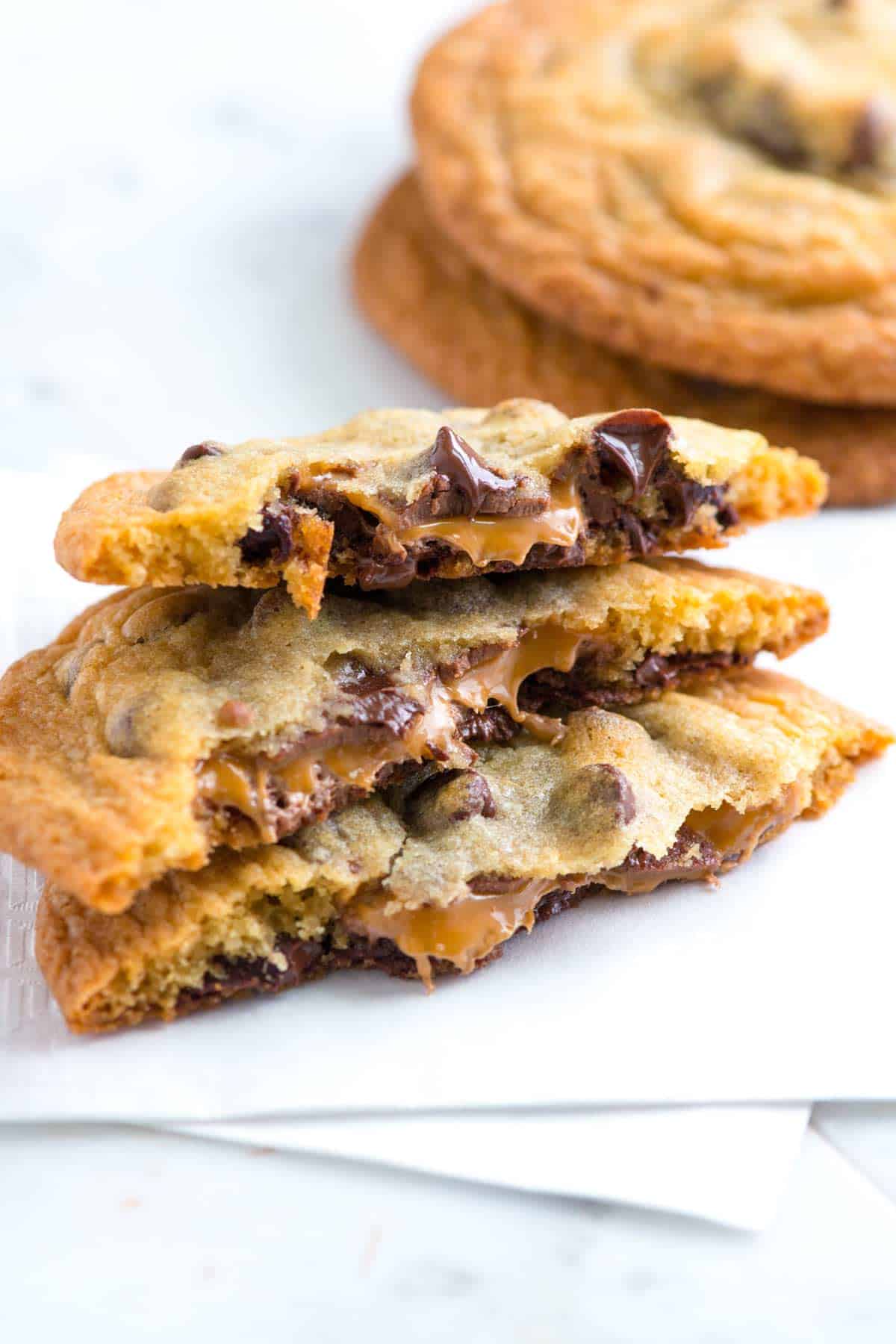 Make sure to bake several dozens of these Milky Way stuffed cookies by Inspired Taste, because you know they'll disappear in a snap. Soft and chewy on the outside, gooey and sweet on the inside, these cookies are like Christmas in your mouth. You can definitely give these to your guests as takeaway treats—just place them in cute boxes with handmade cards on top and you're good to go.
9. Spritz Cookies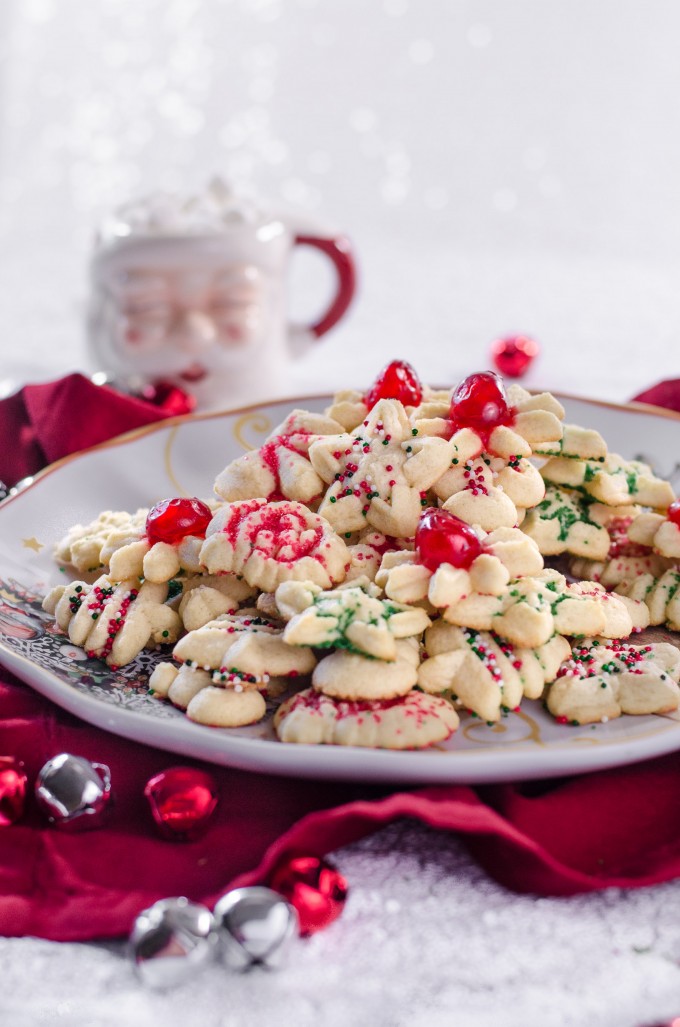 Thanks to the colored sugar and candied cherries, these spritz cookies by Go Go Go Gourmet are perfect for the Christmas season. Prepare heaps of these sugary treats for the holidays—we're sure you won't mind because they're very easy to make.
10. Finnish Meringue Cookies
Try these Finish meringue cookies for a melt-in-your-mouth cookie experience. They look so dainty and pretty you won't believe it takes less than an hour to make them! After one cookie, you'll be sneaking a few more—just trust us on this.
11. Chocolate Caramel Cookies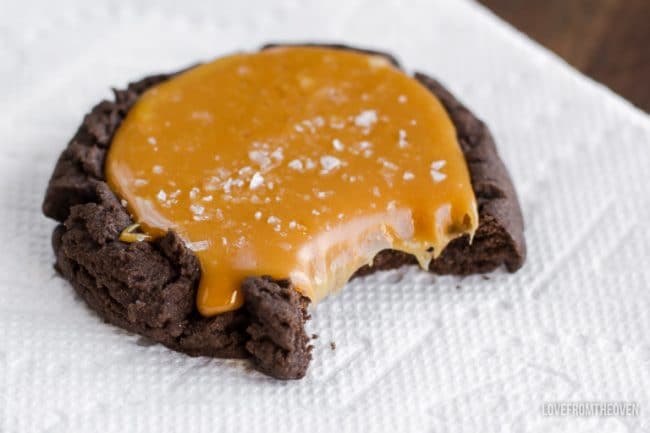 This Christmas cookie creation by Love From the Oven is definitely a winner. The chocolate cookie, already delicious by itself, has this gooey, decadent pool of salted caramel in the middle. This definitely makes the cookie even more special!
12. Buttery Jam Thumbprint Cookies
These buttery beauties by Chew Out Loud are soft on the edges and a bit gooey in the middle. Even if you're a novice at baking, you can whip these Christmas cookies up easily, considering you only need a few ingredients to make them.
13. Chocolate Mint Cookies
Yes, there are two other chocolate mint cookie recipes in this list. But this version of the classic treat by Butter With A Side of Bread is different. The cookie dough does not contain chocolate, unlike the other two. But once the cookies are baked to perfection, they are then coated with melted chocolate and holiday sprinkles.
14. Double Cruncher Cookies with Fudge Filling
These double cruncher cookies by A Bright and Beautiful Life are made with oatmeal, cornflake, and coconut along with a delicious fudge filling. They're chewy with a bit of a crunch down to every last bite.
15. Frosted Sugar Cookies
Sugar cookies are always awesome during the holiday season, especially when they look this cute. The smooth and sparkly finish are making these Christmas cookies by Well Plated by Erin look even more enticing. But what makes these cookies special is not the frosting but the delicious cream cheese, along with the vanilla and almond extract, and lemon zest.
Looking for more Christmas cookie recipes? Watch this video by RachhLoves:

You can definitely fill your cookie jars and platters with heavenly, sweet treats because of these Christmas cookie recipes. Cookies are simple treats but they sure do make everyone happy. Christmas cookies are also great ways to make the kids and adults bond during Christmas. Enjoy these recipes and tell us which one became your family's favorite!
What do you think of these Christmas cookie recipes? Which recipes are you planning to try? Share your experience with us in the comments section below!
Up Next: 12 Yummy Christmas Candy Recipes Every Kid Will Love 
Don't forget to keep in touch, foodies!
Also, make sure to follow us on Facebook, Instagram, Pinterest, and Twitter!
Editor's Note – This post was originally published in December 2016 and has been updated for quality and relevancy.