Start your day off the right way with these 22 homemade breakfast bar recipes! Sometimes, hitting the snooze button is just so much better than getting up, getting ready, and then making the easiest breakfast possible. That's why we put together this list of homemade breakfast bar recipes which you can make ahead in your spare time. Don't worry because making breakfast bars recipes are much easier than you think. For your next late morning, grab a homemade breakfast bar and take pride in the fact you're a genius who's prepared for any situation!
Homemade Breakfast Bar Recipes to Keep You on the Go!
1. Simple Homemade Energy Snack Bar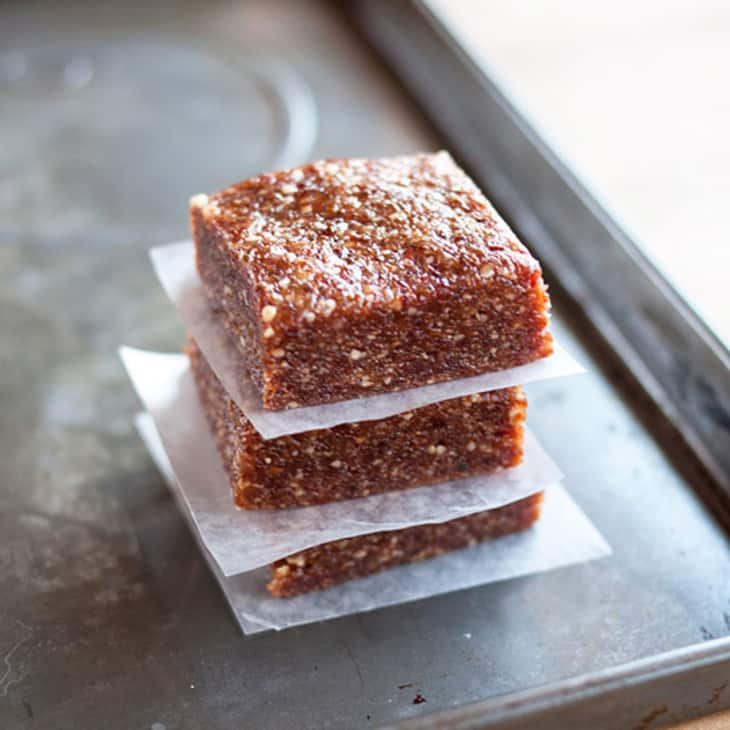 These raw energy snack bars by The Kitchn are so simple to make all you need to do is gather your ingredients together, toss them in a food processor, and pulse. Packed with omega-3s and protein, this bar will leave you and your family satisfied all the way until lunch time!
Ingredients
1 cup nuts
1 cup dried fruit
12-15 whole or 1 cup pitted dried dates, preferably Medjool
2. Berry Medley Oatmeal Crumb Bars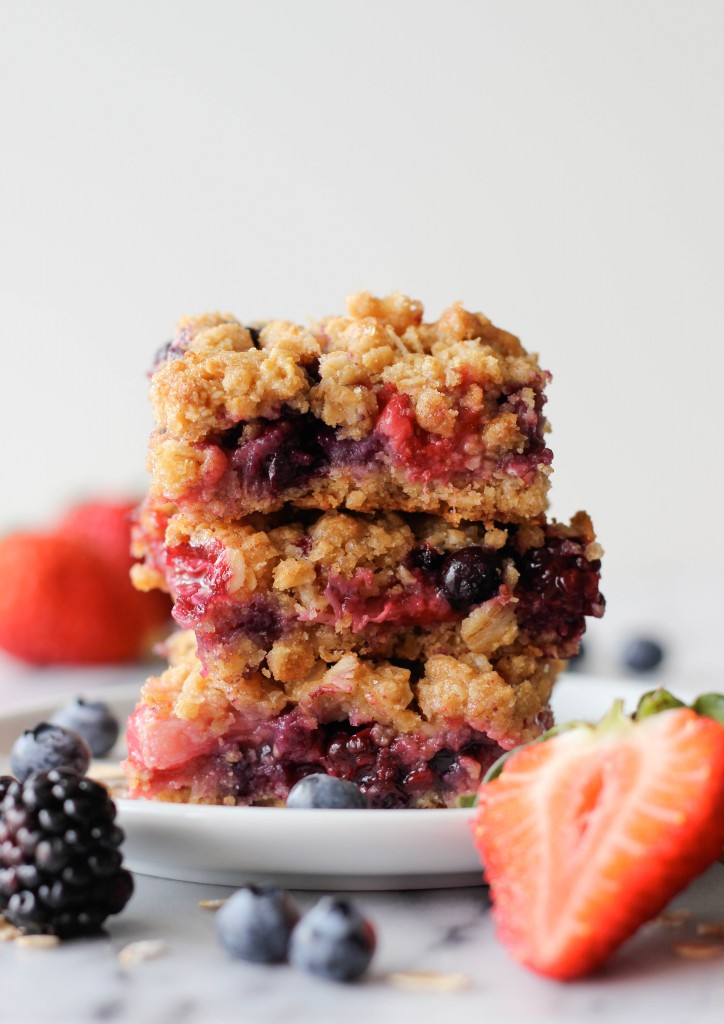 We love oatmeal bars and with the addition of berries, this recipe is one of our favorites ever! This oatmeal bar by Damn Delicious is sweet, rich, and guaranteed to turn sleepyheads into morning people!
Ingredients
3/4 cup blueberries
3/4 cup blackberries
2 tablespoons sugar
3/4 cup sliced strawberries
3/4 cup whole wheat pastry flour
2 teaspoons cornstarch
1/2 cup brown sugar
1/2 teaspoon baking powder
3/4 cup old fashioned oats
1 large egg, beaten
1 teaspoon vanilla extract
Pinch of salt
1/2 cup (1 stick) unsalted butter, cut into cubes
1 tablespoon turbinado sugar
3. Cake Batter Chex Bars
Thanks to maebells, we'll be able to enjoy dessert for breakfast with these fantastic cake batter bars. Okay, so maybe dessert for breakfast isn't (always) the best, but with only 5 ingredients, how could you resist not making these? If one bite of these bars don't make you smile, then you're probably a robot.
Ingredients
5 cups Vanilla Chex
5 cups of marshmallows
4 tablespoons butter
1.5 teaspoons vanilla extract
1-2 teaspoons sprinkle
4. Ham and Cheese Breakfast Bars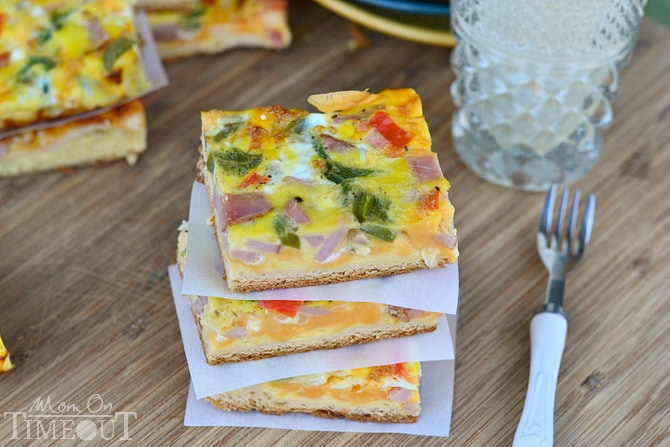 This homemade breakfast bar recipe by Mom on Timeout is a fantastic, protein-packed treat to start your day. Essentially a ham and cheddar cheese omelet in bar form, this recipe is the best way to ensure everyone in the family starts their day with a delicious morning meal.
Ingredients
1 can reduced-fat crescent rolls
8 oz reduced-fat cheddar cheese, shredded
1 cup diced ham
1 tbsp butter
Salt and pepper to taste
⅓ cup chopped red bell pepper
⅓ cup chopped green bell pepper
8 eggs
⅓ diced cup onion
½ cup low-fat or fat-free milk
5. Cherry Kuchen Bars
These breakfast bars by Dear Crissy taste as wonderful as they look! This cherry kuchen (kuchen is German for "cake," by the way) recipe makes moist, chewy bars which can double as breakfast and dessert.
Ingredients
½ cup butter softened
½ cup shortening
3 eggs
1 ¾ cups sugar
1 ½ teaspoons baking powder
a 21-ounce can cherry pie filling (or substitute your favorite)
½ teaspoon salt
3 cups all-purpose flour
1 teaspoon vanilla
Powdered Sugar Icing:
1 ½ cups powdered sugar
¼ teaspoon vanilla or almond extract
2 to 3 tablespoons of milk (make a drizzle consistency)
6. Peanut Butter Banana Chocolate Bars
These bars bring together the three ingredients every breakfast should have: chocolate, peanut butter, and banana. Rich, creamy and decadent, these bars are perfect for mornings with long days ahead of them. We have to thank Spoonful of Sugar-free for this recipe.
Ingredients
4 large, ripe bananas, mashed
1/2 cup peanut butter
6 Tablespoons ground flax
3 Tablespoons chia gel (mix 1 teaspoon chia with 3 tablespoons water and let sit for 15 minutes so it can "puff up")
1/2 teaspoon vanilla
1/3 cup peanuts
3 oz. unsweetened chocolate, chopped
1 teaspoon baking powder
pinch salt
7. Blueberry Vanilla Greek Yogurt Granola Bars
Why buy breakfast bars when you can make ones as delicious as these? Even the pickiest of kids will love this recipe by Half Baked Harvest! Make a batch of these delicious bars on weekends so you're sure you'll have a go-to breakfast for weekdays.
Ingredients
1 1/2 cup brown rice Krispies
1/4 cup shredded unsweetened coconut
2 cups rolled oats (gluten-free if needed)
1/4 cup whole roasted almonds, roughly chopped
1/4 teaspoon salt
A tablespoon of chia seeds
1/2 cup peanut butter or almond butter (I typically use peanut butter)
Half a cup of honey
1 1/2 teaspoon vanilla
1 (rounded) cup fresh blueberries or 3/4 cup dried blueberries
Greek Yogurt Coating:
1 tablespoon water
1 teaspoon vanilla extract
2 cups powdered sugar
1/2 teaspoon gelatin
1/4 cup greek yogurt
Pinch of salt
1 tablespoon honey
8. Tart Cherry, Dark Chocolate, and Cashew Granola Bars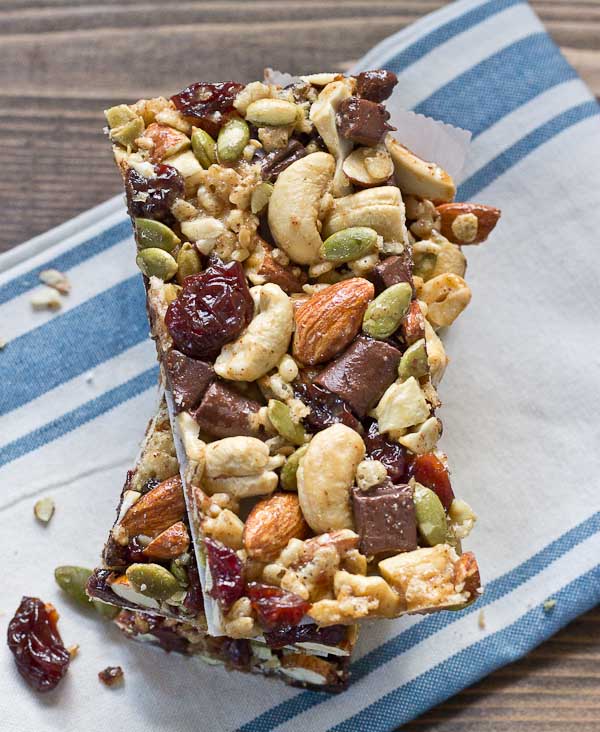 This homemade breakfast bar by Love and Zest are packed with yummy ingredients such as raw nuts, flaxseeds, almond butter, and cherries. Raw nuts and flaxseeds provide healthy fats which can lower cholesterol and build a strong heart. Not only are they yummy and easy to make, these healthy bars will make your body feel good, too!
Ingredients
½ cup chopped raw almonds
½ cup dried tart cherries
1 tablespoon almond butter
½ cup puffed rice cereal
¼ cup pumpkin seeds
1 cup chopped raw cashews
¼ cup semi-sweet chocolate chunks
⅛ teaspoon sea salt
1 tablespoon whole golden flaxseeds
¼ cup brown rice syrup
9. Pumpkin Protein Bars
With ingredients as decadent as these, you would never believe these bars were healthy! Perfect for all the pumpkin-lovers in the world, these delicious protein bars by Jennifer Meyering are sure to be a breakfast favorite!
Ingredients
1/2 cup Truvia brown sugar blend
1 1/2 tsp ground ginger
2 tsp ground cinnamon
1 tsp baking powder
1 tsp baking soda
2 tsp vanilla extract
1/2 tsp salt
4 egg whites
1 (15 oz) can pumpkin purée
2 cups oat flour*
3/4 cup vanilla protein powder
1/2 cup unsweetened almond milk
10. Thin Mint Granola Bars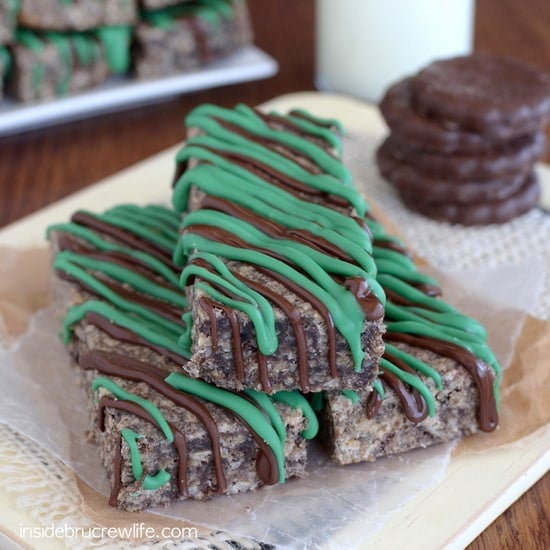 Take a look at these thin mint granola bars made by Inside Bru Crew Life. With just one glance, you would know these breakfast babies are delicious. The mint and chocolate go really well together! We're sure one bar isn't enough. You'll probably eat another.
Ingredients
3/4 cup butter, softened
3/4 cup brown sugar
2 eggs
2 teaspoons vanilla
1 1/2 cups flour
2 1/2 cups quick oats
1/4 teaspoon salt
1 teaspoon shortening, divided
2 cups crushed Thin Mint cookies (or Keebler Grasshoppers)
1/2 cup green candy melts
1/2 cup chocolate chips
A budget-friendly casserole made with eggplant, tomatoes, beef, eggs, almond milk, & parsley. https://t.co/EqIqwOKl3X #HealthyRecipes pic.twitter.com/tUI7cYsy7K

— Homemade Recipes (@BestHomeRecipes) June 21, 2017
11. Apple Pie Oatmeal Bars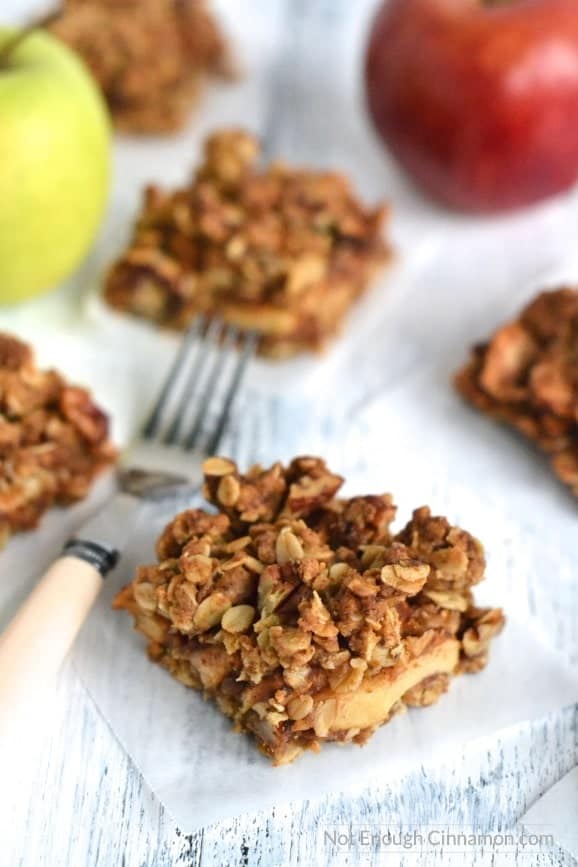 These apple pie oatmeal bars by Not Enough Cinnamon are just what you need to get your engine started! Pair this with a cup of freshly brewed coffee and your good to go. Or use these as toppings to homemade frozen yogurt. It can work.
Ingredients
3/4 cup coconut sugar (or brown sugar) – see notes
1 1/2 cups old-fashioned rolled oats
1 1/2 cups all-purpose flour (you can also use all-purpose gluten-free flour) – see notes
3/4 cup pecans, roughly chopped
1/2 tsp salt
1 tsp baking powder
7 oz – 200 g unsalted butter, chilled, cut into cubes
1 tsp cinnamon
12. Blueberry Oatmeal Breakfast Bars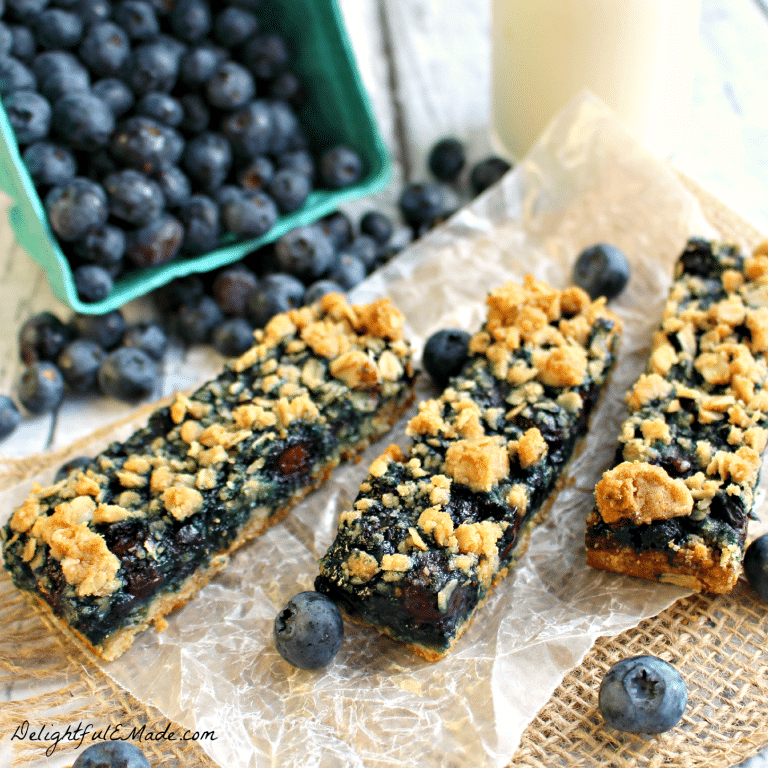 This breakfast bar made by Delightful E Made is like an oatmeal blueberry coffee cake in portable bar form. Loaded with juicy, ripe blueberries and topped with a brown sugar crumble, this breakfast bar redefines the phrase "healthy dessert."
Ingredients
2¼ c. Old Fashioned Oatmeal
2¼ c. flour
1½ c. brown sugar
1 c. butter (2 sticks)
1½ tsp. baking soda
½ tsp. salt
3 c. fresh or frozen blueberries
¼ c. sugar
1 Tbsp. cornstarch
13. Cherry Oatmeal Crumble Bars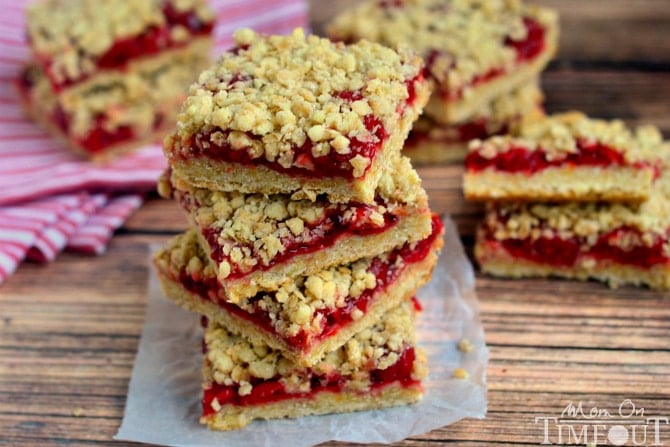 Say hello to breakfast every morning with this easy to make, 4-ingredient recipe! And it doesn't hurt that they look really pretty, right? Thanks again to Mom on Timeout for this recipe. You might want to try making your own nut milk so you can pair it with this crumble bar.
Ingredients
1 package yellow cake mix
2 ½ cups quick-cooking oats
¾ cups butter, melted
1 can cherry pie filling
14. Chocolate, Cashew, and Almond Bars
If you're in the market for a raw energy bar, then this recipe from Sea Salt with Food is perfect for you. With ingredients like raw nuts, dates (nature's fudge!), and shredded coconut, you'll be inspired to eat raw 24/7!
Ingredients
2 Cups (300g) Moist Medjool Dates, pitted and chopped
2 Cups (280g) Raw Cashew Nuts
½ Cup (60g) Raw Almond (without skin)
¾ Cup (75g) Cocoa Powder
A Pinch of Sea Salt
½ Cup (40g) Unsweetened Shredded Coconuts
2 Tbsp Vanilla Extract
2 to 3 Tbsp Cold Water
15. Fruity Pebbles No-Bake Bars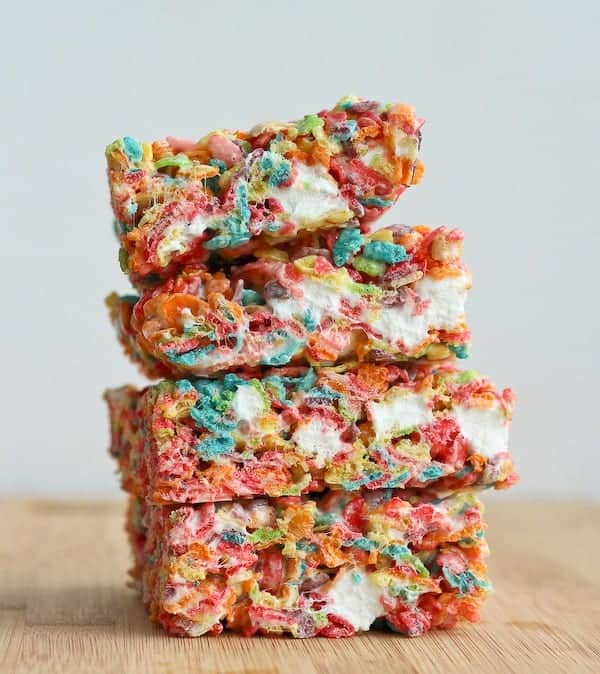 C'mon, don't these bars just make you smile? Kids love this recipe from Rachel Cooks and so will you! Start your day off right with a sweet bar that makes you happy just by looking at it.
Ingredients
2 tablespoons unsalted butter, plus additional to grease the pan
8 cups mini marshmallows, divided
6 cups fruity crisp rice cereal (or Fruity Pebbles)
16. Healthy Quinoa and Chocolate Chip Granola Bar Recipe
These bars by ifoodreal are the perfect in-between meals or post-gym snack. They're quite filling as well as full of protein, vitamins, and minerals. And who knew quinoa and chocolate chips worked so well together?!
Ingredients
1 cup quinoa
1/2 cup steel cut oats (or sub with quick oats)*
A cup + 3/4 cup quick oats
1/2 cup almonds, coarsely chopped**
1/2 cup flax seed, ground
2 – 3 large or 1/2 cup egg whites
1/2 cup chocolate chips
1/2 teaspoon salt
Cooking spray
1/2 cup brown rice syrup or honey, warmed up if necessary
1/2 cup coconut oil, melted
17. Apple Cinnamon Breakfast Bars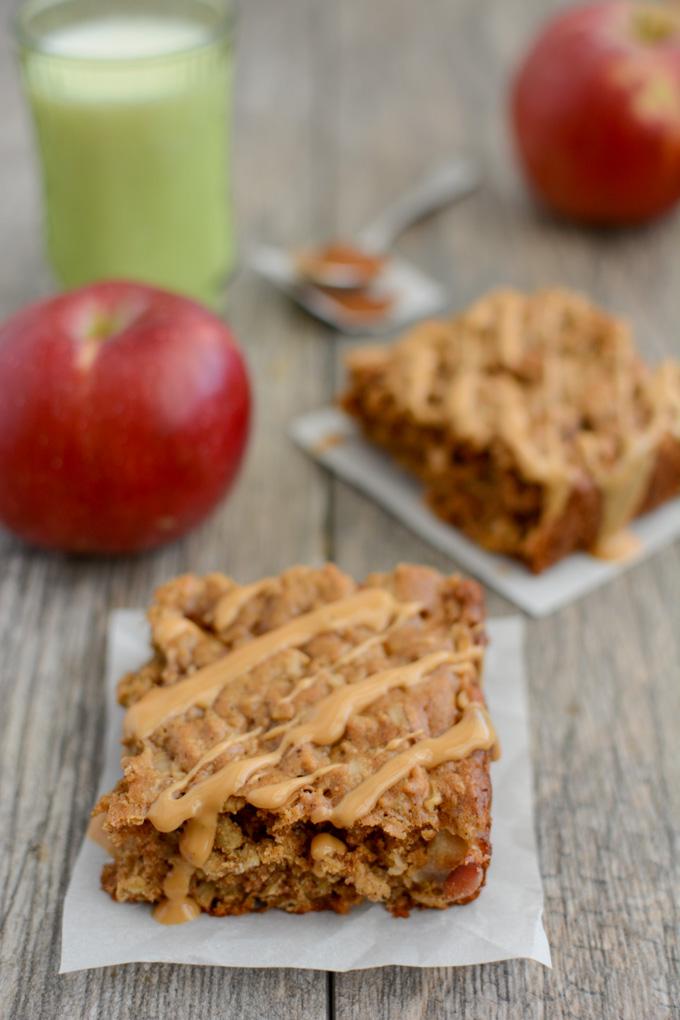 The smell alone is enough to put a smile on your face. This is what the apple cinnamon breakfast bars do to you.  Now bite into it and be transported to those happy days when mom's baked goods were the only things that mattered. Be sure to try out this recipe by The Lean Green Bean.
Ingredients
½ c peanut butter
¾ c Skim milk
1 tsp vanilla
¼ c applesauce
¼ c honey
A cup grated apple (squeezed to remove moisture)
1½ c rolled oats
¼ c white whole wheat flour
An egg
1 tsp baking soda
1 tsp cinnamon
18. Banana Oatmeal Breakfast Bars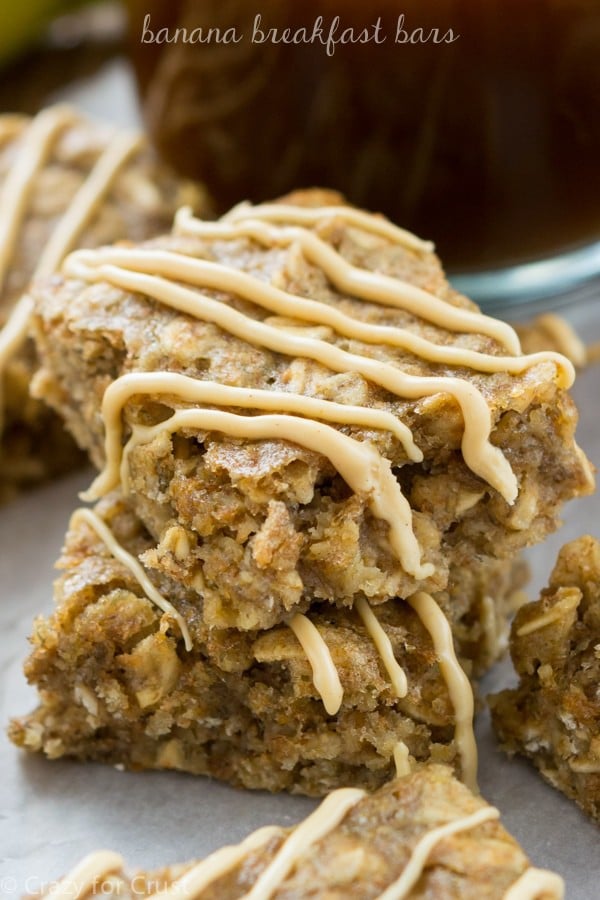 You definitely have most, if not all, of the ingredients in your pantry already. If so, make this delicious bar by Crazy for Crust now! You won't regret it. Unless you're one of those people who regret eating an entire batch of goods once they're done.
Ingredients
1/4 cup vegetable or coconut oil
1/4 cup packed brown sugar
2 medium bananas (spotted ones that are a little past the prime)
1/2 teaspoon salt
1/2 teaspoon baking soda
A large egg
1/2 cup whole wheat flour
1 teaspoon vanilla
A cup of old-fashioned oats
1/4 cup white chocolate chips, optional
1 tablespoon peanut butter, optional
19. No-Bake Granola Bars with Peanut Butter
This breakfast bar recipe by Darabee might just become your family's next favorite go-to meal. The coconut milk adds a decadent creaminess which you have to taste to believe.
Ingredients
5 cups ( 450g ) uncooked oatmeal (quick oats)
1 1/3 cups ( 340g ) peanut butter
1 cup ( 250ml ) coconut cream or milk
3 tbsp honey
20. Coconut Cacao Nib Breakfast Bar
If you're looking for a recipe that's good for you, this homemade breakfast bar from Living Healthy with Chocolate got you covered. We love cacao nibs! They're crunchy and bitter, so definitely keep that in mind when making these bars. One thing we like to do is freeze the nibs beforehand.
Ingredients
1/2 cup unsweetened, shredded coconut, lightly toasted
1/3 cup vanilla whey protein powder
2 cups almond flour
1/4 cup granulated erythritol
1/2 cup cacao nibs
2 tsp baking powder
1/2 tsp baking soda
1/2 tsp salt
2 eggs, lightly beaten
1/3 cup coconut oil, melted
1/4 cup almond milk
12 drops stevia extract
21. Frozen Blueberry Breakfast Bars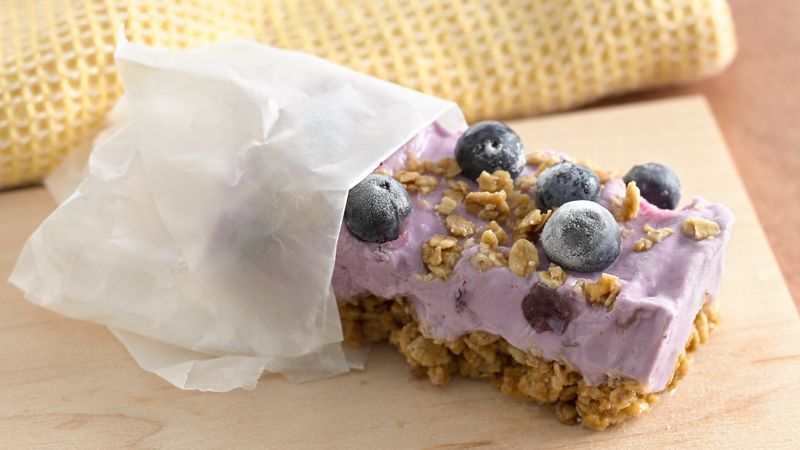 A grab-and-go breakfast treat that is a definite must-try. If your kids had trouble getting up for school before, they won't anymore with this homemade breakfast bar by Betty Crocker around!
Ingredients
2 1/2 cups Cascadian Farm® organic oats & honey granola
1/4 cup butter, melted
3 containers (5.3 oz each) Yoplait® Greek blueberry yogurt
1/4 cup fresh blueberries
2 tablespoons Cascadian Farm® organic oats & honey granola, coarsely crushed
22. Spinach-Quinoa Breakfast Bars
Sometimes, savory breakfast bars just don't get the play they deserve. So, to honor their rich goodness, we had to end the list with this delicious spinach-quinoa bar by Power Hungry. While this bar makes a great breakfast, it can also double as a wonderful lunch!
Ingredients
1 cup quinoa
1 16-oz bag frozen chopped spinach, thawed (feel free to thaw in a microwave)
2 teaspoons olive oil
1 cup nonfat cottage cheese
2 large eggs
3 to 4 green onions, chopped (3 if they are very large, as mine were)
½ tsp fine sea salt
¼ tsp freshly ground black pepper
Learn how to make a homemade breakfast bar in this video from Food Wishes:
Breakfast is the most important meal of the day, so stop skimping and start making these homemade breakfast bar recipes. Make them during your spare time, store them in your fridge, and you will have a go-to breakfast on busy days. If the morning isn't already your favorite time of day, it will be with these homemade breakfast bar recipes!
Which of these homemade breakfast bar recipes are you going to try first? Share your experience with us by writing a comment below!
Up Next: 19 Quick Breakfast Ideas For Your Family
Don't forget to keep in touch, foodies!

Also, make sure to follow us on Facebook, Instagram, Pinterest, and Twitter!
Editor's Note: This post was originally published on September 6, 2017, and has been updated for quality and relevancy.
Featured Image by Betty Crocker