I can't think of anything better than eating homemade frozen yogurt! Experiencing the endless possibilities of this amazing dessert in the comfort of your own home? Yes, please!
Homemade Frozen Yogurt Recipes Everyone Will Love!
It doesn't have to be summer to have some homemade frozen yogurt! This delectable dessert deserves to be present all-year round! Can you believe it was only invented in the 1970s? I know songs and fashion trends which have been around for a longer time! Yogurt itself has been around since antiquity but freezing it to become the treat we all love is a fairly new development. Oh, the lengths humankind will go to just to have good food! And we've surely taken advantage of it! Bring out your frozen yogurt maker, and get ready to make the best homemade frozen yogurt recipes out there today!
1. Mango Frozen Yogurt with Blueberry Compote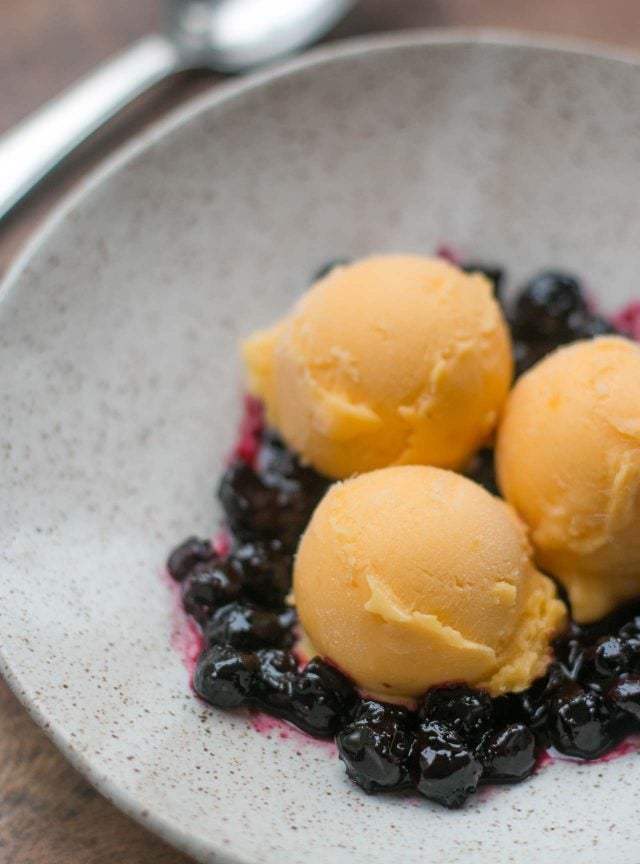 Mango is one of those fruits that are subtle yet strong at the same time. Its sweetness is just right and its texture is so beautiful, it goes perfectly with your homemade frozen yogurt! This recipe shows you how to make blueberry compote too so you can complete the fro-yo experience.
2. Blueberry Frozen Yogurt
I understand the appeal of having just a single flavor for your homemade frozen yogurt. And for this preference, you can't go wrong with blueberry frozen yogurt! Who doesn't love blueberries? We put them in waffles, muffins, pancakes. Might as well put them in fro-yo too!
3. Mint Chip Frozen Yogurt
The person who invented mint chip deserves a special place in heaven. How can a cool dessert be any more refreshing? This mint chip frozen yogurt is so good, you won't bother trying to answer my question. And I completely understand. Making this homemade frozen yogurt recipe is all that matters.
4. Coffee Frozen Yogurt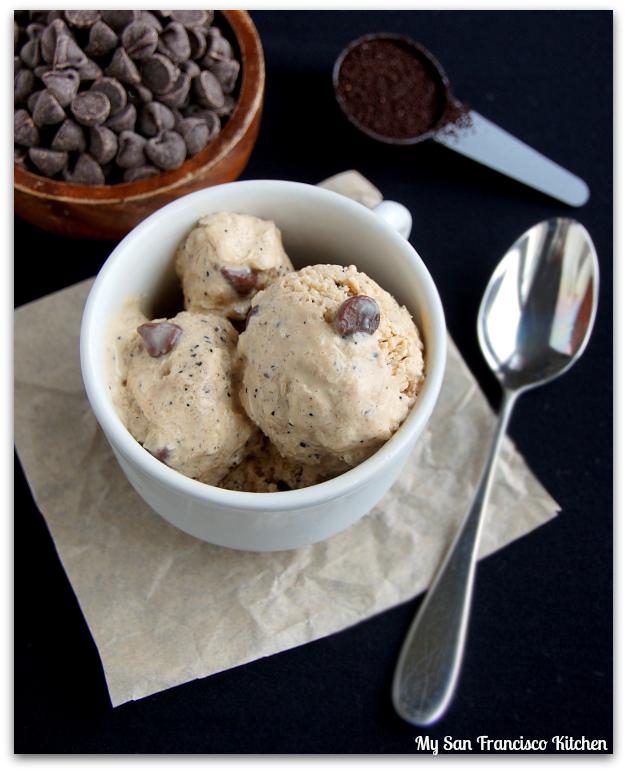 I don't know anybody who loves coffee more than I do. Just the smell of it in the morning is enough to put me in a good mood. So when I was looking for homemade frozen yogurt recipes, I thought why not put coffee in it? The result is outstanding. Try it for yourself by making this coffee frozen yogurt!
5. Fresh Pineapple Frozen Yogurt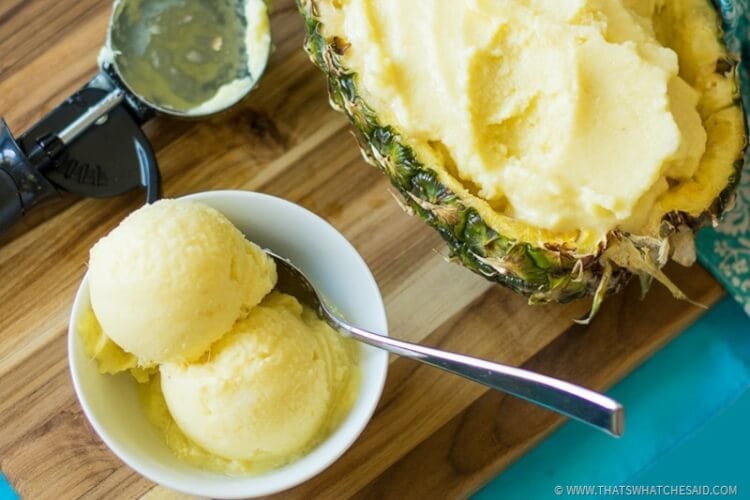 Add a tropical twist to your homemade frozen yogurt! If you think pineapples are only good for juices and pizza, think again. This fresh pineapple frozen yogurt will prove just about anything goes well with frozen yogurt.
6. Mocha Latte Frozen Yogurt
Well, we've added coffee to our homemade frozen yogurt, why not unleash our inner barista and take it to the next level? This mocha latte frozen yogurt will make you forget Starbucks exists.
7. Orange Creamsicle Frozen Yogurt
I personally enjoy a good contrast of flavors. The creamy goodness of frozen yogurt mixed with the zest of orange is a beautiful combination you never thought you needed. Let this orange creamsicle frozen yogurt show you what I mean.
8. Fresh Fruit Frozen Yogurt Pops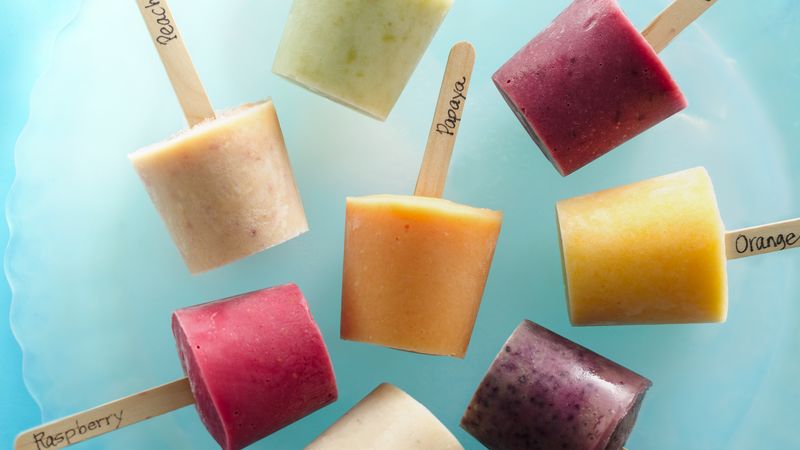 There are many ways to make frozen yogurt—some like it soft-served, others like is scooped like ice cream. But for the child at heart, these fresh fruit frozen yogurt pops are the only way to make homemade frozen yogurt!
9. 4-Ingredient Strawberry Frozen Yogurt
Don't listen to the naysayers. You can never have too much strawberry. If they don't want to believe you, then serve them this 4-ingredient strawberry frozen yogurt! I guarantee you they'll be asking for more of you homemade frozen yogurt.
20 Amazing Life-Giving Vitamix Recipes #smoothie #icecream #desserthttps://t.co/s2RJZt63hM pic.twitter.com/b5HDCm9aXW

— Homemade Recipes (@BestHomeRecipes) December 17, 2016
10. Honey + Beet FroYo
I know nutrition isn't exactly what comes to mind when one thinks of desserts. But like I said, since homemade frozen yogurt is a wonderful treat, it can be delicious and healthy at the same time! This recipe for honey and beet frozen yogurt will make you reconsider your opinions on all things healthy. Don't knock it 'til you try it!
11. Fresh Peach Frozen Yogurt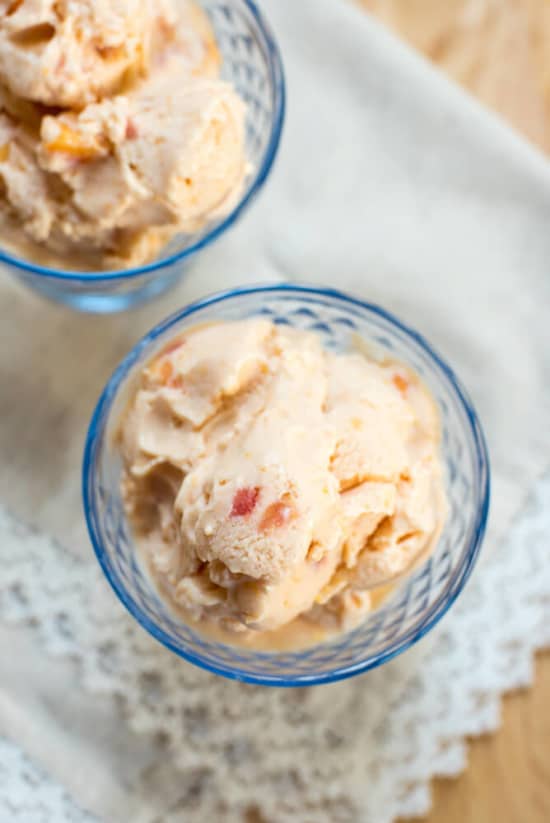 Plump peaches oozing with fruity goodness deserve to be transformed into homemade frozen yogurt! This fresh peach frozen yogurt is as rich as any frozen yogurt can get.
12. Salted Caramel Frozen Yogurt
Salted caramel is a culinary trend in itself. We've had it in cakes and lattes—why not in homemade frozen yogurt? I can't think of anything more genius than merging two things which have taken the culinary world by storm. This salted caramel frozen yogurt is a must-try!
13. Cookie Dough Frozen Yogurt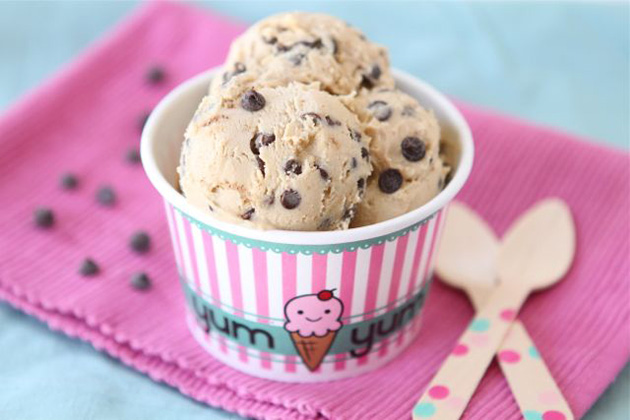 I don't have to explain it. We've all experienced the struggle of stopping ourselves from finishing all the cookie dough before putting it in the oven. Well, now, no restraint is necessary! This cookie dough frozen yogurt demands you enjoy the cookie dough without guilt.
Watch this video from Gemma Stafford for more homemade frozen yogurt recipes:
With these homemade frozen yogurt recipes, I'm sure you'll be enjoying yourself every day without getting tired of it! A little cup of homemade frozen yogurt a day couldn't hurt. After all, it is still dairy and has nutritional value. Make sure you master these recipes in time for National Frozen Yogurt Month! Yes, you read it right, there's an entire month dedicated to this awesome treat! Now you have an excuse to keep making your homemade frozen yogurt! And if anyone tries to stop you, just give him a cup and let him realize the beauty of the fro-yo life.
Want more homemade yogurt recipes? Try these 11 Healthy Greek Yogurt Recipes! Which homemade frozen yogurt recipe is your favorite? Let me know in the comments section!
Don't forget to keep in touch, foodies!
Sign up for our newsletter here!
Also, make sure to follow us on social media: