Sit back, put your feet up, and take pleasure in these wonderful hot tea recipes. It doesn't have to be winter for you to cozy up with a cup of tea in hand!
Homemade Hot Tea Recipes to Warm You Up
Tea is such a versatile drink. It can be paired with savory cuisines and delightful chocolate desserts. But the best part is, tea is an excellent source of comfort and warmth to keep you toasty during the cold months. But since the winter months aren't here yet, a cup of tea should help you feel more relaxed, revitalized, and reenergized. Instead of sticking to your basic tea recipe, give these comforting and delicious hot tea recipes infused with fall spices and fruit juices a try!
1. Autumn Spiced Apple Tea
It's fall and there's no better hot tea recipe than this autumn spice apple tea. This comforting hot tea combines cloves, apple juice, cinnamon sticks, and Pure Via sweetener. This sweet blend of warm spices is a real fall treat!
2. Hot Spiced Orange Tea
Fall is a time to snuggle up and read a book while sipping a cup of delicious tea. This is one of the hot tea recipes I have in mind for those cuddle up days! Enjoy this delicious tea recipe made with lemon-flavored tea, ground cloves, ground cinnamon, and a kiss of orange-flavored Tang. It's easy and ready in less than five minutes!
3. Cinnamon Sore Throat Tea
Caught the bug? Not really feeling like the usual you? The cinnamon sore throat tea is a soothing tea that's sure to help you get out of bed when you're down with the sniffles. Drink this tea whenever you feel sick and as the weather gets cooler. The ginger helps with nausea too!
4. Apple Cranberry Slow Cooker Tea
Apple and cranberries come together, making this tea recipe fresh, fruity, and a little tangy. And since it's cooked in the slow cooker, you'll just put everything in it, leave it, and come home to warm and cozy sweet apple cranberry tea.
5. Caramel Vanilla Chai Tea Latte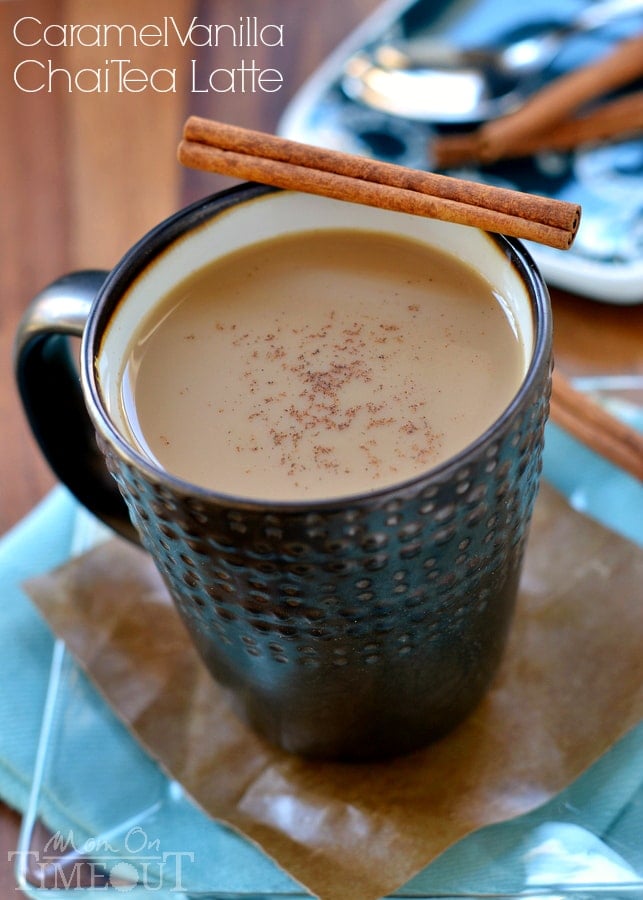 My two most favorite flavors in one cup? Yes, this is for real! Wake up to this warm and rich caramel vanilla Chai tea latte. It's the perfect blend of sweet, spicy, and a little hint of caffeine to boost your energy and get you going for a productive day.
6. Warm Russian Tea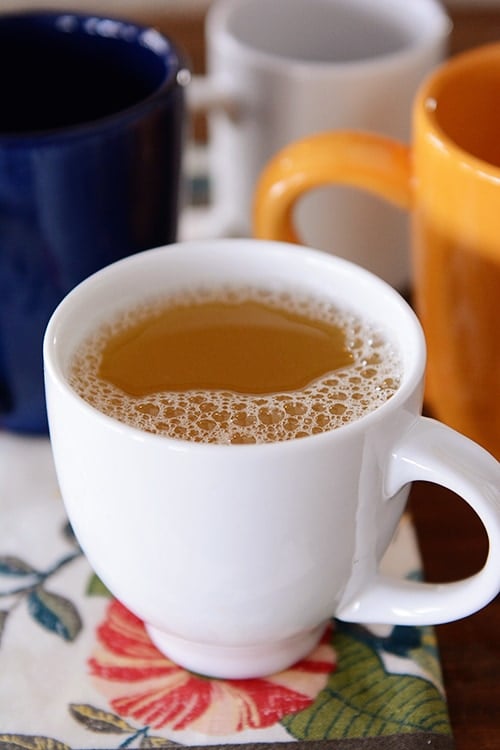 So this recipe doesn't actually call for actual tea, but I want to share it with you because it's a delicious and flavorful hot beverage as well. The Russian tea is actually a mix of lemon and orange juice. Adding warm notes of almond and vanilla, this hot drink will surely add flavor to your day!
7. Hot Raspberry Tea
Raspberry gives a sweet note, a pleasant aroma, and a delightful flavor to a classic green tea recipe. This hot raspberry tea is a lovely sip in the colder months and every time you need a good source of vitamin C.
8. Red Hot Cinnamon Candy Tea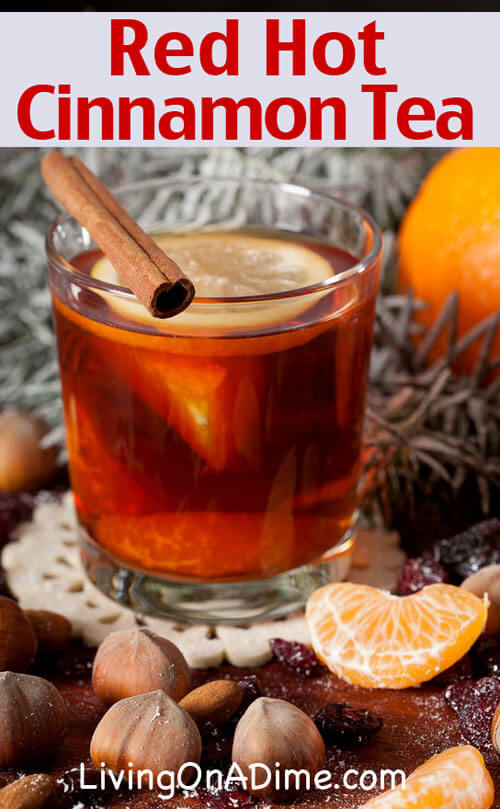 While Valentine's Day is far away, there's no reason why you can't get romantic with this hot tea recipe. Warm your soul with black tea infused with all the goodness of red hot cinnamon candies. It's the perfect snuggle up tea recipe when you're cozying up with your loved one.
9. Rose Milk Tea
Does it taste as good as it looks? You betcha! Try this dreamy rose milk tea for a fancy afternoon tea experience. Don't forget to pair this with some lemon cakes or custard tarts for an ultimate treat.
10. Pomegranate Tea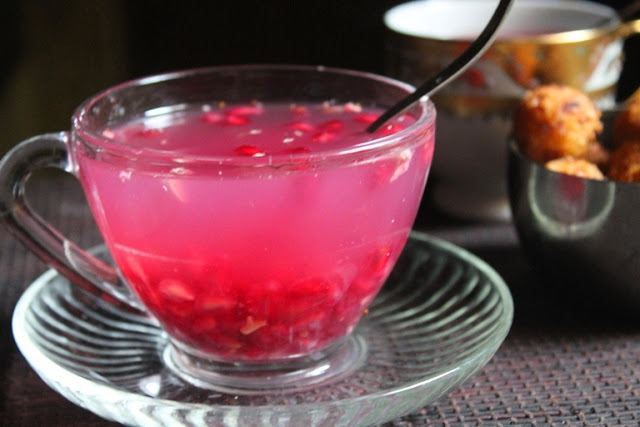 You only need three simple ingredients (pomegranate, sugar, water) to whip up this tasty tea. It's sweet and packed with antioxidants essential to our bodies. If you have a bunch of pomegranates in your pantry, then you must try this simple tea recipe!
11. Ginger Pineapple Tea
If you're not fond of ginger but want to enjoy its numerous health benefits, then this is the recipe for you. Mixing pineapple with fresh ginger will definitely mask the pungent and spicy taste. Hence, you can now enjoy a zesty and refreshing hot drink that can also soothe an upset tummy any day!
12. Hot Cranberry Tea
This hot cranberry tea is sweet and tasty enough to serve at parties and simple get-togethers. If you're not into cocktails and other alcoholic drinks, then this tea is what you need. In fact, every tea party should have this on the menu!
13. London Fog Hot Tea
The fall season may not be as blistering cold as winter, but the drop in temperature can be cold for some people. To keep you warm, gather some oats, a cup of water, sweetener, vanilla extract, and Earl Grey Tea. Blend them together and end your cravings for a rich, creamy, and comforting tea.
14. Hot Coconut Herbal Tea
Seriously, nothing gets healthier than this hot tea recipe I have for you here. Indulge in this vegan, vegetarian, gluten-free, dairy-free, and soy-free beverage called the hot coconut herbal tea. It's very easy to make too!
15. Chamomile Tea Latte
Chamomile tea is known for its distinct calming effects and noteworthy health benefits. But if you don't enjoy pure chamomile tea, you can always try this delicious chamomile tea latte recipe. Nothing makes me feel calm before going to bed at night like how a chamomile tea would.
16. Lemon Ginger Tea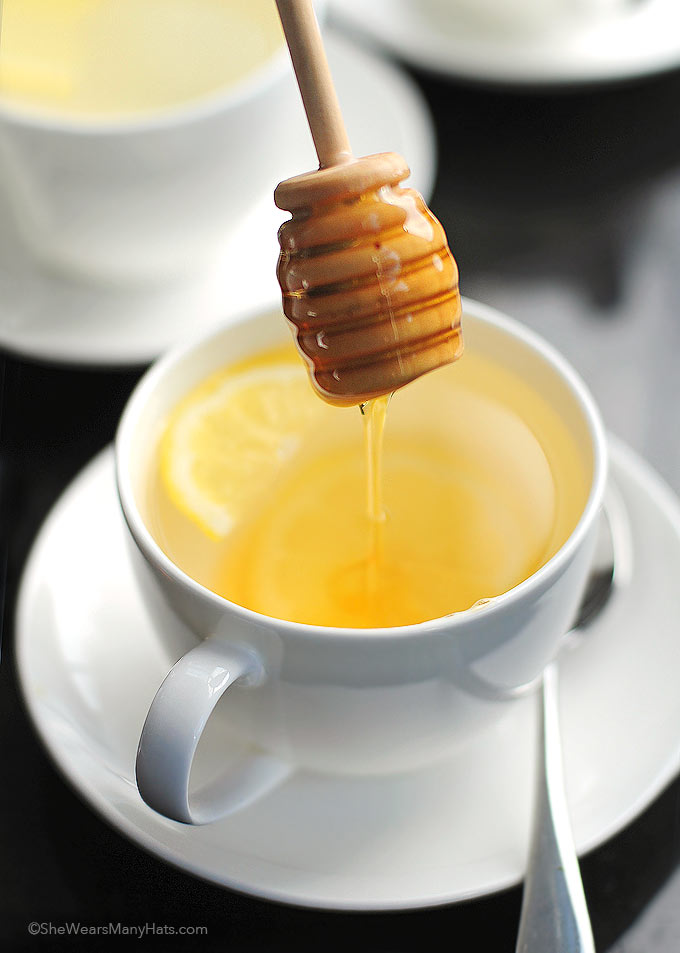 Being simple doesn't stop this lemon ginger tea recipe from spreading relaxing and satisfying vibes to anyone who's lucky enough to try a cup. Despite being one of the simplest hot tea recipes in this list, I must say, mixing lemon and ginger is indeed a flavorful powerhouse!
17. Fresh Mint Tea
Are you looking for a cup of tea that can relieve the stress? Keep it simple with this fresh mint tea recipe. Just get a cup of hot water, add a handful of mint leaves, let it steep, sweeten, and enjoy! This fresh mint tea is also an effective pick-me-up drink!
Get Up And Glow Juice! Plus 16 more green #juice #recipes on the blog right now! Click the link! #vegan https://t.co/MAoOkkyPwq pic.twitter.com/D8n1e4v9fy

— Homemade Recipes (@BestHomeRecipes) January 9, 2017
18. Ginger Turmeric Root Tea
Witness the healing power of turmeric by consuming a cup of this amazing ginger turmeric root tea. It's truly a soothing and warming beverage from your throat down to your tummy. So the next time you're not feeling well, you know which recipe to turn to!
19. Fruit Spice Tea
Orange, pineapple, and pomegranate juice come together in one easy peasy and festive hot tea recipe. The color may put you off, but the taste will keep you wanting more. Not to mention, this cup of tea is packed with vitamins and minerals such as Vitamin C, iron, calcium, Vitamin B complex, Vitamin K, and much more.
Watch this video from Veganlovlie and learn a simple Lemongrass Hibiscus Tea Recipe:

Thank you for reading until the end! I hope you love these hot tea recipes and are already looking forward to trying any of them. These are ideal during blustery days and chilly evenings. A cup of tea is indeed a great means of relaxing after a long and tiring day. So from one tea lover to another, I really do hope you find your cup of tea here…if you know what I mean!
What do you think of these hot tea recipes? Which recipes are you planning to try? Share your experience with me in the comments section below.
Up Next: Bacon Cooking 101: Bacon Cooking Tips For The Perfect Crisp
Don't forget to keep in touch, foodies!

Also, make sure to follow us on Facebook, Instagram, Pinterest, and Twitter!