Leftover turkey recipes, anyone? Help yourself to these leftover turkey recipes and deal with what's left of your Thanksgiving dinner the sumptuous and scrumptious way!
Leftover Turkey Recipes: Ways To Avoid Food Waste
Ever wake up the day after Thanksgiving and think, "What in heaven's name will I do with all these turkey leftovers?" Never worry about that again! Check out these terrific leftover turkey recipes, allowing you to make something completely different than what you had the night before. We've got everything from pastries to soups, side dishes, and snacks, and no matter what you're into, you'll find something you love. These are the smart ways to use up Thanksgiving turkey leftovers and stretch the holidays just a couple of days longer!
1. Cheesy Turkey and Ranch Quesadillas
Image via Creative Savings Blog
Slice some leftover turkey breast into pieces, fold them into a tortilla along with cheddar cheese and ranch dressing, and you've got yourself a tasty turkey and ranch quesadilla. Easy-peasy!
2. Leftover Thanksgiving Turkey Pesto Panini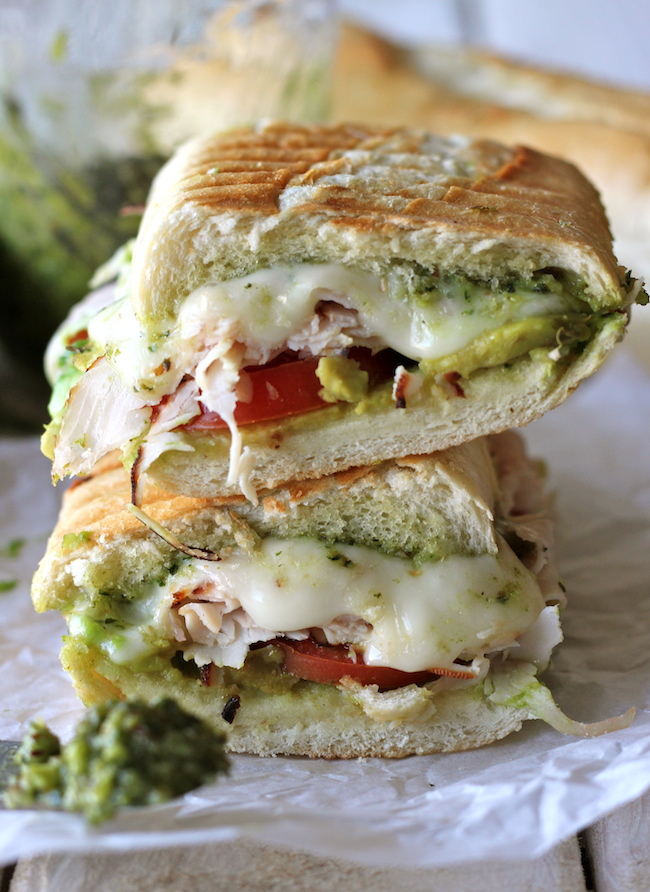 Just look at this delicious stack of goodness! This turkey pesto panini is made all the more special with french bread topped with mozzarella, pesto, tomatoes, avocado slices, and of course, turkey. WOW!
3. Turkey Tetrazzini With A Crunchy Topping
Image via The Wicked Noodle
You can literally throw ALL of your leftovers into a dish and get this amazing turkey tetrazzini dish. How great would it be to get a taste of all of your favorite leftovers in every single bite?!
4. Crockpot Turkey And Rice Soup
Image via Kleinworth & Co.
An incredible bowl of soothing, warm, and filling rice soup loaded with carrots, rice, egg noodles and tender shredded leftover turkey. Hot or not, this turkey and rice soup hits the spot!
5. Ground Turkey Skillet with Green Beans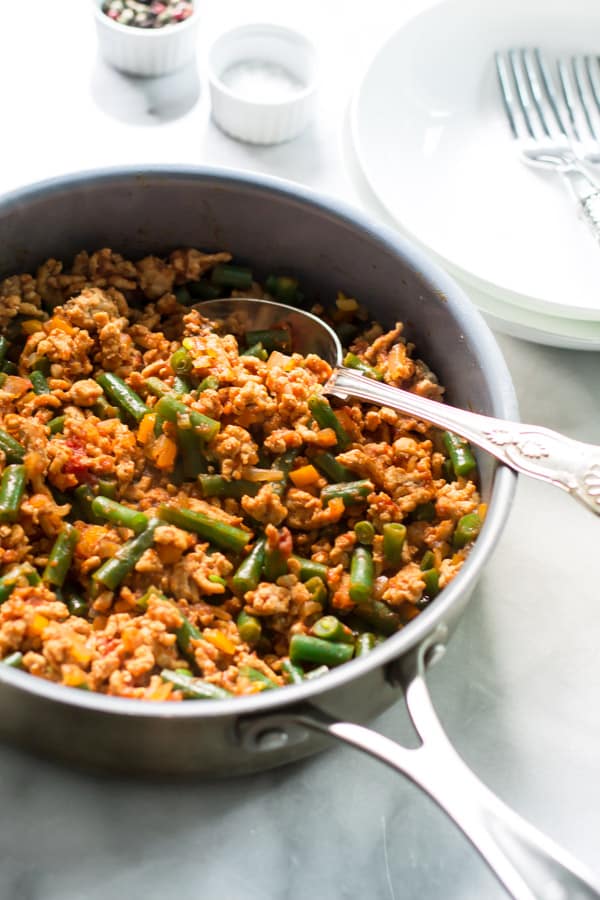 Have yourself a guilt-free meal with this ground turkey skillet chock-full of green beans. It's tasty and definitely effortless to prepare. Mix it with rice or enjoy this dish as is.
6. Light Turkey And Corn Chowder
Sipping this savory and warming turkey and corn chowder will definitely make your day. It's a light yet satisfying meal to cook for your family on a chilly evening.
7. Leftover Thanksgiving Turkey And Sweet Potato Frittata
Image via Skinny Taste
A perfect balance of nutritious sweet potatoes and leftover turkey in one delicious frittata. It's easy, and would certainly turn out delicious A must-try leftover turkey recipe which will have you drooling for another skillet of frittata.
8. Leftover Thanksgiving Turkey Pot Pie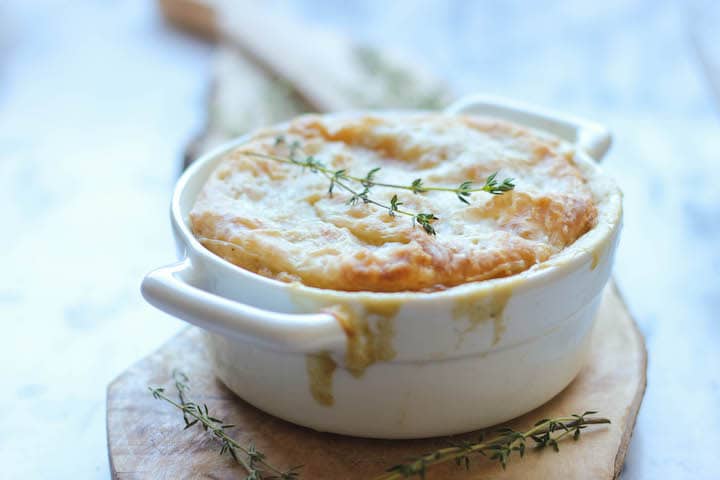 You can never go wrong with an extra creamy pot pie, stuffed with leftover turkey and juicy summer veggies. After trying this recipe, you'll be cooking a turkey just to have a second batch of this wonderful pot pie.
9. Thanksgiving Pizza
Image via The Gunny Sack
This pizza is literally the best way to turn Thanksgiving leftovers into one delicious meal. It's topped with flavors from everything you had on Thanksgiving. Mashed potatoes, gravy, green bean casserole, stuffing, and chopped turkey all mixed up and put on top of a puff pastry.
10. Cranberry Hazelnut Turkey Wellington
Impress everyone with this super festive Turkey Wellington, with the tangy flavor of cranberry and nutty goodness of hazelnut. It looks like you spent hours in the kitchen but actually, it's super easy and simple to make.
11. Turkey Taco Lettuce Wraps
Show off your clean eating skills by placing leftover turkey, chopped avocado, onions, and tomatoes in fresh lettuce leaves (or any other green). The result: turkey taco lettuce wraps, a tasty guilt-free meal!
12. Waffled Cranberry Turkey Sandwiches
Waffle sandwiches stuffed with turkey, cranberry sauce, and some greens. These turkey sandwiches taste just as incredibly good as they look! Each filling component compliments each other, giving you a nuanced, scrumptious flavor.
13. Paleo Turkey Stuffed Peppers
Stuffed peppers with a paleo-turkey mixture make for a healthy snack. These stuffed peppers are also a great way to have the kids enjoy peppers and any other vegetables without even noticing.
14. Turkey, Mushroom and Bacon Puff Pastry Pockets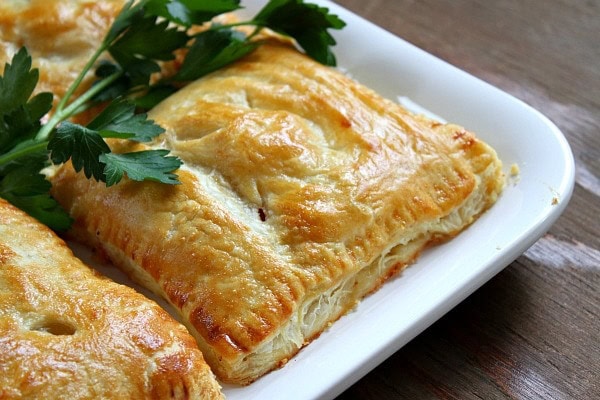 Puff pastry pockets are a versatile treat. You can stuff them with virtually anything, as long as they work well together. Leftover turkey, bacon, Swiss cheese, and a creamy mushroom sauce are just what you need.
15. Southwest Turkey Chopped Salad
This is a refreshing salad bowl of colorful veggies, nuts, Mexican cheese, and chopped turkey, drizzled with a tasty barbecue sauce and ranch dressing.
16. Homemade Seasoning and Turkey Tacos
A delicious snack or dinner you can create using your leftover turkey! These turkey tacos are super tasty, crunchy, packed with flavorful taco filling, and just so easy to put together.
17. Leftover Turkey In Creamy Mushroom Sauce
Transform simple turkey odds and ends into a savory meal with mushrooms. Trust me, if you don't care much for turkey leftovers, this mushroom and leftover turkey recipe will have you saving all there is to save from the roasting tin.
18. Turkey Pot Pie Soup
Stray away from the usual leftover turkey baked pot pie and try this turkey pot pie soup instead. This turkey leftover soup recipe will surely warm you up from your nose to the toes!
19. Aunt Bee's Leftover Turkey Casserole
With tummies full following an evening of feasting and indulgence, nothing will seem appetizing the next morning. Good thing you can prepare Aunt Bee's leftover turkey casserole, freeze it, then pop it in the oven when you need a good eat.
You can also try the noodle casserole recipe with your leftover turkey in this video:

Having leftover turkey after Thanksgiving is almost always inevitable, so make sure you don't throw any out! Now, with these leftover turkey recipes, every piece and slice of turkey meat will matter when you can make more from it. Enjoy Thanksgiving and the days after with these recipes!
Which of these leftover turkey recipes are you planning to try? We'd be delighted to hear all about it in the comments section below!
Up Next: 15 Healthy Ground Turkey Recipes | Homemade Recipes
Don't forget to keep in touch, foodies!
Make sure to follow us on Facebook, Instagram, Pinterest, and Twitter!
Editor's Note – This post was originally published in November 2016 and has been updated for quality and relevancy.