Looking for delicious tortellini recipes to round out your meal plans? Find the easiest and the most succulent recipes right here!
These Tortellini Recipes Will Warm Your Soul!
Tortellini recipes are one of the most flavorful and delectable pasta meals to enjoy. It's an all-time favorite comfort food which you can prepare effortlessly. And remember that there is no season for comfort food–we need it all the time! To help you out with this intense craving, I rounded up nothing but the BEST tortellini recipes–all of these are easy to make! Because that's what comfort is all about. Simple and absolutely tasty!
1. Creamy Spinach Tomato Tortellini
Spinach, basil, and tomato impeccably blend together creating this fresh, summery flavor. And with that perfect amount of creaminess, you'll surely love everything about this tortellini recipe!
2. Beefy Cheesy Tortellini Bake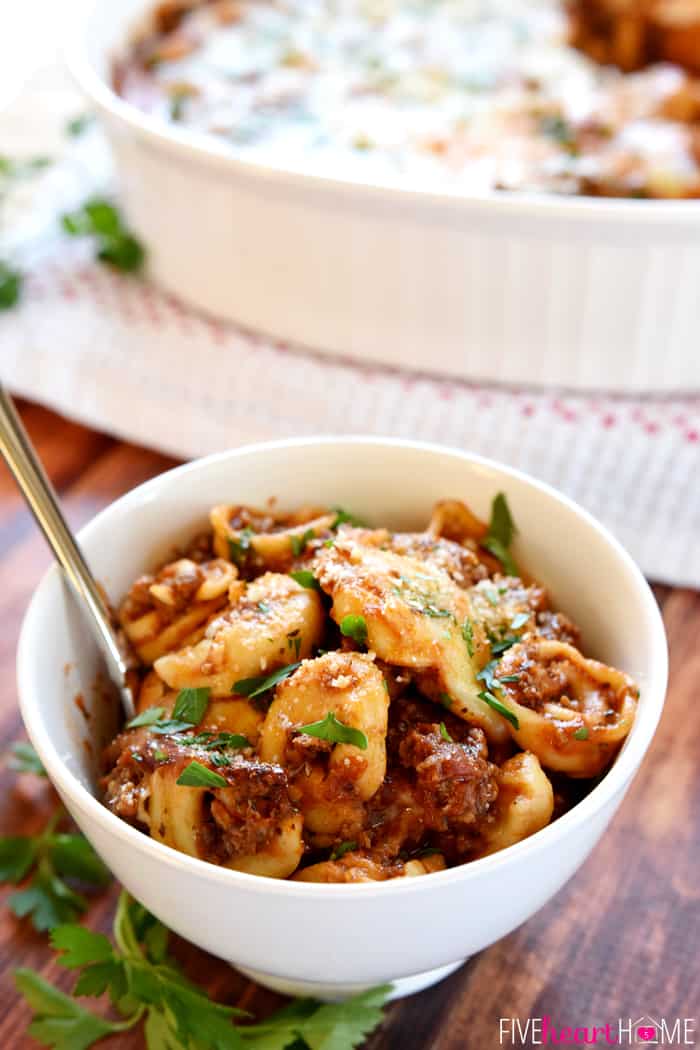 This meaty tortellini bake recipe was loaded with gooey cheese and beefy tomato sauce, plus a secret stash of veggies. It's an easy-peasy homemade tortellini recipe for the whole family.
3. Creamy Tomato Tortellini Soup
Imagine how easy it is to feel cozy during those cold and frosty days. All you need is a bowl of this creamy tortellini soup and you'll be transported to your warm and cozy bed!
4. Pesto Tortellini Salad with Asparagus
Pesto sauce and that crispy blanched asparagus give this tortellini dish that gorgeous all-green color. Not only does it look awesome, it tastes so good and refreshing, too!
5. Parmesan Crusted Tortellini Bites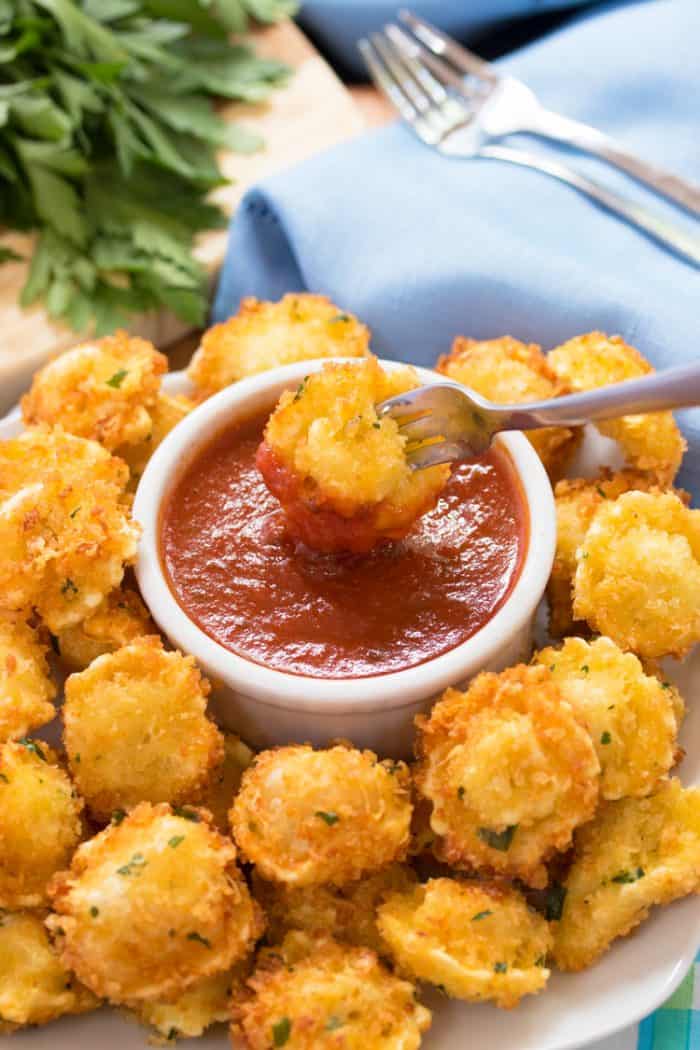 You better ready your marinara sauce because it's the perfect dipping sauce to pair with these savory tortellini bites everybody at the party will gobble up in no time.
6. Garlic Shrimp Tortellini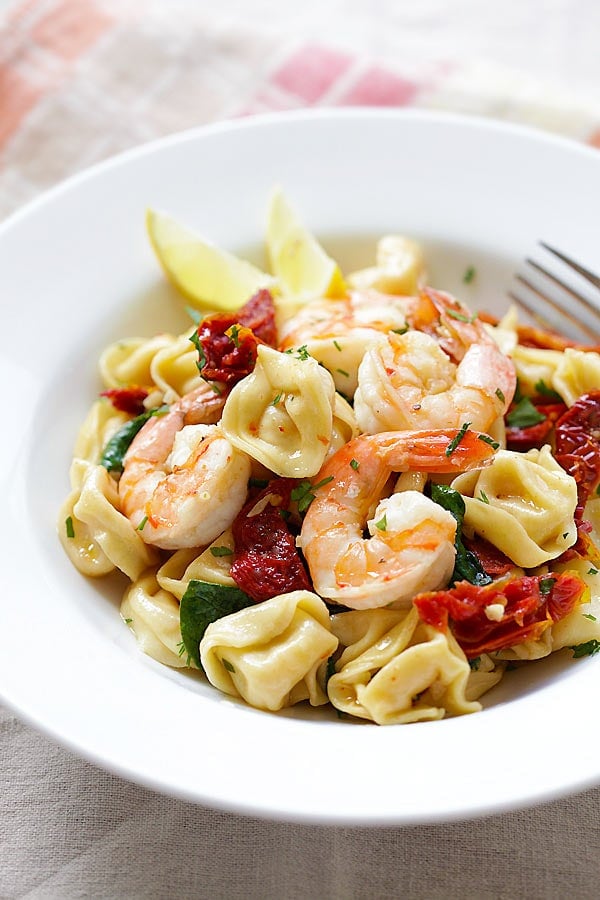 If you find yourself stuck in a dinner rut, this tortellini pasta recipe will help you out! It's a perfect weeknight meal which only takes 20 minutes to prepare and tastes incredibly delicious.
7. Tortellini Chicken Noodle Soup
Give a classic chicken noodle soup a twist by replacing the traditional egg noodles with tortellini pasta. This chicken tortellini soup recipe is so flavorful and satisfying with shredded rotisserie chicken and some vegetables.
8. Italian Sausage Tortellini
This tortellini pasta dish has lots of Italian sausage all drowned in a rich and creamy tomato sauce. It's also so easy to make–everything cooks in one pan. Truly amazing!
9. Broccoli Alfredo Tortellini
Cheese tortellini and broccoli florets tossed in the dreamiest Parmesan cheese sauce! One serving of this delish Alfredo tortellini isn't enough–you'll surely come back for more!
10. Creamy Cheese Tortellini And Chicken Skillet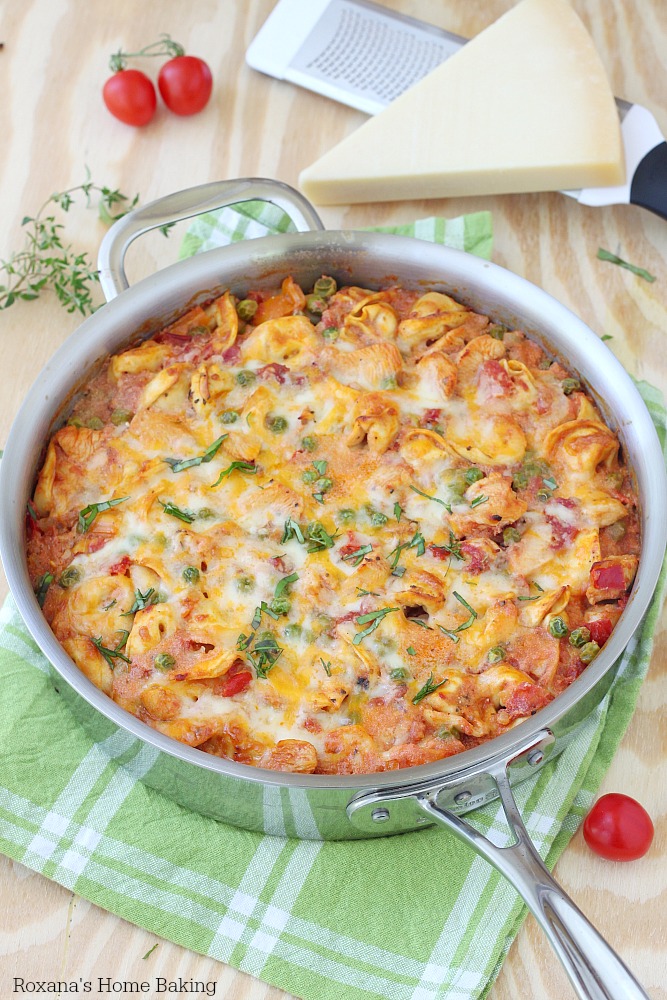 This recipe is one of the easiest tortellini pasta recipes you can prepare at home. It's also perfect for a special weeknight meal as it's sure to feed a crowd. If you're looking for the ultimate comfort food to share with your loved ones, this would be it!
11. Cold Tortellini Salad Recipe
Because a feast isn't a feast without a bowl of refreshing salad, this cold tortellini salad deserves a spot on the menu. It's probably the easiest and the tastiest cold salad you can make for your guests anytime of the year.
12. Asiago Chicken and Mushroom Tortellini Soup
The combination of chicken, mushrooms, and asiago cheese in this easy tortellini soup tastes phenomenal. It's seriously a unique flavor to effortlessly transform a simple soup into a one-of-a-kind dish! This recipe is a must-try!
13. Mediterranean Tortellini Salad with Red Wine Vinaigrette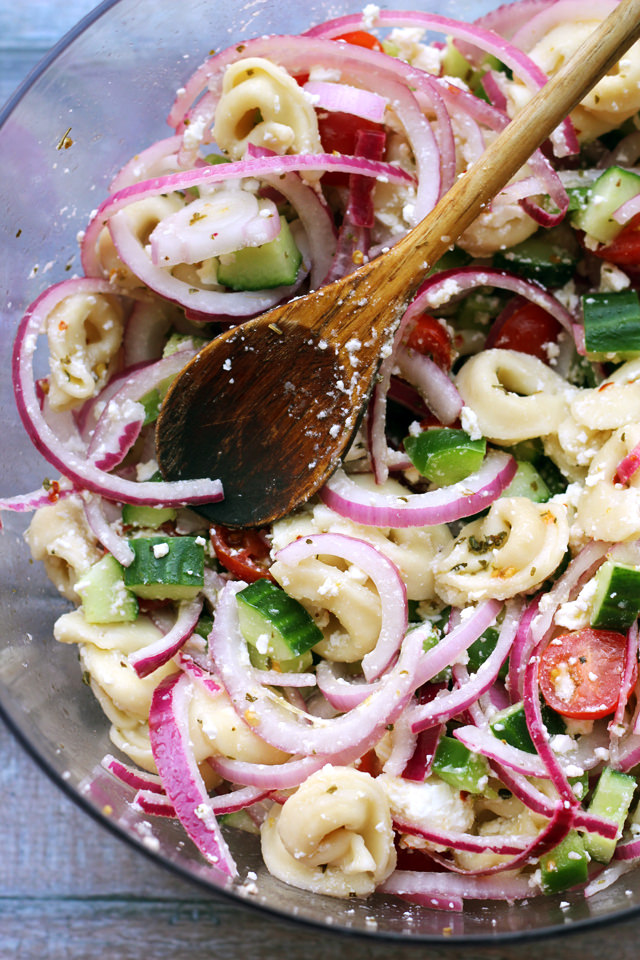 There is something just wonderful about eating outside and enjoying the fresh air and the sunshine especially if you prepare something special just like this refreshing and beautiful tortellini salad tossed in red wine vinaigrette. It's simply irresistible!
14. Basil Sun Dried Tomato Chicken Tortellini
This tortellini recipe is bursting with rich, fresh flavors. A creamy and a little cheesy sauce with basil and sun-dried tomatoes surrounds pillowy, cheesy tortellini and seasoned chicken. You couldn't ask for more!
15. Pesto Tortellini Bake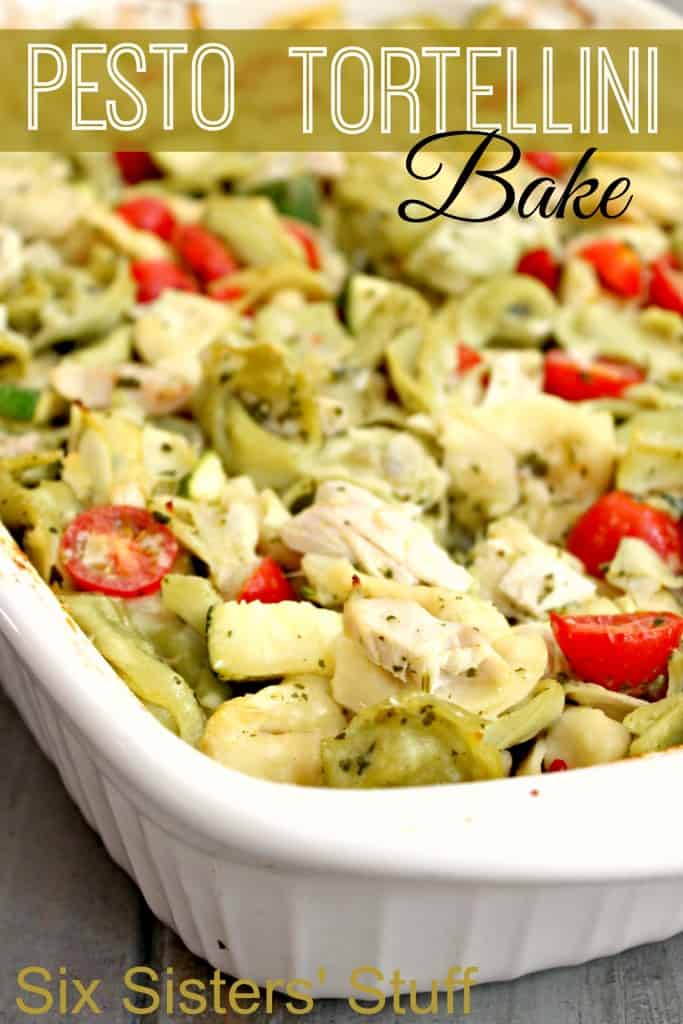 Nothing compares to the flavor you can get from pesto sauce and tortellini pasta. You can definitely enjoy that in this recipe which is one of the easiest and the most filling baked tortellini recipes ever! It's also so gooey thanks to Parmesan and a lot of shredded Mozzarella cheese.
16. Garlic Parmesan Tortellini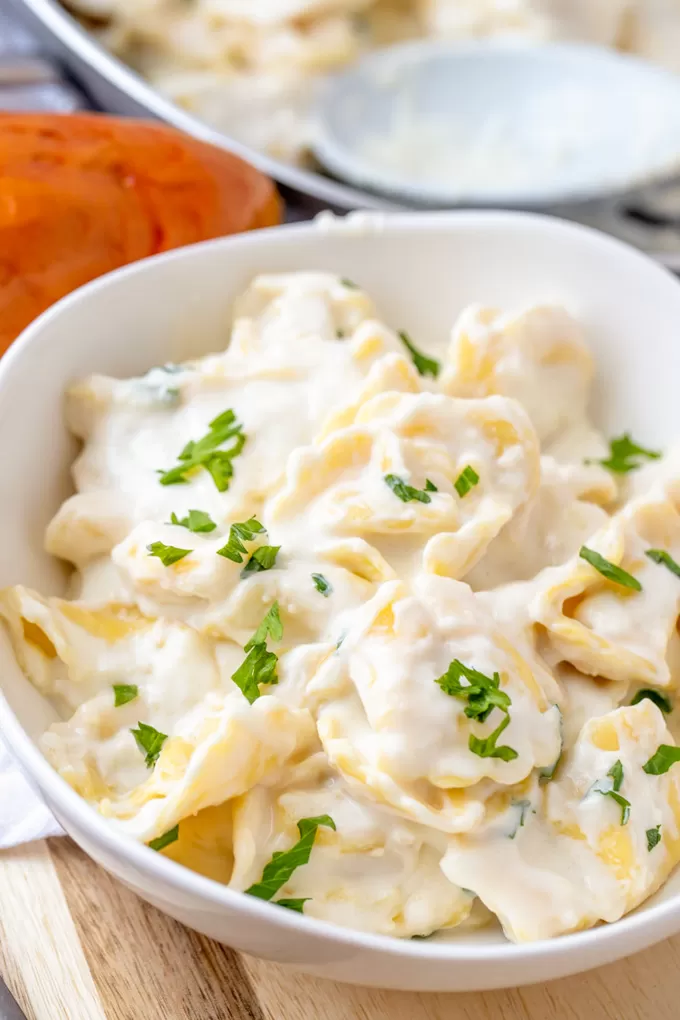 For me, cheese and garlic go hand in hand and I can definitely prove that with the help of this simple tortellini recipe. It has the perfect cheesy and garlicky goodness which is not overpowering. The flavor settles into all the nooks and crannies of the tortellini and it tastes so good!
Are you still looking for easy tortellini recipes? Watch this video from Laura Vitale and learn a healthy butternut squash tortellini recipe:

Pasta dishes are one of the most convenient meals to prepare any time of the day especially for busy weeknights since they are very quick to prepare. These awesome tortellini recipes make the best meal because they feature different and unique flavors from cold salad to warming soup. Your entire family is sure to devour these recipes as they are so delish and hearty. I am hoping you try these tortellini recipes so you can experience their greatness too! Happy cooking!
Which of these tortellini recipes are you planning to try? Let us know in the comments section below! You might also love these 11 30-Minute Pasta Recipes For Busy Nights!
Don't forget to keep in touch, foodies!
Also, make sure to follow us on Facebook, Instagram, Pinterest, and Twitter!