Want to know whether eating spicy foods is bad or good for you? Read this post and find out its positive and possible negative effects on our body!
Spicy Foods You Should Be Cautious When Eating
Have you ever wondered why spicy foods give us so much pleasure despite the heat and "pain" we get from them? The main reason is that spicy foods stimulate our appetite. Once we feel that burning sensation, we opt to eat them as much as we can. However, too much intake of spicy foods can be harmful and may cause various stomach ailments. Here is a list of some delicious spicy foods, that may have positive and negative effects to us when eaten in vast amount.
1. Spicy Tuna and Avocado Cucumber Sushi Bites
Spicy tuna and avocado cucumber sushi bites are really delicious and appetizing. You can serve this not just at a party but even on ordinary days. Each bite is fresh, a tad spicy, and healthy, too! Eating spicy foods in bite-sized can help you have control over your spicy food intake. This is important to keep ourselves from overindulgence of spicy foods.
2. Cucumber Chili Ice Pops
Although eating spicy foods may be the last thing we fancy during the hot season, foods and treats with chilies and other spices can make us sweat which helps cool down our body faster. Treating yourself with these refreshing and spicy ice pops can keep you cool and delighted as well!
3. Baked Sweet & Spicy Chicken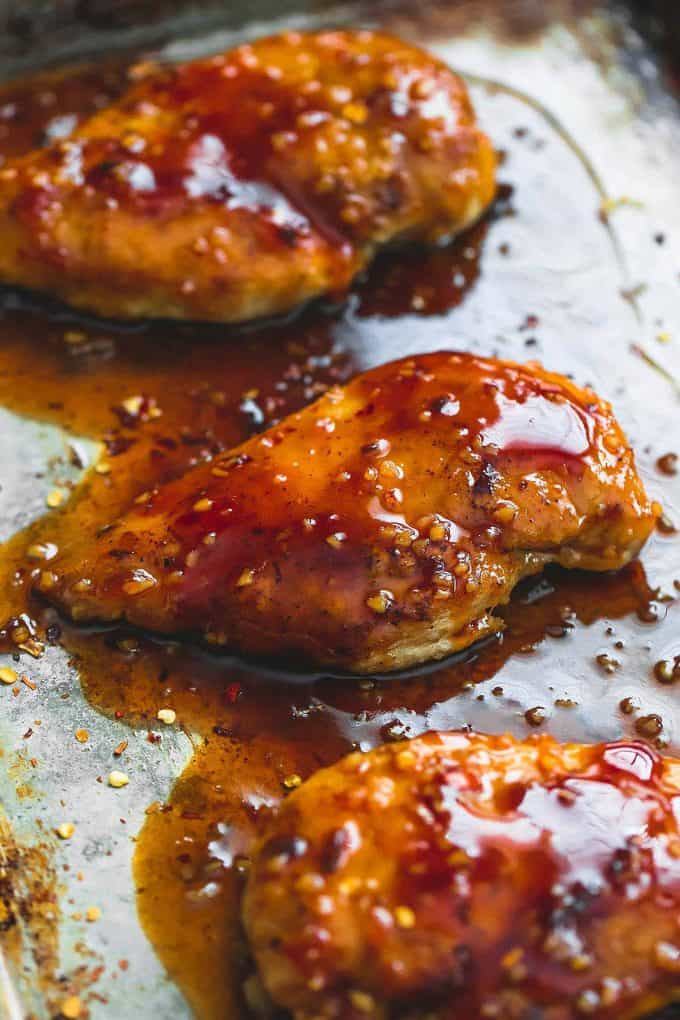 Baked sweet and spicy chicken is a great way to end your craving for spicy dishes. This dish is subtly sweet which balances the spiciness of the chicken. This recipe also takes 30 minutes to prepare and it's a guilt-free spicy dish since this dish is baked!
4. Crispy Spicy Fried Chicken
This finger licking good crispy fried chicken is really addicting–you can't eat just one! They are everything you love about comfort food–juicy, crunchy, salty, greasy, and spicy! But while eating this dish is a pure pleasure, you should also keep in mind the combination of fried, oily and spicy food can increase acid secretion which is bad for you. So, it's best to eat in moderation.
5. Spicy Vegan Potato Curry
This vegan dish is a hearty meal with notable health benefits of curry powder. Curry powder has proven its wonder over the years. While curry powder adds delicious flavor to your meals, it also poses a few potential side effects. If you have blood issues and preexisting gallbladder conditions, it's best to consult your doctor to avoid the danger of excessive bleeding and gallbladder irritations.
6. Hot Pepper Shooters
If you're new to peppers, this recipe is the best way to get you started. These cherry pepper shooters are light and not too harsh for a newbie in terms of eating spicy dishes. And if in case you didn't know, cherry peppers also known as pimento are said to provide pain relief for sinus headaches and migraine.
7. Pepper Cumin Rasam
Don't get intimidated by the long list of ingredients. This hot Indian soup will help you get over cold and flu. Hot, sour, and spicy foods like this soup have properties that may help alleviate some symptoms. It can help you sweat out the toxins and finally feel a lot better.
8. Roasted Tomatillo & Chile de Arbol Salsa
While this salsa is undeniably tasty and really delicious, it also packs plenty of heat from chile de árbol. This very potent chili makes this salsa super spicy. Avoid eating this before going to bed as it may trigger some sleep disorder.
9. Spicy Falafel and Roasted Veggie Naan-wich
This spicy and healthy sandwich is packed with roasted veggies, a spicy homemade falafel, and a delicious homemade green sauce. While this recipe tastes really good and you'll be wishing to have it from morning to evening, it is ideal to eat only for lunch. Spicy food increases our body temperature which may trigger insomnia, hence, it is not advisable to consume spicy food at dinner.
Watch this short video from WebMD and see how eating spicy foods, as well as cold foods, affect our body:

Eating spicy foods doesn't have a long-term negative effect on our body but it's better to be safe than sorry. Eating too much spicy food may lead to a serious health issue. You should know your health conditions better before consuming spicy foods as it can trigger some ailments such as Crohn's disease and other gastronomical problems. Always keep in mind that spicy food is safe for consumption only if taken in proper moderation.
Do you have your favorite spicy foods you want to share? Let us know in the comments section! Want more spicy recipes? Check out these 14 Spicy Recipes That Are Packing Some Heat!
Don't forget to keep in touch, foodies!
Also, make sure to follow us on Facebook, Instagram, Pinterest, and Twitter!