Salmon salad is the perfect meal for those who dont eat meat or maybe you just need something other than chicken. It is healthy, easy to prepare, and most importantly delicious and filling. Read on as we show you how to make this delectable salmon salad nicoise, and if you're not quite full our Spring peas soup will take care of that!
Clean Salmon Salade Niçoise
(Serves 2)
• 2 cups green beans, chopped into halves or thirds
• 1 salmon fillet, broiled
• 3 tablespoons capers
• 1/4 cup green olives (well rinsed)
• 1 tablespoon dijon mustard (additive and sugar free)
• 1 lemon
• 1 garlic clove, finely chopped
• 2 giant handfuls of mixed organic greens per serving (this recipe makes two servings)
• 3 anchovies per serving (garnished on top)
Directions: Bring a pot of salted water to a boil, add the green beans and cook until bright green and tender – do not overcook.
Plunge into a bowl of cold water and drain. Combine green beans in a bowl with capers, chopped garlic, mixed organic greens and pieces of salmon fillet.
Lightly toss with the mustard and freshly squeezed lemon juice.
Spring Pea Soup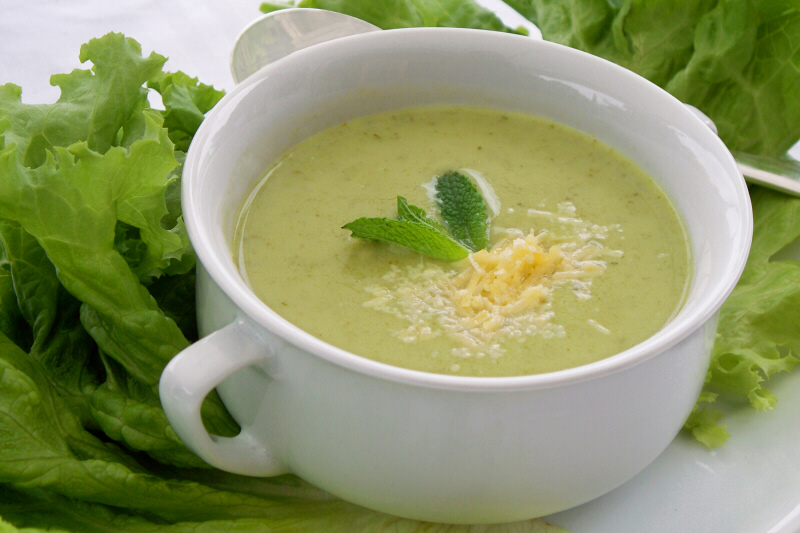 • 10 oz. fresh or frozen raw peas
• 1 medium avocado, halved and pitted, flesh scooped out
• 1 cup filtered water
• 1 cup almond milk (unsweetened)
• 2 tablespoons lime juice
• pinch of sea salt
• 1/2 teaspoon chili powder (optional)
Directions: In a blender or food processor, puree all ingredients until smooth. To serve, drizzle soup with olive oil and freshly ground black pepper.
Both recipes are from Cleanprogram
Are you excited to try our salmon salad and spring pea soup? Let us know in the comment section below; we love hearing from you.
More dinner recipes below