Clean eating has become quite popular over the past few years, not just among the older generation either but among people of all ages. The concept of clean eating might seem complicated but it certainly doesn't have to be. In a nutshell the term refers to foods that are as minimally processed as possible.
Vegetarian Nori Rolls + Pesto Baked Salmon
Clean eating made simple thanks to these great recipes courtesy of cleanprogram. Try them out for yourselves and leave us your feedback below….
Vegetarian Nori Rolls With Nut "Rice"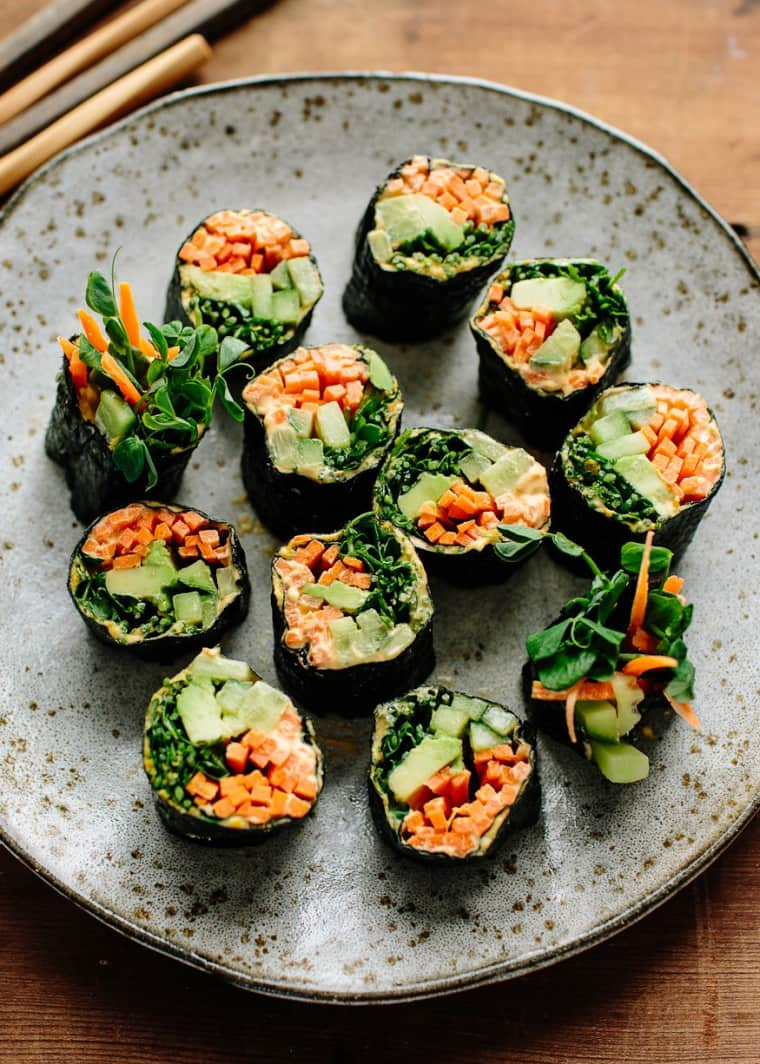 • 1 cup soaked sunflower seeds
• 1 cup walnuts, soaked in pure water for 2 hours
• 1/4 red onion
• chopped fresh herbs
• 1 packet of nori wraps
• 1 carrot, cut into very thin strips
• 1 cucumber, peeled, seeded, and cut into thin strips
• 1/2 avocado, cut into strips
• 1/4 red cabbage, finely shredded
• sprouts
• wheat-free tamari
• wasabi
• fresh ginger
• 1 tablespoon apple cider vinegar
• 1 tablespoon water
Directions: To make the "rice," place the sunflower seeds, walnuts, onion, and herbs in a food processor. Process for 2 minutes, or until nut mixture has the consistency of rice. Set aside. Thinly slice the ginger and marinate in vinegar and water.
Take a sheet of nori and spread one-fourth of the rice mixture onto it. Lay carrot, cucumber, red cabbage, avocado, and sprouts over it.
Roll the nori up tightly, using a sushi mat if you have one. Cut the roll into about six pieces, using a sharp knife. Repeat for three more nori sheets. Serve wraps on a platter with ginger, wasabi, and wheat-free tamari.
Pesto Baked Salmon (Serves 2)
• 2 salmon fillets (wild caught)
• Pesto Sauce 
Directions: Preheat oven to 400. Place the salmon fillets skin side down on an oversize piece of foil on a baking tray. Spoon 2 tablespoons of pesto over each salmon fillet and pull up the foil on either side, closing to make a "container".
Roast in the oven for 15-20 minutes.
More clean eating recipes below