Recreate simple food truck recipes at home. You can make them anytime you are craving. Check out these easy and simple recipes inspired by America's favorite food trucks!
25 Food Truck Recipes You Can Make At Home
1. Ham, Cheese, Egg & Lemon Sandwiches
This delectable breakfast recipe is by Chef Elizabeth Morehead from The Big Egg. Chef Elizabeth takes traditional breakfast sandwich and turns it into a gourmet one. The addition of lemon curd made all the difference.
2. Momofuku's Steamed Buns
Momofuku is one of the most popular and sought-after places to eat. Thanks to these lovely little pork buns. This dish is a modern take on a classic oriental dish. This recipe swaps out the duck for roasted pork belly and pancakes for steamed buns. The rest is, as they say, history.
3. Korean Style Tacos
This BBQ food truck recipe got its inspiration from Kogi BBQ truck! The food truck to rule all food trucks got its start in 2008. It found its way to stardom within the guise of Mexican-Korean fusion fare. The result is traditional Mexican street tacos with Korean BBQ short ribs. Don't keep your stomach waiting any longer!
Never cooked but wanna learn? No problem! Here are easy homemade recipe for begin… #SundayFunDay #recipe #homemadehttps://t.co/jCksuQXoag pic.twitter.com/C436blBWSS

— Homemade Recipes (@BestHomeRecipes) January 16, 2017
4. New Orleans Food Truck Fries
These fries are a New Orleans-style take on an Austin, Texas dish. These baked fries covered in Creole seasoning, parsley, and Parmesan cheese. If you're a fan of food truck fries, this is our dedication to you.
5. Cornbread Waffles with Chili
This dish made up of the cornbread waffles is like the one served at Hippie Mommas in San Antonio, Texas. It also happens to be the most popular dish there (and with good reason). You can definitely forgo the chili if you're looking for a sweet dish but I recommend trying it this way before making your own version.
6. Chicken & Waffle Sandwiches with Bacon, Cheddar & Green Onion
It's easy to pass this dish off as "another clever waffle sandwich" but upon closer inspection, you'll find that what sets this waffle sandwich apart. Jonathan Melendez incorporates green onions, bacon, and cheddar. This batter transforms a waffle into something our taste buds never tried before.
7. Chocolate Dipped Ice Cream Tacos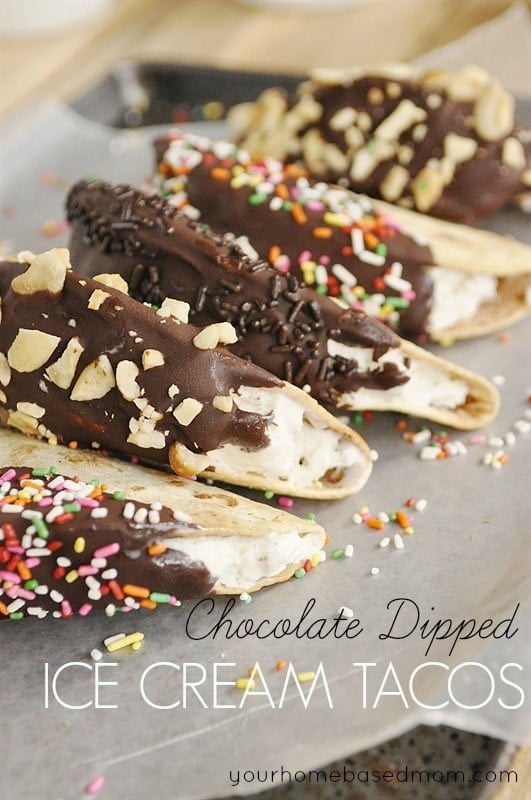 Food truck fare is wacky and this recipe is the perfect example of that! Savory tacos are delicious, but chocolate-dipped tacos? Well, now you're making me blush. These dessert tacos still have the satisfying crunch from hard shell tacos with the addition of sugar, chocolate, and more sugar!
8. Grilled Korean BBQ Short Rib Dogs
Korean short ribs, also known as kalbi, is beef tenderized and soaked in a sweet marinade. This recipe has that one-of-a-kind flavor. Best served with the spicy Korean chile slaw and sweet peach relish!
9. Brisket Grilled CheeseTexas Beef Brisket Melt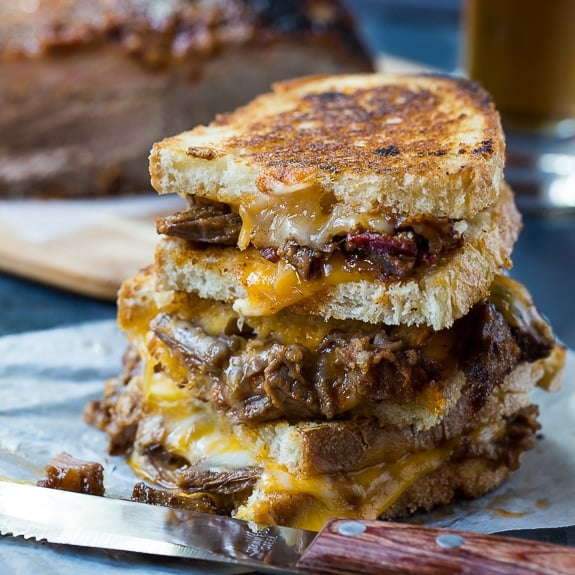 This recipe is a good try when you crave for Mad Maui BBQ's heart-stopping Texas Beef Brisket Melt. It tastes as good as the real thing. This recipe also doesn't call for caramelized onion but feel free to add some if you want. I love decadent sandwiches like this. It reminds me of state fair foods which are fatty, fried, and delicious!
10. Fried Calamari Sandwich
This is the golden age of seafood. As more recipes are turning towards proteins like lobster and squid. In this recipe, fried calamari is the main star. The breading is delicate and the calamari itself is tender–just the way you like it! If you're throwing a get-together, I recommend bringing this dish along. It is light and perfect for every palate.
11. Deep Fried S'Mores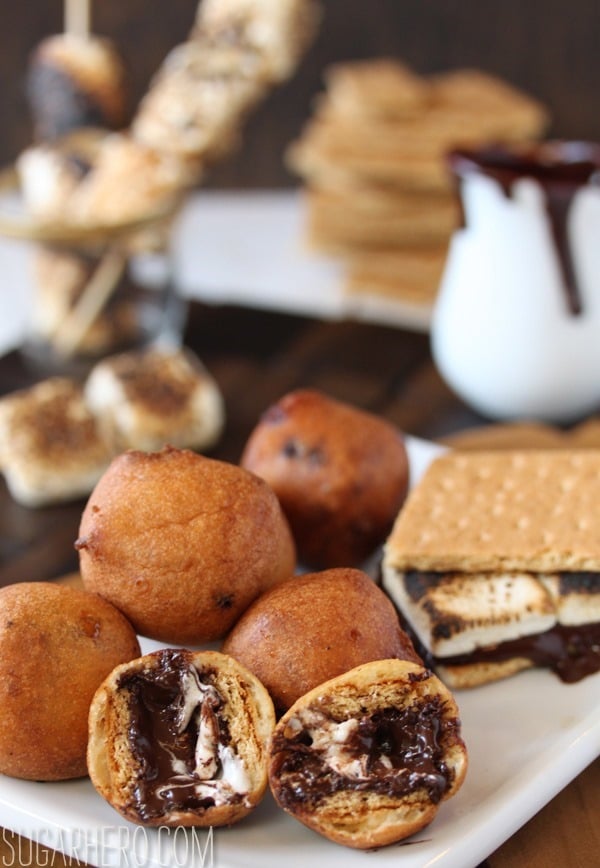 The best thing about state fairs is the selection of guilty indulgent food. This S'mores recipe is a representative of the creativity and fun behind food truck fare. If you're looking for a dessert which is going to make you yip in happiness, you'll find it in these golden nuggets.
12. Backyard Jerk Chicken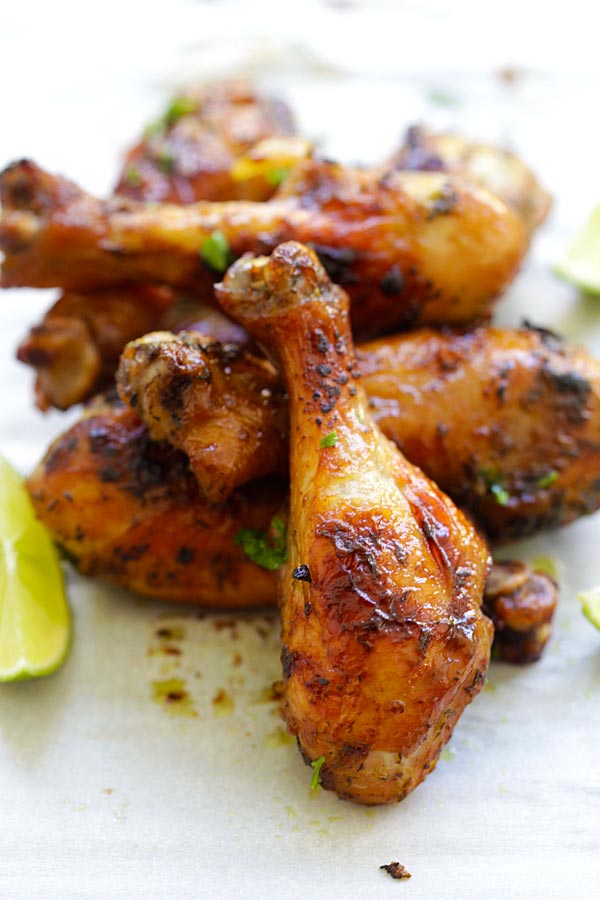 Jerk chicken can be hard to master at home. Since it has a specific flavor profile which needs ingredients such as pimento wood. This recipe, yet, makes it easier to put together and master. The best parts about this are the texture and taste of the chicken. It tastes like the jerk chicken you'd find in Jamaica.
13. Spicy Korean Chili Ramen Noodles
Mmm, ramen! The versatility of ramen is what makes it one of my favorite dishes ever! Ramen is a great dish to serve at dinner or whenever friends and family are over. This ramen recipe made even better with the addition of Korean chili sauce. It tastes savory, sweet, and did I mention how hot it is?
14. Cuban Sandwiches
The Cuban sandwich is the king of sandwiches as it's made with 2 (sometimes 3) kinds of meat. Add melted Swiss cheese, tangy mustard, and pickles to the mix. This sandwich is a variation of the American ham and cheese. So if that's your jam, this will be your new favorite sandwich.
15. Lumpia Shack's Adobong Pusit
Adobong Pusit is a squid dish prepared in the traditional Filipino adobo method. The adobo method means boiling squid in vinegar and soy sauce. Later on, sauteed in garlic, onions, and tomatoes. Adobong Pusit is a great breakfast or lunch dish as it is light and made up of flavors which are inviting and invigorating.
16. The Dogzilla Dog
The infamous Dogzilla Dog! The Dogzilla Dog is by the Dogzilla food truck in Southern California. Dogzilla's menu features Japanese-inspired hot dogs which are "not your typical wiener." The Dogzilla Dog has these key ingredients: beef frank, and bacon bits. Japanese mayo drizzled over it.
17. Bernie's Homeroom Burger
The Homeroom Burger got its inspiration from Bernie's Burger Bus in Houston, Texas. This gut-busting, heart-stopper has fresh-ground Black Angus beef plus Cheddar cheese, applewood smoked bacon, and Chipotle aioli too! It is then topped with a fried egg making it the most satisfying food-induced coma ever!
18. Urban Spy
This Urban Spy is one of my favorite recipes on this list. It is imaginative and downright daring. It tastes like a baked apple topped with pulled pork, chives, and almonds.
19. Pendleton Pie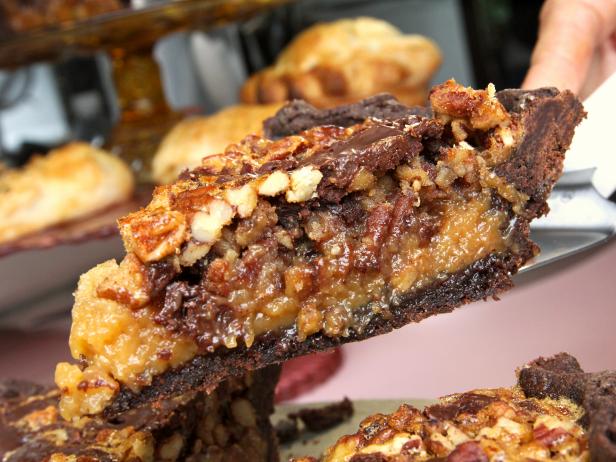 Pecan pie is one of my go-to pies to make and eat. I love how pecan pies are reminiscent of fall (my favorite season!). What sets the Pendleton Pie apart is the chocolate crust and shot of whiskey in the filling.
20. Gluten-Free Chocolate Sandwich Cookies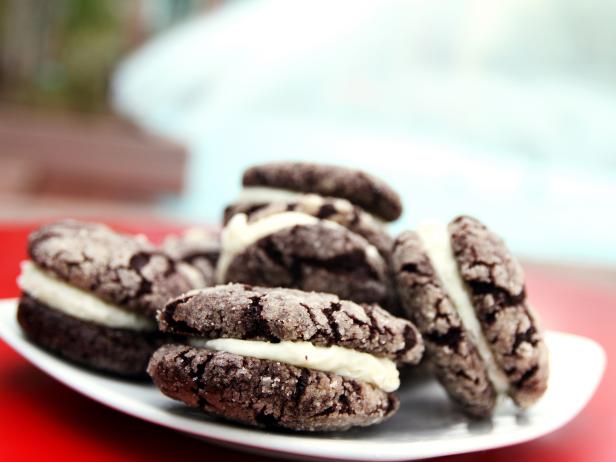 This recipe may not seem as extreme as the other ones on this list, but don't let its demure appearance fool you! This chocolate sandwich cookie packs a sugary punch. The cookies are chocolate ganache and the filling is cookie dough.
21. Spicy Thai Peanut Butter Sandwich
Thai peanut butter sandwiches are a match made in heaven! If you've ever tried Thai peanut butter dipping sauce, then this sandwich is for you. The peanut sauce mixed with sriracha, curry, orange marmalade, and basil. Classic Thai flavors we fall head over heels for.
22. Griddled Mac N Cheese
[instagram url=https://www.instagram.com/p/BHVMtpmBcZk/ hidecaption=true width=625]
Have you ever wished your mac n cheese was more…portable? Or you have always wanted a mac n cheese brick! If so, this wild food truck recipe is for you! Presenting the Griddled Mac N Cheese! Which, going by the picture, is pretty self-explanatory. My favorite hot sauce to pair with this? Frank's, of course!
23. Sam's Lobster Roll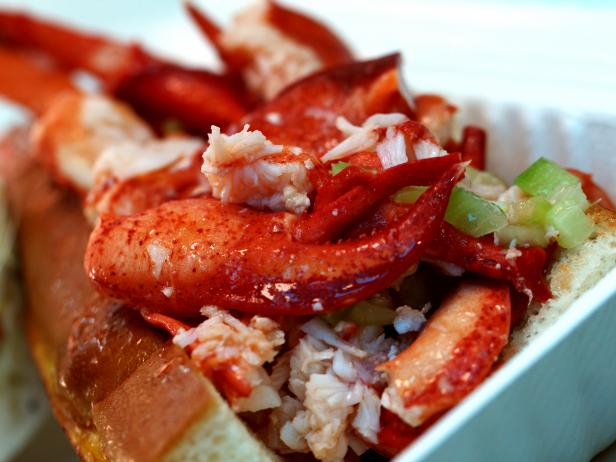 Sam's lobster rolls are a hot topic nowadays. Since it started getting featured in restaurants, people are going crazy about it! If you like large chunks of buttery, tender lobster, then you'll love this sandwich craze!
24. Brown Butter Bacon Ice Cream Sandwiches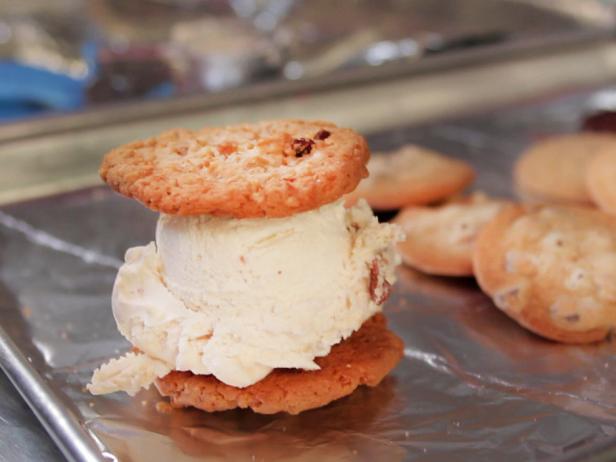 Browned butter and bacon cookie sandwiches! I understand how enticing this picture is. We all know you stopped reading after the word "Bacon," so we'll let you get on with making this recipe.
25. Sizzling Watermelon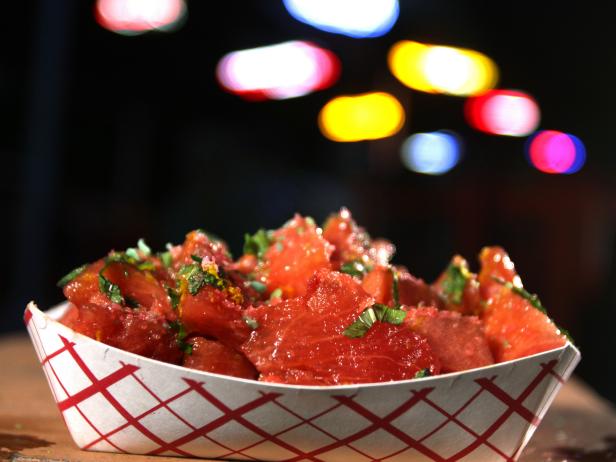 You will definitely ask for more of this sweet and spicy appetizer. Combine chile de arbol mixture to marinated watermelon. It will make your palate feeling refreshed and pumped up for the next good meal.
Want to know the four hottest food trucks in America? Watch this video from POPSUGAR and find your way to the best food truck destinations:

If you love food trucks then you must be loving all these food truck-inspired recipes. These will bring all the madness of your favorite state fair food to your home. These recipes made it easy for you to experience favorite guilty pleasures at home. Share these recipes with your family and friends. I'm pretty sure they'll be very happy as well!
Which food truck-inspired recipes are you planning to try? Share your experience with us in the comments section below.
Up Next: 7 Excellent Deli Sandwiches You Can Make At Home!
Editor's Note – This post was originally published on January 19, 2017 and has been updated for quality and relevancy.