No-bake desserts are just what you need when you really want sweets, but it's 90 degrees out, and turning on the oven is just not an option. Satisfy your sweet tooth this summer with these no-bake dessert recipes!
RELATED: 9 Keto Protein Bars You Can Make For A Guilt-Free Dessert
No-Bake Desserts You Must Try This Summer
1.  Ice Cream Cake
It's pretty much universally agreed upon that ice cream cake is one of the best desserts out there. A dessert this good is not exactly complicated to make, as proven by this wonderful, no bake recipe by unsophisticook.
2. Chocolate Covered Frozen Bananas
Thanks to yummy mummy kitchen, we have a very easy, go-to dessert recipe to follow! Not only are these choco-covered bananas super easy to make, you can also add some healthy ingredients like walnuts, berries, and seeds for the toppings.
3. Coconut, Ginger and Mint Tart with Kiwi
Look at all these healthy ingredients in one simple dessert! This vegan tart from This Rawsome Vegan Life is tangy, fruity, and light—made just right for the summer weather.
4. Gluten-Free No Bake Pumpkin Praline Cheesecake
Who says pumpkin is for the fall season only? This autumn treat gets a summer makeover with this no-bake cheesecake recipe from Simply Gluten-Free.
5.  Individual Brownie Trifles
A fruity brownie trifle is one of the easiest healthy desserts you can make. Follow this simple trifle recipe from BH&G and you'll soon have a decadent treat come dinnertime!
6. No Bake Caramel Apple Cheesecake Parfait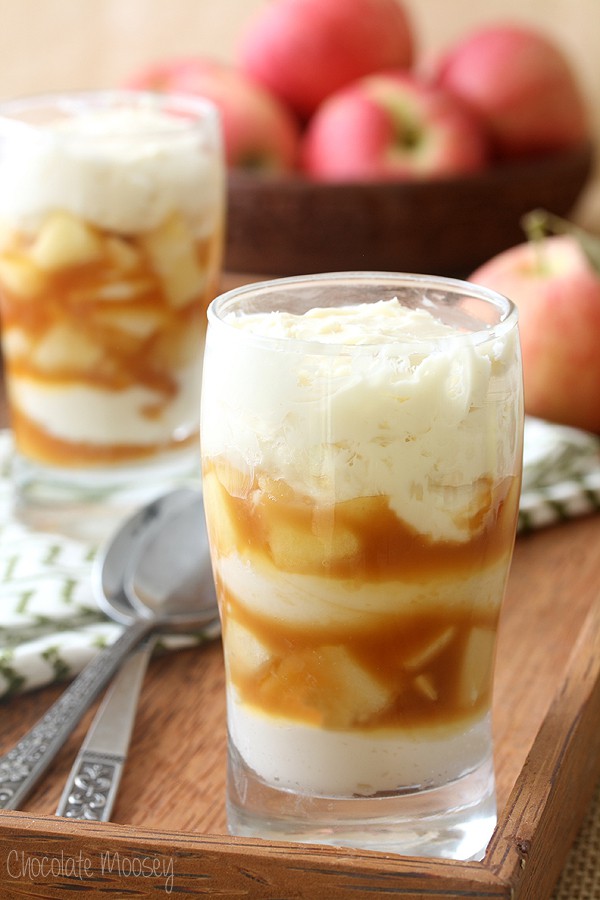 The traditional caramel apples on sticks are given a whole new twist in this caramel apple cheesecake parfait by Chocolate Moosey. It's a fairly simple recipe to follow. The only hard thing you have to do is wait until the parfait is ready to be taken out of the fridge.
7. No Bake Peanut Butter Pie
This recipe from One Ordinary Day took our love for peanut butter to another level! You simply have to blend a few ingredients together to make a very decadent pie filling. And don't worry about the crust because it's just made from graham crackers.
8. No Bake Red Velvet Cheesecake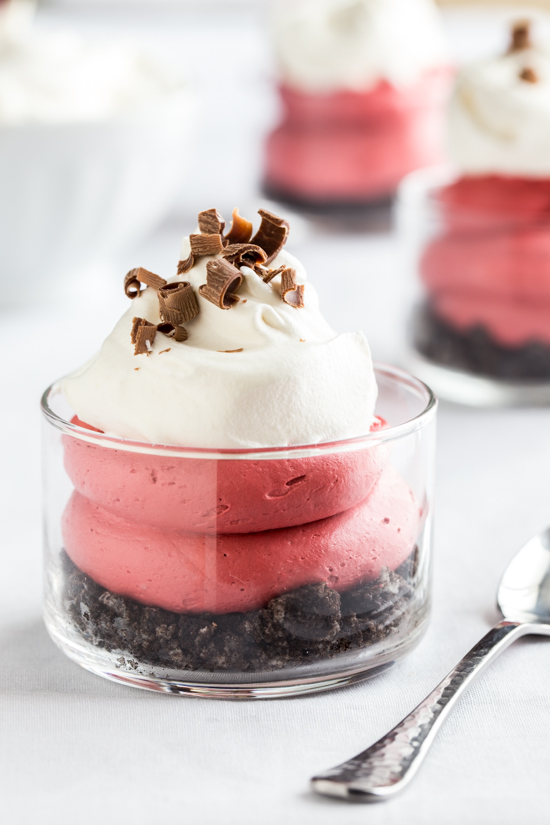 Tell your special someone you love them with this red velvet cheesecake by Jelly Toast. This is the perfect dessert to show off during those romantic, al fresco dinners. Since it does not take a long time to make, you will have plenty of time to whip up a quick and easy main course.
RELATED: 17 Fathers Day Dessert Recipes For Dads With A Sweet Tooth
9. Paleo Reese's Eggs
Keep you fridge well-stocked with these lovely paleo Reese's eggs! Thanks to this recipe by  Simply Taylor, you can make a guilt-free dessert without any hassle.
10. Peanut Butter and Jelly Sandwich Cookies
The peanut butter and jelly combo never gets old and with this Averie Cooks recipe, it only gets better. This yummy treat goes really well with an apple and a glass of cold milk.
11. Raw Vegan Banana Cream Pie
This no-bake dessert is something you would want to have in your fridge all the time. It's simply that good. Thanks to this Minimalist Baker recipe, we'll be able to have this treat around whenever we feel like having a taste.
12. Raw Caramel Apple Pie
Yes, you read it right. You can actually make a raw or no-bake apple pie as proven in this recipe from One Green Planet. The crust is pretty yummy as it is made from walnuts and raisins. But what's really interesting in this recipe is the caramel, which is made from almond butter, agave, olive oil, and water.
13. Raw Lime Mousse Pie
This raw lime mousse pie by DAMY Health is silky and refreshing, made just perfect for summer. To make this zesty, decadent treat, you just need to blend all of the ingredients together in a food processor and chill the pie for a couple of hours. Don't forget to serve this with coconut whipped cream!
14. Vegan Snickers Cheesecake
This vegan snickers cheesecake by Minimalist Baker is by far one of the best versions of the classic treat. It will not surprise us if you fall in love with this dessert. It's basically a combination of Snickers and cheesecake—who would not love it?
15. Raw Strawberry Macaroons
There is no going wrong with these raw strawberry macaroons by Sweetly Raw. Whether you coat them in chocolate or eat them au naturel, they're sure to please your palate and make you audibly say, "Mmm…"
16. Cake Batter Fudge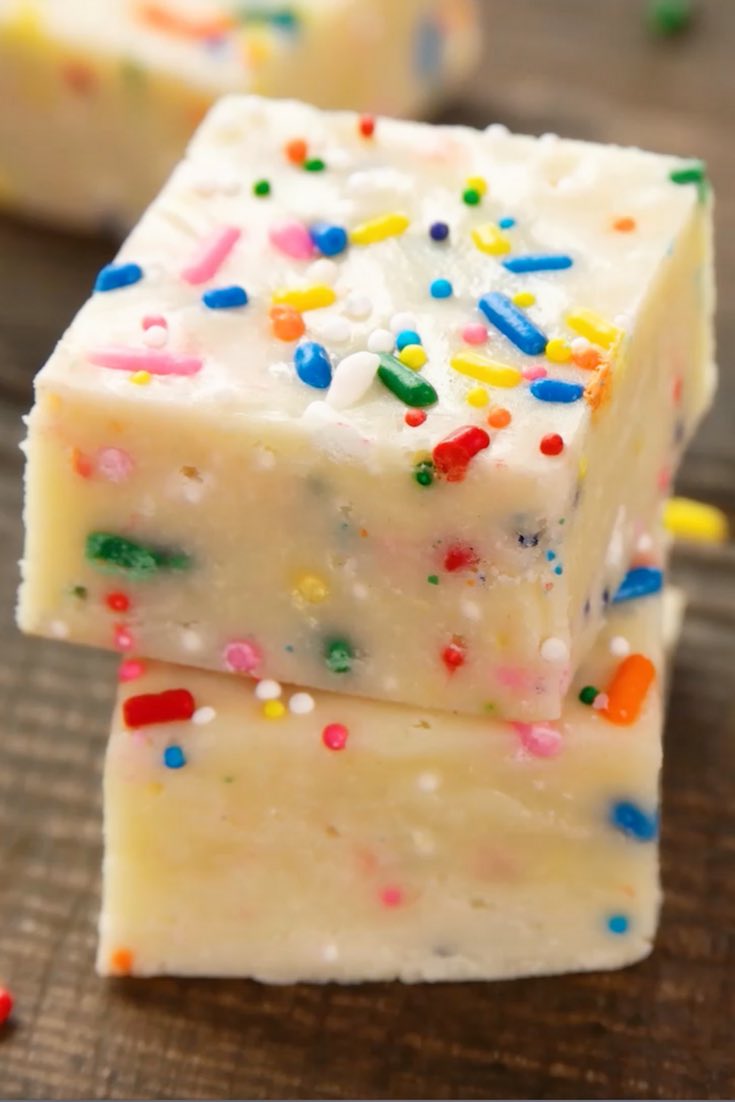 Anything with the words "cake" and "batter" in them are bound to be heavenly. This recipe by Tip Buzz is no exception. Pair this with a glass of healthy shake and you will have a dessert combo like no other.
17. Chocolate and Peanut Butter Freezer Fudge
If you want to whip up a quick dessert for dinner, this recipe might just be the right fit for you. This chocolate and peanut butter freezer fudge by Ambitious Kitchen takes only about 15 minutes to make! It's so easy to make considering the recipe only requires four simple ingredients.
Watch this video by Honeysuckle to learn more about no bake desserts:
Freshly-baked cookies and cakes might be out of play during summer but with these no-bake desserts you won't even miss your oven! What's awesome about no-bake desserts, as you probably observed already, is they're very simple to make. Just make one of the desserts listed above and you will know just how easy they are!
What do you think of these no-bake desserts? Which recipe are you planning to try? Share your experience with us in the comment section below.
Up Next:
Don't forget to keep in touch, foodies! You can also WRITE FOR US and share your delectable recipes!
Also, make sure to follow us on Facebook, Instagram, Pinterest, and Twitter!
Editor's Note – This post was originally published in April 2015 and has been updated for quality and relevancy.