Get the festivities started with these delicious St. Patrick's Day recipes. This list includes lime sherbet floats, shamrock cupcakes, rainbow donuts, and more!
RELATED: 21 Decadent St. Patrick's Day Cookie Recipes
St. Patrick's Day Recipes for a Sweet Irish Feast
Beef Up St. Patrick's Day Recipes with Desserts
Saint Patrick's Day is another important holiday celebrated every year. It used to be a religious feast day that has since become an international festival.
People enjoy parades, drinks, and themed food. Everything from green beer to corned beef cabbage, Irish beef stew, and cabbage soup makes an appearance, but do you ever really see desserts and treats get as much love?
If you're throwing a St. Patrick's Day party this year, make sure you include one (or all) of these delicious St. Patrick's Day recipes and add them to your feast.
1. St. Patrick's Day Muddy Buddies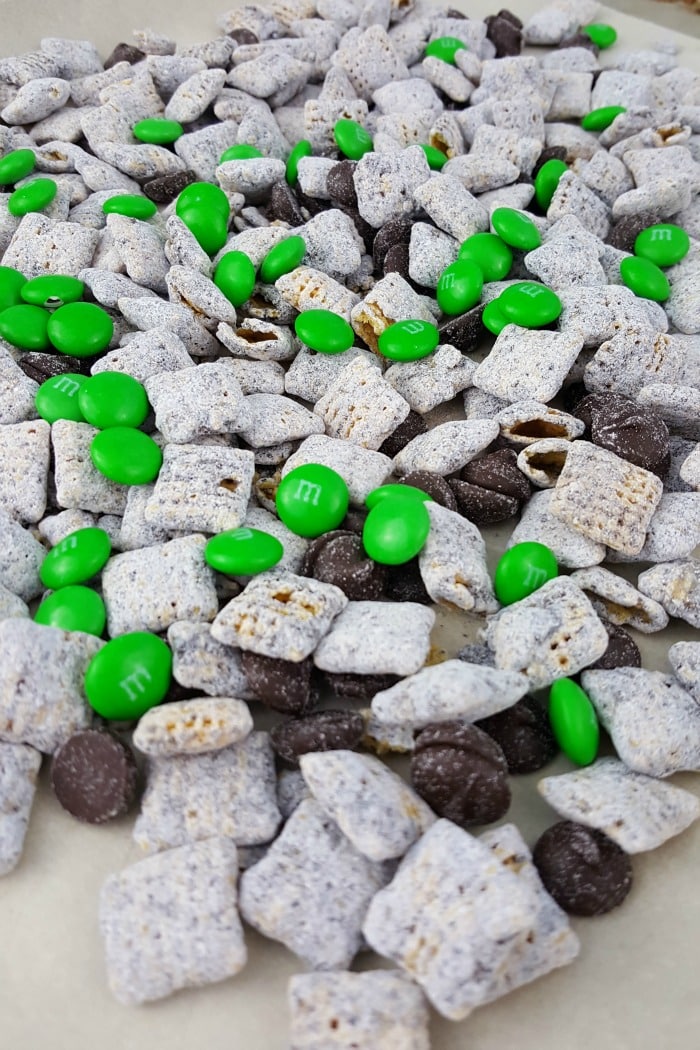 This is a fun and easy recipe your kids can prepare for St. Patrick's Day. These muddy buddies are a tasty treat people of all ages will surely adore.
2. Lime Sherbet Floats
If the sun is beating down on you this St. Patrick's Day, you're going to want to be sipping on a cool and refreshing drink like these lime sherbet floats.
3. Rainbow Donuts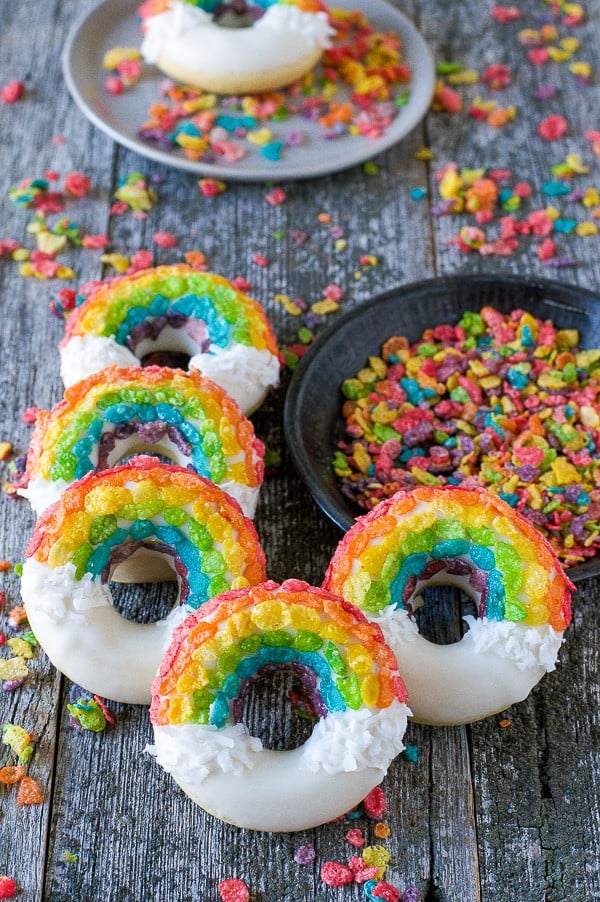 These colorful rainbow donuts are made with white chocolate, shredded coconut, and fruity pebbles to add sweetness to the dough. These are so fancy and almost too good to eat, you're going to want to after savoring your homemade savory dishes with mashed potatoes!
4. Grasshopper Pie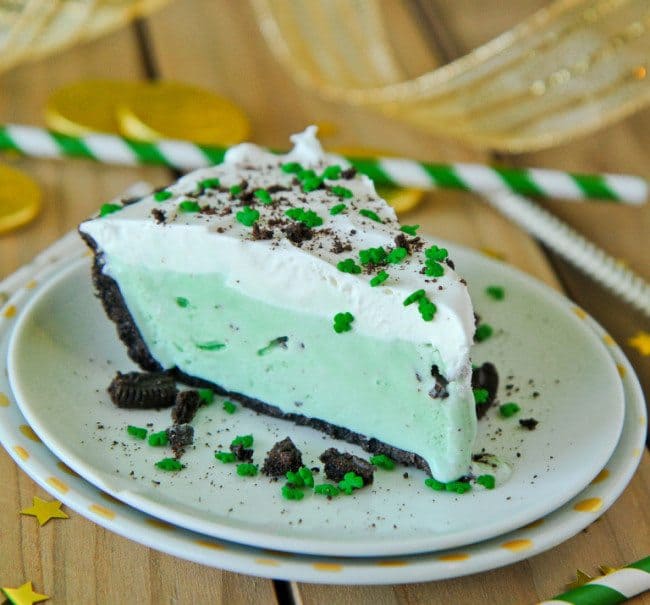 This is a simple yet yummy frozen pie perfect for St. Patrick's Day. This grasshopper pie is a delightful dessert you can share with your family after dinner.
Wake up your tastebuds with these seriously yummy spicy crab recipes! https://t.co/WujD5Xf0Dk pic.twitter.com/jQlCxx97bW

— Homemade Recipes (@BestHomeRecipes) September 21, 2016
5. Fudgy Mint Chocolate Brookies
These mint chocolate brookies are part brownie and part chocolate cookie. If you find chocolate and mint a match made in heaven, then you should definitely try this one.
These brookies are pretty impressive in blending two different flavors. You'll love it!
6. Rice Krispie Treats with Lucky Charms Marshmallows
Find your luck with these kid-friendly Lucky Charm marshmallow-filled rice krispies. The best thing about rice krispies is they're very quick and easy to prepare, plus very fun and yummy, too!
7. Shamrock Pretzel Pops
Nothing says St. Patrick's Day more than a shamrock treat. These adorable pretzel pops will be a big hit at all kids' parties.
They're also great as gifts for your kid's classmates, teachers, and friends.
8. Pistachio and Chocolate Cookies
You can't go wrong with cookies. They're easy to make and easy to fall in love with.
These goodies are simply amazing! If you're planning to make a batch of delectable cookies for St. Patrick's Day, this recipe is a must-try!
9. Rainbow Smoothie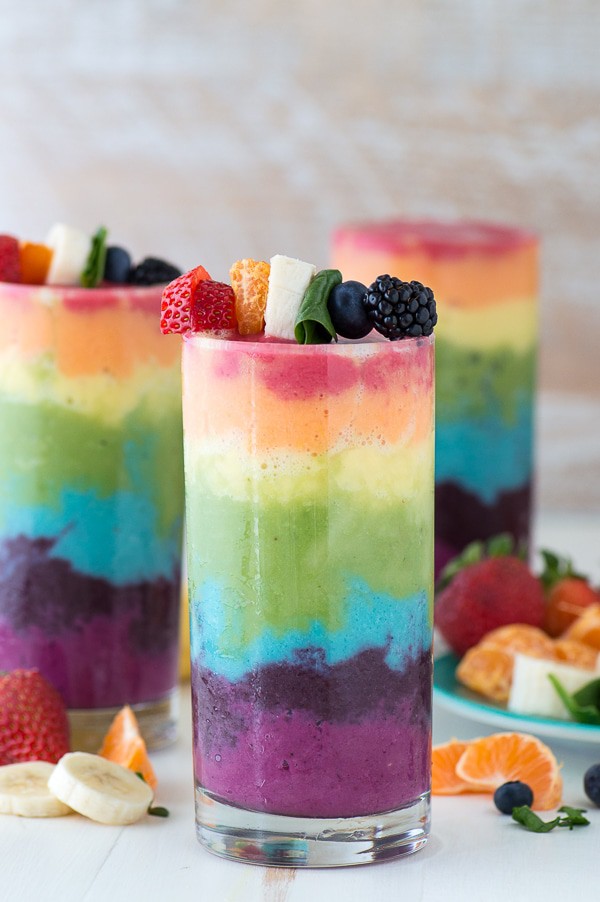 You've never seen a smoothie this gorgeous and satisfying! This delicious and nutritious layered rainbow smoothie will leave your friends in awe.
10. Green Velvet Cupcakes
These are green velvet cupcakes with heavenly cream cheese topping and green sprinkles. Not only do these cupcakes look perfect and festive enough for St. Patrick's Day, but they also are so good as snacks and desserts.
11. Leprechaun Hat S'mores
Celebrate St. Patrick's Day with these adorable Leprechaun hat s'mores. These treats are so delicious, and they're really cute.
They look store-bought, but they're simple enough to make at home.
12. St. Patrick's Day Pudding
This is a very easy St. Patrick's Day pudding topped with whipped cream, Nilla wafers, and some Lucky Charm marshmallows. Your kids will absolutely love how charming and delicious it is.
13. Guinness Snickerdoodles
Is beer on your dessert sound appetizing? Check out this Guinness Snickerdoodles recipe!
The bitter, sweet, and dark flavors of Guinness beer add an excellent dimension to snickerdoodles and other baked goods. This recipe is quick and easy to make, so inviting friends on St. Patrick's Day is not a problem.
14. Shamrock Shake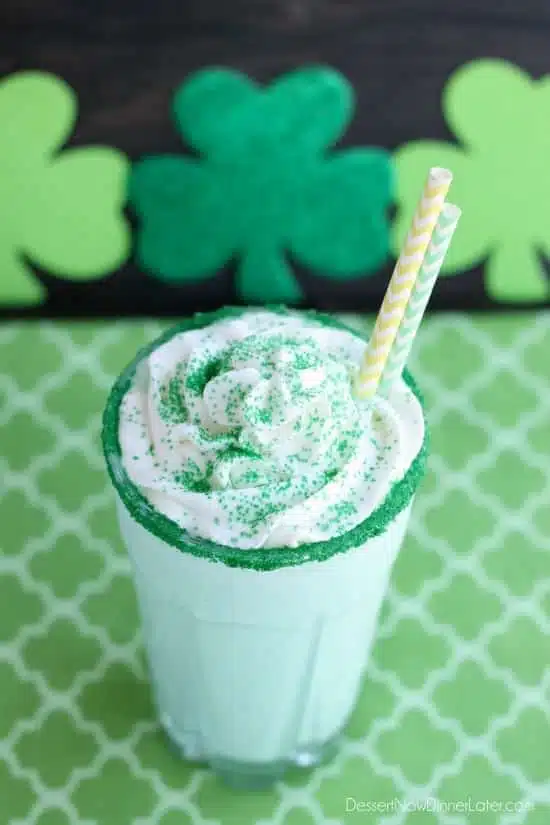 You can't get enough of ice cream on St. Patrick's Day, and this Shamrock Shake recipe will surely help hit the spot. Milk, peppermint extract, and vanilla ice cream make the base for this incredible shake.
Top this with a few green sprinkles and sweetened whipped cream to make a cold dessert for the whole family to enjoy.
15. Green Velvet Cheesecake Bars
These cheesecake bars are one of those St. Patrick's Day recipes with just the right amount of green! The green sprinkles and the cheesecake's flavor make this recipe different from all ordinary cheesecakes you've tried.
Just make sure to use parchment paper when you bake these bars to easily remove them from the pan.
16. Beer Brownies
Want more beer in your St. Patrick's Day recipes? Here's another bitter-sweet dessert you need to try!
Beer Brownies are richer and more simplified than the regular brownie recipe. The beer's bitter taste undercuts the sweetness of the brownies, making them a wonderful addition to your table on St. Patrick's Day.
RELATED: How To Make Homemade Brownies
17. Irish Cream Mocha Pudding
This mocha pudding is a festive dessert that resembles the Baby Guinness shot without having to worry about any hangover. What's interesting about this recipe is it requires brewed coffee to achieve that bitter and strong flavor that complements the pudding's sweetness.
This Irish food also contains other healthier ingredients like coconut cream and milk, and chia seeds. In just one hour, you'll enjoy scooping up this excellent pudding.
18. Lucky Charms Bark
If you want to be different from the traditional green festive theme of St. Patrick's Day, you definitely should make this Lucky Charms Bark. This sweet dessert involves mixing white chocolate with cereal, and topping with marshmallows.
Let your kids get involved in making this dessert because they will surely have fun.
19. St. Patrick's Day Wafers
Here's another St. Patrick's Day recipe you'll enjoy making with the kids! Wafers are dipped in mouth-watering chocolate and sprinkled with tiny yet colorful sweets.
This recipe is very affordable and super easy to make, so make extra batches of these not only for your children but also for the adults who come by for a drink or two.
20. Guinness Pretzel Truffles
Do chocolate and beer together sound incredibly tasty? Make these Guinness Pretzel Truffles that breaks the tradition of all-sweet desserts!
The deep flavor of Guinness, sweetness of chocolate, and crunchiness of pretzel create a uniquely amazing result. By the way, you don't need heavy cream for this recipe, so it saves you time from stirring the cream over a double boiler.
21. Irish Cream Macaroons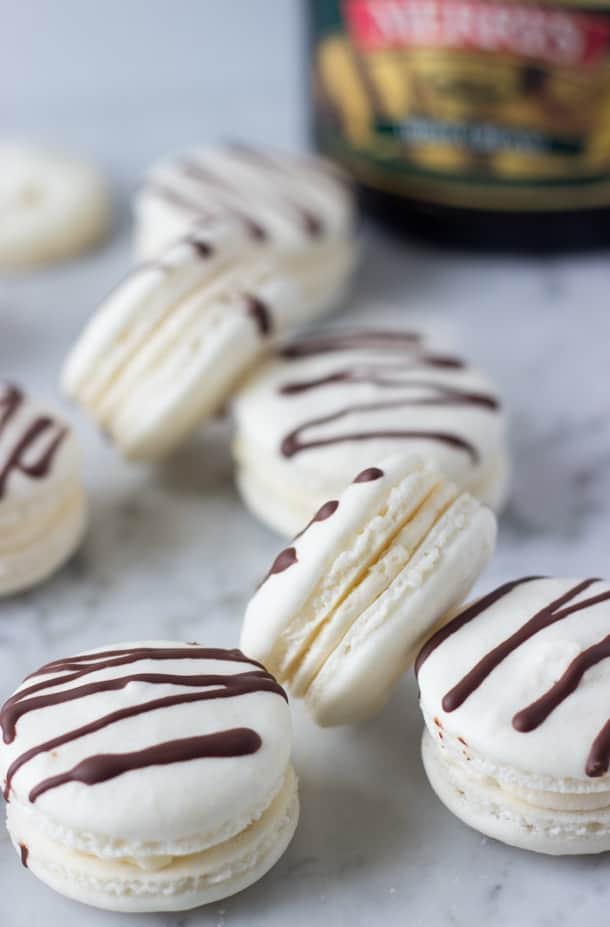 For an adorable chic look on your St. Patrick's Day recipes, have these Irish Cream Macaroons! What's good about macaroons is it's easy to mix various flavors in a small bite.
The creamy Irish filling in these macaroons and the chocolate drizzles make this recipe a total delight during the celebration.
22. St. Patrick's Day Oreos
America's favorite cookie has its own version for St. Patrick's Day! What's even greater about this recipe is there's no baking required. You'll simply dip the Oreos in some colorful chocolate.
Although this is very simple, you can get creative with the cookies by customizing their filling. Simply scrape out the original filling of the Oreos and then make your own green buttercream.
23. Green Ombre Cake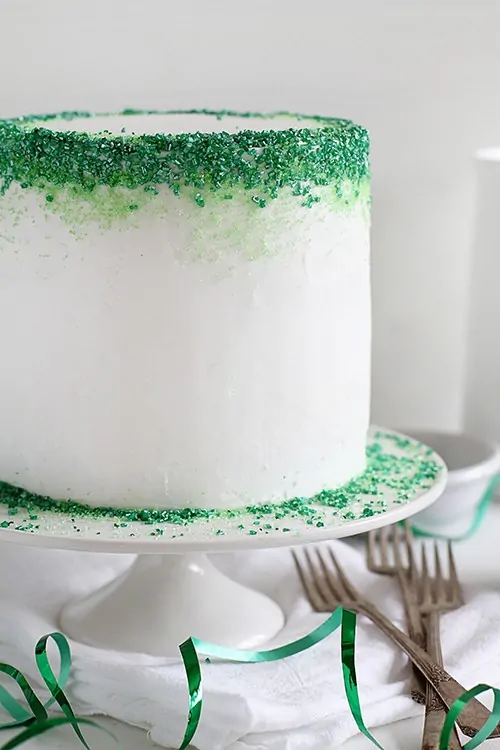 You shouldn't miss having cake during St. Patrick's Day! This ombre layer cake beats out many colorful cakes because of its unique cream to emerald layered colors.
To get very clean cuts in your layered cake, make sure the cake is really cold and use a really hot knife. Keeping the cake chilled prevents the chances of color bleeding as well.
24. Mint Chocolate Lasagna
Lasagna for St. Patrick's Day? It surely sounds enticing!
What's interesting about this recipe is you'll make lasagna in a very different way: without cheese, with no baking required, and just creating a minty and chocolatey flavor. The layers consist of choco-vanilla cream cookies, chocolate pudding, and whipping cream.
This dessert is not only great for St. Patrick's Day but also for Christmas and other green-themed celebrations.
25. Lucky Charm Ice Cream Sandwiches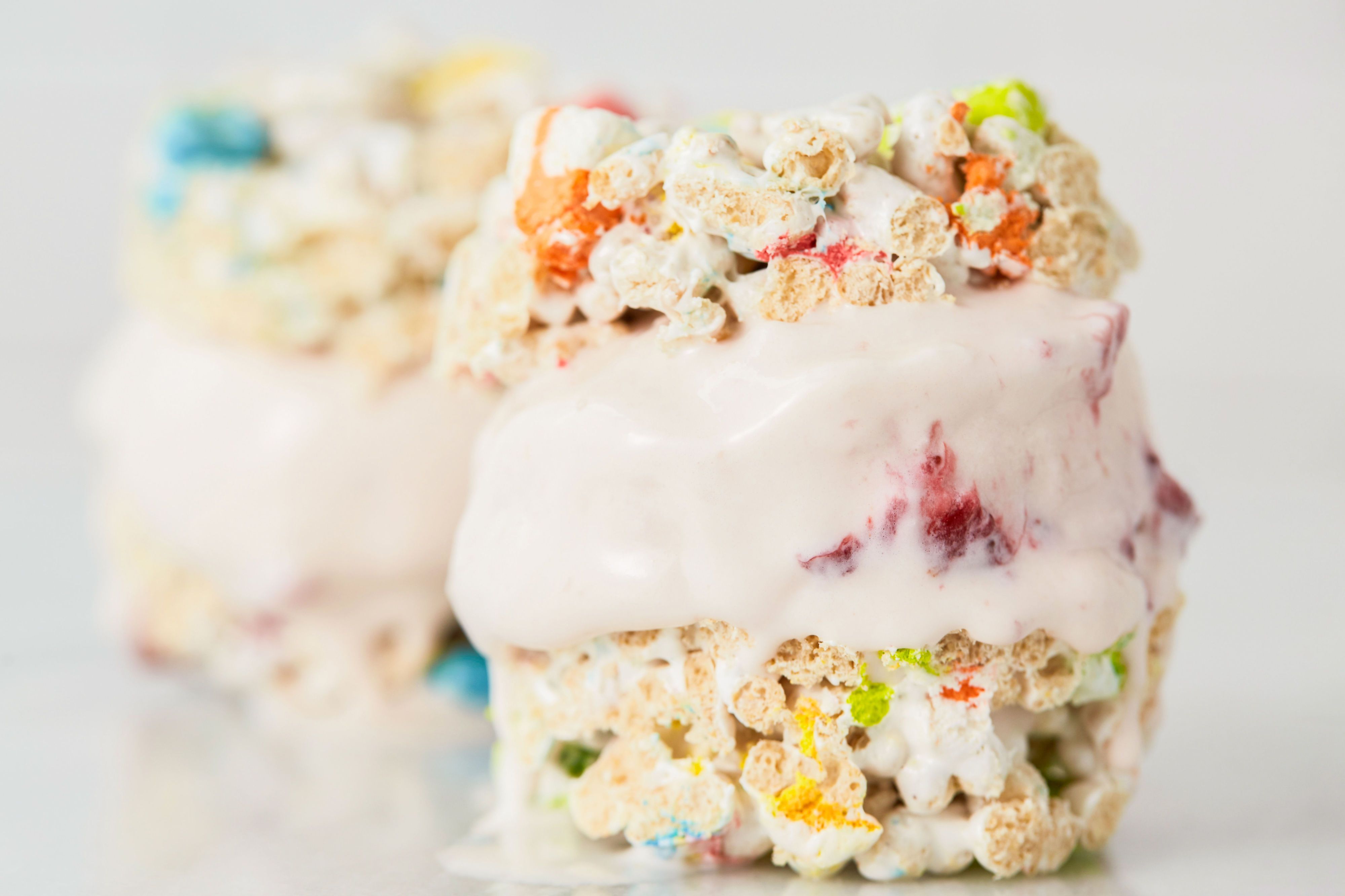 For a combination of sweet, cold, and playful treats, this ice cream sandwich recipe is the perfect example. You can make this recipe in just 35 minutes to enjoy four delicious ice cream sandwiches.
You can choose which flavor of ice cream to put in the sandwiches, but make sure you choose crowd favorites for everyone to enjoy.
26. Cocoa-Nutty Lime Tart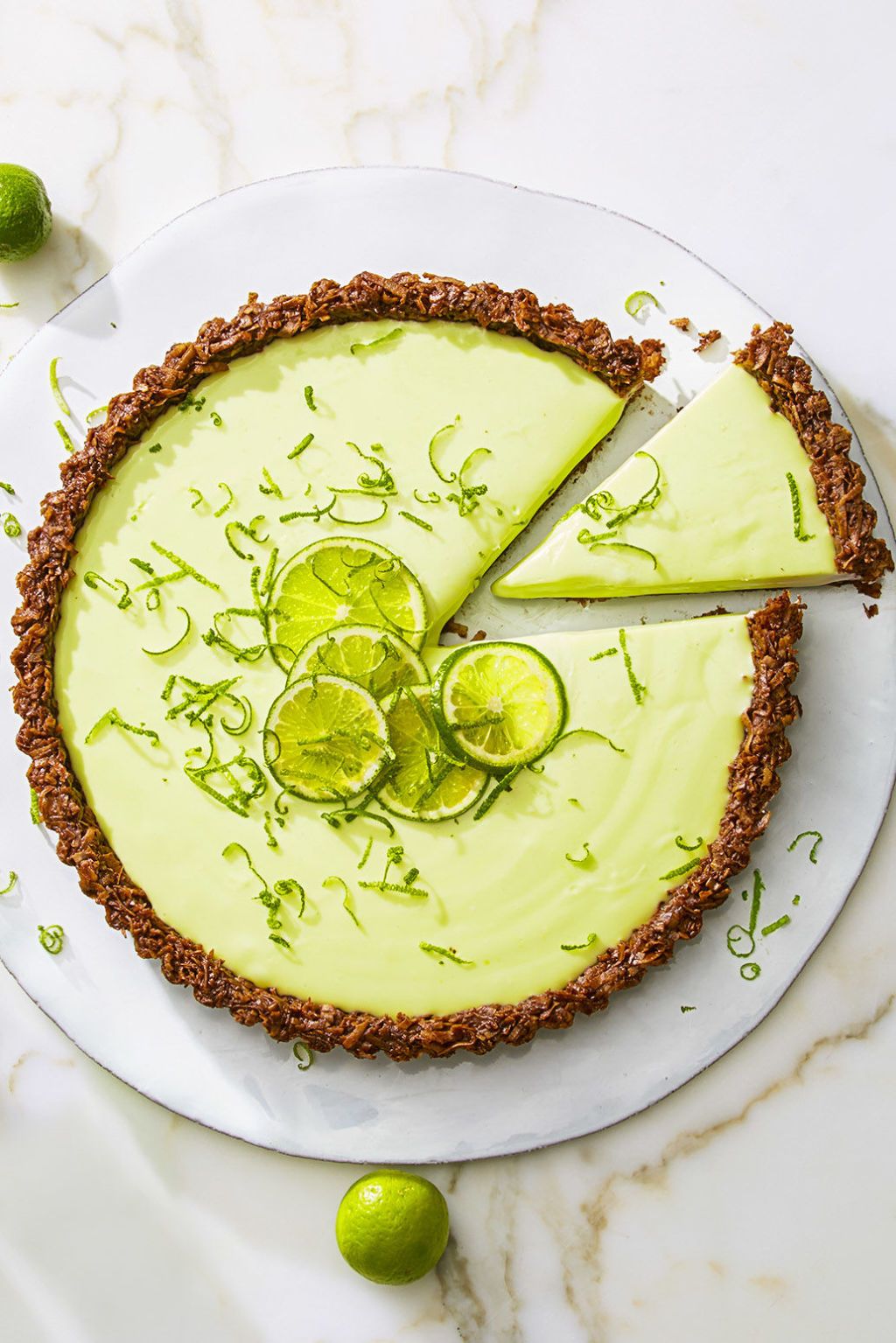 Customize your tart this coming St. Patrick's Day! The stars of this St. Patrick's Day food are its no-bake filling and gluten-free crust.
You'll taste a sweet, but also a citrusy-sour flavor that's just perfect for a tart. In just over two hours, you'll get to have 12 servings for your entire circle of friends.
27. Rainbow Popcorn

Popcorn is one of the more American favorite snacks, but you can definitely make them more colorful and fun on St. Patrick's Day. This candy-coated popcorn creates an easy and sweet springtime scene during the celebration.
What you need to secure to create the rainbow-colored effect is purple, green, yellow, orange, and red melts. This colorful snack can entertain kids on St. Patrick's Day!
Do you want more easy and delicious St. Patrick's Day recipes? Watch this video from Meredith Foster and learn how to make cute and yummy DIY St. Patrick's Day treats:

This list of delicious St. Patrick's Day recipes is not only for the Irish, but also for all our Irish-at-heart friends everywhere in the world. These green desserts are packed with a dozen adorable and yummy desserts and treats everyone from kids to adults will surely enjoy.
Let's all celebrate St. Patrick's Day the sweetest way with these recipes!
Which of these delicious St. Patrick's Day recipes are you planning to try? What other St. Patrick's Day desserts can you add to the list above? Let us know in the comments section below!
You might also want to check out this list of Green Juice Recipes for Weight Loss. Aside from they're green, they are also healthy and nourishing, so you can celebrate St. Patrick's Day while keeping your diet clean!
Don't forget to keep in touch, foodies!
Also, make sure to follow us on Facebook, Instagram, Pinterest, and Twitter!
UP NEXT:
Editor's Note: This post was originally published in March 2016 and has been updated for quality and relevancy.