Take a bite of these St. Patrick's Day cookies! I've got loads of recipes you can choose from. There's even a no bake recipe in the list!
St. Patrick's Day Cookies For Leprechaun Lovers
I'm celebrating St. Patrick's with a whole dessert tray of my favorite cookies. I love keeping in theme during special occasions, and St. Patrick's day isn't exempted when it comes to going all out on the festivities. It's the one day when you can go crazy with green food coloring, mint flavors, and so much more! Here's a roundup of some of my favorite St. Patrick's Day cookies!
1. Double-Decker Rainbow Shamrock Cookies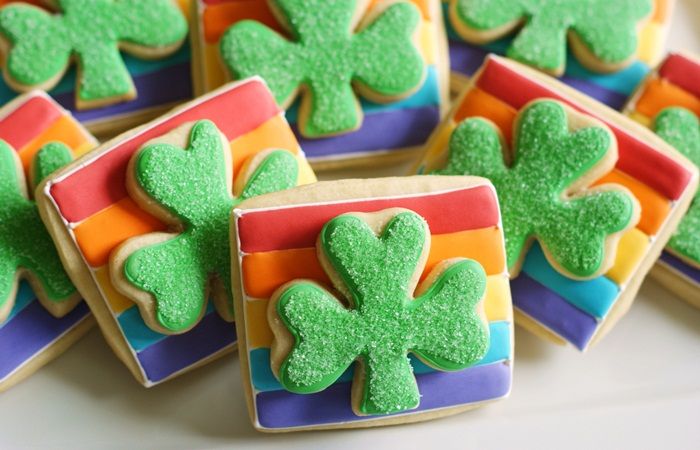 There's something about these double-decker rainbow shamrock cookies that make me (and my tummy) happy! By the way, you can choose to put either a shamrock or a pot of gold as the upper layer of the cookie. It's all up to you!
2. Mint Chocolate Cookie Sandwiches
This minty and chocolatey treat would look perfect on your St Patrick's day dessert table. The secret to making these cookies is a pack of wafer cookies you can use straight out of the box.
3. Green Chocolate Chip Cookies
Let's go green on a fresh batch of yummy chocolate chip cookies! Although this recipe doesn't call for mint chocolate, they can simply be added in if you'd prefer.
4. Andes Mint Thumbprint Cookies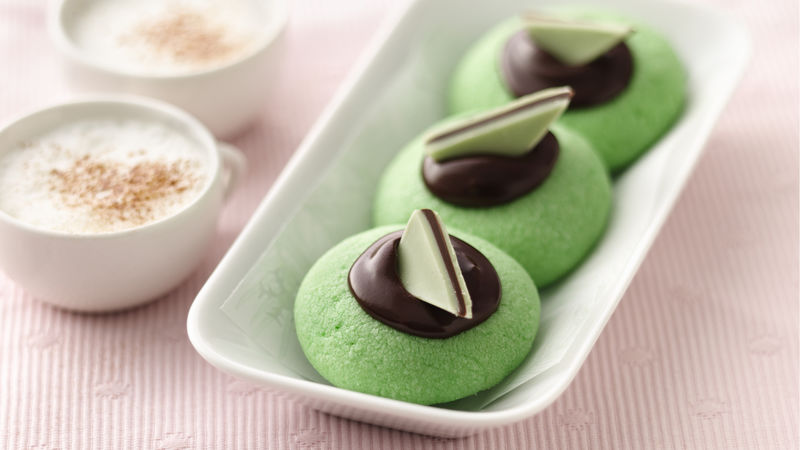 They're not only elegant-looking, but they're also easy to make. Each chocolate-mint thumbprint is adorned with a piece of creme de menthe chocolate candy that adds another layer of texture and sweetness to the cookie.
5. Green Tea and White Chocolate Cookies
Are you a fan of both green tea and white chocolate? Then you should try this dessert idea. Whether served in a party or given as a gift, everyone will love receiving them. When baking with matcha, always remember to use ones that come in a beautiful green color. The dull green ones are usually of a lower quality and don't taste as nice.
It's Saturday night and we're getting tipsy…off of these baked goods! https://t.co/dOxfi7rCwZ pic.twitter.com/fGiXsAWdX6

— Homemade Recipes (@BestHomeRecipes) September 25, 2016
6. Polka Dot and Plaid Shamrock Cookies
This St. Patrick Cookies list won't be complete without some Shamrock-shaped ones! They're a show stopper and let you unleash your love for plaid as your decorate.
7. Rainbow Slice-and-Bake Cookies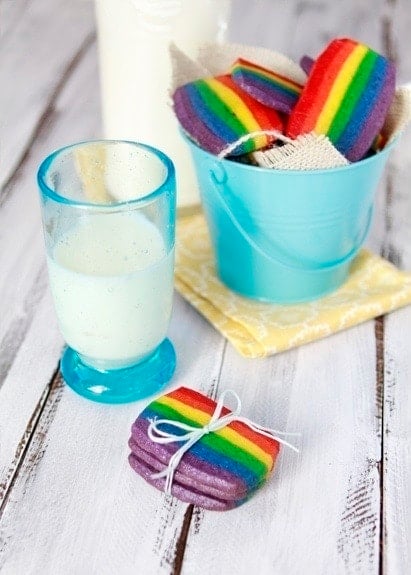 They say a leprechaun's pot of gold is hidden at the end of the rainbow. When you take a bite of these colorful cookies, you'll definitely feel like you hit the jackpot. I suggest using gel food coloring for this recipe, since a little goes a long way.
8. Leprechaun Cookies
These colorful Leprechaun cookies look cute and charming! Here's a tip for drawing the leprechaun faces: Outline the face, the eyes, and the hat first, then leave it for 30 minutes to an hour to dry. After waiting, you can then proceed with filling in the beard and the hatband. Wait another 30 minutes and then fill in the rest of the hat. Leave the batch to rest overnight and put in the finishing details the morning after.
9. Mint Cookie Bark
This mint cookie bark has been known to completely sell out at bake fairs. But then again, who can resist little bags of these delectable treats? What makes this recipe so easy to make is how there are only three ingredients: Mint Oreo cookies, Vanilla Candiquik coating, and green sprinkles.
10. St Patrick's Day Golden Oreos
I can be a serial snacker, so I usually have a pack or two of Oreos stocked in the pantry. For St. Patrick's day, I'm planning on whipping a batch of these colorfully green golden Oreos. Don't they look so chic decked in sprinkles and drizzles?
11. Fudgy Mint Chocolate Brookies
Brookies are a genius St. Patrick's Day dessert creation. They're perfect for people who can't decide which one they like more. Fortunately, with this dessert, they won't have to choose anymore!
12. Leprechaun Cookies
Crazy for Nutter Butter cookies? So am I! These will be a complete hit at your St. Patrick's day party. I can already foresee people gushing and taking photos of your cute little leprechaun cookies.
13. Pistachio Pudding Linzer Cookies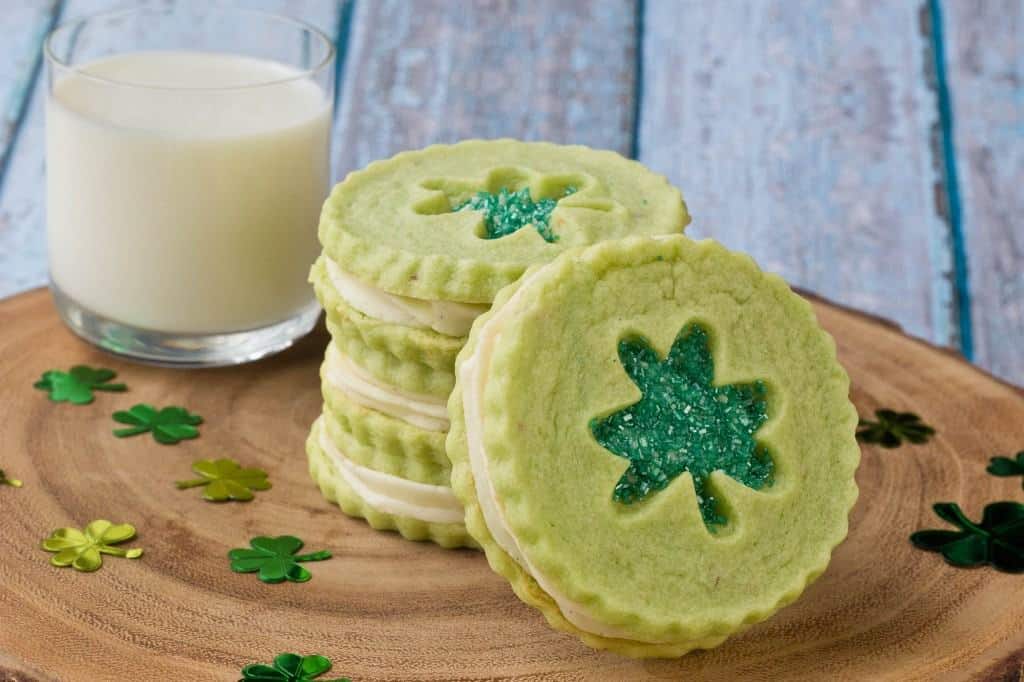 I'll admit, pistachio can be an acquired taste — not everyone's crazy about it. The good thing is, the people who do like it tend to hoard and stuff their face silly. Find out which of your friends are pistachio lovers when you serve this on the table.
14. Clover Cookie Pops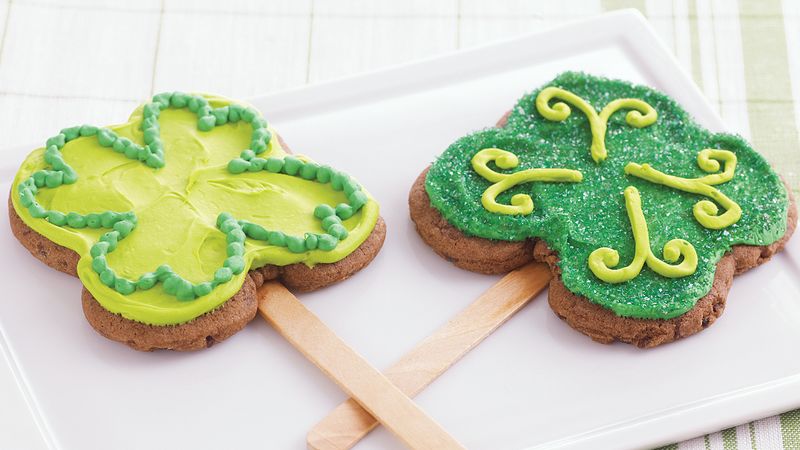 The trick to making these clover cookie pops is making sure the cookie sticks are placed halfway into the cookie dough. Don't have any cookie sticks? No worries, craft sticks will work just fine.
15. Nutty Chocolate Irish Cream Cookies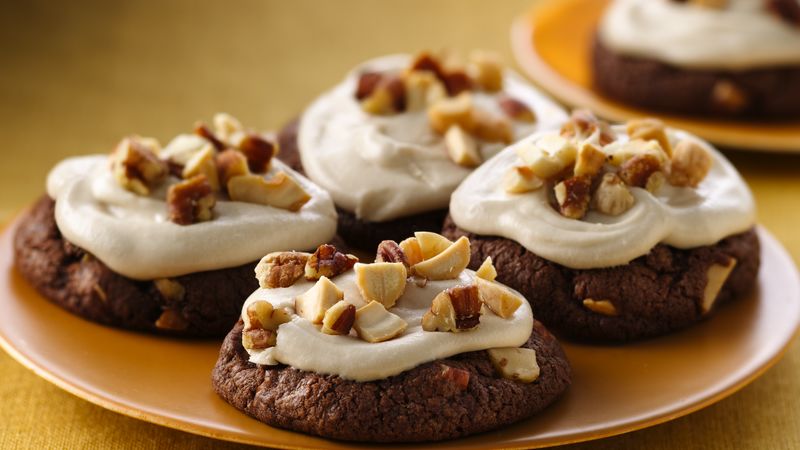 Not a fan of the color green? Gasp! How could you? It's St. Patrick's Day! All jokes aside, I suggest making at least two batches of these nutty chocolate Irish cream cookies. Don't forget to frost the cookies only when they've thoroughly cooled to prevent the frosting from melting.
16. Lime Lights
Lime lights are a refreshing and pretty dessert. If you're planning to make these ahead, layer the unfrosted cookies in between sheets of waxed paper and place them in an airtight container to maintain its freshness. If frozen, they'll keep up to 3 months.
17. Chocolate Mint Thins
Fancy some mint? These chocolate mint thins are to die for! Be careful when putting in the mint extract. You'll only need a teaspoon of it per batch.
18. Ombre Rainbow Cookies
I never knew an ombre effect would look spectacular on cookies until I saw this recipe. I can only imagine how even more beautiful it'll be if all colors of the rainbow are present.
19. Leprechaun Hats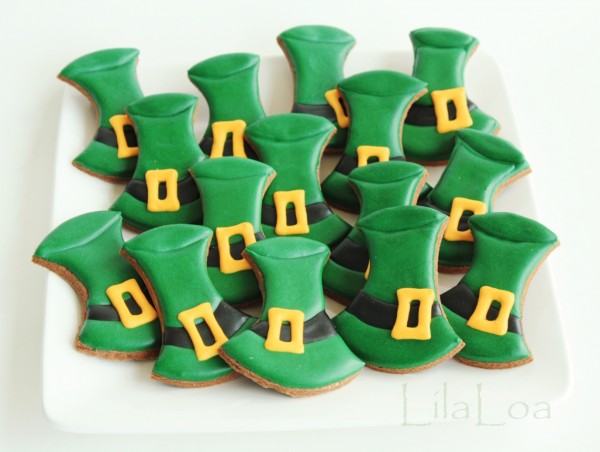 These leprechaun hats are versatile because you can turn them into Christmas cookies during the holiday season. All you have to do is trade the color green for red, and voila, you've got Santa cookies! An extra tip would be to make the cookies wider come Christmas time. Santa is a big fellow after all.
20. Gold Shamrock Cookies
A batch of these gold shamrock cookies would look perfect at an afternoon tea gathering. The cookies are delicate, adorned in gold, and almost too pretty to eat! If they weren't so delicious, I'd probably end up staring at them in awe instead of eating them.
21. Irish Cream No Bake Cookies
Here's a St. Patrick's day cookie for those who don't want to use the oven. This recipe calls for Irish cream, oatmeal, and sugar, which gives it a slightly sweet alcoholic taste. I highly suggest following the recipe and sticking with just 1 cup of liquor for the whole batch.
Can't get enough of St. Patrick's Day cookies? Watch this video for more yummy recipes:
In my opinion, there can never be too many St. Patrick's day cookies! This St. Patrick's day, pick out one or three cookie recipes you'd like to try out. You never know, that recipe might be your pot of gold!
How about a cocktail? Try making some of these green cocktail recipes perfect for St. Patrick's day!
Do you have your own St. Patrick's day cookie recipe? Share your thoughts in the comments section!
Don't forget to keep in touch, foodies!

Also, make sure to follow us on Facebook, Instagram, Pinterest, and Twitter!
Editor's Note – This post was originally published in February 2016 and has been updated for quality and relevancy.