Celebrate St. Patrick's Day at home with these tasty green cocktail recipes! These drinks will make the day more fun and memorable for you and your family!
Tasty Green Cocktail Recipes On St. Patrick's Day!
Instead of going out to your local pub, why not whip up any of these green cocktail recipes, and have fun at home with your loved ones? St. Paddy's Day will be more memorable and exciting. For sure, green beer might be the norm, but if you're planning for a classy St. Patrick's Day party, then these cocktails are exactly what you need! Let's get into that St. Patrick's Day spirit with these delicious drinks!
1. Sparkling Shamrock
Give this fancy cocktail recipe a try on St. Patrick's Day. Each glass looks so festive and tasty with a bright and sparkling lime green color. Everyone will be amazed!
2. Grasshopper Cocktail
A classic grasshopper cocktail with the perfect combination of mint and chocolate. This cocktail tastes like a real chocolate mint candy with a mild kick.
3. Melon Whiskey Sour
Melon Midori plays a big role in this melon whiskey sour recipe. Though it's optional, don't forget the ginger ale–it will help wash away some of the tough alcohol taste.
4. Luck of the Irish Shots
These luck of the Irish shots are a delicious fusion of Creme de Cocoa for a rich chocolate flavor and Creme de Menthe liqueur for a hint of minty taste. It's a delicious green cocktail packed with a punch!
5. Green Dublin Cocktail
This green Dublin cocktail is the perfect balance of sweet and sour which makes it the perfect drink for St. Patrick's Day this year.
6. Verde Mary Cocktail
When you want to make a tasty Bloody Mary drink on St. Paddy's Day, this recipe will give the best twist to your cocktail. It's a green Bloody Mary made with green tomatoes and tomatillos.
7. Irish Flag Cocktail
Irish cream, Licor 43, and green creme de menthe–each layer takes this cocktail to a whole other level making it perfect for St. Paddy's Day!
8. Green Leprechaun
Carry a cocktail glass full of this Green Leprechaun while enjoying a happy day. It's easy to make, it's tasty, and it's definitely a great drink to celebrate St. Patrick's Day with your family. You only need three ingredients for this cocktail recipe.
9. Mint Chip Cookietini
When a drink involves whipped cream, you know something fun is going to happen. This mint chip cookietini is a green cocktail made even better with chocolate whipped cream and some chocolate shavings. This cocktail hits the spot for the best St. Patrick's Day drink!
Green Bloody Mary, plus 20 more delish hacks with a Bloody Mary Mix recipe! #foodie #recipes #cocktailshttps://t.co/hqgNiGvmBz pic.twitter.com/T69vCJZbM1

— Homemade Recipes (@BestHomeRecipes) January 5, 2017
10. Irish Buck Cocktail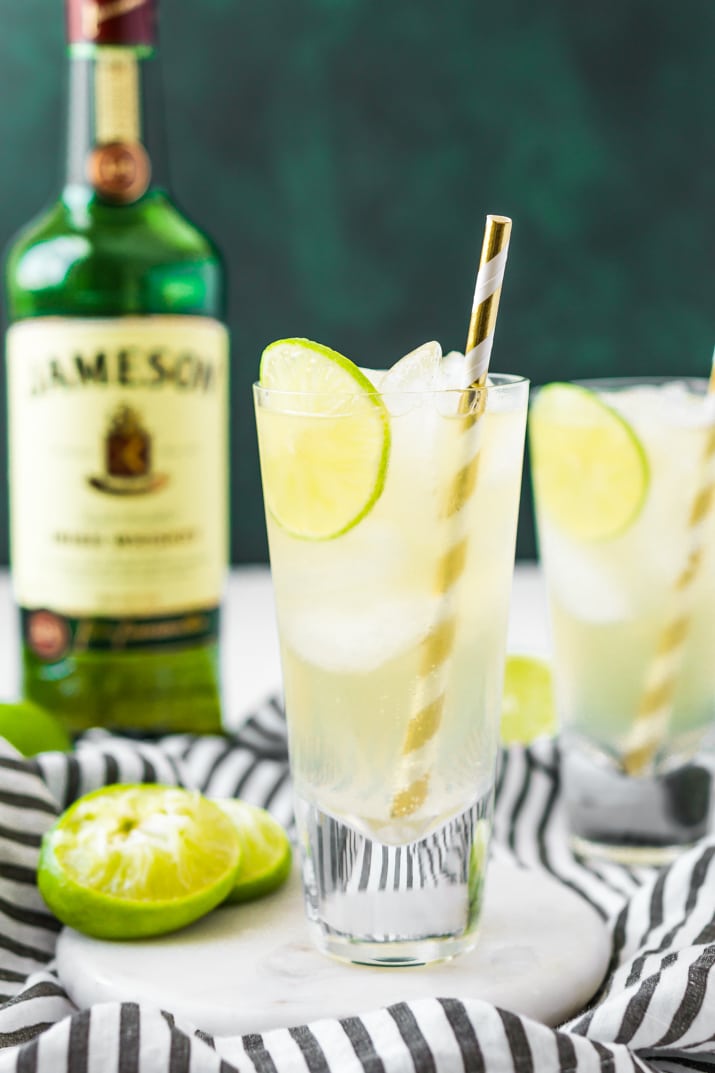 Because this cocktail recipe uses Irish whiskey, I thought it would be perfect to include this drink on this list. Although it doesn't resemble much of the green color, still, it tastes good for St. Patrick's Day.
11. Shamrock Sour Cocktail
Irish whiskey, lime juice, and lemon juice make this cocktail taste refreshingly sour while green food coloring, and a DIY shamrock stirrer makes it perfect for St. Patrick's Day.
Do you still have time for more green cocktail recipes? Check out this video from Institute of Culinary Education and learn more cocktails perfect for St. Patrick's Day:

Make St. Patrick's Day extra special by spending the whole day with your friends and family. You don't need to go out and party because these green cocktail recipes are easy enough to make at home. Thus, you and your loved ones can have a homemade St. Patrick's Day drinking spree!
Which of these green cocktail recipes are you planning to try on St. Patrick's Day? Let us know in the comments section below! You might also want to check out this list of 12 Delicious St. Patrick's Day Recipes.
Don't forget to keep in touch, foodies!
Also, make sure to follow us on Facebook, Instagram, Pinterest, and Twitter!
Editor's Note – This post was originally published in March 2016 and has been updated for quality and relevancy.