Whip up these yummy ideas you can do with a bloody mary mix recipe, and you'll surely fall for them! Aside from filling meals, give these wonderful and exceptional Bloody Mary mix recipe ideas a try and make them the stars of your Sunday brunch. If you think you know exactly what a Bloody Mary mix recipe looks like, then wait until you see all of these recipes. You can incorporate a Bloody Mary into a steak, in homemade popsicles, in a cupcake, and in a salsa! These recipes will change the way you serve a Bloody Mary cocktail!
Amusing Recipes To Enjoy A Bloody Mary Mix Recipe!
1. Boozy Bloody Mary Tomato Bombs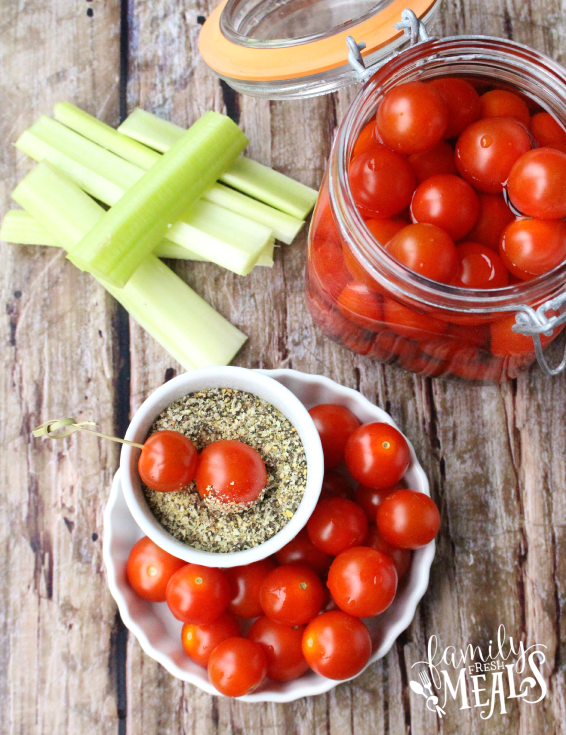 The unmistakable flavor of Bloody Mary is packed into each of these little cherry tomatoes. If you're tired of drinking your favorite cocktail, try these boozy Bloody Mary tomato bombs and savor each bite!
2. Chipotle Bloody Mary
This delicious chipotle Bloody Mary has the perfect balance of spiciness and striking smoky flavor. It's quick and easy to prepare with a distinct flavor no one would want to miss!
3. Bloody Mary Salsa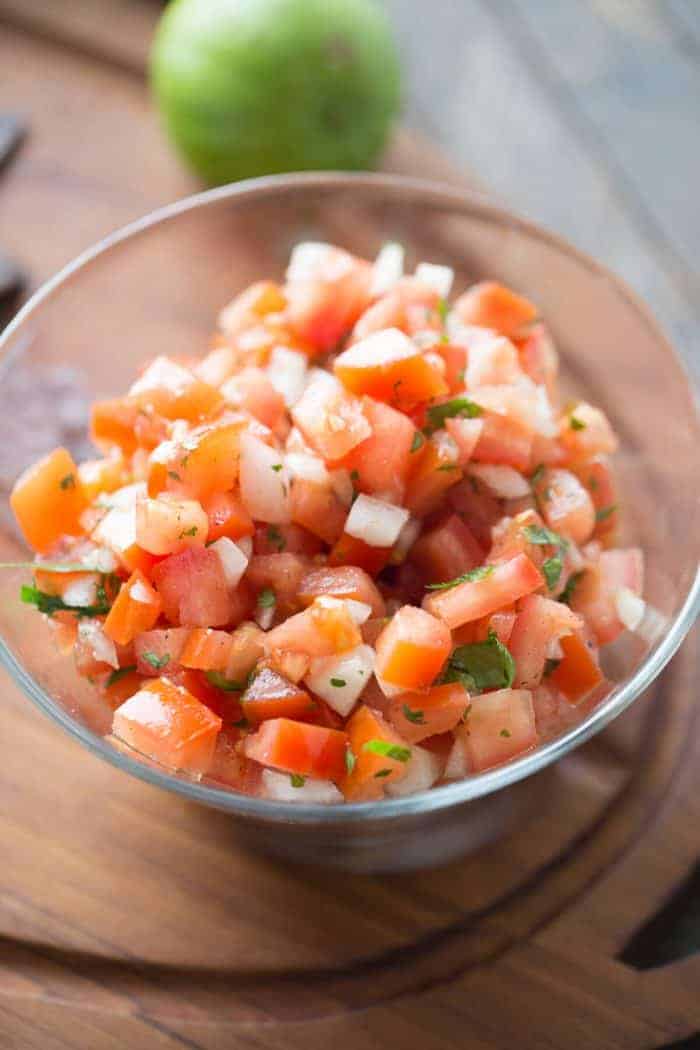 Looking for an easy bloody mary recipe? With or without alcohol, this Bloody Mary salsa will please a crowd. It looks simple but is surprisingly flavorful. By tossing fresh ingredients with hot sauce, lime juice, and some spices, you would want to dip anything into this tasty salsa.
4. Green Bloody Mary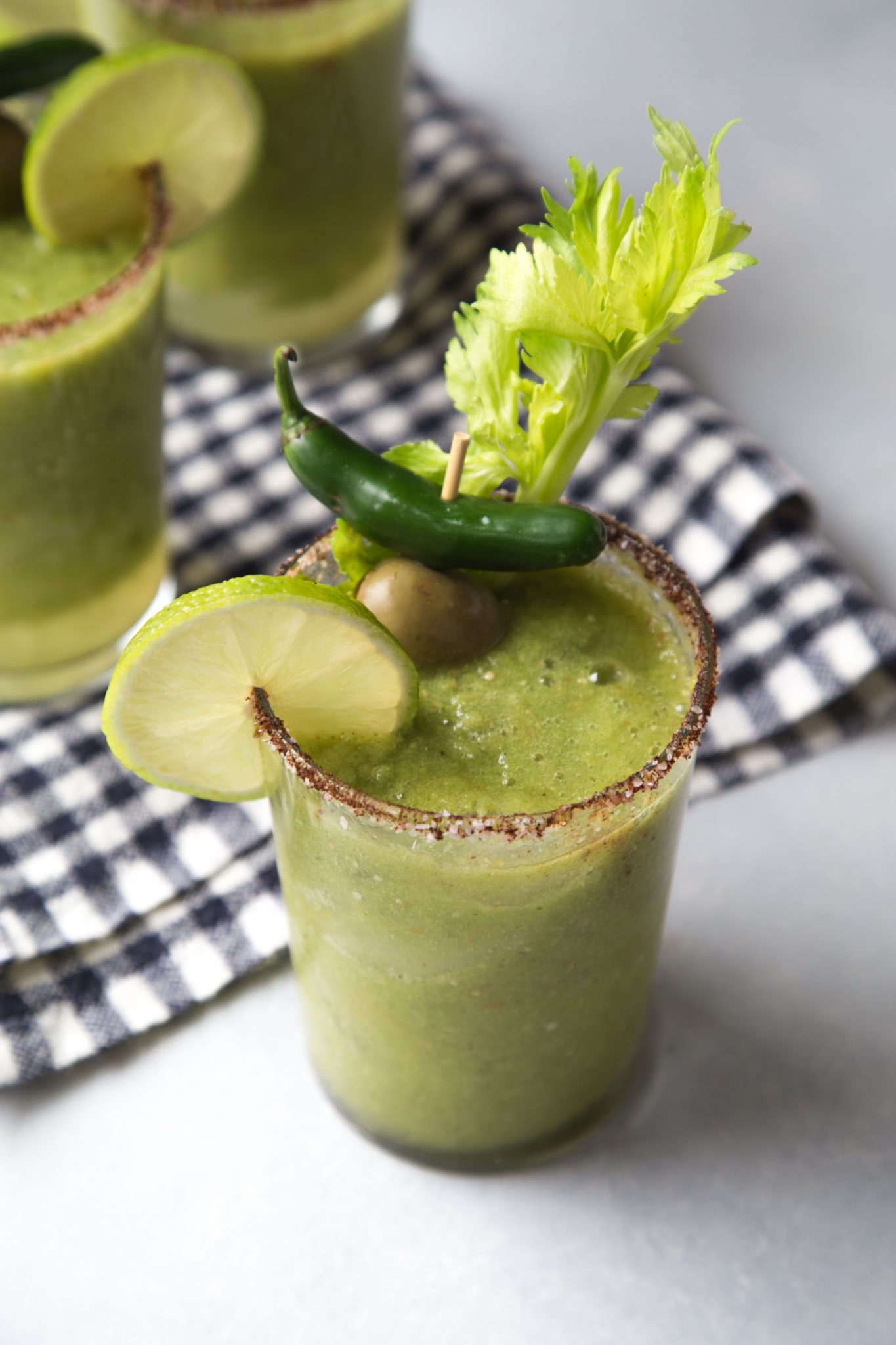 Sometimes, green doesn't really look enticing, but when it comes to a Bloody Mary cocktail, it really makes a big difference. This green Bloody Mary looks so tasty and refreshing. It's a great twist on a classic Bloody Mary mix!
5. Spicy Bloody Mary Deviled Eggs
Make these spicy Bloody Mary deviled eggs your go-to appetizer during parties and get-togethers. These deviled eggs are dressed with spicy Hungarian paprika, horseradish, mayonnaise, sea salt, and tomato juice mixture, giving your guests the best appetizer they will never forget!
6. Spicy Bloody Mary Gazpacho & Shrimp Shooters
These Bloody Mary gazpacho and shrimp shooters may have the longest list of ingredients but it's worth it! They are so addicting and extremely flavorful. You won't mind splurging on the ingredients and making the effort!
7. Bloody Mary Popsicles
These Bloody Mary popsicles make the perfect summer treat for adults. They're boozy and tasty to cool you down and get you little tipsy under the sun!
8. Bloody Mary Oysters
Put a gourmet touch on your weekend brunch with these rich oyster shooters infused with the flavors of Bloody Mary. It's easy but supremely stunning in any brunch party!
9. Spicy Bloody Mary Recipe With Bacon
Garnishing a Bloody Mary with bacon is the same as putting a nice savory taste into your beverage. It makes this Bloody Mary mix a delicious drink and a tasty meal all at once.
10. Bloody Mary Meatballs
Aside from boozy drinks, these scrumptious Bloody Mary meatballs are the perfect addition to your brunch menu. These Bloody Mary meatballs are absolutely healthy and kid-friendly without the vodka.
11. Bloody Mary Cupcakes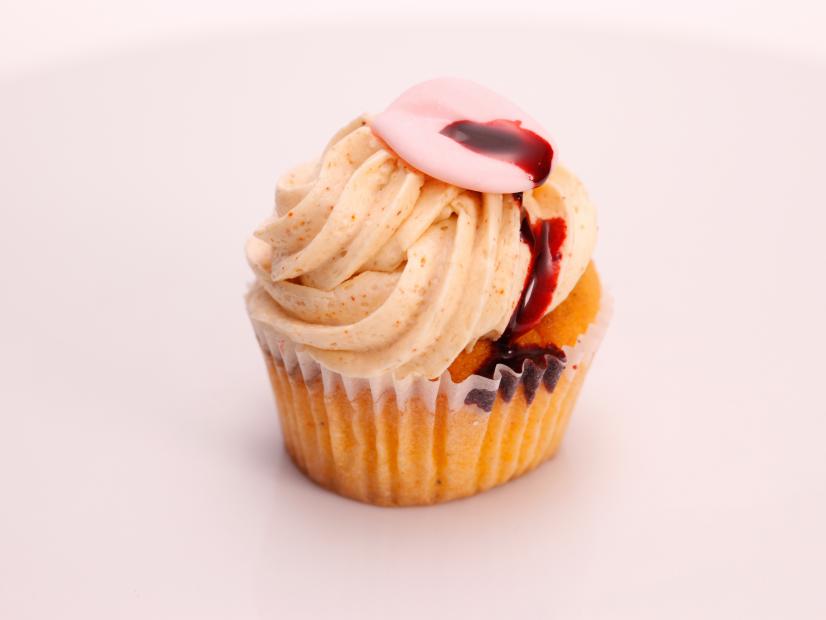 A Bloody Mary cupcake? Why not? When the recipe is this good and delightful, you'll be convincing yourself to make some more! This recipe will end your search for the ultimate brunch dessert.
12. Maryland Bloody Mary
Don't those crab legs and crab balls look so tempting? With those garnishes, this Bloody Mary mix could be the best Maryland-infused drink you will ever have!
13. Bloody Mary Shrimp
Planning your next barbecue party? Don't forget to include this on your menu. With Bloody Mary rub and sauce, these shrimp skewers will be a crowd-pleaser and a party favorite.
14. Bloody Mary Cheeseball
Everything you love about a classic Bloody Mary mix is packed and crammed into this cheeseball. It's an easy appetizer perfect for parties during the holiday season.
15. Bloody Mary Bruschetta
If you love bruschetta, then prepare yourself to fall in love with these adorable and tasty hors d'oeuvre even more! With the delicious flavors of Bloody Mary, these tasty appetizers will win your heart!
16. Bloody Mary Skirt Steak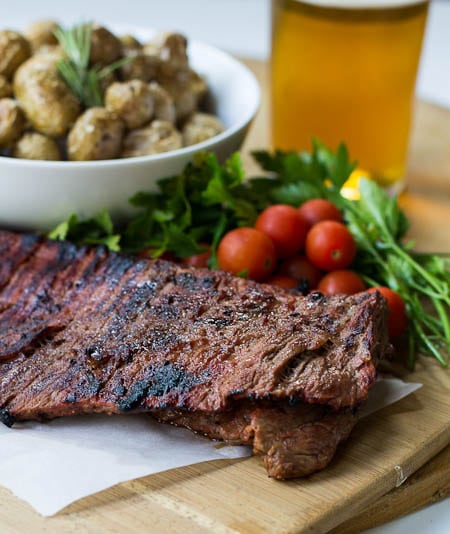 Bloody Mary skirt steak is a tender, juicy steak soaked in a tasty Bloody Mary marinade and then seared to absolute perfection! Now you can savor your favorite beverage without holding a glass.
17. Bloody Mary Soup
Warm your soul with this rich and creamy Bloody Mary soup filled with all the flavors of the traditional Bloody Mary drink but without the hint of alcohol. It's a family-friendly dish to enjoy all year round.
18. Pizza Shots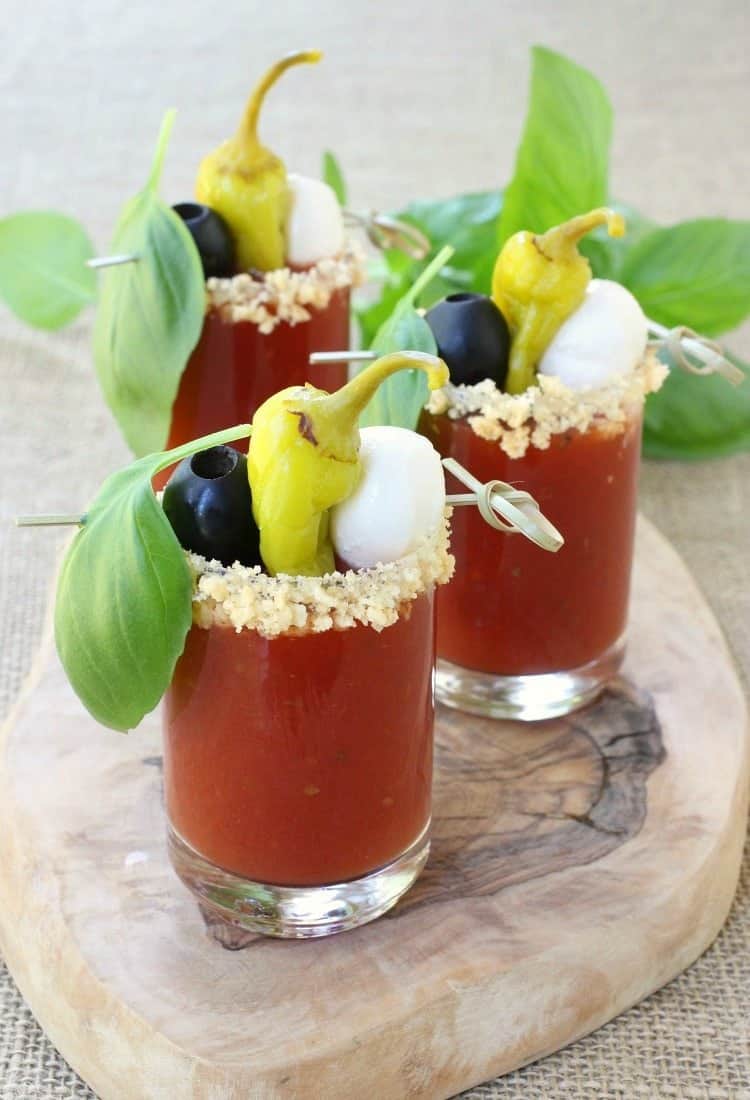 Your favorite pizza and Bloody Mary mix come together in one easy and ultimately tasty drink recipe. These pizza shots will leave you wondering if you're drinking a Bloody Mary or eating a pizza.
19. Slow Cooker Bloody Mary Pot Roast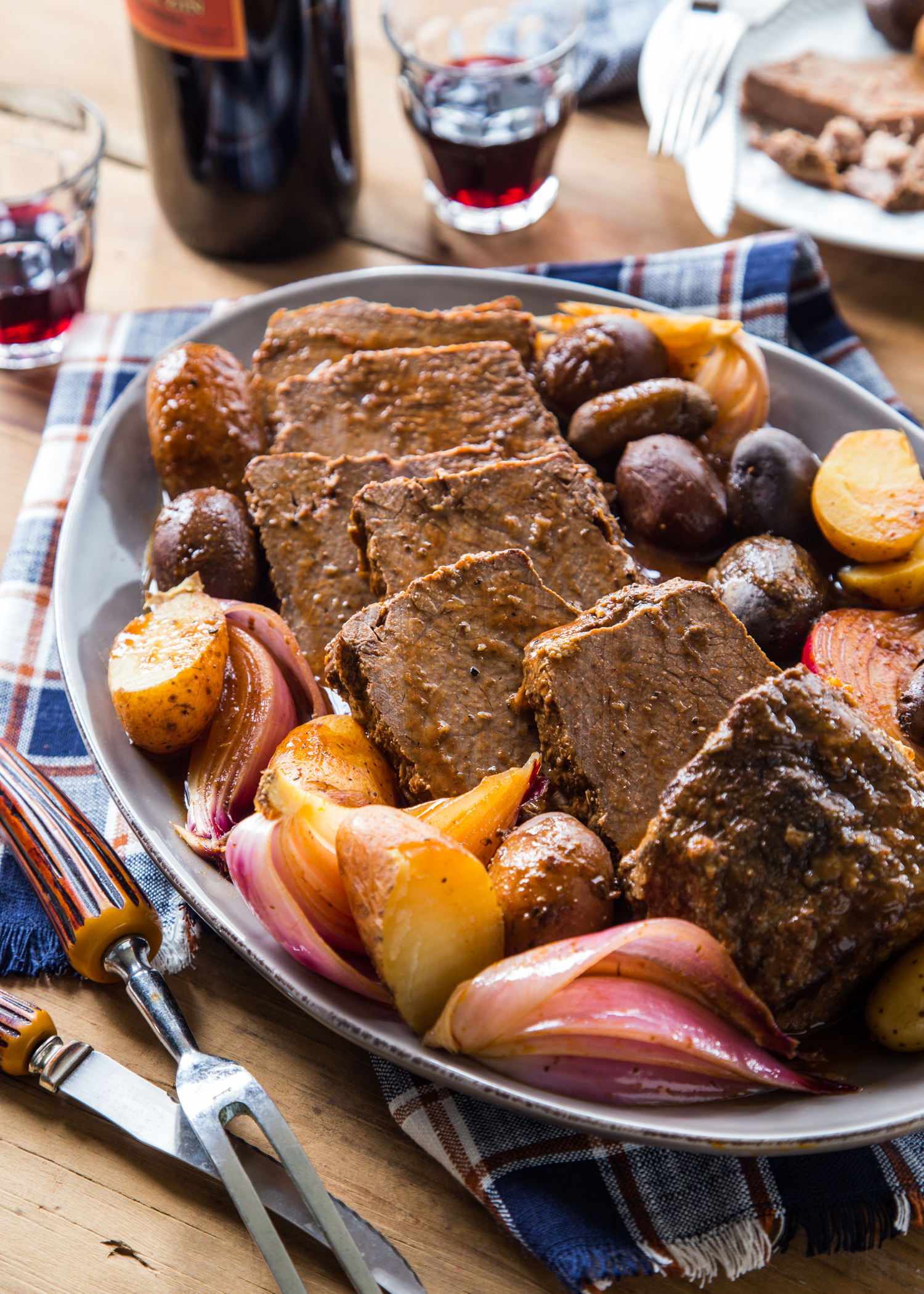 This is a very easy recipe that makes the best use of your slow cooker. Place the beef roast in your slow cooker along with potatoes and onions, add the Bloody Mary sauce, set it, and forget it until dinner time. Easy-peasy, right?
Easy peasy punch recipes for #Christmas! #ThrowbackThursdayhttps://t.co/P9ljWCMk5v pic.twitter.com/a8yA0Bqf1v

— Homemade Recipes (@BestHomeRecipes) December 22, 2016
20. Old Bay Bloody Mary
Old Bay seasoning made this Bloody Mary mix such a tasty and a delicious drink. This Old Bay Bloody Mary is a boozy, zesty, and savory drink to savor over a weekend brunch.
21. Bloody Mary Crab Dip
If Bloody Mary always has a spot in your heart (and tummy), then this Bloody Mary crab dip is for you! It's tasty and quick–ready in 5 minutes!
Still looking for easy and delicious Bloody Mary mix recipe? Watch this video from POPSUGAR and learn how to make a spicy Bourbon Bloody Mary:

Bloody Mary is one of the most unique cocktail drinks to exist. It's the only drink consists of vodka, tomato juice, combinations of different spices and lots of garnishes. It's not just a refreshing drink but also a stand-alone snack. And if you want to get an extraordinary Bloody Mary experience, make sure to try these mind-blowing recipes and give yourself a Sunday brunch treat!
Did you enjoy these ideas for a Bloody Mary mix recipe? Which recipes are you excited to try and share with your friends and family? Let me know in the comments section below!
Up Next: 15 Non-Alcoholic Holiday Drink Recipes
Don't forget to keep in touch, foodies!

Also, make sure to follow us on Facebook, Instagram, Pinterest, and Twitter!
Editor's Note – This post was originally published on January 3, 2017, and has been updated for quality and relevancy.