Start your feast right with these Mexican appetizer recipes. These appetizers are quick and easy to prepare and a sure-fire crowd-pleaser!
Mexican Appetizer Recipes For Your Next Party!
This is a list of incredibly delicious Mexican appetizer recipes ranging from tortilla pinwheels and corn dip to tostadas and vegan falafel. Mexican flavors are hard to resist. They are also so easy to make. These sum up the reason why I do love Mexican food so much especially authentic Mexican desserts! But first, let's talk about my favorite Mexican appetizers. These recipes are by far my favorite go-to appetizers. Check this roundup and find the best recipe for you!
1. Mexican Tortilla Pinwheels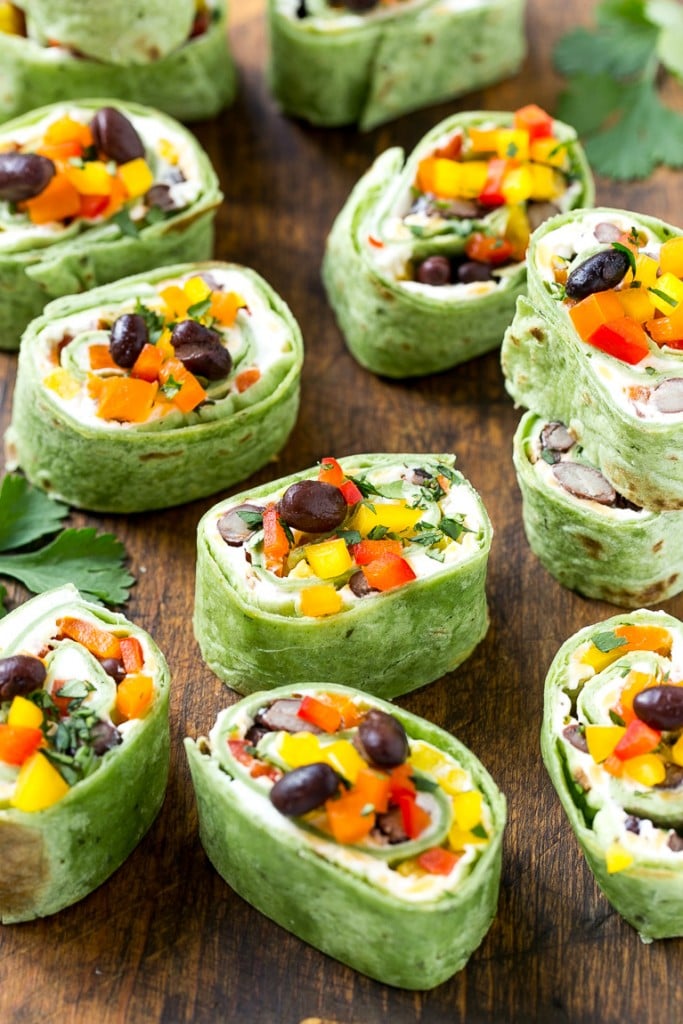 Pinwheels are always a big hit at every party. What makes these Mexican tortilla pinwheels apart from other pinwheels recipes are the green spinach tortilla. That's what makes these appetizers healthier and way better. The filling is a mixture of cheddar cheese, cream cheese, and chili powder. You simply spread the filling all over the tortilla, fill them in with black beans and bell pepper, then roll them tightly and slice them to make pinwheels.
2. Mexican Corn Dip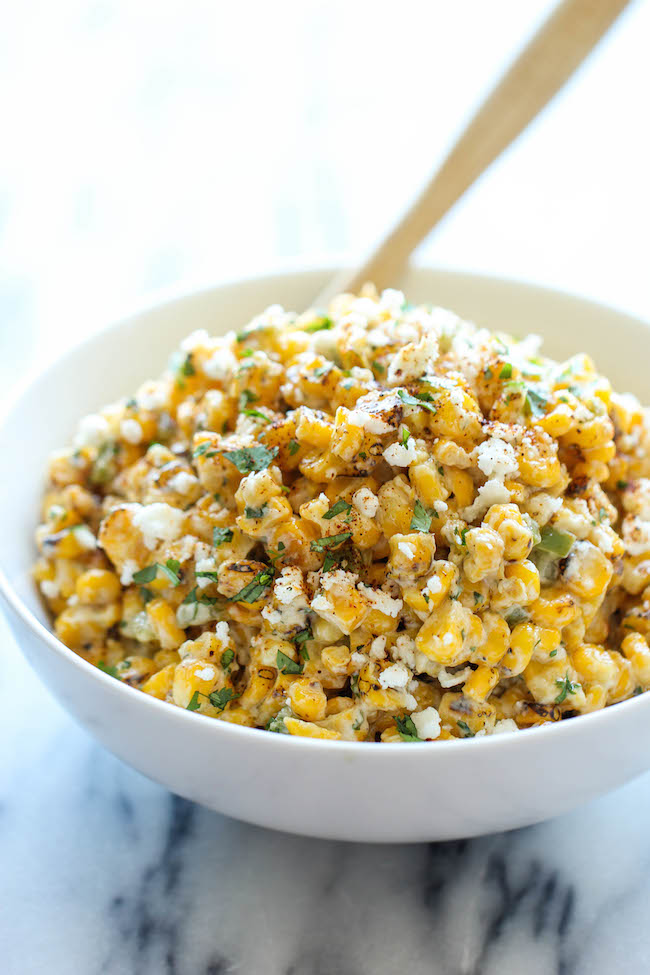 Bring the best of Mexican streets in your home with this easy Mexican corn dip. The popular Mexican street corn is transformed into a mouth-watering dip, you can pair with just about anything–tortillas, chips, grilled chicken, and nachos! How to make it? Melt the butter in a skillet, then grab some corn kernels and cook with jalapeño. Once cooked, mix with cotija cheese, mayonnaise, garlic, chili powder, lime juice, and cilantro. And you're done!
3. Mexican Shrimp Bites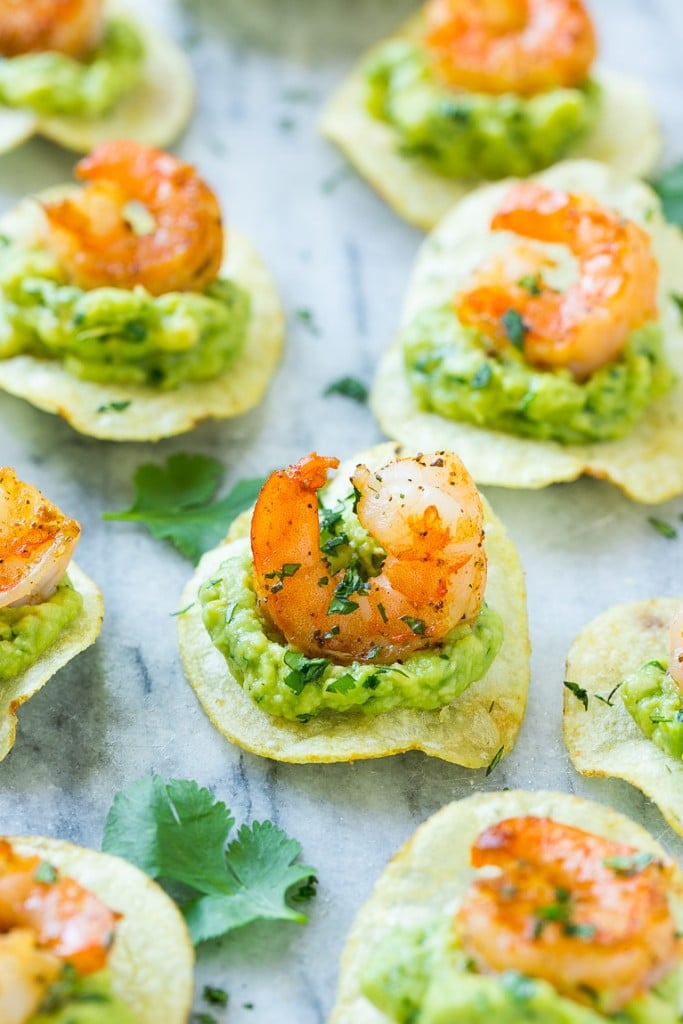 Get your party off to a great start with these fancy Mexican shrimp bites. These bites are made with a layer of creamy guacamole and a tasty shrimp on top of savory and crispy potato chips. This recipe uses Lay's Classic potato chips, which make it easier and more convenient. A homemade guacamole is great, but a store-bought will work equally delicious. This is a super quick and easy recipe. You just need to cook the shrimp with chili powder, assemble, and serve!
4. Hot Mexican Street Corn Dip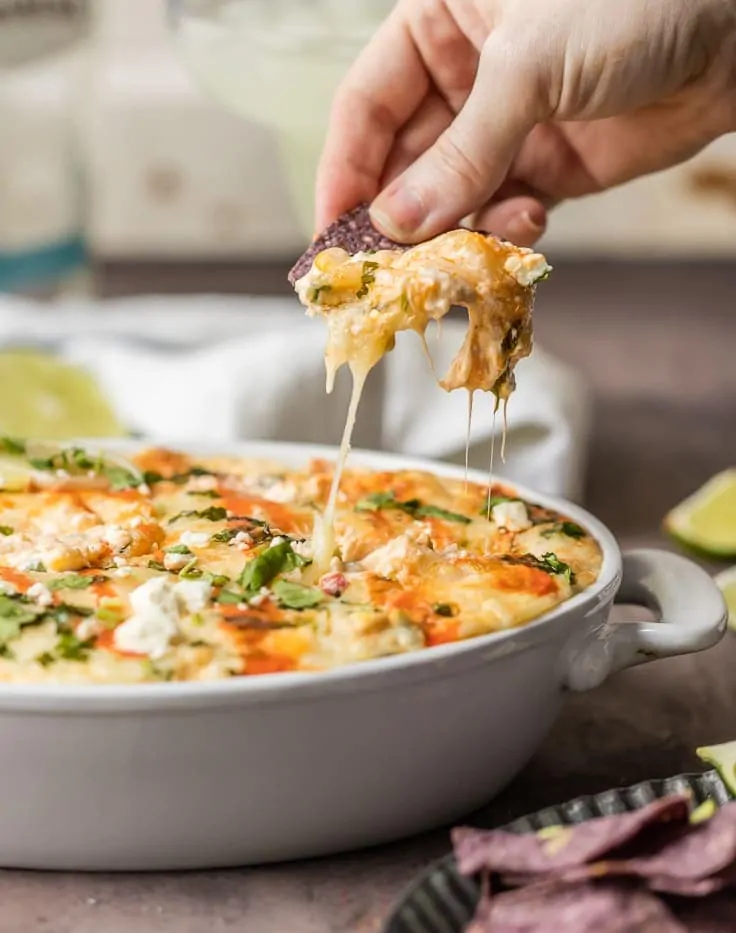 If you love spicy, gooey, and cheesy Mexican recipes, this is what you need! It's packed with delicious flavors of the traditional Mexican street corn with lots of cheesy goodness. To make this hot Mexican street corn dip, you need to blend the cream cheese mixture until smooth. In a large bowl, combine the mixture with cheese, corn, pepper, feta, onion, and cilantro. Pour them into a baking dish and top with more cheese. Bake for 15 to 20 minutes until bubbly, and that's it!
5. Mexican Cheese Ball with Spicy Tortilla Chips
There's nothing easier than making a glob of cheese ball for parties, game day, or any special occasion. It's seriously a very easy and fun task. Once you've gathered the ingredients, combine everything with a hand mixer. Using your hands, mold the mixture into a cheese ball and wrap it in plastic until ready to serve. This cheese ball is, of course, best enjoyed with spicy tortilla chips. To make the chips, mix olive oil with cumin and chili powder. Brush the chips with spiced oil and bake for 10 minutes!
6. Mexican Vegan Falafel Bites
These Mexican vegan falafel bites will be a big hit for both your vegan and non-vegan guests. Good thing, these falafel bites are easy to prepare with just chickpeas, veggies, jalapeño, spices, and gluten free flour. To prepare these vegan falafel bites, you need to use a food processor. Pulse the ingredients until everything becomes nice and chunky. Shape the mixture into bite-sized balls, then pop them in the freezer for 10 minutes. Fry them over medium-high heat for 4 to 6 minutes. Now you have a wholesome appetizer to enjoy with your family and friends!
7. Mexican Shrimp Cocktail
You can call this a Mexican shrimp cocktail or a Mexican salad in a glass! It's a great appetizer loaded with fresh and crunchy veggies and tender shrimps. What makes this cocktail unique is the rich and spicy tomato sauce–ketchup, lime juice, clam juice, and hot sauce combined. It's a delicious Mexican appetizer perfect for a backyard barbecue or summer shindigs.
8. Buffalo Chicken Taquitos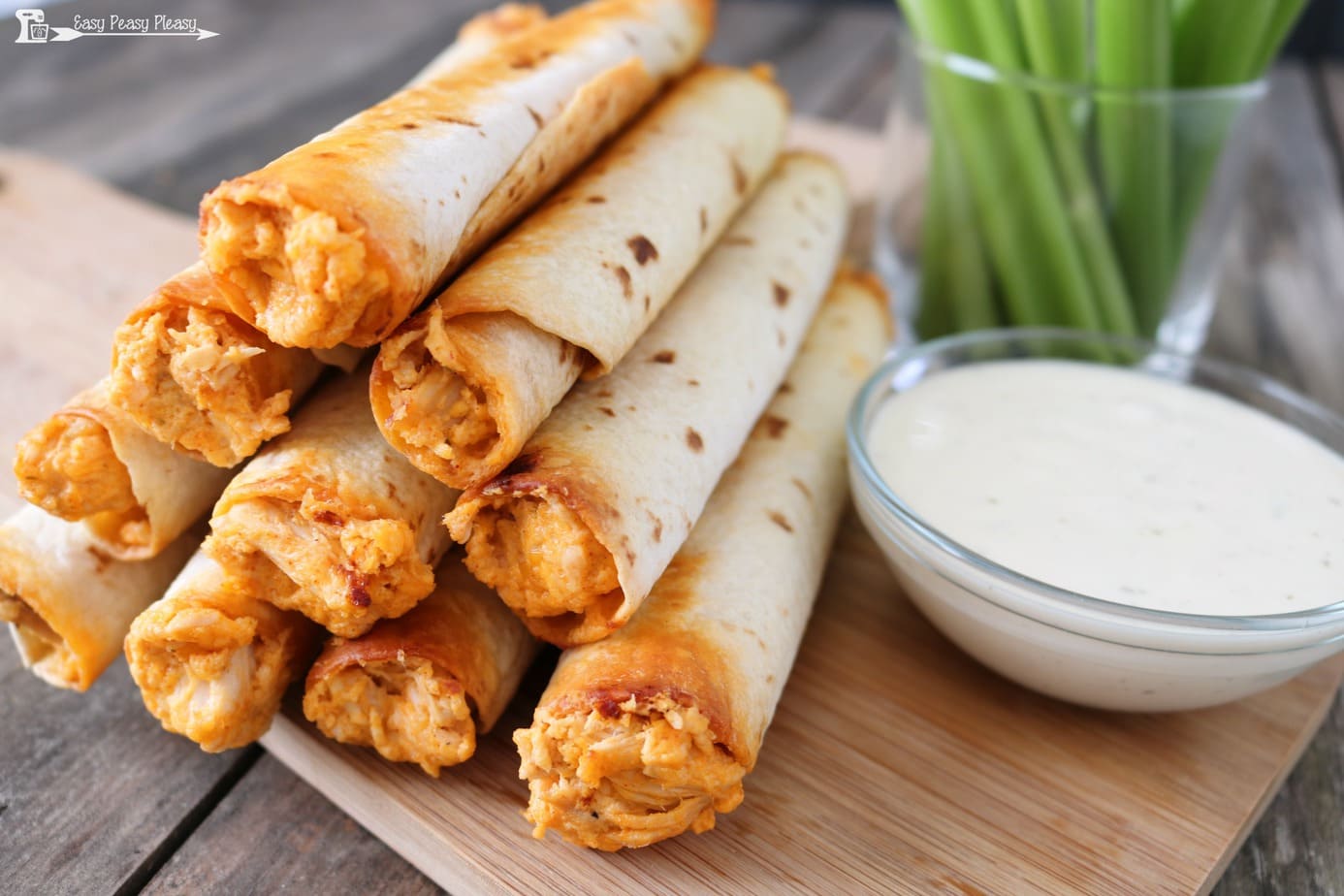 Enjoy your favorite buffalo chicken dip with these spicy and cheesy buffalo chicken taquitos. These taquitos basically used flour tortillas filled with special stuffing- a mixture of cream cheese, ranch dressing, shredded chicken, shredded cheese, buffalo sauce. These are so addicting–one isn't just enough!
9. Mexican Pizza
Pizza has always a place in our hearts. Whether we eat it as a light dinner, a snack, or a yummy appetizer, pizza always hits the spot! This Mexican pizza is a great recipe to enjoy in a more hearty and delicious way. Stuffed with ground beef, thick enchilada sauce, and a layer of cheese–this Mexican pizza is truly a game changer!
10. Mexican Meatballs
For these Mexican meatballs, you need ground beef, chili powder, cumin, salt, jalapenos, cheddar cheese, and egg. Mix all the ingredients and shape into balls. Bake them for 30 minutes, and then serve with your favorite dipping sauce. You'll love these meatballs as appetizers for parties or everyday snacks.
11. Chicken, Guacamole, and Bean Tostadas
When there are guacamole and refried beans in your tostada shells, you know it's going to be great! To make these tostadas, spread each tostada shell with guacamole, bean mixture, chicken, cheese, lettuce, sour cream, and pico de gallo. There you have it! A mouthful of Mexican flair!
12. Homemade Salsa Verde
It's always nice to have a ready-made salsa in your kitchen every time you crave for a fresh and tasty dip for your chips or grilled meat. This salsa verde or tomatillo salsa isn't just perfect for everyday use, but it's delicious and impressive enough to serve at parties and get-together. To make your salsa even tastier, dry roast your veggies first for a nice smoky flavor before you blend them in a food processor.
13. Bell Pepper Nacho Boats
To make you and your guests enjoy nachos without the guilt, put a twist on a classic recipe by using this skinny bell pepper nacho boat recipe. The taste is not far from your favorite Tex-Mex snack except for the chips. Using bell peppers instead of tortilla chips will make these appetizers healthier and probably better. These are also easy to put together. Scoop a turkey and salsa mixture in each bell pepper boat, top with cheese, and bake for 10 minutes!
If you're into healthy comforting #soup, this #recipe is exactly the right one for you!https://t.co/0T4AiCBG8O pic.twitter.com/2yQImzMAVx

— Homemade Recipes (@BestHomeRecipes) February 16, 2017
14. Mexican Street Corn Croquettes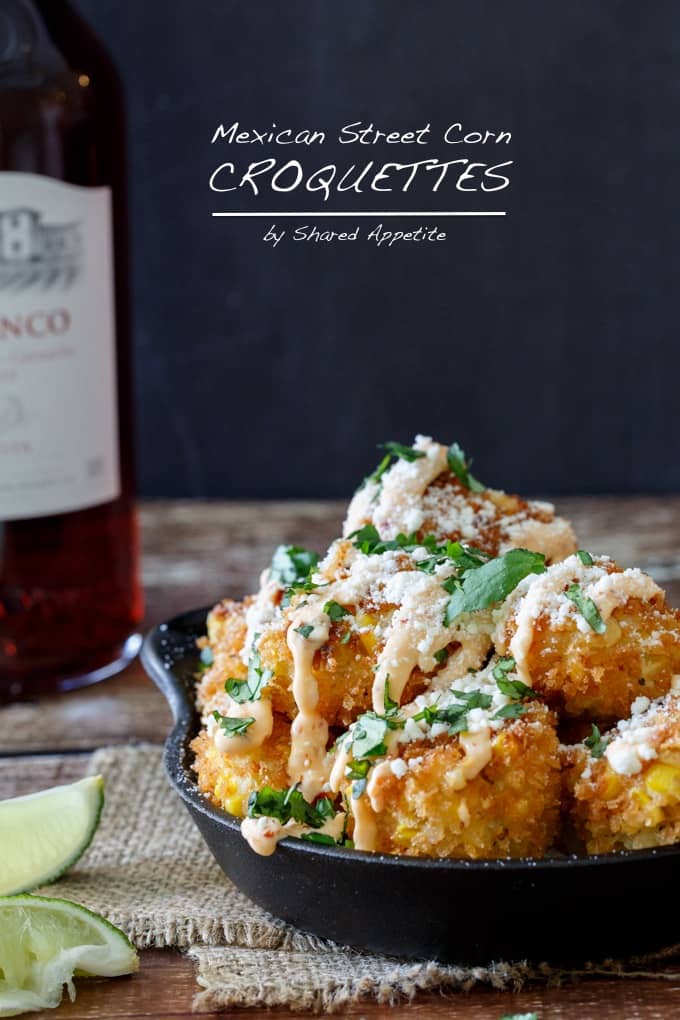 These croquettes are utterly addictive, especially with a delicious chili-lime cream. Luckily, this special sauce is easy to make, so you don't have an excuse to skip it. For the sauce, combine mayonnaise, sour cream, chili sauce, lime juice, garlic powder, sugar, and salt. Now you have the best sauce for these Mexican street corn croquettes. Yum!
15. Seven-Layer Mexican Dip
This 7-layer Mexican dip is surprisingly easy to make and it tastes oh so good. It's actually vegan, and no one will have any clue! What you have to do is to cook the soy crumble in olive oil, then blend the beans in a food processor. Once done, layer everything you have and make a 7-layer dip packed full of Mexican goodness. Serve this on a large platter, and make your family and guests the happiest people ever! Make sure you have an extra pack of chips!
Are you still looking for Mexican appetizer recipes? Watch this video from Laura Vitale and learn a simple recipe for homemade jalapeno poppers:

These Mexican appetizer recipes will make your next party the best day ever! Not only for special days, but these recipes are easy enough you can have them any time of the day. They're the perfect treats to start any meal. Try these recipes and put a Mexican touch in your feast!
Which of these Mexican appetizer recipes are you planning to try at home? Let us know in the comments section! For more Mexican recipes, you can also try this list of 14 Healthy Mexican Recipes.
Don't forget to keep in touch, foodies!
Also, make sure to follow us on Facebook, Instagram, Pinterest, and Twitter!