Want to learn how to cook red lentils? You can with this step by step tutorial!
How To Cook Red Lentils
How good does it feel to have a warm bowl of comforting, filling and wholesome food? Especially on cold, rainy days when all you can think about doing is being inside, snuggled under a blanket, eating delicious food, and watching movies all day? These are the days when it's great knowing recipes that will keep your warm and cozy, as well as taste delicious!
In this tutorial, you'll learn how to make red lentils. Red lentils are a great source of fiber and protein and are often used in Indian dishes such as dal, a soup made with red lentils and seasoned with classic Indian spices like cardamom, cumin, jalapeno, and turmeric. This step by step tutorial will teach you how to make red lentil soup – an easy, quick and comforting dish that you'll be reaching for on cold, rainy days.
The best part about red lentil soup is spicing it up with your own homemade hot sauce!

There are so many ways to enjoy red lentils, but dal (Indian spiced red lentil soup) is the most popular of them all. You can create different flavors and versions of the soup by changing the vegetables, stock and spices used. Let's get started on our journey towards heavenly, comforting dal!
Ingredients
1 cup of red lentils
2 spring onions or 1/2 medium white onion diced
1 tsp ginger, grated or paste
juice of 1/2 medium lemon
1/4 tsp cumin seeds
1/4 tsp coriander powder
1/4 tsp turmeric powder
1/4 tsp chili powder (optional)
1/2 tsp salt to taste
1 tbsp ghee or oil
4 cups water
1 green chili diced (optional)
Step 1 
For this recipe, you're going to need two pans – a medium-sized sauce pan and a medium-sized saute pan. First, get the sauce pan and set the fire to medium high then add 4 cups of water.
Step 2
Wash your red lentils before pouring them into the water in order to remove impurities and small rocks that are naturally found in items like lentils and beans. After washing, pour those little guys into your sauce pan.
Step 3
Add some salt to taste.
Step 4
Add the turmeric powder. Turmeric is one of the best spices you can use in any of your dishes. Turmeric has anti-inflammatory properties that help heal the body. It also adds a nice golden color to your food, and will even help in increasing it's shelf life!
Step 5
Put your ginger into the sauce pan and boil the red lentils on medium heat for about 15 to 20 minutes.
Step 6
On medium heat, heat up your saute pan and add some butter or ghee.
Step 7
Put the cumin seeds in and wait until they make a popping/spattering sound.
Step 8
Add the onions and saute them until they turn a light golden brown color.
 Step 9
Once your onions have turned golden brown, add in your coriander.
Step 10
Add some chili powder. You can put as much chili powder as you want depending on how strong and spicy you want your red lentil soup to be.
Step 11
Throw in your green chili and stir them into your onions and spices.
Step 12
Now, it's time to put the sizzling "tadka" into the red lentils.
Note: "Tadka" is a Hindi word that is used in Indian cuisine. Basically, spices and herbs are added one at a time to hot oil to make a flavorful "Tadka" which is then added into "dal" (any kind of legume, beans, peas, or lentils).
Step 13
Stir the tadka gently into the dal.
Step 14
We're on the last and most important part of the recipe! Squeeze half a lemon into the red lentil soup. Lemon is the secret ingredient and will help brighten up the flavors in your dal!
Congratulations! Now you can make your own red lentil soup at home! If you liked this tutorial, let us know in the Comments section below!
Watch the full tutorial by Easy Indian below! 
After finding out how easy it is to make red lentil soup, it is time to try different recipes out of this tasty comforting food. These red lentil soup recipes will make you spend more time in the kitchen working with those adorable red lentils.
Now that you know how to make basic red lentil soup, spend some more time with the dish by trying out these variations!
Red Lentil Soup Recipes
image via A Cedar Spoon
image via Maria Ushakova
image via Creative Culinary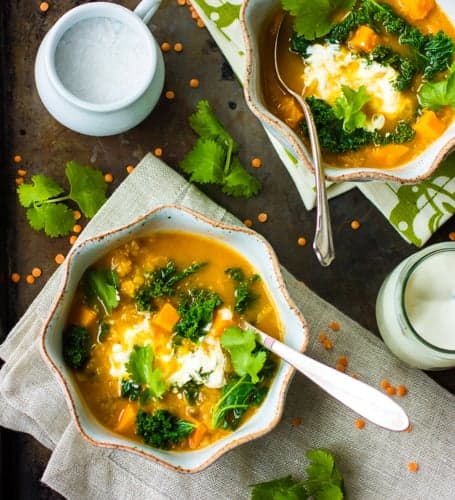 image via The Bojon Gourmet
image via Saveur
Related Posts: 
Don't forget to keep in touch, foodies!
Sign up for our daily newsletter here!
Have Instagram? Don't forget to follow @HomemadeRecipesOfficial.
Click here to Like Us on Facebook.
Click here to Follow Homemade Recipes on Pinterest