Combat the winter chill with this list of easy stew recipes. These recipes are too easy not to try and too comforting not to cook tonight!
As the weather gets colder by the day, keep busy in your kitchen and cook some hearty meals for your family. This way, you can create delicious and comforting meals to keep you warm and cozy. You can't always have your mom cook for you, so it's always nice to master some easy recipes to help you survive the remaining cold winter days (and nights). And the chilly weather won't stop me from completing my list of the tastiest and the easiest stew recipes which I am too stoked to share with my foodie friends and family. This list includes easy beef stew, vegan stew, creamy chicken stew, and more! It's pretty cold out these days and aside from coffee and hot tea, I know these stew recipes are what you really need!
11 Easy & Scrumptious Stew Recipes To Try At Home!
Unlike soups, stews are way thicker and richer, with more complex flavors. They are both warming, but a stew will give you intense comfort as the weather gets cooler. Stews are also the ultimate winter comfort food and cooking them are easier than you think. During this season, we must be equipped not only with thick winter clothes but also with meals to keep us toasty, just like these easy and scrumptious stew recipes. Warm up with one of these soothing stews and make the cold weather bearable!
1. Beef and Guinness Stew
Beef and Guinness stew is a flavorful dish with tender beef chunks slow cooked in a rich sauce infused with Guinness beer. It's a delicious dinner meal that pairs well with steaming hot rice or mashed potatoes.
2. Fish Stew
This fish stew uses white fish such as cod and halibut. Any kind of shellfish also works well with this recipe. It's such a tasty stew that can be made in 30 minutes or less!
3. Sausage White Bean and Kale Stew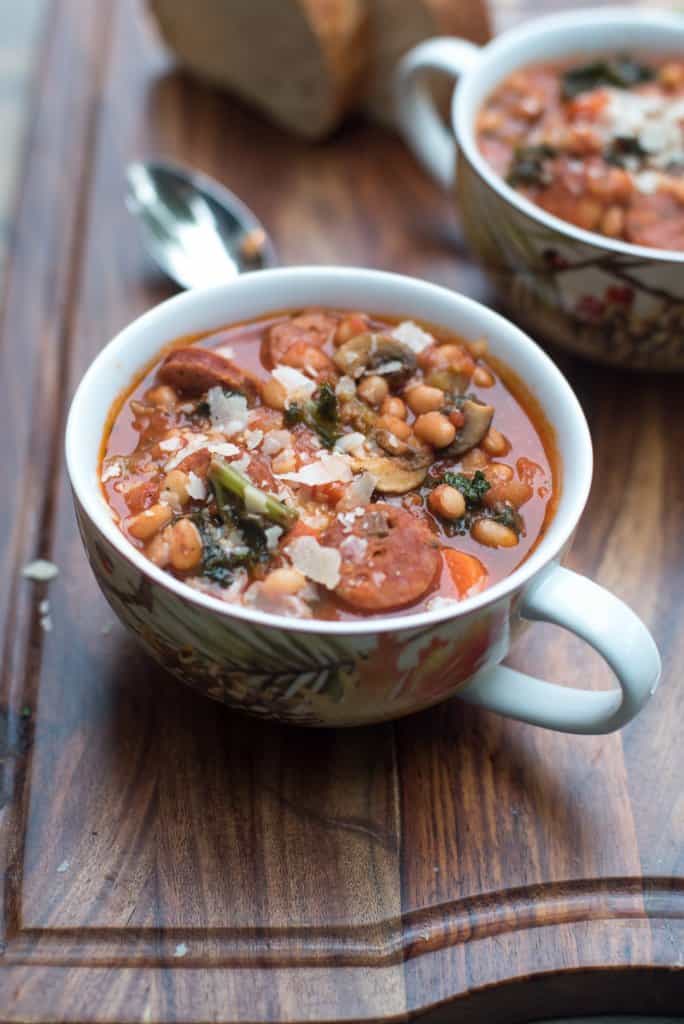 A comforting stew loaded with sausages, white beans, kale, and more extra veggies such as mushrooms, carrots, and celery. Serve this with some shaved Parmesan cheese for a nice finishing touch.
4. Mexican Vegan Vegetable Stew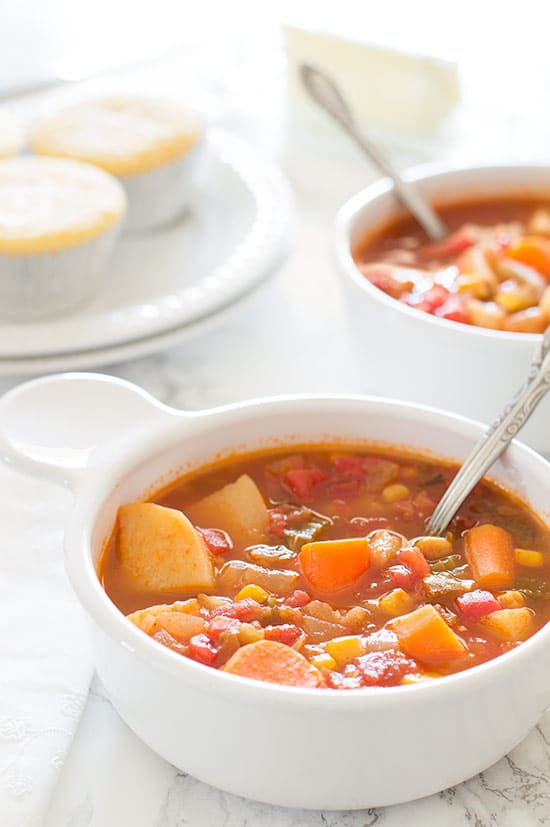 Dig into this mildly-spiced tomato-based stew chock-full of veggies. This Mexican vegetable stew makes the perfect addition to your diet as a filling lunch or a healthy, low-calorie dinner.
5. Chicken Shrimp & Sausage Gumbo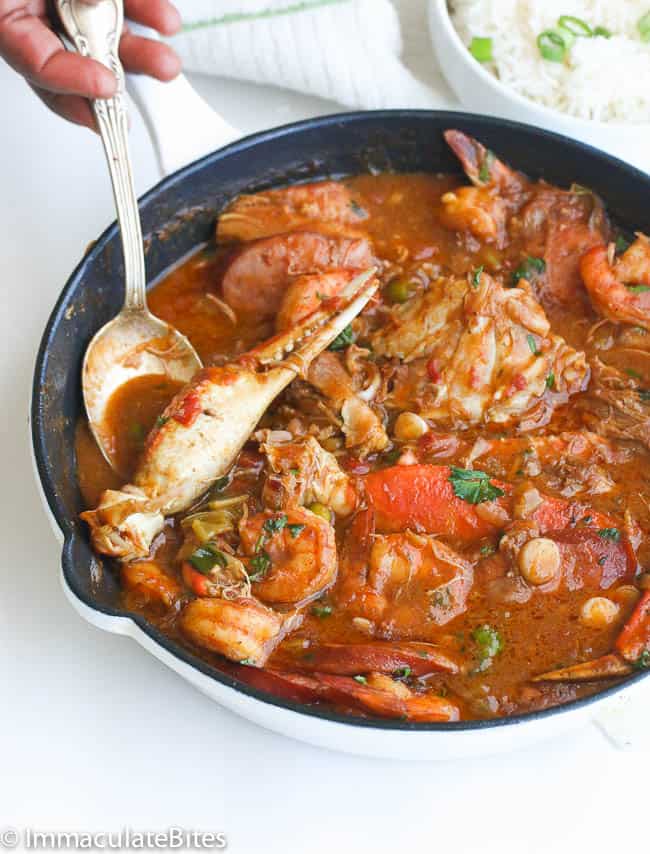 This stew is the perfect dish to satisfy your seafood cravings. It also includes sausages and chicken but what makes it over the top are the shrimp and crab legs that give this stew an authentic seafood taste.
6. Slow Cooker Healthy Chicken Pot Pie Stew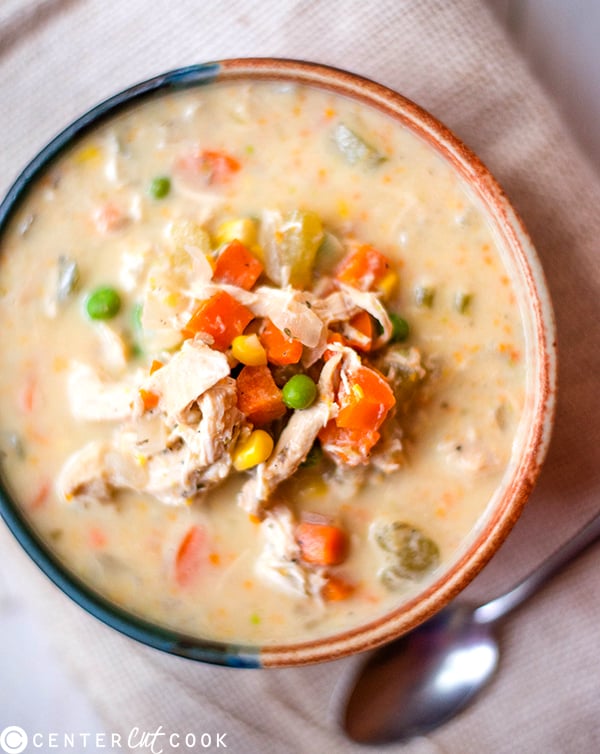 Your crockpot always comes in handy especially when the winter season hits. It doesn't just make your life easier, it also brings forth a delicious and hearty meal just like this chicken pot pie stew.
7. Slow Cooker Chunky Beef & Potato Stew
Cuts of beef and potatoes nicely covered with a thick and rich sauce. A mild kick from paprika also makes this stew more delish. If you love meat and spicy dishes, then head to your kitchen and whip up this warming meal.
8. Crock Pot Creamy Chicken Stew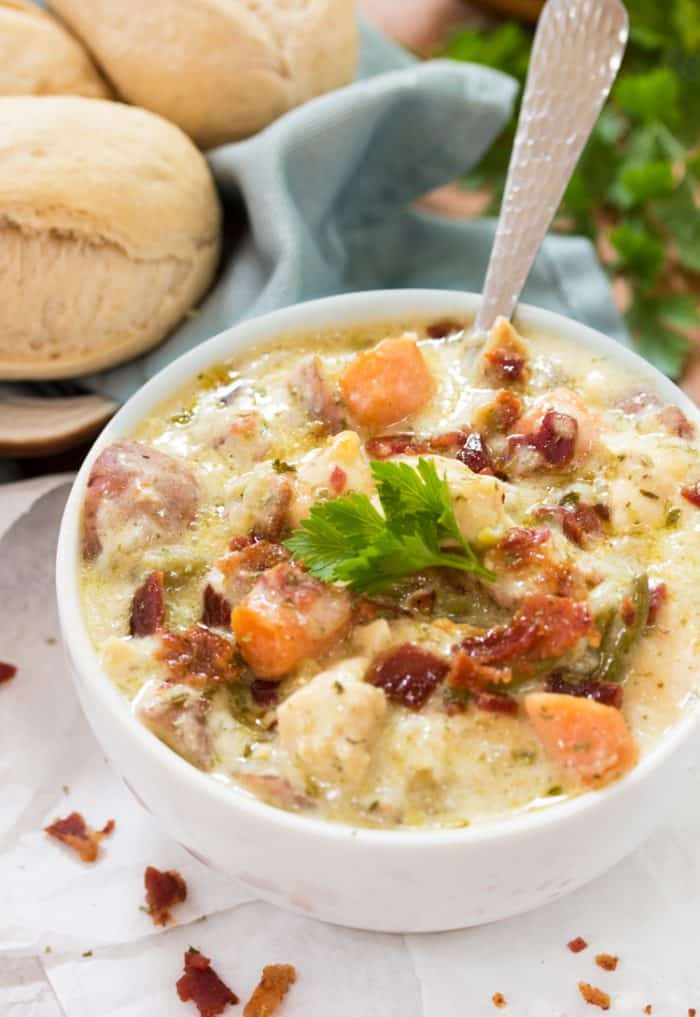 Get cozy with a bowl of this extra creamy chicken stew recipe. This meal pairs well with biscuits or a hunk of bread. You can also cook this on the stovetop and it's ready in as quick as 40 minutes!
9. Spanish Chickpea and Spinach Stew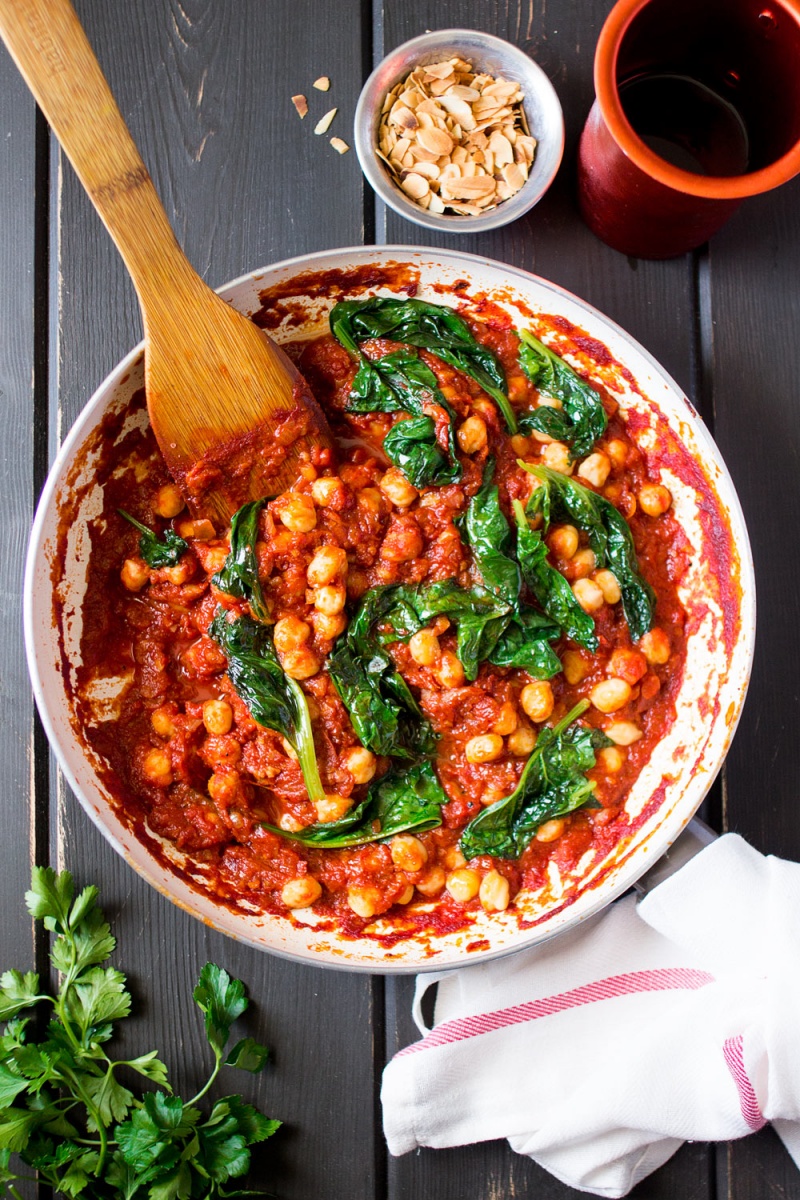 Withstand the cold weather with this healthy and comforting stew loaded with chickpeas and spinach. This stew reminds me of my sister, who's a hardcore chickpea lover. I'm sure she'll love this stew as much as I do!
10. Easy Brunswick Stew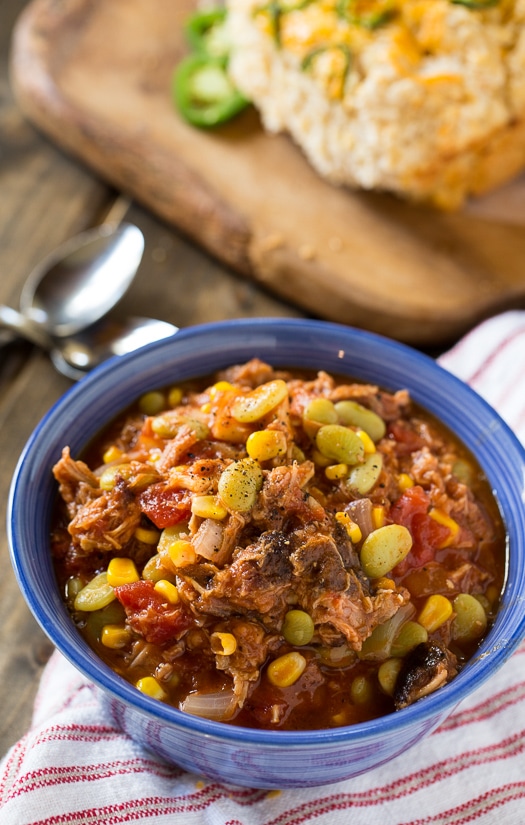 Savor and enjoy this traditional Southern favorite in the comfort of your home. No squirrel meat added, just pulled pork and chicken! It tastes guiltless and way better!
11. Beef and Butternut Squash Stew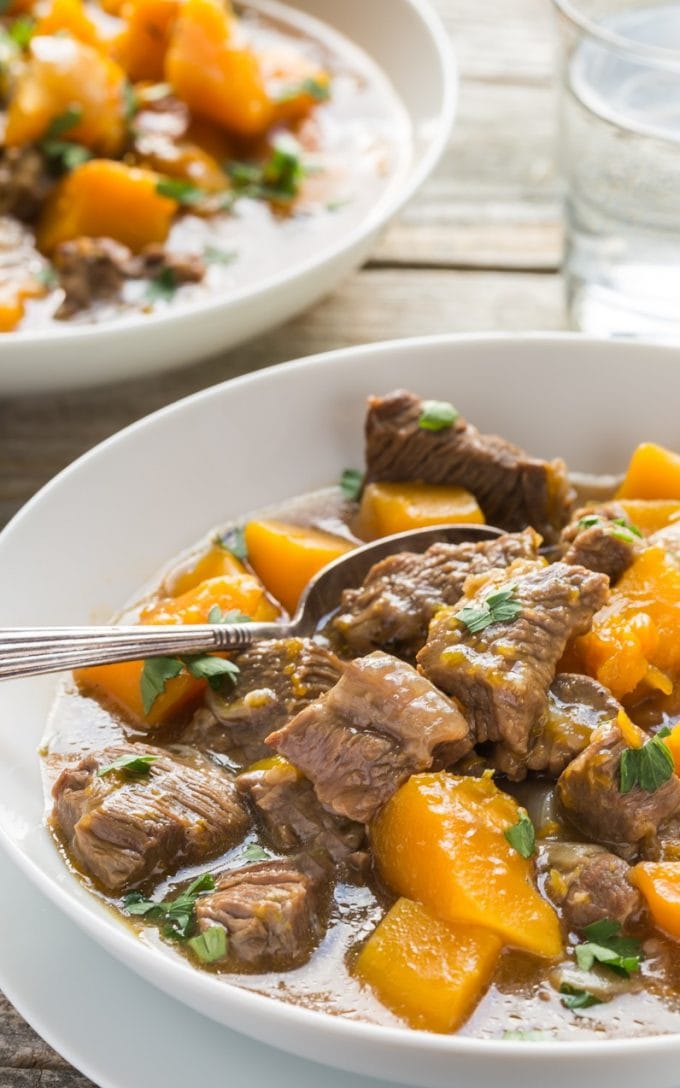 Got some squash in your pantry? Why not try this easy recipe and enjoy a warm bowl of beef and butternut squash with your family? It's tasty with a subtle sweetness you'll enjoy!
Watch this video from Laura Vitale and learn how to cook a classic beef stew the easy way:

Now you have easy and tasty stew recipes to help you withstand this chilly season. Some of these are crock pot recipes which make it more convenient and fuss-free. These stews are hearty and extremely comforting! They're infused with incredible spices and packed with unique flavors from beef, chicken, seafood, and vegetables. Try any of these easy stew recipes to make the cold weather bearable!
What do you think of these easy stew recipes? Which recipes are you planning to try? Share your experience with me in the comments section below. You might also love these 17 Italian Soup Recipes To Make You Manage Chilly Nights!
Don't forget to keep in touch, foodies!
Sign up for our newsletter here!
Also, make sure to follow us on social media too: