Look at these amazing Christmas cupcake ideas for you to enjoy the holiday season. All of these cupcakes are fun to decorate so you're sure to love them!
When was the last time you enjoyed a moist and delicious cupcake? I just finished mine two hours ago. Honestly, I can eat a basket of cupcakes all day long. They're so good and filling enough for me not to crave anything but just cupcakes. This Christmas, I want to change things up. Instead of whipping up a simple cupcake recipe, I want to make them fancier and more festive. I'm glad I found great Christmas cupcake ideas to help me impress my family and guests. Aside from candies, cupcakes are definitely one of the sweetest ways to please any crowd, especially during the holiday season.
Top 10 Christmas Cupcake Ideas!
Christmas is just around the corner and that means your children are ready for presents, chilly nights at the ice rink, snowballs, and delicious desserts. Instead of just making the same ol' treats, why not try making something a little more festive? Christmas cupcakes! You don't have to worry. Here are ten of the best Christmas cupcake ideas to get you started. Despite their intricate appearances, all of the cupcakes in this list are pretty easy to make, so try them out at home! It won't be Christmas without them.
1. 
Chocolate Christmas Tree Cupcakes with Cream Cheese Frosting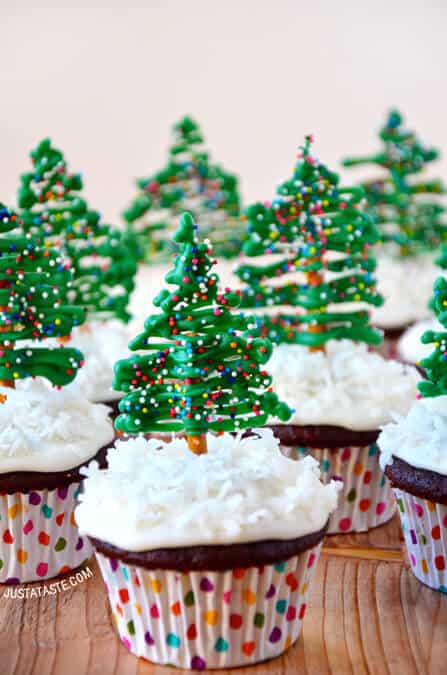 Making your own creative cupcake is much more fun than buying basic ones at the grocery stores. These moist cupcakes with cream cheese frosting and an edible Christmas tree topper look amazing!
2. Cranberry Orange Cupcakes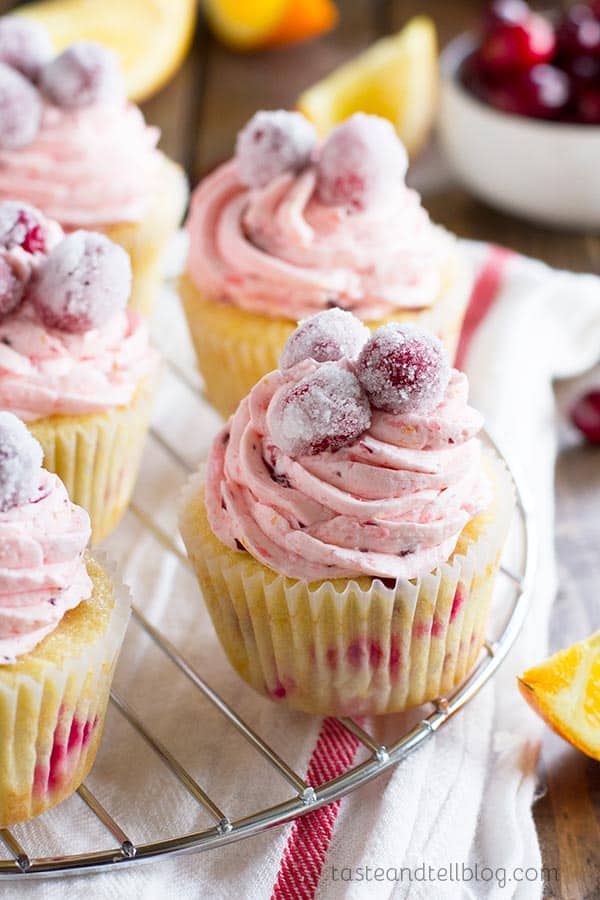 How can you not like these cupcakes? These are overloaded with cranberries. Aside from the fresh berries, these are topped with buttercream silky cranberry orange buttercream and sugared cranberries. These can't be anything but fabulous! 
3. 
Gingerbread Cupcakes with Caramel Molasses Cream Cheese Icing
These Christmas gingerbread cupcakes are so moist and pillowy, plus they have caramel, molasses, and cream cheese flavors you won't be able to resist.
4. 
Spiced Apple Cider Cranberry Cupcakes
You'll find happiness in these soft, decadent apple cider cupcakes with apple cider cranberry sauce filling. All topped with a yummy swirl of cream cheese frosting.
5. 
Rudolph the Reindeer Cupcakes
It's Christmas season so if cupcakes are on your list, don't forget to put Rudolph's face on them because you wouldn't want Rudolph to be left out, right? Try this recipe and enjoy the most adorable cupcake you'll ever have!
6. 
Snowflake Cupcakes
Do you want a Christmas cupcake with a pristine and a classy look? How about this chocolate cupcake that looks so fresh and flawless with its sky blue frosting, royal icing snowflakes, and dainty sprinkles.
7. 
Christmas Swirl Cupcakes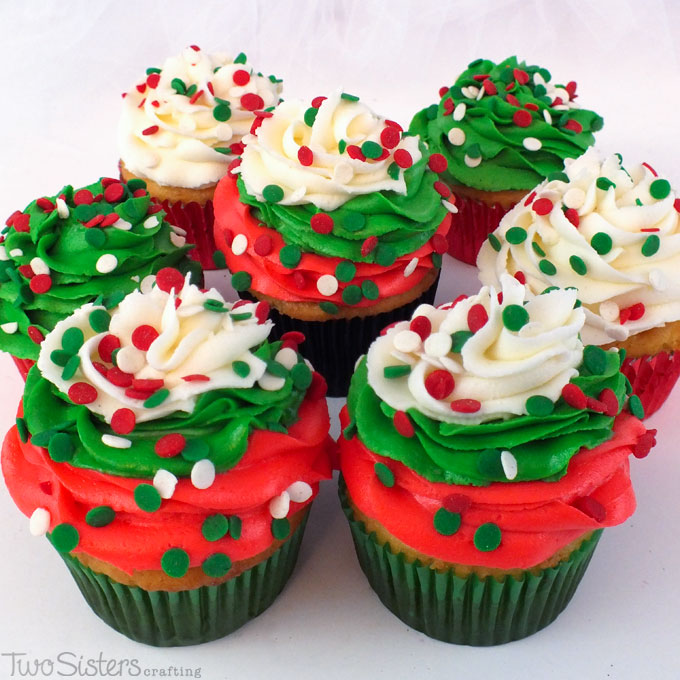 Feel the holiday with these Christmas swirl cupcakes with intense layers of colors which are really fun and joyous to look at! It doesn't get any more festive than this!
8.
Christmas Santa Cupcakes
Santa Claus is coming to town. In cupcake form! And just like in real life, these Santa cupcakes will bring joy and pure happiness to everyone, most especially to the kids.
These dark chocolate recipes are beyond rich. You'll never go back… 🍫 https://t.co/Ivtcp5Kg7d pic.twitter.com/uLwWQdvQbd

— Homemade Recipes (@BestHomeRecipes) November 10, 2016
9. Candy Cane Christmas Cupcakes
Who knew these delicious candy cane Christmas cupcakes were vegan?! Yes, these eggless cupcakes are made even better with dairy free frosting and crushed candy canes.
10. 
Santa Hat Cupcake
Prepare yourself and your baking tools. Make sure to get that swirl right because these Santa hat cupcakes are sure to be a big hit this Christmas.
Want more awesome ideas for Christmas cupcakes? Here are 3 more delicious recipes you can try from Jemma of Jamie Oliver's Food Tube:

With all these clever Christmas cupcake ideas, you will surely have the most beautiful addition to your Christmas buffet. Just like cakes and candies, cupcakes do have a special spot in every Christmas celebration. Any of the ideas on this list will for sure catch everyone's attention on Christmas Day. They all look stunning! Aside from the beauty they portray, they are sure to give you the sweetest and most delicious cupcake experience ever!
What do you think of these Christmas cupcake ideas? Which ideas are you planning to try? Read these 25 Savvy Baking Hacks Every Baker Should Know to enhance your baking skills. Share your experience with us in the comments section below.
Don't forget to keep in touch, foodies!
Sign up for our newsletter here!
Also, make sure to follow us on social media too: