Looking for awesome Memorial Day recipes to make for your family get-together? We have 19 of the tastiest BBQ and grill recipes to make this Memorial Day! 
19 Memorial Day Recipes to Fire Up Your Grill With
Nothing goes better with grilled chicken and beef than homemade BBQ sauce. Make a sauce that's unique to you with this awesome kit from our friends at Grow and Make!

When it comes to Memorial Day, the best way to spend it is with friends and family either at the park or in your backyard and enjoying some delicious bbq and fresh food together. These BBQ and grill recipes will be guaranteed hits, making this holiday the best one yet.
1. Root Beer Can Chicken
image via
This chicken recipe is not only gluten-free, but made with root beer! This chicken has a super crispy skin with tender meat that is perfect for bringing relatives and friends together in content culinary unison.
Ingredients
3-4 lb chicken, neck and giblets removed
1 can root beer
grapeseed oil (or vegetable or canola oil)
For the rub:
1 Tablespoon garlic powder
3/4 Tablespoon salt
1/2 Tablespoon pepper
2 teaspoons smoked paprika
2 teaspoons onion powder
1 teaspoon dried thyme
1/2 teaspoon cayenne pepper
2. BBQ Corn on the Cob
image via
Grilled corn is just the best vegetable dish ever and the perfect side to bring to any BBQ or picnic. The BBQ rub adds nice heat to the smokiness of the corn, making this dish eye-rollingly good (you know what I'm talking about).
Ingredients
Corn
Walnut oil (any oil you prefer)
spicy BBQ rub
foil to wrap the corn
3. Grilled Halibut Tacos with Peach Salsa
image via
Halibut is a fairly fool-proof fish to cook making this a great option for outdoor get-togethers. The peach salsa goes perfectly with the halibut, creating a well-rounded dish that is sweet, savory, and totally perfect for Memorial Day.
Ingredients
1 pound halibut filets
8 corn or flour tortillas (whatever floats your boat)
For the marinade:
2½ tablespoons fresh lime juice
2 tablespoons tequila
clove garlic, minced
¼ teaspoon kosher salt
Fresh ground pepper to taste
For the Peach Salsa:
2 ripe peaches, peeled and diced
2 tablespoon minced red bell pepper
2 tablespoons minced red onion
1 tablespoon minced jalapeno
1 tablespoon chopped fresh cilantro
1½ tablespoons fresh lime juice
Salt to taste
4. Grilled Chicken with Mom's Barley Corn Salad
image via
You would think that the grilled chicken in this recipe steals the show, but that barley corn salad, man… It's sweet, tangy, and the perfect texture for taking huge bites out of.
Ingredients
4 chicken breasts
3/4 cup medium barley or brown rice to make gluten-free
2 cups fresh or frozen-then-thawed sweet corn kernels
1-1/2 cups halved cherry tomatoes
1/2 cup minced red onion
4 slices bacon, chopped then chopped
1 avocado, chopped
salt & pepper
For the Tomato Vinaigrette:
1 cup halved cherry tomatoes
1 clove garlic
3 Tablespoons extra virgin olive oil
2 Tablespoons water
1 Tablespoon red wine vinegar
1 Tablespoon lemon juice
1 Tablespoon red onion
salt & pepper
5. Grilled Jalapeno Turkey Burger
image via
The turkey burger is a healthier alternative to beef patties (although, that said, it is Memorial Day so you probably shouldn't be counting your calories) and a great option if you have any health-conscious party attendees. This turkey burger was a spicy kick from the jalapeno that is appetizing and maybe even a little addictive.
Ingredients
1 pkg (20 oz each) lean ground turkey
4 green onions, thinly sliced
2 tablespoons chopped nacho jalapeño peppers or mild green chilies
1 teaspoon Worcestershire sauce
1 clove garlic, minced
1/4 teaspoon salt
1/8 teaspoon ground black pepper
5 hamburger buns or onion Kaiser rolls, split, warmed on grill
6. BBQ Ribs with Blackberry Sauce
image via
We posted an amazing chicken wing recipe with blackberry sauce and now this is the main dish complement! These BBQ ribs are still smoky and rich, with some added sweetness from the blackberry sauce that helps tie all the flavors together. Basically, what we're trying to say, is that this recipe is absolutely delicious and one you should make soon. If not, now!
Ingredients
1 (4 to 5 pound) Rack Pork Spareribs
1½ cups Fresh Blackberries
¼ cup Honey
¼ cup Ketchup
¼ cup Packed Brown Sugar
1 tablespoon Minced Fresh Ginger
1 garlic clove minced
1 teaspoon Pepper
Salt to Taste
½ teaspoon crushed red pepper (optional)
7. Grilled Avocado with Roasted Tomatoes
image via
Why wouldn't you grill avocados?! Sure, we never have, but now that we've seen this recipe we will now! This is the perfect light and refreshing dish to make for any vegetarian/vegan guests.
Ingredients
3 avocados
3 limes, cut in wedges
1-1/2 cup grape tomatoes
1 cup corn, fresh or frozen
1 cup onion, chopped
3 serrano or jalapeno peppers
2 garlic cloves, peeled
1/4 cup cilantro leaves, chopped
1 tbsp olive oil + more for avocados
himalayan salt, to taste
ground black pepper, to taste
black beans (optional)
8. Chipotle-Mango BBQ Chicken Salad
image via
The holy triumvirate of flavor, chipotle, mango and BBQ come together to create a beautifully sweet, yet still light, dish. This salad is perfect for kicking off your party with. Just make sure to leave room for the meat!
Ingredients
For the Chipotle-Mango BBQ Sauce:
1 mango, chopped
1 chipotle pepper in adobo sauce, plus 2 teaspoons adobo sauce
1/2 cup ketchup
1/2 cup apple juice
1/4 onion, chopped
4 cloves garlic, smashed and peeled
Juice from 1/2 lemon
2 Tablespoons unseasoned rice vinegar
2 Tablespoons brown sugar
1 Tablespoon canola oil
2 teaspoons paprika
2 teaspoons salt
1 teaspoon black pepper
For the dressing:
2 Tablespoons prepared Chipotle-Mango BBQ Sauce
2 Tablespoons plain Greek yogurt
1-2 teaspoons lime juice (maybe more, maybe less)
salt & pepper
For the salad:
2 chicken breasts
2 ears sweet corn, shucked
1 vine-ripened tomato, cut into wedges
1/4 cup chopped cilantro
1 bag Dole Romaine Salad mix
9. Grilled Maple Dijon Pork Chops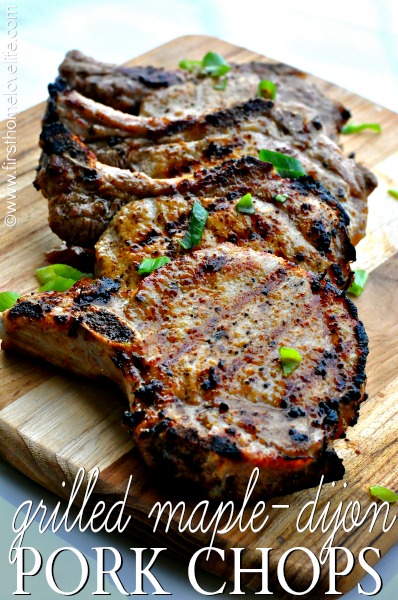 image via
These juicy pork chops are perfect when grilled and one of the best things I have ever tasted in my life. Without a doubt. That's the only introduction this recipe needs.
Ingredients
1/4 cup grainy Dijon mustard
1/4 cup maple syrup
2 tablespoons brown sugar
2 chopped garlic cloves
1 chopped shallot
1 teaspoon each salt, pepper, and thyme
drizzle of light oil like grape seed or similar
10. Mushroom, Onion & Swiss Burger
image via
I love sauteed mushrooms in my burger! Then you throw in melted Swiss cheese with caramelized onions and I am in heaven. This burger is like happiness in a bun. Serve and bask in the beauty of the day.
Ingredients
2 Tbsp butter
4 oz white mushrooms, sliced
1/2 medium onion, sliced thin
2 garlic cloves, minced
1 lb lean ground beef (85/15 or 90/10)
2 tsp Worcestershire sauce
2 tsp kosher salt
1 tsp ground black pepper
4 slices Swiss cheese
4 hamburger buns
mayonnaise, optional
11. Spicy Pineapple Chicken Kabobs
image via
These kabobs are simple to make and packed with juicy delicious flavor! Pineapple and chicken were just made for each other and this little treat on a stick proves just that. Warning to the overenthusiastic: this recipe is so good you'll want to keep taking chomps and chomps out of it. Just be careful not to stab yourself in the mouth!
Ingredients
1 pound package of Gold'n Plump All Natural Boneless Skinless Chicken Breast Portions
1 bag of mini orange, red and yellow peppers
1 onion
20 oz can pineapple chunks, pineapple juice reserved
Pineapple Marinade:
¼ cup pineapple juice
2 tablespoons soy sauce
3 tablespoons honey
2 tablespoons vinegar
1 teaspoon sesame oil
¼ teaspoon ginger
¼ teaspoon garlic powder
2 tablespoons olive oil
Pineapple Grilling Sauce:
½ cup pineapple juice
2 tablespoons honey
1 tablespoon sriracha sauce
1 tablespoon olive oil
1 teaspoon soy sauce
12. Barbecue Pork Chops with Grilled Peaches
image via
Fruits like peaches and pineapples were meant to be grilled and paired with delicious meats like pork chops. This BBQ recipe brings the best of both worlds creating a dish that is as American as it gets. Well, American with a gourmet twist.
Ingredients
For the Sauce:
¼ cup brown sugar
¼ cup ketchup
1 tablespoon Worcestershire sauce
1 tablespoon soy sauce
For the Pork:
4 (6 ounce) bone-in center-cut pork chops
¾ teaspoon dried thyme
¾ teaspoon garlic salt
¼ teaspoon ground red pepper
For the Peaches:
4 peaches, halved and pitted
2 tablespoons butter, melted
2 teaspoons sugar
½ teaspoon cinnamon
13. Lemongrass and Sriracha Grilled Shrimp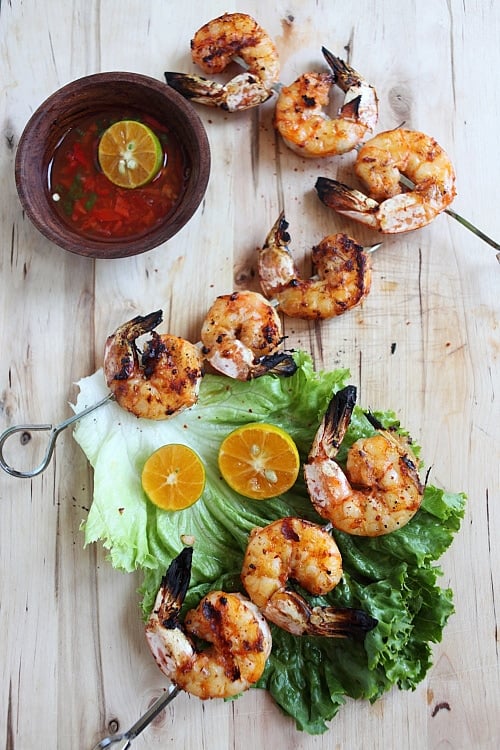 image via
East meets West in this delicious grilled sriracha and lemongrass shrimp dish. Sriracha never disappoints so you can bet your bottom dollar this dish won't disappoint either. (Bet your bottom dollar? Did we really just say that?)
Ingredients
1 lb tiger prawn or jumbo prawn, peeled, deveined, tails intact
6 metal skewers or bamboo kewers (soak in water before using)
Oil, for brushing
For the Marinade:
2 tablespoons fish sauce
1 lemongrass, white part only, grated
1 tablespoon powdered sugar
1 teaspoon Sriracha
1 (big) clove garlic, finely minced
Chili-Calamansi Dipping Sauce (optional):
1 1/2 tablespoons chili garlic sauce
1 tablespoon water
1/2 tablespoon chopped cilantro leaves
1 small calamansi, extract the juice (or 1 wedge lime)
14. BBQ Chicken Cobb Salad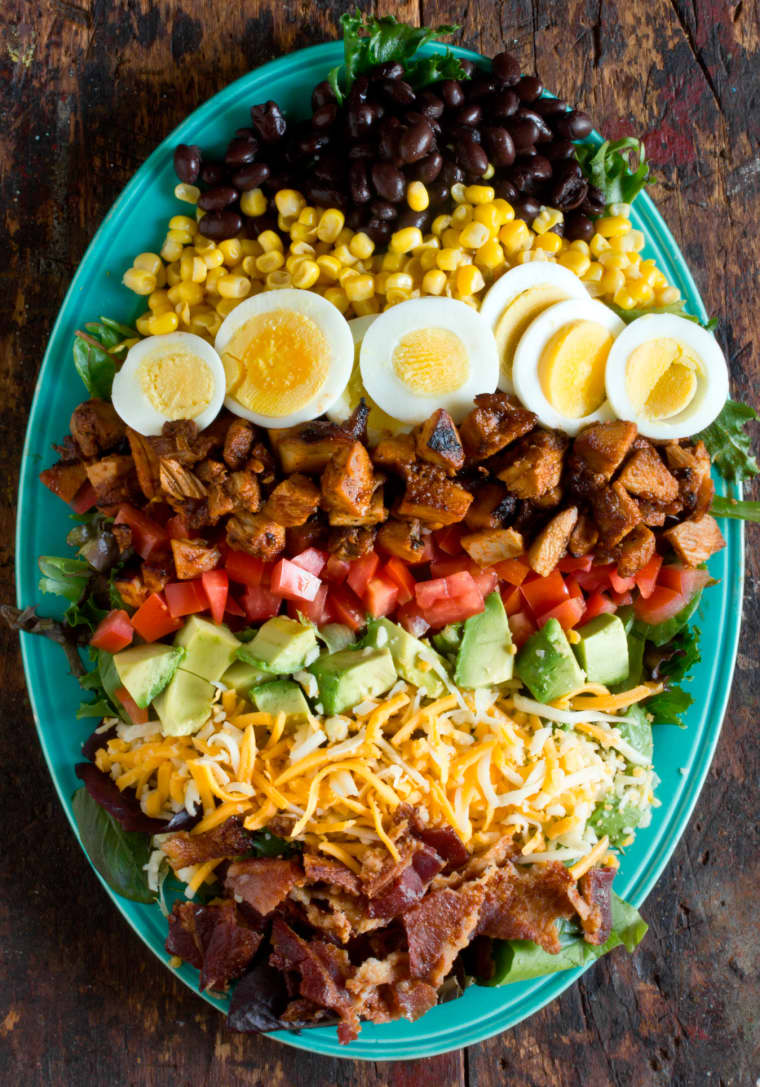 image via
Cobb salad is known everywhere. By everyone! It sets itself apart from most salads in that cobb salad is fun. I mean, there is cheese and bacon in this salad! How is that not fun and likeable? For variety and options, this is the perfect salad recipe to make or bring and goes well with the other BBQ dishes you have planned! At least now you can say you ate some fruits and veggies.
Ingredients
2 cups cooked, diced chicken
Favorite barbecue sauce, to taste
2 cups mixed salad greens
6 strips bacon, cooked and crumbled
3 hard-boiled eggs, peeled and crumbled
2 roma tomatoes, seeded and chopped
1 ripe avocado, cubed (or guacamole)
1 (15-ounce) can black beans, rinsed and drained (or 1 1/2 cups fresh beans)
1 (15-ounce) can yellow corn, drained (or 1 1/2 cups fresh or frozen corn)
1 cup grated cheddar and/or monterey jack cheese
Favorite ranch and/or honey mustard dressing, to taste
Kosher salt and freshly ground black pepper, to taste
15. Grilled Fish Tacos with Lime Cabbage Slaw
image via
The marinade, cabbage slaw and avocado slices give this dish all the right flavors. These tacos are so good, even those opposed to fish will be tempted to have a bite. Or a taco; we'll see what happens.
Ingredients
For the Tacos:
1 lb Tilapia, cod or mahi mahi fillets
2 Tbsp canola oil
1 1/2 Tbsp fresh lime juice
1 clove garlic, minced
1 1/2 tsp chili powder
1/2 tsp ground cumin
1/2 tsp ground paprika
1/8 tsp cayenne pepper (optional)
Salt and pepper
6 corn or flour tortillas
1 large hass avocado, sliced
Sour cream, cotija cheese, hot sauce or salsa, for serving (optional)
For the Slaw:
1/2 small red cabbage, cored and sliced thin (8 oz)
1/4 cup cilantro, chopped
3/4 cup thinly sliced red onion (run under cool water and drain to remove harsh bite. 1/2 small red onion)
1 1/2 Tbsp lime juice
1 Tbsp canola oil
16. Curry Grilled Vegetables with Chickpeas and Creamy Polenta
image via
Curry + Polenta + Chickpeas = AH-MAY-ZING! This dish is ultra filling and filled with ingredients that are good and good for you! See, who says meat has to have all the fun at BBQs?
Ingredients
For the Polenta:
2 cups water
2 cups vegetable broth
¼ teaspoon sea salt
1 cup polenta
2 tablespoons butter
For the Vegetables:
1 medium zucchini
1 red pepper
1 tablespoon olive oil or melted coconut oil
2 to 3 teaspoons curry powder
½ cup cooked chickpeas, drained and rinsed
Feta and cilantro, garnish
17. BBQ Margarita Chicken Tostadas with Sweet Jalapeno Margarita Salsa
image via
These tostadas are a recipe perfect for all occasions, even Monday nights after a long day at work. One bite and you'll be transported to Mexican cantina heaven. (Margaritas not included.)
Ingredients
BBQ Margarita Chicken:
1 pound boneless skinless chicken breast
1 tablespoon olive oil
1 cup of your favorite BBQ Sauce
2 tablespoons tequila (optional)
2 teaspoons lime zest
2 teaspoons orange zest
1 lime, juiced
1 clove garlic, minced or grated
1 jalapeño, seeded + finely chopped
1 teaspoon cumin
1/2 teaspoon salt + pepper
For Sweet Jalapeno Margarita Salsa:
1 (14.5 ounce) can fire roasted diced tomatoes, drained
3/4 cup mango, finely diced (pineapple, peaches, nectarines or really any other fruit would also work)
2 jalapeños, seeded + finely chopped (use 1 for less heat)
2 green onions, chopped
1/2 cup fresh cilantro, chopped
1 teaspoon lime zest
1 teaspoon orange zest
1 lime, juiced
2 tablespoons tequila (optional)
good pinch of salt
For serving:
4-8 corn tortillas
canola oil
1 batch Mexican Fries
1 avocado, mashed with a pinch of salt, pepper and chopped cilantro + lime juice
1/4 cup fresh cilantro
greek yogurt or sour cream
queso fresco or cotija cheese, crumbed
18. Grilled White Pizza
image via
This recipe will make you wish Memorial Day BBQs were an everyday thing! Yes, you can grill pizza and yes, it is absolutely amazing! Instead of the traditional white ricotta sauce, this recipe uses goat cheese and parmesan to create a pizza that melts in your mouth with every bite.
Ingredients
1 pound store bought pizza dough
3 tablespoons olive oil
2 cloves garlic, finely chopped
1 cup fresh mozzarella
¼ red onion, super thinly sliced
¼ cup crumbled goat cheese
Shreds of Parmesan cheese
Fresh baby leaves of basil
Caramelized Mushrooms
19. Grilled Peppers and Italian Sausage
image via
Good god, this Italian sausage smells amazing when cooked! This dish may seem simple, but the flavors are truly outstanding and the perfect addition to a meat-filled menu.
Ingredients
3 Bell Peppers, sliced
1 tablespoon of our house seasoning (equal parts salt, black pepper, garlic powder and smoked paprika)
2 tablespoons of olive oil
Italian sausage
These Memorial Day recipes are guaranteed to make your holiday even more fun, festive, and filled with compliments to the chef. Have fun this Monday and don't forget to honor the sacrifices our vets have made! Happy Memorial Day 2015! 
Still planning your Memorial Day menu? Check out these 24 Memorial Day Side Dishes, Refreshing Lemonade Recipes and 20 Homemade Sodas Your Family Will Love! 
That's all, folks! If you enjoyed these 19 Memorial Day Recipes ideas, let us know in the Comments section below. We love hearing your feedback and comments; we also love sharing, so if you have a recipe you love making on Memorial Day, we'd love to read about it and try it out ourselves! HomemadeRecipes.com was founded to create an online community where foodies and chefs can share recipes and learn new ones! We need your help, however, in creating this community where you can come, share and learn. If you love to cook, love food or have some great recipes and ideas you'd like to share with us, shoot us an email and make sure to stay in touch on Facebook, Twitter, and Pinterest! We're always looking for contributors and would want to hear from you.
Do you have Instagram? Don't forget to follow @HomemadeRecipesOfficial.
Click here to Like Us on Facebook.
Click here to Follow Homemade Recipes on Pinterest