Fall is here and we've got 10 fruits and veggies that are in season!
List Of Vegetables & Fruits In Season (With Recipes!)
We're so glad fall is finally here because with it comes Pumpkin Spiced Lattes, colder days, beautiful colors, and this list of vegetables and fruits that are in season! (The honeycrisp apple is back!)
Get excited about fall and start whipping up these delicious recipes now!
1. Honeycrisp Apples
Sure, apples are available year-round, but it's during the autumn season that you can get the best apple variety there is: honeycrisp! Honeycrisp apples are an ultra crisp and super sweet cultivar that was developed by the University of Minnesota. They even became the official state fruit in 2006!
image via The Cozy Apron
Check out this amazing savory chicken salad with candied walnuts and honeycrisp apple recipe!
Get the recipe here.
2. Quince
Quince tastes and looks like a cross between an apple and pear but, unlike its fruit counterparts, is inedible when raw. Once cooked, quince develops a grainy texture similar to a pear. It's only available 3 months out of the year, so if you see these little babies at your local grocery store, be sure to get some and try them out in sweet or savory recipes!
image via Simply Delicious Food
We recommend trying it out in this sweet quince tarte tatin with chantilly cream recipe.
Get the recipe here.
3. Mushrooms
Mushrooms are available year-round, but taste best during the fall. Oyster mushrooms, also known as the "designer mushroom" because of the multiple ranges of color they come in, have a sweet, yet versatile taste that go well as an accompanying flavoring agent or as the star of your dish.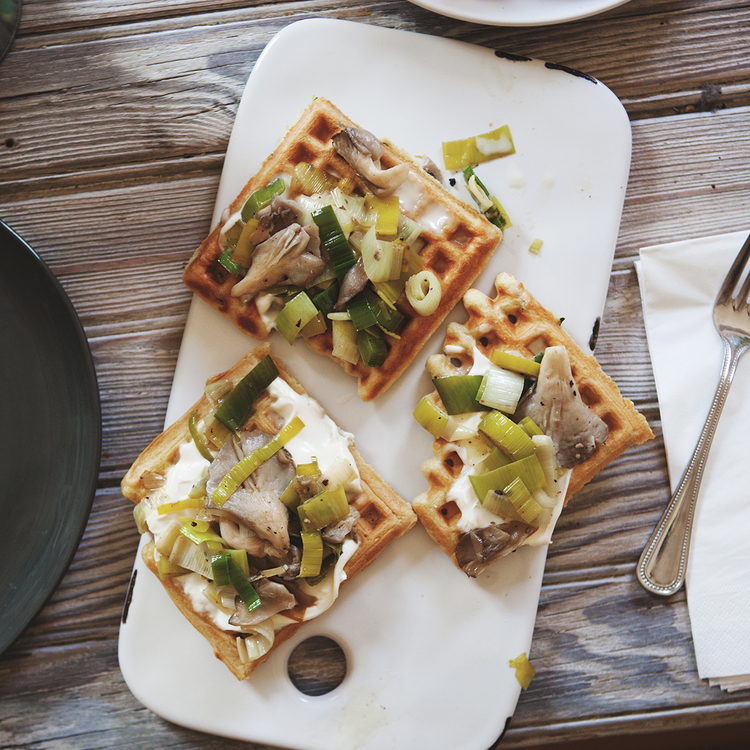 image via A Better Happiest Sebastian
Try oyster mushrooms in this chive waffle tartine with oyster mushrooms and leeks recipe.
Get the recipe here.
4. Winter Squash
It's the return of winter squash! Squash is one of the most exciting vegetables to hit the produce shelves in fall. When selecting squash, look for one that is solid and heavy with a stem that has a corky feel. You also want one with a vibrant, matte finish.
image via Natural Comfort Kitchen
Celebrate fall's arrival with this deliciously comforting butternut squash gratin recipe.
Get the recipe here.
5. Shallots
Ah, shallots… Shallots SO MUCH BETTER than onions. Their flavor is much more concentrated, their color is a beautiful purple-gray color and they're much smaller which means we spend less time crying while cutting them and more time actually enjoying them!
image via Adore Foods
Enjoy shallots the British way – in this beef and Guinness pie!
Get the recipe here.
6. Sage
If there's one thing we know about cooking with sage it's that you should always make sure your SAGE IS COOKED and never placed in a dish raw. Gordon Ramsay taught us that when he railed on Derrick for leaving a sage leaf uncooked. (It was so bad we thought he was going to get sent home for it.) Other than that, feel free to use sage however you'd like! It's musty flavor will elevate any dish, whether it be sweet or savory.
image via The Kiwi Cook
Okay, so gnocchi isn't the best dish for beginners but I believe in you! The best way to try sage (if you're cooking with it for the first time) is in this sweet potato gnocchi with burnt butter and sage sauce recipe!
Get the recipe here.
7. Sweet Potatoes
Everyone's had sweet potatoes at least once and if you haven't, what's wrong with you? Sweet potatoes are the yogi cousin of the white potato and are full of good-for-you nutrients and vitamins. Our favorite sweet potato recipe is sweet potato fries, but we figured we'd give you some variety with this recipe below.
image via Begin With Nutrition
Start your day with this delicious baked sweet potato stuffed with granola and almond butter.
Get the recipe here.
8. Pumpkin
Pumpkin is the poster child of fall. You know it's September when you start seeing pumpkin-flavored everything in cafes, grocery stores and Target. Pumpkin is a fruit (in fact, it's a berry!) and can be made into sweet or savory dishes. When choosing pumpkins, look for one that is small (5-8 pounds) with tough skin.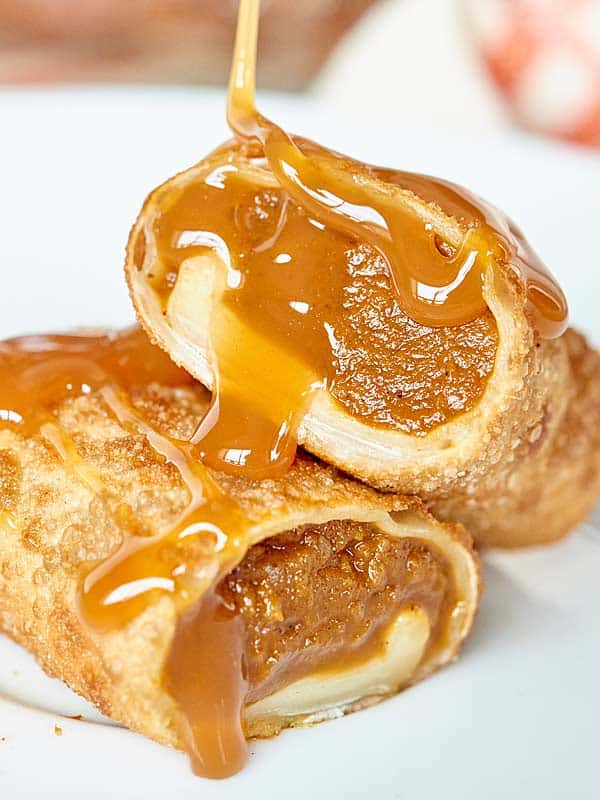 image via Show Me The Yummy
Stop missing out on life and make this sweet pumpkin pie egg roll!
Get the recipe here.
9. Figs
Figs are a two-season fruit, making their debut appearance during summer and their main appearance during fall. Figs come in many varieties and colors and are best known for their concentrated sweet flavor. Figs are a great source of protein and fiber, and work wonders for your skin (so we've heard!)
image via Sweet & Savory By Shinee
Treat your loved ones with these awesome date, fig and cranberry cookies.
Get the recipe here.
10. Brussel Sprouts
Brussel sprouts get a bad rap as being one of the most-loathed vegetable by kids and adults alike. Because of its reputation, I was a little hesitant to try brussel sprouts but am so glad I did. They're like mini cabbages! Brussel sprouts are nutrient powerhouses and do your body good.
image via Pinch & Swirl
Try them in this Kung Pao Brussel Sprouts recipe.
Related Posts: 
Don't forget to keep in touch, foodies!
Sign up for our daily newsletter here!
Have Instagram? Don't forget to follow @HomemadeRecipesOfficial.
Click here to Like Us on Facebook.
Click here to Follow Homemade Recipes on Pinterest