Learn how to make an omelet…and then some.
How To Make An Omelet
Mastering the art of the omelet isn't as easy as it seems.
They can easily end up burnt, not cooked well enough, or even end up breaking apart, which is a pretty common occurrence. Really, any number of problems can occur and it's not your fault, because omelets are difficult to perfect.
In this list, we'll start you off with how to make the perfect omelet and since you'll eventually get the hang of it, we've also provided 9 other random, unique, and ultimately delicious omelet recipes that you should definitely try at least once in your life.
Before we get into any other omelet recipes, you should know how to make the perfect traditional omelet. Filled with ham, spinach and cheese, this recipe only takes a few minutes and is the perfect start for any of you beginners.
A crispy cheese outer shell with fluffy eggs, bacon and vegetables stuffed inside, topped with sour cream. Say hello to the reverse omelet.
Where's the omelet? All of your ingredients, including the eggs, onions, cilantro, mushroom and cheese are inside these neatly wrapped avocado slices. A poached egg on top seals the deal for this delicious and unique omelet dish.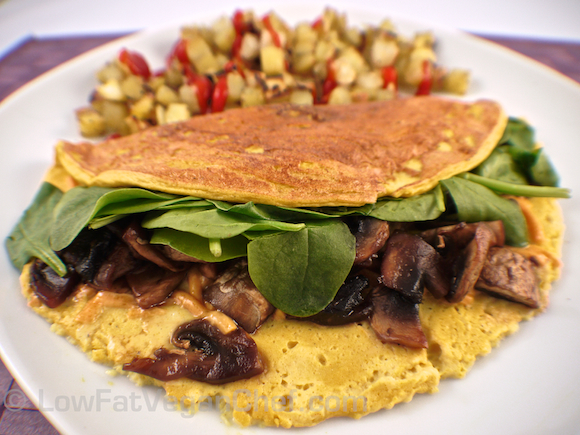 An omelet made without any eggs? If you're a vegan or vegetarian, that won't sound absurd at all because tofu is a great for replacement for eggs (and pretty much anything else). Loaded with spinach, onions and mushrooms, this low-fat gluten-free omelet is definitely the healthiest of the bunch.
One of the toughest things about making an omelet is folding it and praying that it doesn't break apart over your spatula. Thanks to this baked omelet recipe, all you have to do is throw your ingredients in a pan and let them bake for a few minutes. A no-fuss omelet.
Don't want a mess on your hands? That's where bell peppers come in. Just throw in eggs, veggies and everything else you love in an omelet and bake it inside a bell pepper for a much tidier alternative.
This omelet is for all those that are in a rush or just don't want to spend too much time making breakfast. Simply crack a large egg in a cup, throw in some cheese and vegetables and microwave for two to three minutes for the quickest omelet you've ever seen.
Everything you love from a traditional omelet, stuffed inside of muffin. You can bake yourself about 12 omelette muffins in around 30 minutes, each one bursting with the flavors of spinach, ham and cheddar.
A perfect idea for brunch, this omelet is a dessert that comes with sugar, mixed berries, and some vanilla ice cream.
Confused? Yeah, just watch the video and you'll understand.