With these healthy and mouthwatering salad recipes, you're not only keeping your body healthy, but you're also feeding yourself deliciously fresh meals!
When we talk about healthy and fresh meals, I always have to include a salad in the list. Instead of just saying fruits or vegetables, why not say salad? It's a simple word that defines fruits and veggies as one. As foodies, we should not just enjoy and share delicious foods but healthy and nourishing dishes as well, especially with kids. I have a 7-year-old at home and I always strive to encourage him to eat vegetables and fruits as much as possible. Salad recipes help me with this. Salads made it easy for me to let people know that healthy foods need not be boring and bland. And keeping a healthy lifestyle have never been easier and fun. This list is a beautiful collection of healthy salad recipes to help you beat weight gain and live healthily!
Healthy Salad Recipes You Will Enjoy!
I super love salad! For me, any salad will do. But a salad with slices of fruit, some greens, and a simple and tasty lemon dressing tops my list. How about yours? I hope you also love salad as much as I do! There are so many reasons why people must eat and love salad. Salad is a healthy dish rich in vitamins, minerals, and fiber, plus it's a very easy and quick meal anyone can prepare. If you're not into veggies, you can definitely relish a salad with mixed fruits and vegetables. You can also add slices of meat and some grains to make it more filling and complete. Now, I am so stoked to share with you all of my favorite salad recipes I know you will enjoy!
1. Kale Salad with Meyer Lemon Vinaigrette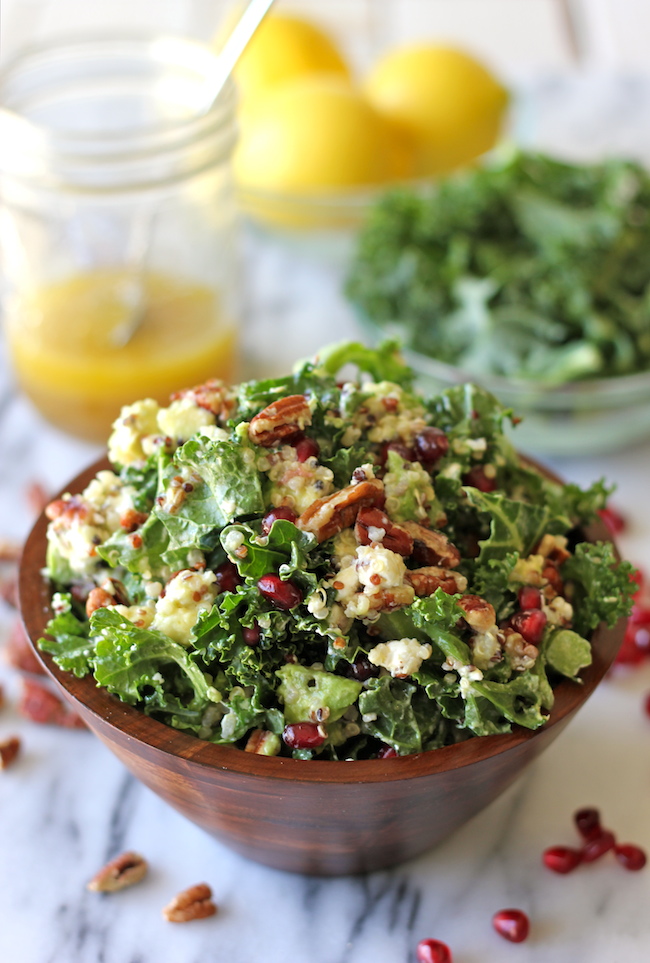 If you're thinking of a pure kale salad with just a dressing, then you're wrong! This is a delicious kale salad chock full of pecans, pomegranate seeds, quinoa, avocado, and goat cheese dressed with a zesty Meyer lemon vinaigrette.
2. Tomatoes, Chickpea and Spinach Salad
This tomatoes, chickpea, and spinach salad may look like a summer salad to you but you don't have to wait for any season to have healthy glowing skin. Enjoy this during winter and enjoy its fresh flavors and all the health benefits it brings.
3. Winter Kale Super Salad
Stop your kids from dissing veggies with this flavorful winter kale salad. A simple salad may not win your heart but a kale salad this wonderful and mouthwatering absolutely will!
4. Beetroot and Feta Cheese Salad
Beetroot and feta cheese salad is a sweet and savory salad which defines a healthy, tasty, and refreshing meal during winter or any time of the year. This is a good salad rich in fiber, essential minerals, and vitamin C.
5. Blueberry Broccoli Spinach Salad
What could be better than a health-giving salad infused with the fruity flavor of fresh blueberries and the addicting crunch of broccoli, roasted sunflower seeds, and spinach? This salad is very quick and easy to prepare any time you want.
6. Thai Chicken Salad
Your salad lunch will never be the same again once you try this Thai chicken salad recipe. It's flavorful, it's packed with protein and lovely textures and will make a delicious lunch, healthy side, or a light dinner.
7. Avocado Caprese Salad
You can't go wrong with a Caprese salad, especially with this recipe. It's a simple, refreshing salad made with slices of avocado, fresh tomatoes, fresh arugula, fresh basil leaves, and slices of fresh mozzarella cheese.
8. Cauliflower and Broccoli Detox Salad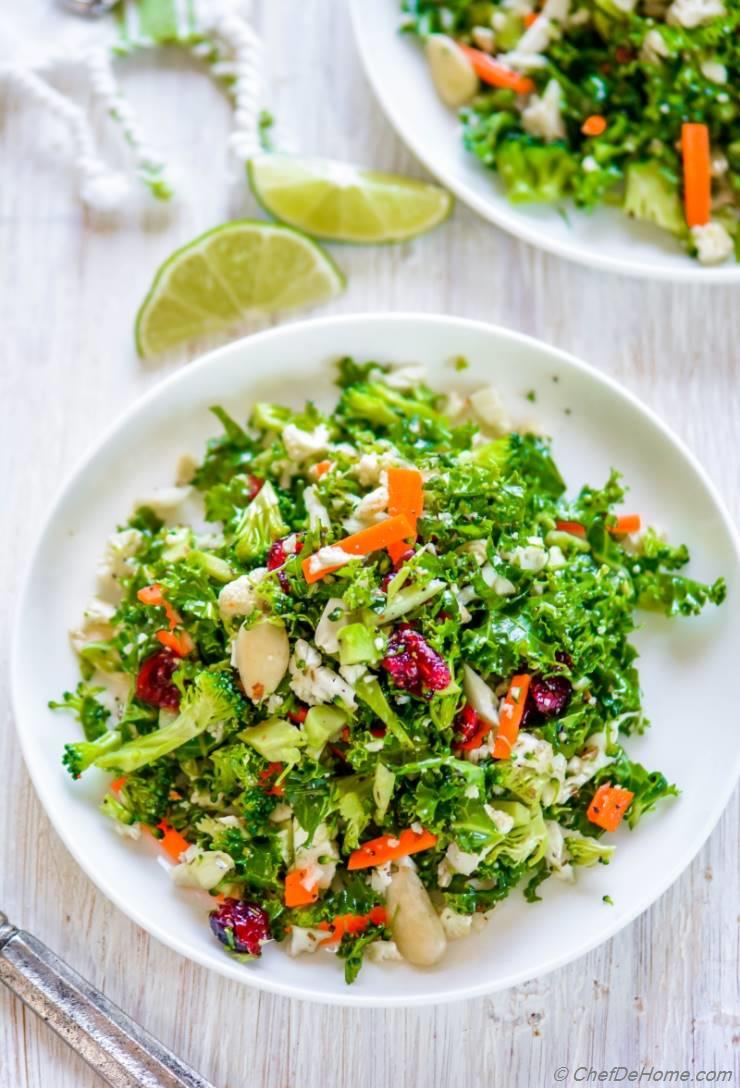 This is a low-carb salad recipe loaded with cauliflower and broccoli plus more nourishing ingredients like parsley, carrots, kale, poppy seed, and cranberries. And did I mention its tasty detox salad dressing?
9. Mexican Grilled Salmon Salad
Here's a fresh salad topped with juicy and perfectly seasoned grilled salmon. This Mexican grilled salmon salad is perfect as a full meal you would want to make time and time again.
10. Butternut Squash and Cranberry Quinoa Salad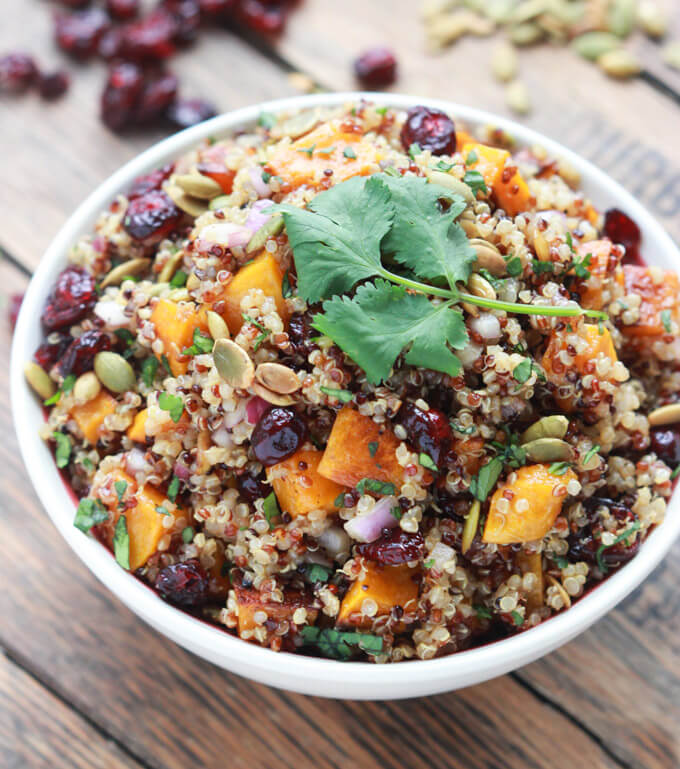 Winter is also the time for deliciously sweet and dense butternut squash. So when you have some, don't forget to try this healthy and tasty butternut squash and cranberry quinoa salad. It is tastier than you expect!
11. Spinach and Strawberry Salad
This spinach and strawberry salad is pretty simple and easy to make with just four ingredients. It tastes so good and looks super enticing with its pretty-in-pink strawberry dressing.
12. Sweet Potato and Chickpea Salad
A salad recipe to prove that gluten-free and vegan meals are not just healthy but also delicious and satisfying foods to savor all the time. Nothing quite like a delectable and nourishing dish like this sweet potato and chickpea salad!
13. Mango Spiralized Cucumber Salad
This refreshing salad is a great way to make use of your spiralizer and create a fun and delicious vegan meal in less than ten minutes! Fill your belly with sweet mangoes, cucumber, ginger, dried cranberries, basil, and quinoa!
14. Grilled Eggplant and Spinach Salad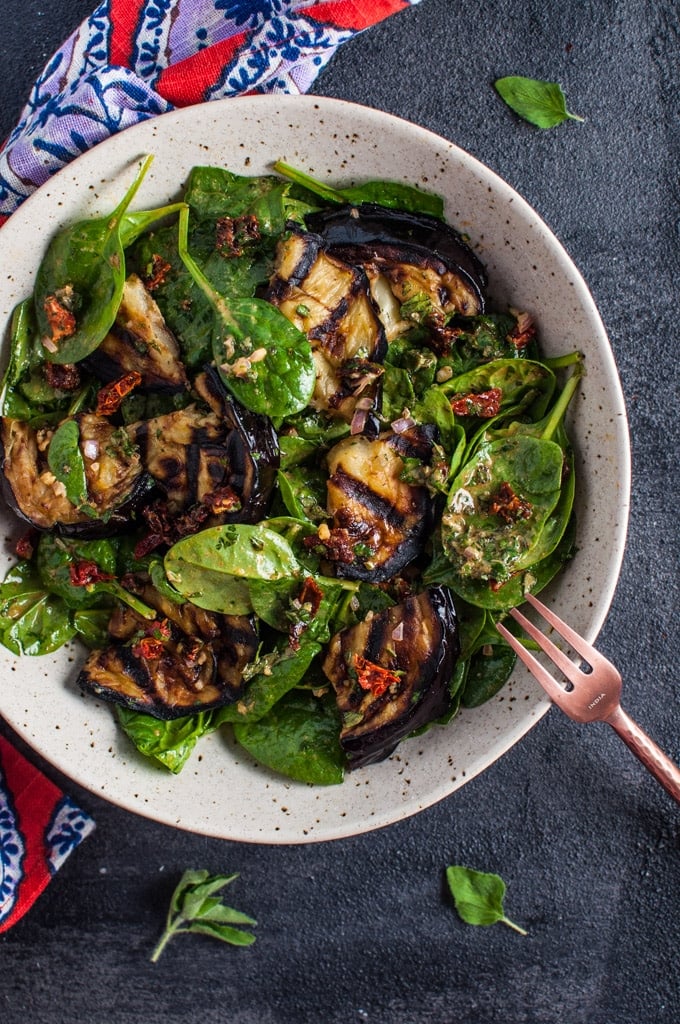 Eggplant, when grilled, really tastes unique and amazing. And I guarantee you will find a new go-to meal with this grilled eggplant and spinach salad. Its smoky flavor and slight spiciness will make you crave for more!
15. Roasted Carrot Lentil Salad with Radishes and Tahini Dressing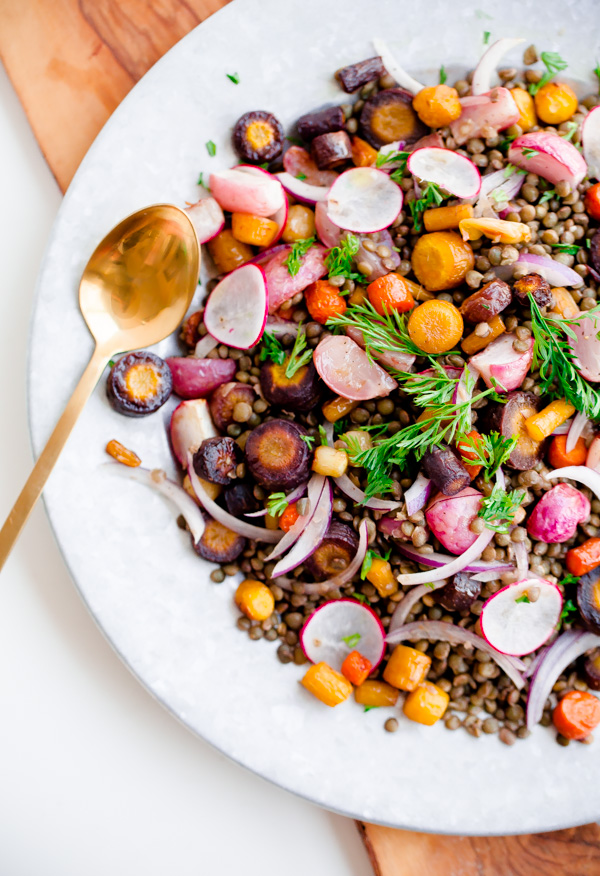 Even the veggie haters will be tempted to try and eat this colorful and delectable roasted carrot lentil salad with a tangy lemon-tahini dressing. This gluten-free and vegan salad tastes as beautiful as it looks!
16. Quinoa Fruit Salad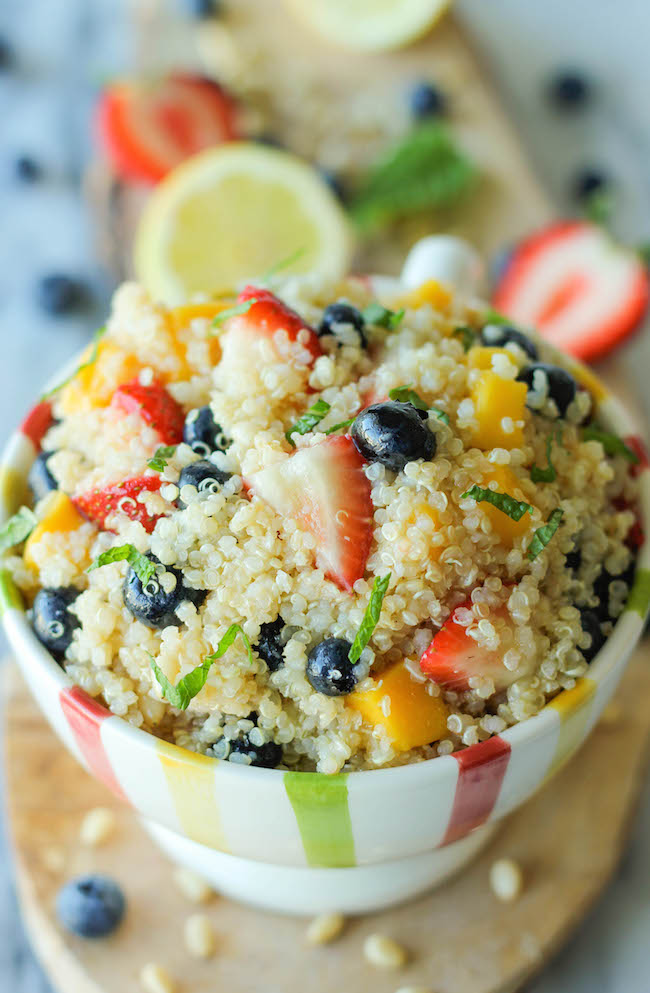 How can you not eat a quinoa salad filled with blueberries, strawberries, and fresh mangoes? Enjoy this salad with a tart lemon vinaigrette and mint leaves!
17. Lemon Herb Mediterranean Chicken Salad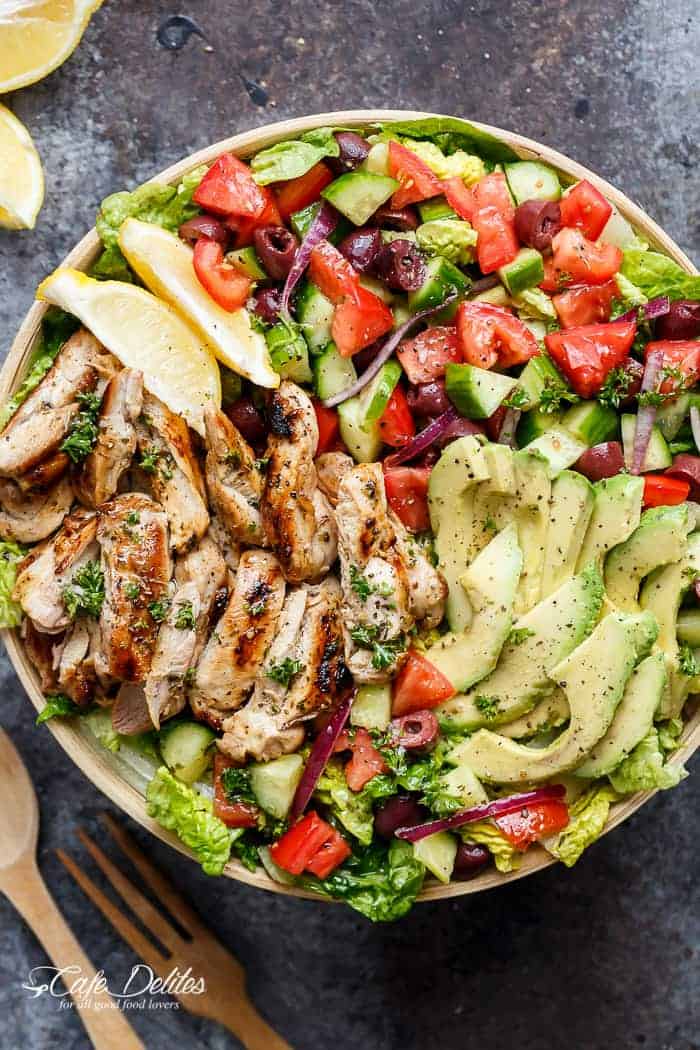 This scrumptious Mediterranean salad makes for a complete meal which is perfect for lunch or dinner. By just looking at this photo, you can already tell how flavorful and filling this salad is!
Still looking for more delicious salad recipes to keep you healthy and in good shape? Watch this video from Clean & Delicious:

Staying healthy is actually not a tough task, especially with the help of delicious and easy-to-make meals like these wonderful salad recipes. If you're not a big fan of salad, then get ready to be amazed by these refreshing salads loaded with veggies, fruits, and tasty dressings. Salads are not just about greens and vinaigrette. It's all about different refreshing flavors all in one bowl!
What do you think of these healthy salad recipes? Which recipes are you planning to try? Share your experience with us in the comments section below. These 18 Homemade Salad Dressing Recipes would also be great!
Don't forget to keep in touch, foodies!
Sign up for our newsletter here!
Also, make sure to follow us on social media too:
Facebook
Instagram
Pinterest
Twitter
Tumblr