Feast your eyes on these mouthwatering salad in a jar recipes. Prepare a couple of these ideas today, and you'll have a healthy grab-and-go lunch meal tomorrow.
RELATED: How to Make Easy and Healthy Mason Jar Salads
Salad in a Jar Recipes for Healthy and Fuss-Free Meals
Click here to jump to the infographic.
How to Make Meal Prep Salad in a Jar
The salad in a jar craze has become the latest food trend. It's a simple and effortless meal you can make ahead of time.
The trick is all about the layering. Once you have your clean mason jar, all you have to do is layer all the ingredients, starting with the salad dressing.
It is important to place the dressing on the bottom of the jar to keep your salad from getting soggy, then layer the remaining ingredients over it.
I made this list of salad in a jar recipes so you too can have a healthy on-the-go meal anytime. Keep reading and get ready to crave for a delicious salad!
1. Mason Jar Taco Salad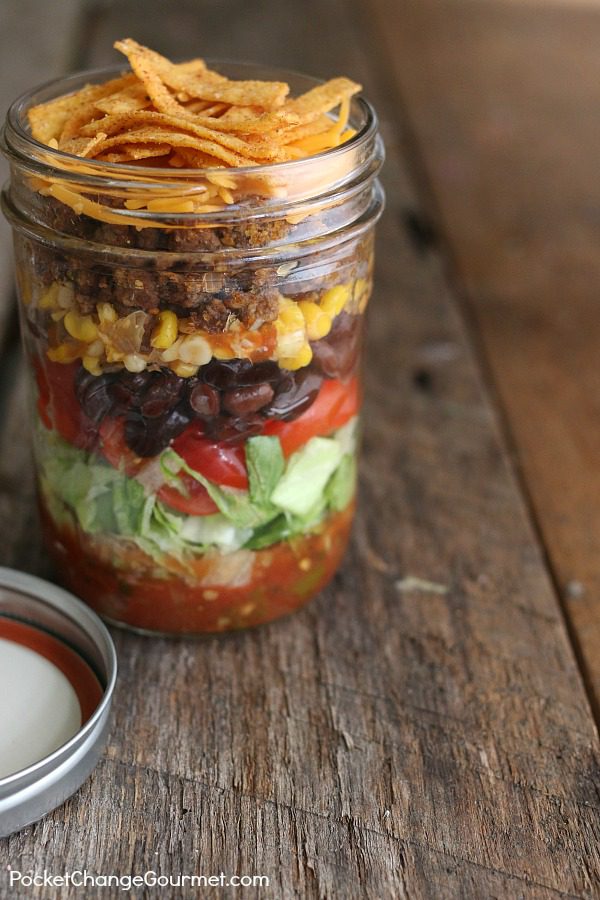 Not only does this taco salad in a jar taste good, but it is also packed with nutritious ingredients–tomatoes, lettuce, corn salsa, and black beans.
Taco meat is the only ingredient you need to cook ahead of time for this recipe; the rest, you put them fresh. Tortilla strips also add a nice crunch and flavor to complement the meat and veggies.
2. Rainbow Fruit Salad + Citrus Yogurt Dressing
Take your favorite fruit salad to a whole new level by savoring it straight out of the jar. This rainbow fruit salad in a jar is made with layers of plump blueberries, strawberries, orange, pineapple, and diced kiwi.
Since it's a fruit salad without green leafy veggies, you can drizzle the dressing on top. For the dressing, this recipe uses a citrusy and tangy yogurt dressing made with mayonnaise, yogurt, sugar, orange juice, and vanilla extract.
3. Greek Zucchini Salad in a Jar
Grab some avocado, shallot, parsley, garlic, yogurt, and lemon juice, then blend them in a food processor. Now you have a delicious dressing for this Greek zucchini salad in a jar recipe.
This salad is loaded with Mediterranean flavors you'll want to eat all week long.
4. Bacon and Spinach Salad in a Jar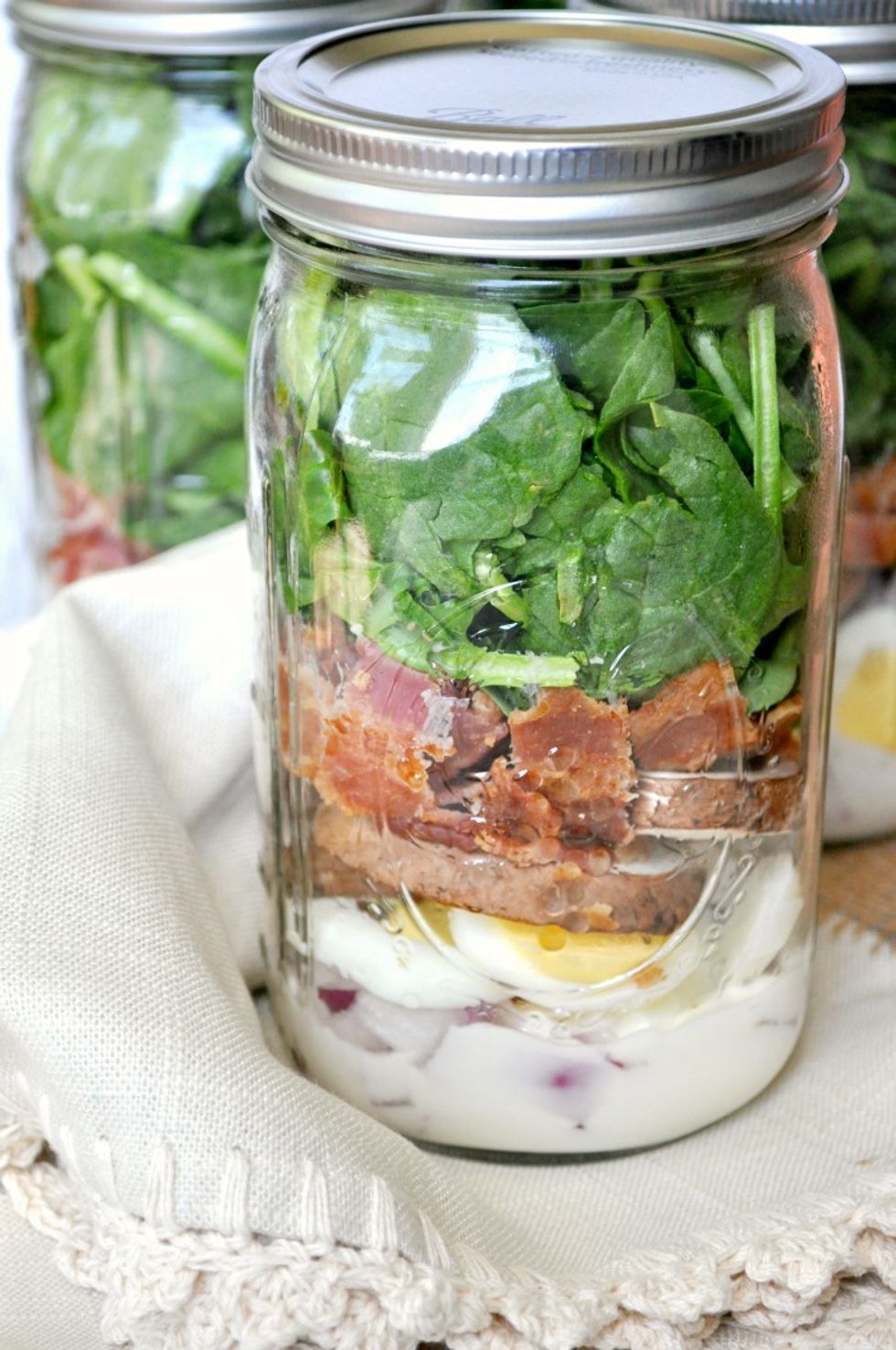 These jars are packed with protein and vitamins from an egg, bacon, mushroom, and a handful of baby spinach. This bacon and spinach salad in a jar is a great on-the-go lunch.
It boosts your energy and keeps you on track throughout your day. For the dressing, simply whisk in mayonnaise with sugar, salt, and vinegar.
5. Caprese Salad in a Jar
Enjoy a Caprese salad in the most creative and exciting way! To prepare this Caprese salad in a jar:
First, layer the cherry tomatoes, mozzarella balls, and fresh basil.
Next, sprinkle with salt and drizzle with virgin olive oil.
It's a simple and fresh Italian meal made even more appetizing and portable.
6. Charred Mexican Corn Salad with Shrimp and Chorizo
What do I love about this salad in a jar? It creates a surprising flavor you won't even think is possible to pull off.
You don't need a fancy salad dressing and too many ingredients. Cooked shrimp complements well with charred corn, chorizo, cilantro leaves, garlic, and lime zest and juice.
7. Southwest Ranch Chicken Salad
This Southwest ranch chicken salad in a jar makes a flavorful and hearty lunch you can bring to work, meetings, picnics, and outdoor trips. For this salad, you need to bake the chicken first and chop it into chunks once cooled.
You can now layer the salad by starting off with the dressing. Layer the veggies and finish off your salad in a jar crowned with fresh romaine lettuce.
8. Layered 7-Bean Salad in a Jar
A layer of assorted beans (baby limas, edamame, chickpeas, canned black beans, fresh green beans, and dried red beans), bell pepper, red onion, cucumber, and fresh thyme are packed on this healthy 7-bean salad in a jar recipe. A simple vinaigrette makes this salad zesty and fresh!
9. Arugula and Watermelon Salad in a Jar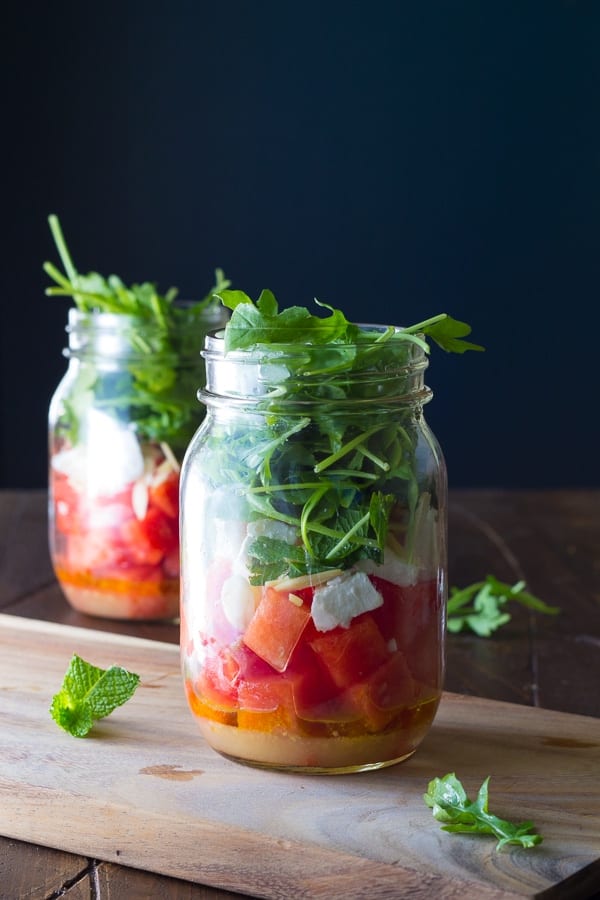 Watermelon goes pretty well with arugula, feta cheese, and almonds in this salad in a jar recipe. It also has a zing from vinaigrette and a fresh, tangy, and slightly sweet fragrance of mint!
10. Protein Egg and Quinoa Salad in a Jar
Balance your meal with protein and vitamins by making yourself this healthy and filling egg and quinoa salad in a jar.
It's a salad chock-full of cooked lentils, cooked quinoa, avocado, grape tomatoes, arugula, and hard-boiled egg. The dressing couldn't be easier to put together with lemon juice, olive oil, salt, and pepper!
11. Pasta Salad in a Jar
Pack a pasta salad along with vegetables and a delicious Italian dressing, and bring it with you anywhere you need a hearty and healthy portable lunch on-the-go. This pasta salad in a jar uses rotini noodles, but any variety will do.
12. Grilled Shrimp Tomato Avocado Salad in a Jar
Shrimp and avocado salad gets a sweet and citrusy makeover with orange juice dressing. It is made even more satisfying with extra slices of peeled oranges.
To make the dressing, simply mix orange juice and lemon juice with shallots, salt, and ground pepper. You'll love this salad straight out of a jar!
RELATED: Creamy Avocado and White Bean Wrap
13. Chicken Taco Salad in a Jar
You might think this chicken taco salad in a jar is a bit small for your tummy, but once you finish a jar, you'll be more than satisfied! It's packed with so much flavor and texture from Southwestern-seasoned chicken, fresh leafy greens, and lots of cheese.
Just like any other salad in a jar recipe, once you have the ingredients and the dressing prepared, just layer them in a jar and in 10 minutes your healthy grab-and-go lunch is ready!
14. Chopped Kale and Chickpea Salad with Tamarind Vinaigrette
Chickpeas are a great source of protein which is perfect to add to your vegetarian diet. Not only do they provide you with amazing health benefits but they also make for a delicious meal any time of the day.
This chickpea salad in a jar is ideal for increasing your chickpea intake as it tastes really good and satisfying. The key to making this salad even better is the dressing.
It's simply made with fresh dressing ingredients in honey, olive oil, and tamarind vinaigrette.
15. Chef Salad in a Jar
Chef salad is basically a salad of hard-boiled eggs, meat (ham, chicken, turkey, or roast beef), cucumber, tomatoes, lettuce, and cheese.
What makes this chef salad in a jar apart from the classic recipe aside from its Parmesan vinaigrette is the way it is prepared and presented. Placing it in a jar makes the salad even more delectable and mouthwatering!
16. Spring Roll Salad in a Jar
If a spring roll wrapper isn't available on hand, don't worry because you can still enjoy your favorite Asian snack anytime and even anywhere you choose to go. Just gather the ingredients and layer them in a jar.
Don't forget the peanut dressing which will give your spring roll salad in a jar a notable Asian flavor. It's easy to prepare with only four dressing ingredients–peanut butter, Sriracha sauce, lemon juice, and soy sauce!
17. Thai Mason Jar Salad
This Thai salad in a jar is a good way to use leftover meat like fish, beef, and steak. This salad consists of carrots, broccoli, tomatoes, bell pepper, scallions, greens, rice noodles and lots of sesame seeds.
The dressing also makes a big difference. It's tangy, savory, slightly sweet and spicy.
How to make it? Whisk rice wine vinegar, peanut butter, olive oil, Sriracha sauce, soy sauce, garlic, honey, lime juice, and ground ginger.
18. Peanut Crunch Salad in a Jar
Looking for vegetarian mason jar salads? You'll dig this peanut crunch mason jar salad with all the healthy goodness of veggies and grains.
Quinoa recently established itself as super healthy food and I am loving it in my salads. It gives texture and of course a healthier filling grain alternative.
19. Mason Jar Salad with Chicken and Mango Recipe
Savor a fresh salad recipe with tropical flavors and take your palate on a culinary adventure. You see, mango in a salad mix is an acquired taste, much like pineapples in pizza.
The Kardashian-Jenner clan is taken with the lobster and mango salad, though, so it's worth a try.
20. Cobb Salad in a Jar with Buttermilk Ranch
Go through a whole work week in great spirits with this healthy yet filling cobb salad in mason jars. With eggs, chicken, and bacon in the mix, this is indeed one energizing breakfast, brunch, or lunch idea.
Pack the salad in mason jars while meal prepping so you make grab-and-go meals ready for the whole week ahead.
21. Asian Noodle Salad Jars
What's good with salad recipes is that you can always improvise. As with this noodle salad recipe, you need to use crunchy soba noodles you can find in Asian stores or sections of your supermarket, but you can also use chow mein noodles.
If you can't also find edamame, you can substitute with snow peas or sugar snap peas. In case you're a vegan, you can also use chickpeas instead of chicken.
22. Balsamic Chicken Berry Quinoa Salad
Layer the ingredients inside your mason jar in this order: strawberries, cooked quinoa, blueberries, grilled balsamic chicken, goat cheese, avocado, toasted almonds, and arugula.
Pour in the tangy raspberry vinaigrette first so all the other ingredients don't get soggy, especially if you're storing the jars in the fridge.
23. Creamy Greek Chicken Salad
A super easy salad like this creamy Greek chicken salad recipe is perfect for those who just got on the mason jar salad train.
You only need five ingredients and a light creamy dill and feta dressing. Don't forget the pita chips because it will add a crunchy element to your salad.
24. Meal Prep Low Carb Big Mac Salad Jars
So you want a Big Mac with only the good stuff? If you're having a tough time letting go of the sloppy joes, this Big Mac salad recipe will save you.
You can now satisfy your burger cravings without the buns, but with the goodness of the Big Mac sauce on a savory beef and healthy veggie mix.
25. Strawberry Spinach Mason Jar Salad
You only need to look at the beautiful lineup of ingredients inside the jar and you'll be sold on the idea of a salad for lunch every day. With green avocado, spinach, roasted asparagus, and cucumber mixed with purple onions and red strawberry — it's a party of colors and flavors indeed.
Slide in the chopped grilled chicken breasts, drizzle with the tangy citrus poppy seed dressing and top with thinly-sliced roasted almonds… need I say more?
Don't forget to download, save, or share this handy infographic for reference:
Enjoy your favorite salad anywhere, anytime! These salad in a jar recipes are not just pleasing to the eyes but are also definitely healthy and delectable.
They are perfect for picnics, potlucks, and outdoor parties. The good thing about these recipes, they're so versatile you can add any ingredient you choose!
Which of these healthy salad recipes in a jar are you planning to try? Let us know in the comments section below. 
UP NEXT: 
Don't forget to keep in touch, foodies!
Also, make sure to follow us on Facebook, Instagram, Pinterest, and Twitter!
Editor's Note: This post was originally published on March 27, 2017, and has been updated for quality and relevancy.