I can't deny it: some of the best treats out there are sold in my most beloved stores. But since I've always been one to transform things into my own liking, I've learned to make my favorite treats within the comfort of my own kitchen. I am especially reminded of just how much I love homemade recipes when it's Christmas. They call it the most wonderful time of the year, but to me, Christmas will always be The Sweetest Season! Treats and confections abound during this season and I am once again reunited with my most loved one: Christmas rice krispie treats! Of course, I've long had a list of the best recipes for Christmas rice krispie treats, and I'm here to share them with you!
Make The Best Christmas Rice Krispie Treats At Home
This post was originally by DIY Projects and shared with permission
From presents and parties to concerts and outfits, there are just so many ways to celebrate Christmas! And as you know, I like to take the merriment into my own hands (pun intended). I always find ways to make Christmas about the effort and time we spent creating things that everyone can enjoy during the holiday season. So, for the past couple of days, I've been on the hunt for the best Christmas rice krispie treats recipes I can make myself and share with my loved ones!
The variety of ways to make these Christmas rice krispie treats will keep your imagination on a high even after Christmas! Not only are these Christmas rice krispie treats creative and innovative, they are also the perfect opportunity to spend some quality time with the people dearest to you. I remember spending almost every Christmas season making these rice krispie treats with my kids! It makes me happy that they enjoy spending time with me, but it makes me even more proud to see them sharing what they've made with our guests and relatives! Make these treats with your own family to get into the spirit of Christmas!
1. Christmas Lights Rice Krispie Treats
Light up the season with these Christmas lights rice krispie treats! Making these treats yourself allows you to put your own personality into it, and maybe even come up with an ornamental version to hang around the house! Truly festive!
2. Snowman Rice Krispie Treat
Snowmen that will melt not in the sun but in your mouth! These rice krispie snowman treats are perfect for adding life and action to your Christmas confections!
3. Christmas Rice Krispie Bar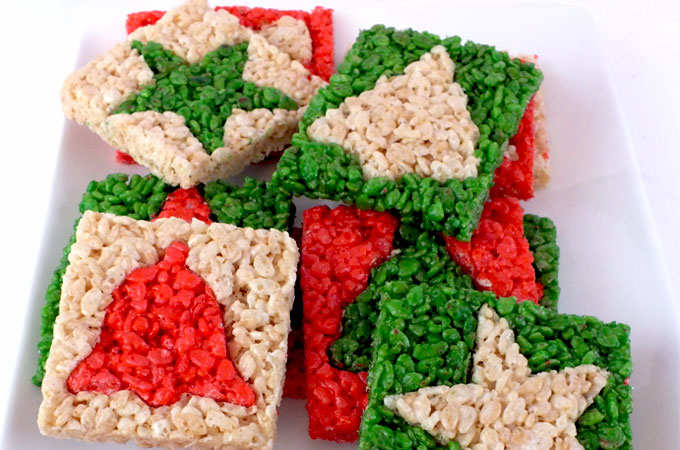 Make a statement with these decorative Christmas rice krispie bars! This recipe is made to help you bring out your inner artist! Make various signs and letters with these quick and easy steps!
4.  White Chocolate Rice Krispie Pops
The Christmas season is a time to bundle up and seek comfort in warmth. There simply is no room to enjoy anything cold! But you can create the illusion of eating your favorite popsicle with these Christmas rice krispie treats on a stick!
5. Candy Cane Rice Krispie Treats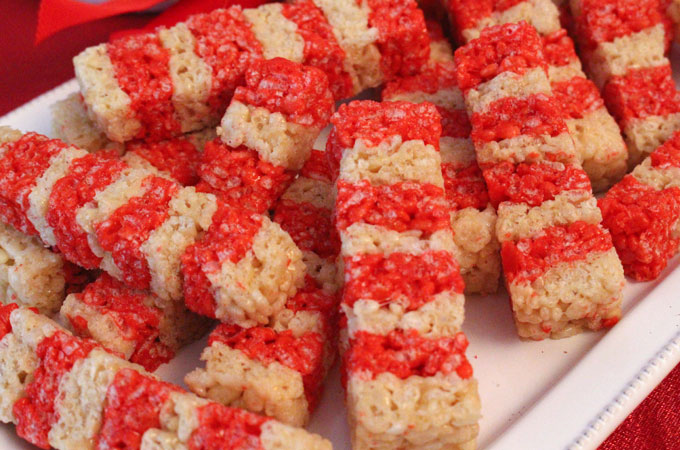 Candy canes are everywhere during the Christmas season! Sometimes you get tired of the usual old candy canes hung around the stores. Mix things up by turning them into Christmas rice krispie treats!
Want to see all recipes?
Celebrating Christmas is always more joyous when everything has the elements of the occasion. These Christmas rice krispie treats have sure proven their versatility by including almost every Christmas detail you can think of! A treat that goes well with the aesthetics of the holidays without compromising good taste? Christmas rice krispie treats will be your go-to snack for years to come! And I'm sure no one will complain.
Want more rice krispie treats recipes? Why not try these 20 Rice Krispie Treats to Make Your Inner Child Sing! Do you have a special way of making your own rice krispies? Let us know in the comments section!
Don't forget to keep in touch, foodies!
Sign up for our newsletter here!
Also, make sure to follow us on social media: