Looking for tasty homemade salsa recipes? Keep reading and discover quick and delicious salsa recipes you can easily prepare at home!
Salsa Recipes You Must Try At Home
Salsa is a great option if you're trying to cut out high-calorie foods. It is so appetizing, healthy, and pairs really well with just about anything. Homemade salsa can be eaten with tacos, grilled meat, and even most vegetarian dishes. It also comes with a wide array of flavors and variations to choose from. There's tangy and fruity salsa, bean salsa, classic salsa, savory salsa and a whole lot more! You'll surely not run out of options! Try out these 19 homemade salsa recipes and you'll never buy those salsa jars sold in stores ever again!
 1. Fresh Tomato and Avocado Salsa
This salsa recipe is a fusion of savory and fruity salsa. It's packed with fruits such as avocado and cherry tomatoes and spices like garlic and onion. This fresh tomato and avocado salsa is perfect for picnics and get-togethers.
2. Black Bean Salsa
Salsa isn't just for people on a strict diet. You too can enjoy the goodness anytime you want. What are you waiting for? This black bean salsa packs a good dose of protein. It's a hearty salsa you can feel good about. Try this recipe and it will surely be a feast not only for the eyes but for your tummy all at the same time.
3. Cucumber Salsa
Cucumber alone is already a refreshing treat. Add dill seed, tomatoes, jalapeno, bell pepper, and herbs into the mix and you can certainly get a fresh and flavorful salsa recipe!
4. Strawberry Jalapeño Salsa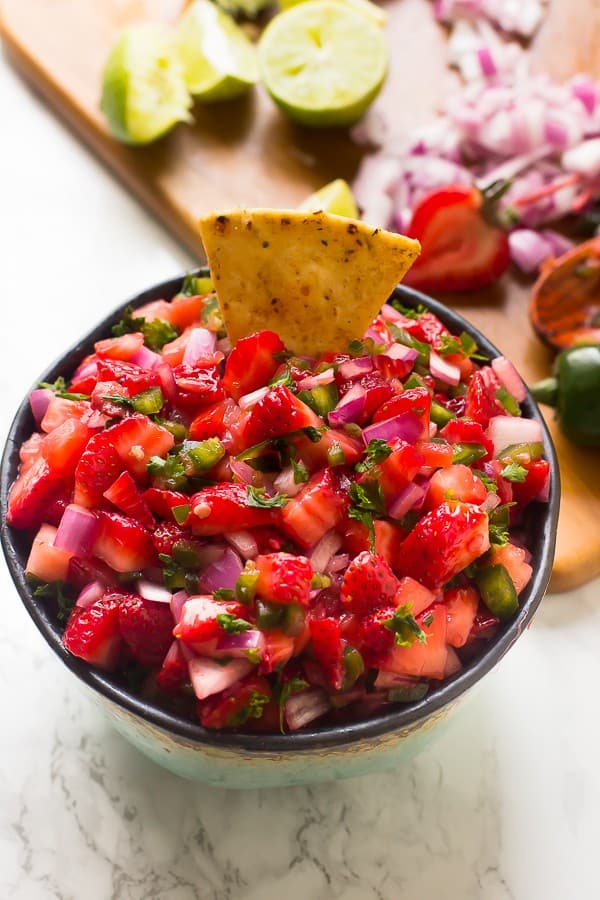 This strawberry jalapeno salsa has the perfect blend of sweet and spicy. It's super easy to make using just five simple ingredients and takes only 10 minutes to prepare. It's a fruity salsa with a slight kick and a delightful taste!
5. Pineapple Salsa
The fruity tang of this pineapple salsa is something you'll crave over and over again. Enjoy a tropical vibe with a sweet, a spicy, and a zesty taste all at once by following the full recipe.
6. Restaurant-Style Chipotle Salsa
Enjoy restaurant-style salsa right at home with this easy salsa recipe. I bet you'll run out of chips and end up spooning this delicious salsa. It is so tasty and guess what? It's so simple to recreate. Just mix all the ingredients and let your blender do the rest.
7. Fire Roasted Tomatillo and Corn Salsa
Indulge in a flavorful salsa made with just tomatillos, jalapenos, tomatoes, corn, garlic, lime juice, and fresh herbs. It's a refreshing salsa with a hint of zest and a good smoky taste.
8. Mexican Grilled Shrimp with Corn Salsa
You're sure to get satisfied with your salsa when you try to recreate this easy Mexican salsa recipe at home. Not only veggies, but you're also bound to get seafood goodness in every scoop. This salsa recipe is way too good not to try!
9. Blueberry & Red Bell Pepper Salsa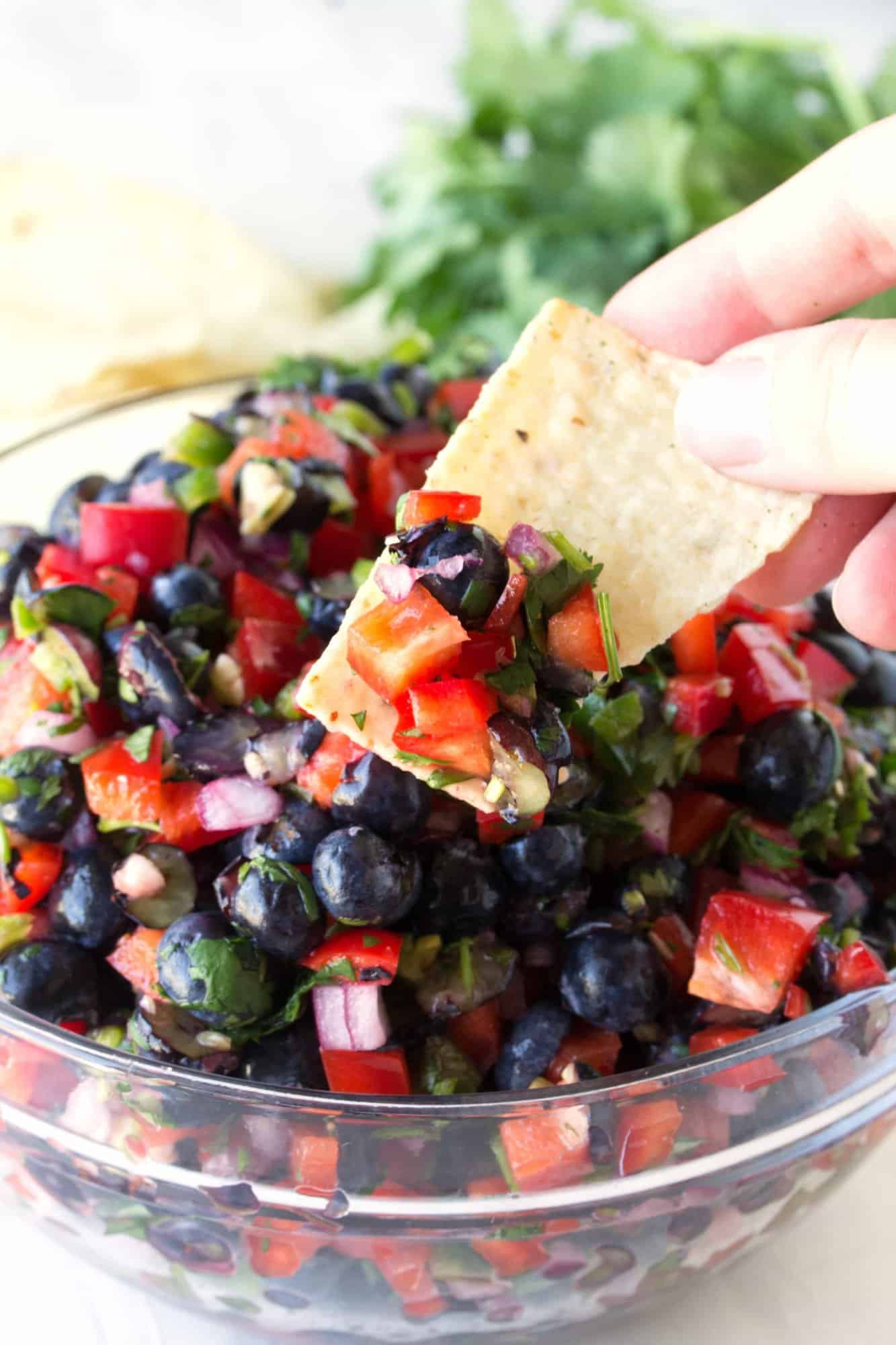 Blueberries in a salsa? Yes, please! Delicious salsa made even better with juicy and fresh blueberries. Who would have thought blueberries will go perfectly with sweet red bell pepper? This salsa takes only 5 minutes to toss together and you'll have an award winning salsa recipe.
10. Creamy Avocado Salsa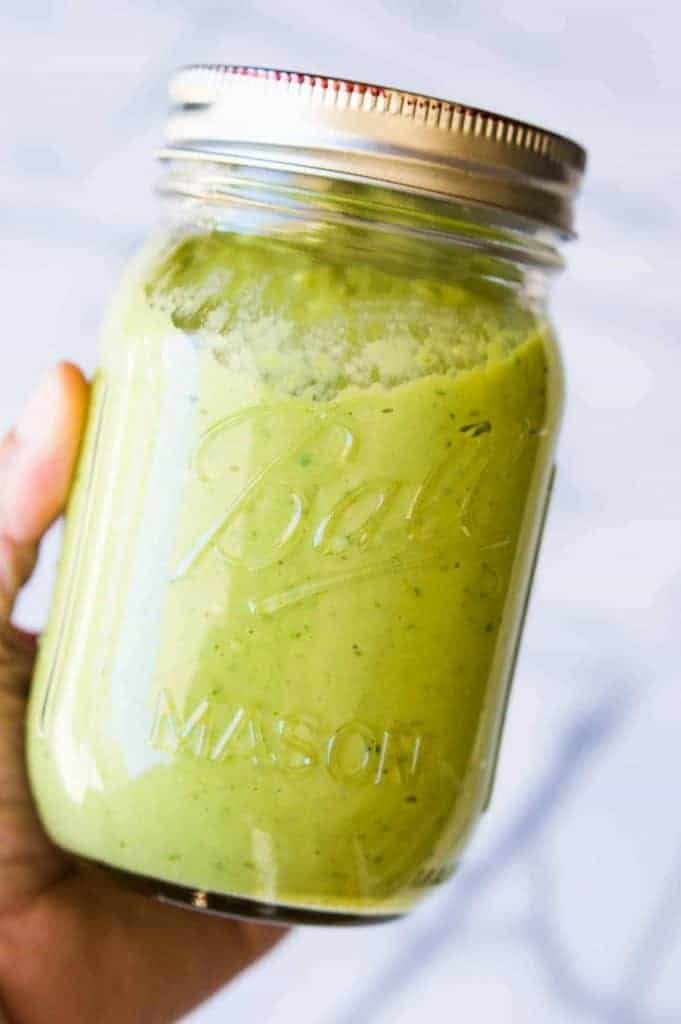 Homemade salsa doesn't get any creamier than this avocado salsa. If you love a smooth and velvety consistency for your salsa, this recipe is for you! It's a delicious green sauce for your nachos, tacos, chips, burritos, and more!
No more takeout! Appease your appetite with these burrito recipes! 🌯 #MexicanRecipes https://t.co/aTK9ujCmWX

— Homemade Recipes (@BestHomeRecipes) July 1, 2017
11. Avocado Salsa
If you love avocado but want it chunky, fret not! Because this recipe will have you enjoy chunks of avocado and a tasty salsa altogether. Dice up your avocado, mix it with jalapeno, tomato, lime juice, and cilantro and turn it into a delish salsa you'll instantly fall in love with.
12. Mediterranean Feta Salsa
This salsa recipe is perfect to share with family and friends over the weekend, or anytime your taste buds crave for something truly flavorful. This Mediterranean feta salsa combines a sharp and tangy taste that'll keep you coming back for more. Let this salsa sit in your fridge until ready to eat for the ultimate Mediterranean salsa experience.
13. Peach Salsa
This peach salsa proves that fruits aren't just for dessert. They're also great as a savory and flavorful salsa to pair with grilled meat and homemade chips. Thanks to Sara Welch and her recipe, now you can recreate this salsa in a cinch. This salsa is made with sweet peaches, jalapeno, and a little bit of cilantro. Peach perfect!
14. Mexican Street Corn Salsa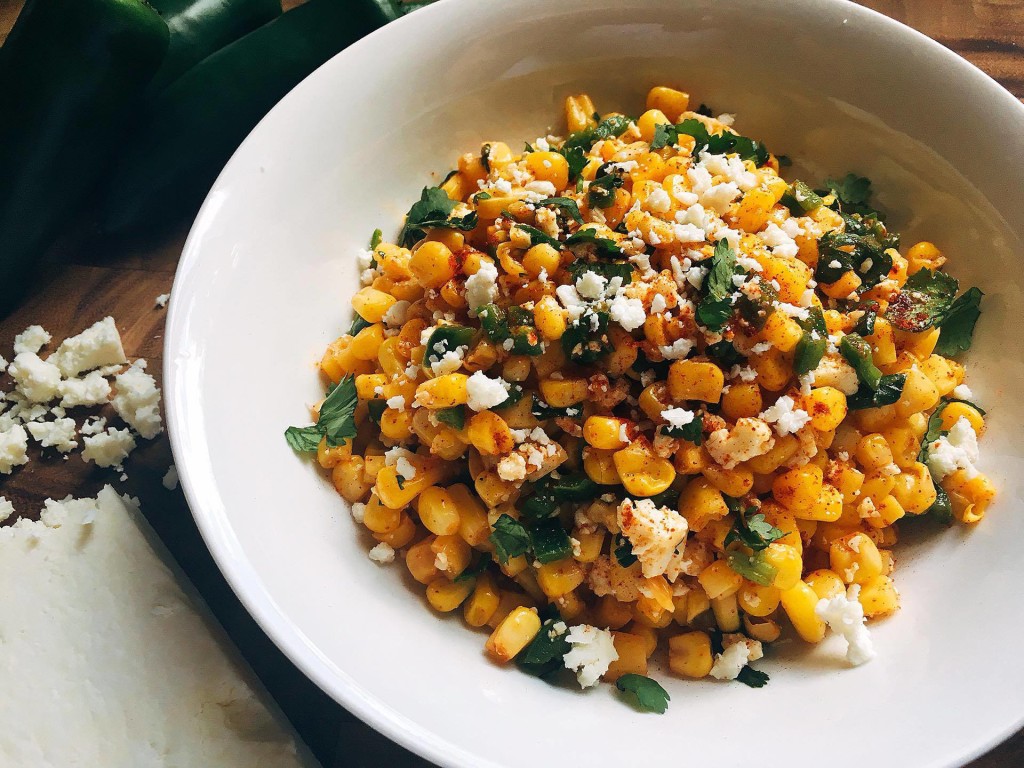 If you love Mexican cuisine and you enjoy corn a lot, then this scrumptious salsa will certainly get you going. This is truly a breath of fresh air from your usual recipe.
15. Fresh Summer Berry Salsa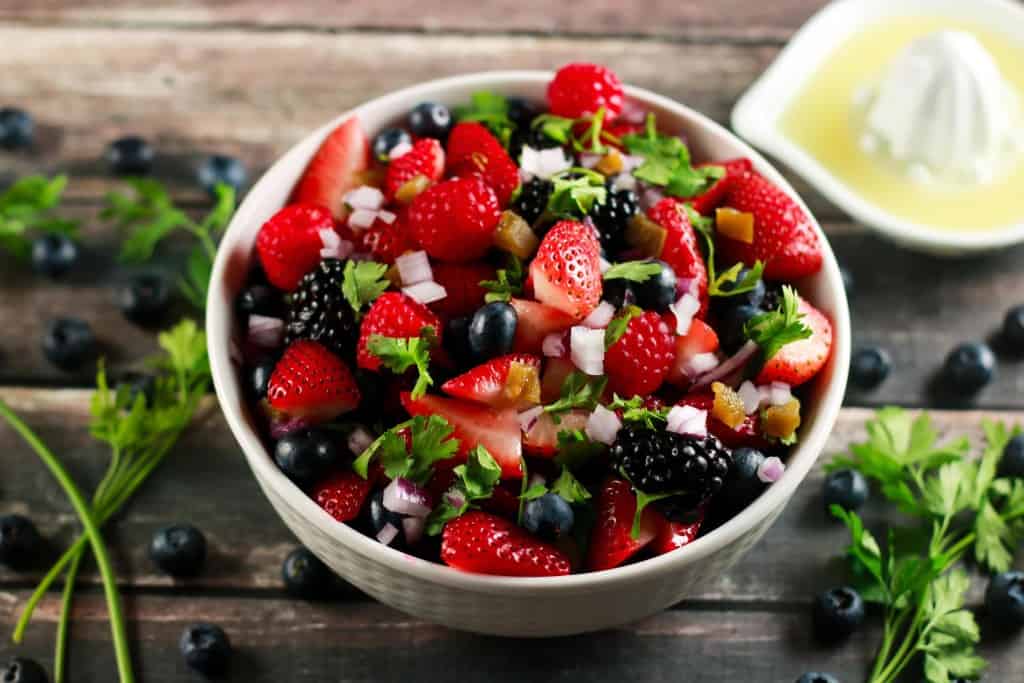 Whoever said that salsa has to be spicy to be delicious will be proven wrong by this fresh summer berry salsa. One bite of this refreshing recipe can certainly make you change your mind. Why just stick with tomatoes and jalapenos when you can add more berries and make this fruity and delightful salsa?
16. Tomatillo Salsa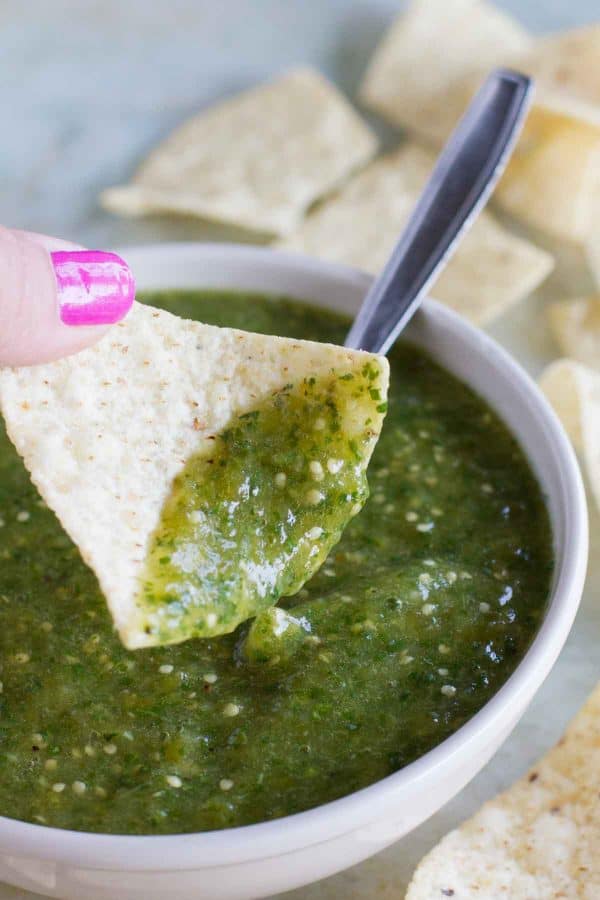 This Mexican-inspired salsa is pretty much what Mexican green sauce is all about. What sets this salsa recipe apart from the other is the fact that you only need four simple ingredients and it takes only 20 minutes or less to prepare. This salsa is something you should always keep handy in your fridge.
17. Habanero Salsa
Expect this habanero salsa to be spicy. When we say spicy, we mean fire spicy! If that tickles your taste buds, then this salsa is definitely a must-try. It's not just spicy but it packs really amazing flavor you'll love.
18. Watermelon Salsa
If you're planning to throw a party this weekend, then this fun and delightful watermelon salsa is the perfect addition to your menu. It's not just aesthetically pleasing but it also tastes pretty good and refreshing. This salsa is best served in watermelon bowls for added effect!
19. Nectarine Basil Salsa
Pair this nectarine basil salsa with a veggie burger or some sweet steak fajitas for lunch or dinner and you got a mouthwatering meal you'll certainly repeat.
Watch this video from The Domestic Geek and learn more delicious salsa recipes:
Make any meal way better with these mouth-watering salsa recipes. These are some of our all time favorite salsas with amazing flavors that will instantly blow your mind. They are the perfect complement to almost any meal. Try them today and share them with your friends!
What do you think of these salsa recipes? Which recipe is your favorite? Share your thoughts with us in the comments section below.
Up Next: 21 Homemade Healthy Chicken Recipes
Don't forget to keep in touch, foodies!

Also, make sure to follow us on Facebook, Instagram, Pinterest, and Twitter!
Editor's Note – This post was originally published in October 2014 and has been updated for quality and relevancy.