Find a favorite or two from these grilled chicken breast recipes. What's not to love about boneless, skinless, tender, and juicy chicken breast marinated in special sauces and grilled to absolute perfection?! We've pulled together some of the most mouth-watering grilled chicken breast recipes for you to try and enjoy today!
Grilled Chicken Breast Recipes You Need for Your Next BBQ!
1. Grilled Caprese Chicken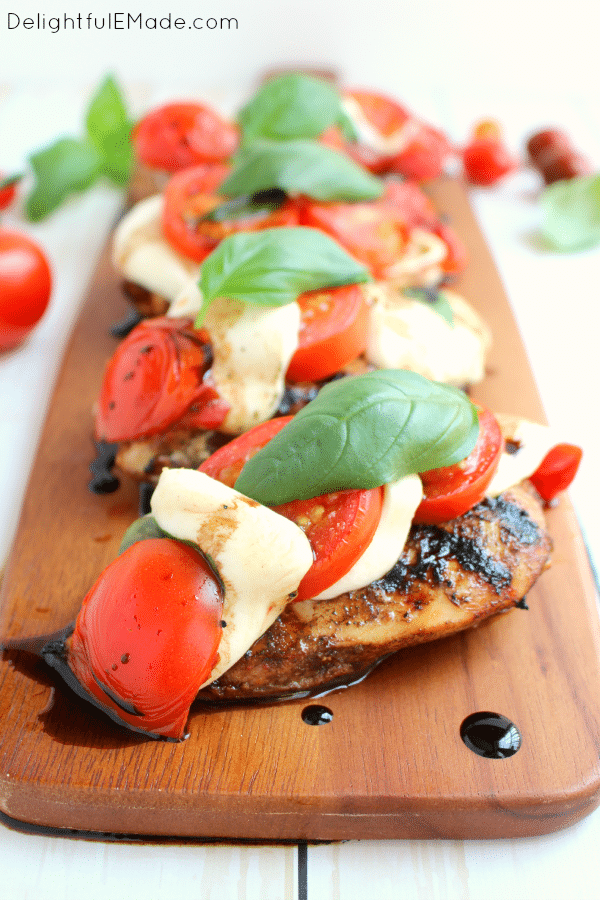 Feast on this balsamic vinaigrette marinated chicken breasts, topped with fresh tomatoes, basil, and mozzarella all grilled to ultimate yumminess! But the secret to these healthy chicken breasts is in the balsamic reduction which adds a smokey and tangy flavor to the whole dish.
2. Grilled Sweet Chili Lime Chicken
Marinade chicken breasts in a mix of sweet chili sauce, orange marmalade, lime juice, soy sauce, garlic, and brown sugar. Reserve the marinade and use to it brush the chicken with while on the grill. Garnish with sesame seeds and chopped onions for a grilled chicken you'll dig all day, any day!
3. Grilled Barbecue Chicken and Vegetables in Foil
Juicy and tender chicken breast smothered with sweet barbecue sauce is delicious enough. Lock the chicken breasts in a foil with fresh veggies and you have something on a whole other level!
4. Grilled Rosemary and Balsamic Chicken
To make the marinade for this grilled rosemary and balsamic chicken, blend the marinade ingredients in a food processor. Mix chicken breasts and marinade in a ziplock bag for at least an hour and its good for the grill any time.
5. Korean Grilled Chicken Breasts
Add the zesty flavor of Korean barbecue to your grilled chicken for a whole new experience. These grilled chicken breasts with an Asian flair can't get enough of flavorful onions with scallions and yellow onion in the mix.
6. Grilled Honey Lemon Basil Chicken
Honey and lemon are the stuff healthy recipes are made of. This sweet and zesty grilled chicken is made healthy and savory with only five other ingredients and no sugar!
7. BBQ Ranch Grilled Chicken
Three ingredients. Three simple steps. One amazing dish. Help yourself to one of the easy grilled BBQ chicken breast recipes.
8. Garlic, Lemon, and Herb Grilled Chicken Breasts
We almost always use garlic in our grilled chicken recipes. But for just this once, we are using a little bit more. This is why we are getting the garlic, lemon, and herb grilled chicken breasts with the highlight on garlic!
9. Hawaiian Chicken and Pineapple
You know what a Hawaiian recipe entails − yes, you're right! Pineapples! Feast on this very sweet and tangy grilled chicken breasts with caramelized brown sugar pineapple. This dish will get you into that tropical mood!
10. Lemon Pepper Chicken
Let your chicken breast pieces bask in this Worchestire chicken marinade. The result is a tangy and flavorful chicken from the surface right to the strands and center.
11. Grilled Thai Chicken Breasts
These juicy and tender chicken breasts are marinated in a puree made from coconut milk, fresh cilantro, basil leaves, herbs, and seasonings. Definitely a must-try!
12. Grilled Chicken with Herbs and Lemon
There is no recipe, herbs can't do their magic on. Prepare yourself for the ultimate herbed grilled chicken with parsley, thyme, oregano, and rosemary mixed in a profusion of flavors that will fire up your grill!
13. Chipotle-Peach Glazed Grilled Chicken Breasts
[instagram url=https://www.instagram.com/p/3KQLUnq2m9/ hidecaption=true width=625]
Aside from being delicious in cobblers, pies, and refreshing drinks, peaches are a great addition to grilled chicken. They enhance not only the aroma but also the flavors. Try this grilled chicken breast with a peach glaze and peach relish on top.
14. Grilled Honey Sriracha Orange Chicken
If you want a spicy chicken marinade, throw some sriracha to the mix. It will definitely add a whole new Asian flavor to your everyday grilled chicken.
15. 7 Up Grilled Chicken
[instagram url=https://www.instagram.com/p/BWjI5eLgn7x/ hidecaption=true width=625]
Yes, this is grilled chicken marinated in 7-Up. If you're not convinced, try it out yourself. Your mind will be blown.
16. Sweet and Spicy Italian BBQ Grilled Chicken
When you read Italian, you would think it's a recipe with multiple ingredients and a complicated cooking process. Well, not this grilled chicken marinade in Italian dressing. Try it to see and believe.
17. Monterey Chicken
Glazed with BBQ sauce and topped with Monterey Jack cheese and bits of bacon, this grilled chicken dish is a total showstopper! Not to mention it's an easy grilled recipe you can simply pop right in the oven.
18. Grilled Chicken Breasts with Jalapeño Peach Salsa
For an outdoor cookout, you simply have to include this grilled chicken breast recipe on your menu. The jalapeño peach salsa only complements this chicken recipe well, making it perfect for a meal outdoors!
19. Herby Lemon Grilled Chicken Breast Salad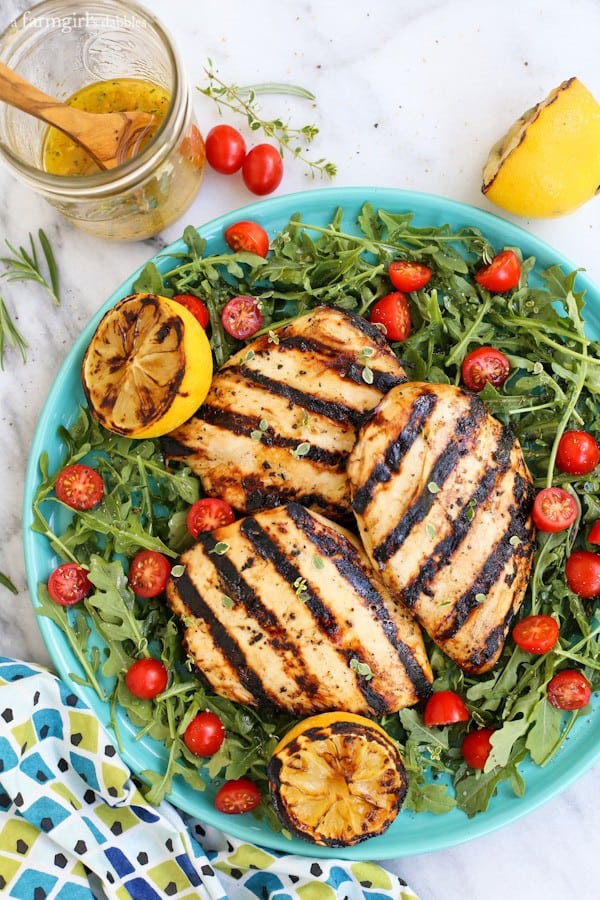 Everything about this herby lemon grilled chicken breast salad screams vibrant summer days! This garden of yumminess is great for a barbecue or family picnic.
Learn how to debone a chicken breast the easy way. Watch this awesome video from Allrecipes:
These grilled chicken breast recipes are perfect for backyard parties or even simple weeknight meals. You won't leave unsatisfied after digging into a well-grilled chicken breast. Whether it's smothered in BBQ sauce or topped with zesty vegetables, each bite, bursting with flavors, are just out of this world. Not to mention all of these chicken dishes are healthy as can be. You might also want to try these chicken marinade recipes for your grilled chicken innovations.
What do you think of these grilled chicken breast recipes? Which recipe are you planning to try? Share your experience with us in the comment section below!
Up Next: 27 Best Holiday Drink Recipes To Spread Festive Cheers With
Don't forget to keep in touch, foodies!

Also, make sure to follow us on Facebook, Instagram, Pinterest, and Twitter!
Editor's Note: This post was originally published on February 1, 2016, and has been updated for quality and relevancy.