Celebrate the holidays with these delightfully sweet Thanksgiving dessert recipes!
16 Thanksgiving Dessert Recipes To Celebrate A Sweeter Life
After your Thanksgiving meal is all said and devoured, it's time for some dessert. Apple pie, pumpkin cheesecake, spiced cookies, or pear cobbler…the options are truly incredible and filled with fall flavors. If you're in charge of preparing a dessert (or a couple), we've got your back! Check out these 16 Thanksgiving dessert recipes that will satisfy not only you, but your entire family as well.
1. Caramel Apple Mini Cheesecakes with Streusel Topping
Everyone knows that apple and caramel go great together. So it only makes sense that they make this cheesecake recipe delicious as can be. Grab the recipe here.
2. Nutella Swirled Pumpkin Pie
This pumpkin pie swirled with Nutella and baked in a gingersnap crust is as perfect as a Thanksgiving dessert can get. It comes packed with the pumpkin taste that we all love during this season. Try it here.
3. Puff Pastry Cornucopias with Pumpkin-Coconut Mousse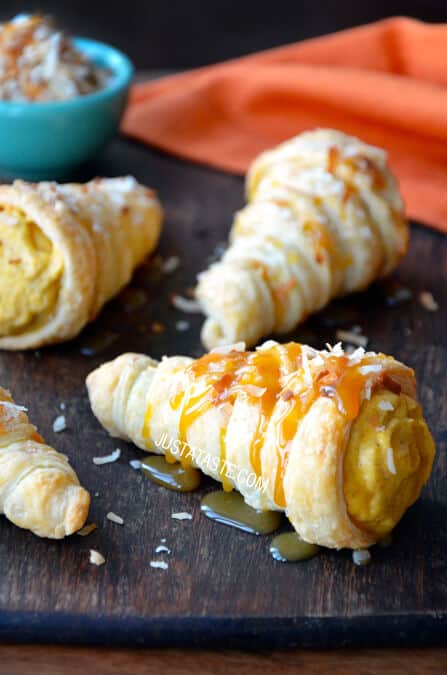 These cornucopias may look a bit challenging to whip up but not to fret, it's actually simpler than you think! And besides, it's Thanksgiving….we should have to work our butts off for every single dish we prepare. Full recipe.
4. Snicker Caramel Apple Pie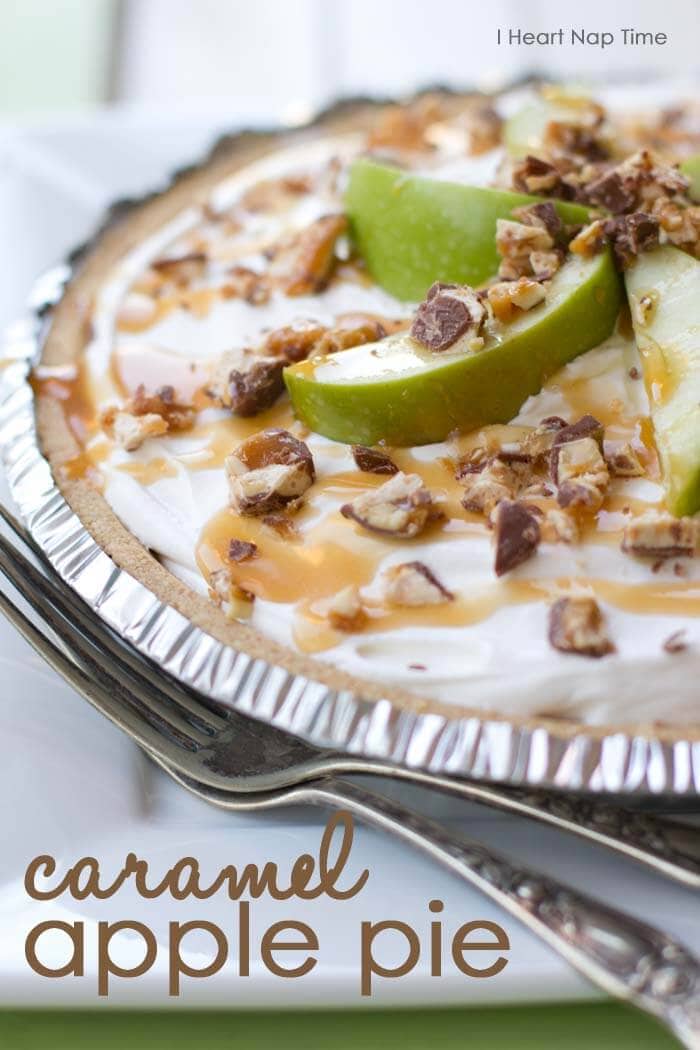 Apple pairs perfectly with so many things. Aside from caramel, it tastes brilliant with chocolate like Snickers. This dessert proves it right! Click here for the recipe.
5. Thanksgiving Turkey Cupcakes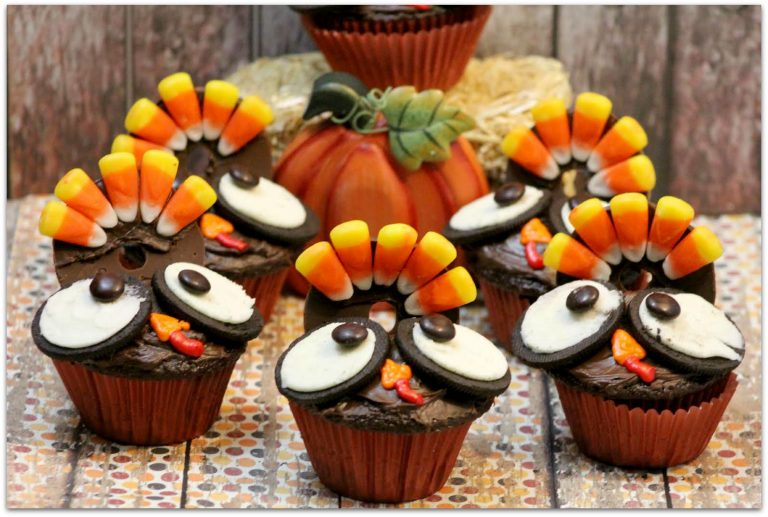 Turkey is a traditional meal during Thanksgiving, so these adorable turkey-inspired cupcakes are the cutest and sweetest way to celebrate that very important day. Here's the recipe.
6. Maple Pecan Mini Cheesecakes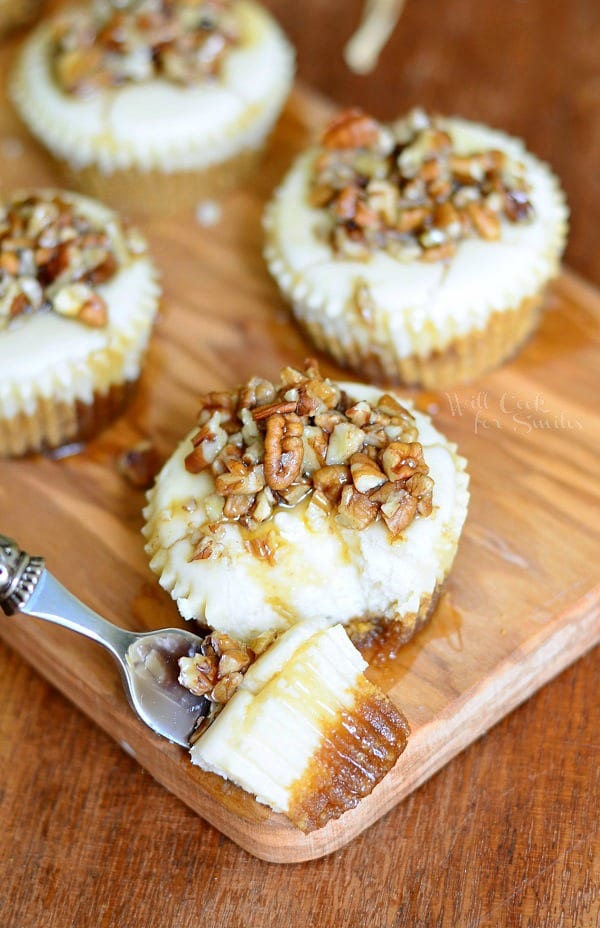 You'll love these fluffy, chewy, nutty, and smooth mini cheesecakes topped with pure maple syrup and crushed pecans. These are to die for. Get the recipe here.
7. Perfect Pumpkin Roll
This is so moist and so satisfying. Everyone will definitely go crazy over these pumpkin rolls. Try it here.
8. Mini Caramel Apples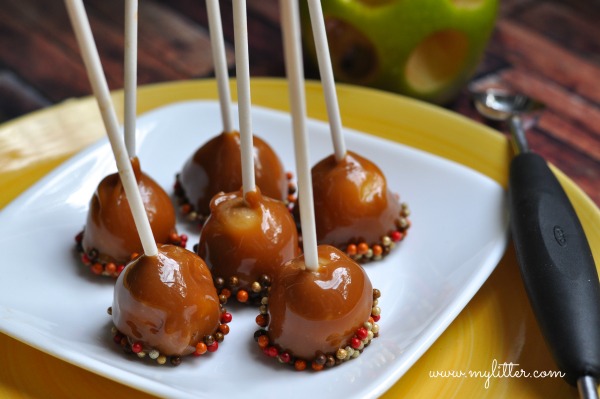 Use a melon baller to create these mini caramel apples. You can make dozens of these cute treats from only few apples. Your kids will adore them! Learn how to make them here.
9. Autumn Oreo Brownies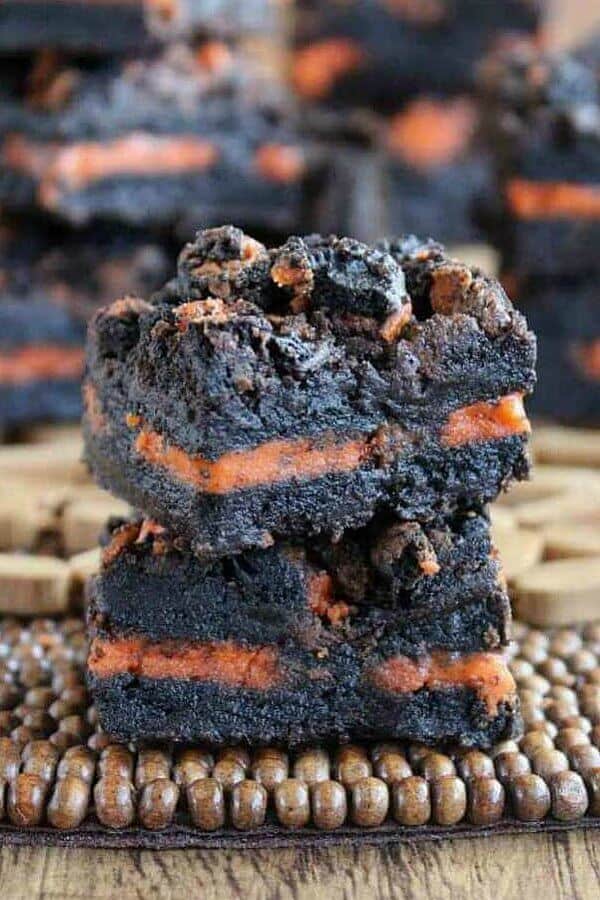 Enjoy every slice of these Oreo cookies sandwiched in between two layers of batter. It makes a delicious and chewy dessert for Thanksgiving. Easy and fun, too! Full recipe.
10. No-Bake Pumpkin Cheesecake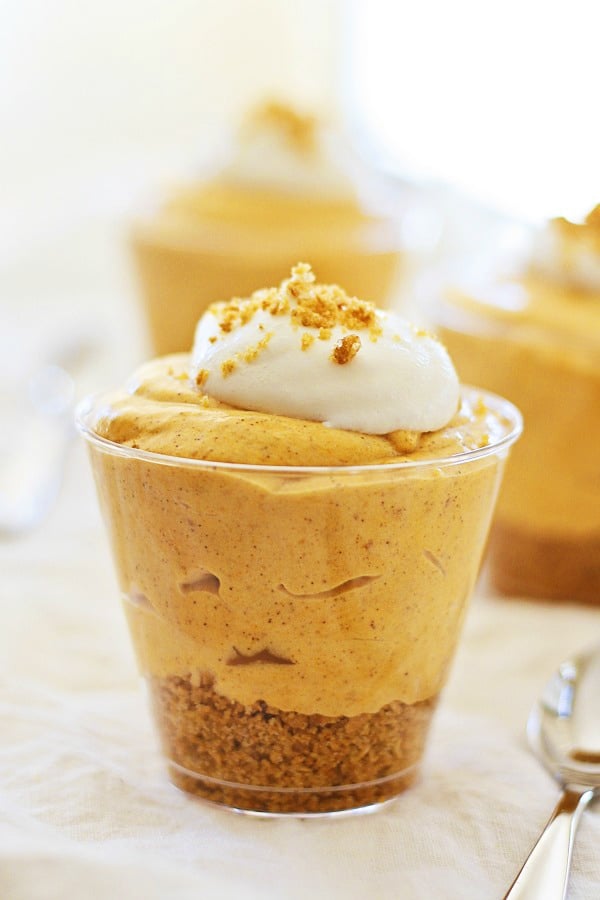 Make the best out of all that pumpkin you have and serve this super easy to make no-bake pumpkin cheesecake that can be done in no time. Check it out here.
11. Pilgrim Cupcakes
Thanksgiving commemorates a harvest festival celebrated by the Pilgrims in the late 16th century and nothing can be more sincere than these pilgrim cupcakes as your centerpiece. Try them here.
12. Maple Caramel Bacon Crack
This is a great fusion of sweet and savory flavor in one delicious dessert. You can even serve them as a finger-licking appetizer for Thanksgiving if you please. Click here for the recipe.
13. Mini Cherry Pies
A delightful treat for a very special day can be as easy as these cherry pies. These minis are filled with luscious cherry filling and then baked into perfection! Here's the recipe.
14. Autumn Spiced Fall Leaf Cookies
Colorful dough with a shiny glaze makes these beautiful fall leaf cookies festive and inviting. Not only do they look amazing, they also contain less sweetness than a regular sugar cookie. Full recipe.
15. Caramel Apple Pretzel Salad
If you want a refreshing, sweet salad on Thanksgiving, this recipe is the right one for you. It's an impressive dessert to wow your guests and relatives. Check it out here.
16. White Chocolate Peanut Butter Truffle Bars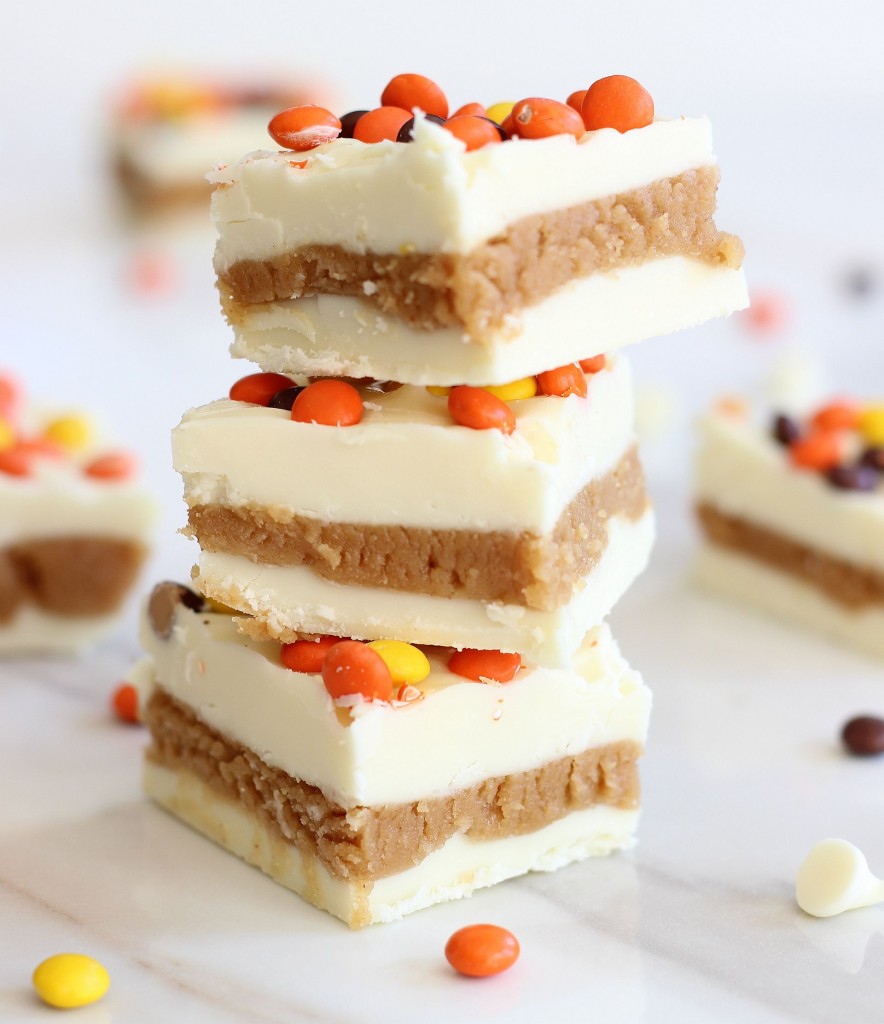 There's something just so bubbly about these chewy white chocolate layers, sandwiching a peanut butter truffle sprinkled with mini Reese's pieces. They're truly a celebratory dessert to show off on Thanksgiving. Here's the recipe.
How about a NO BAKE Chocolate Thanksgiving Pilgrim Hat Piñata? Another fun and easy dessert recipe for Thanksgiving! Watch this awesome video from My Cupcake Addiction:
What do you think of these Thanksgiving dessert recipes? Which recipe are you planning to try? Share your experience with us in the comment section below.
Related Posts: 
Don't forget to keep in touch, foodies!
Sign up for our newsletter here!
Also, make sure to follow us on social media too: