If you wouldn't eat it, why would you put it on your face? That's our reasoning when it comes to facial and body care products. Because we strongly believe in food's healing ability, we love making facial products you can use and eat! Hooray for edible leftovers! Here are homemade face mask recipes that you can use while enjoying your .
11 Homemade Face Mask Recipes You Can Eat!
Who knew beauty products could be so tasty? These 11 homemade face mask recipes are edible and will leave you glowing brighter than the sun!
Make all of your beauty products from scratch with this DIY Body Lotion kit from our friends at Grow and Make!

This facial is perfect for tired dull skin. Chocolate has antioxidants that nourish and moisturize your skin while the caffeine in coffee gives it a much-needed wakeup call. The best part? You can eat the leftovers!
image via
This homemade face mask uses the power of dried flowers and Bentonite clay to cleanse and tighten your skin. This face mask also doubles as a pretty DIY gift!
image via
The lactic acids in yogurt exfoliate dead skin cells while the lavender works to calm and soothe you. Weekly at-home spa days, here we come!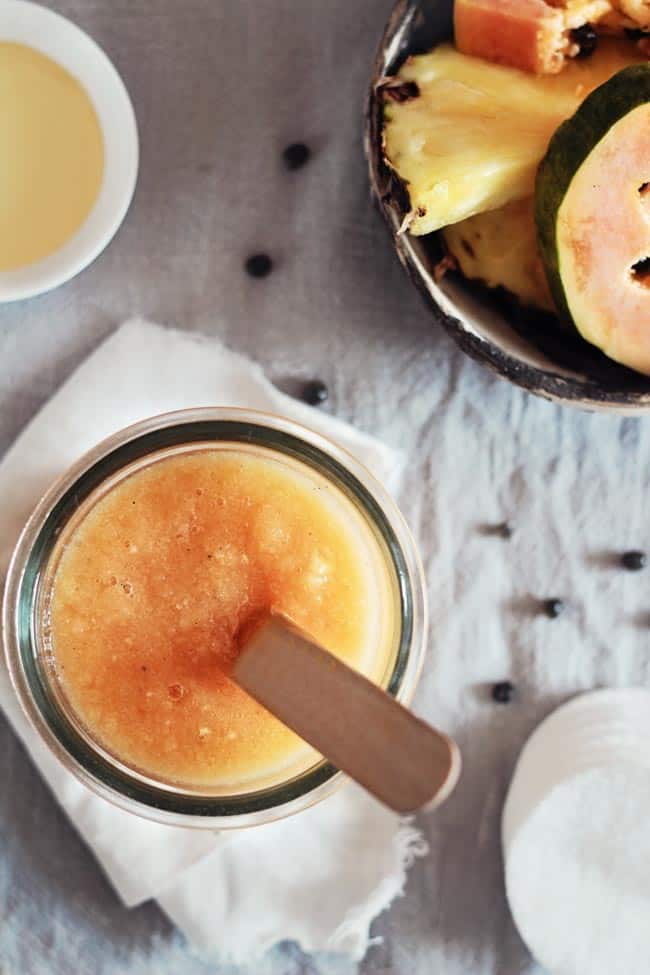 image via 
Pineapples and papayas come together in this tropical face mask to exfoliate dead skin cells revealing a younger, radiant you!
image via
Pumpkins are not only a wonderful Fall fruit (it's true, they are a fruit!), they're also packed with antioxidants that slough away dead skin cells for a wonderful, beautiful visage!
This is a basic facial smoothie recipe that can be customized to suite your preferences and needs. This recipe uses clay, ground almonds and oatmeal, and fruits to take away excess oil, tighten your pores, and smooth your skin.
image via 
The greatest part about making your own beauty products is that you can eat the leftovers! This recipe not only works wonders on your face, but tastes great as well!
Adult acne can be tough to combat as the underlying cause is usually hormone-related and the pustules it produces are cystic. This facial mask recipe uses 3 amazing all-natural acne-fighting ingredients. Turmeric boosts collagen in your skin and heals inflammation, honey has antibacterial properties and also moisturizes the skin, and apple cider vinegar helps tone and shrink your pores.
Ah, the classic cucumber mask. What list would be complete without this recipe? A spa favorite, cucumbers provide nourishment and hydration to dry, dull skin.
Wine facials are the next best thing! This amazing recipe contains oats, wine, grapeseed oil and Kaolin clay. Oats absorb excess oil, wine contains resveratrol which is a powerful antioxidant essential to repairing sagging, wrinkly skin, and clay sucks up all the toxins and dirt in your pores.
image via
This is a super hydrating mask. Avocadoes, lemons and oats come together in this simple recipe to create a mask that moisturizes, brightens and tones.
The power and possibilities of food are endless! They not only nourish us from the inside, but can keep us looking beautiful and radiant on the outside! For more DIY beauty products, check out our list of 22 DIY Scrubs That Will Rock Your World and the Best Homemade Skin Care Recipes! 
That's all, folks! We hope this post inspired you to start making your own beauty products! When you look good, you feel good and that's a fact! If you enjoyed this post, please let us know in our Comments section below! We love hearing our readers' feedback, comments and suggestions. If you have an amazing DIY facial mask recipe, we would love to hear about it and try it out for ourselves! Leave a comment, shoot us an email and make sure to stay in touch on Facebook, Twitter and Pinterest!
Do you have Instagram? Don't forget to follow @HomemadeRecipesOfficial.
Click here to Like Us on Facebook.
Click here to Follow Homemade Recipes on Pinterest.