Substitute white rice, couscous, and starchy foods with these delicious quinoa recipes. Nothing is better than making your favorite foods healthier!
Wholesome Quinoa Recipes For You & Me!
Did you know quinoa (pronounced keen-wa) is actually a seed? This plant-based source of complete protein tastes surprisingly good when prepared right. It makes a great side-dish, protein-packed salad, and is also great for pancakes and breakfast bowls. Whether you want something sweet or savory, this collection of quinoa recipes will leave a notable impression on you. Check them all out below!
1. Apple, Butternut Squash & Quinoa Salad
This healthy fall-inspired quinoa recipe is a must try. This is a special salad loaded with quinoa, butternut squash, red apples, and chopped almonds. The best part is the honey mustard dressing–a mixture of honey, mustard, and lemon juice plus salt and pepper to taste. It's super easy and tastes really good!
2. Vegan Cinnamon Oatmeal Quinoa Pancakes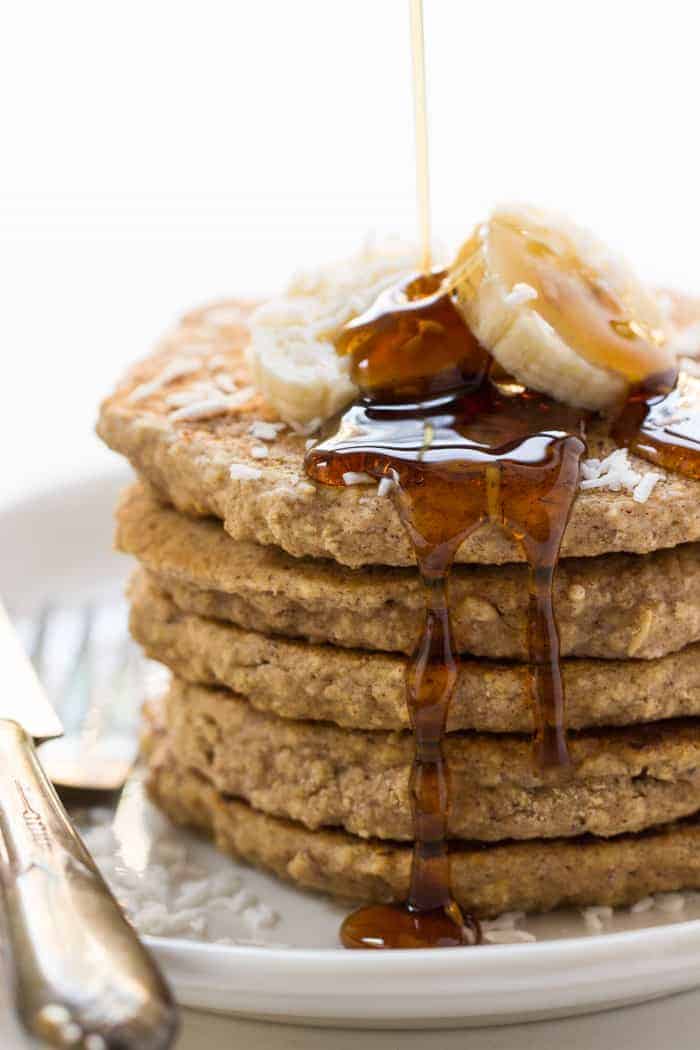 These quinoa pancakes are not your average breakfast pancakes. They're not only delicious, but also very hearty and heavy in your tummy. They're vegan and gluten-free–the perfect meal to start your day. Serve these pancakes with maple syrup, fruits, and other fun and healthy toppings.
3. Slow Cooker Southwest Quinoa Chili
After this recipe, you'll hunt for more slow cooker meals to prepare for your family. If in case you still aren't equipped with some, why not start with this healthy quinoa chili. It's a substantial and comforting dish packed with fiber and protein from quinoa, ground turkey, and beans. To make this dish, all you need to do is saute the onion, bell pepper and ground turkey for 10 to 20 minutes. Once done, transfer them into a slow cooker along with the rest of the ingredients then cook for 5 to 6 hours. Since it's a slow cooker meal, no need to babysit this while it's cooking.
4. Mini Ham and Cheese Quinoa Cups
Looking for an easy recipe to use the leftover quinoa at home? You're in the right place! This is a kid-friendly quinoa cups recipe. To make these quinoa cups, mix all ingredients in a bowl including ham, zucchini, chopped parsley, and cheese. Scoop the mixture into a mini muffin tin then pop them in the oven. This takes 15 to 20 minutes to bake and the result is something worth craving any time of the day!
5. Garlic Mushroom Quinoa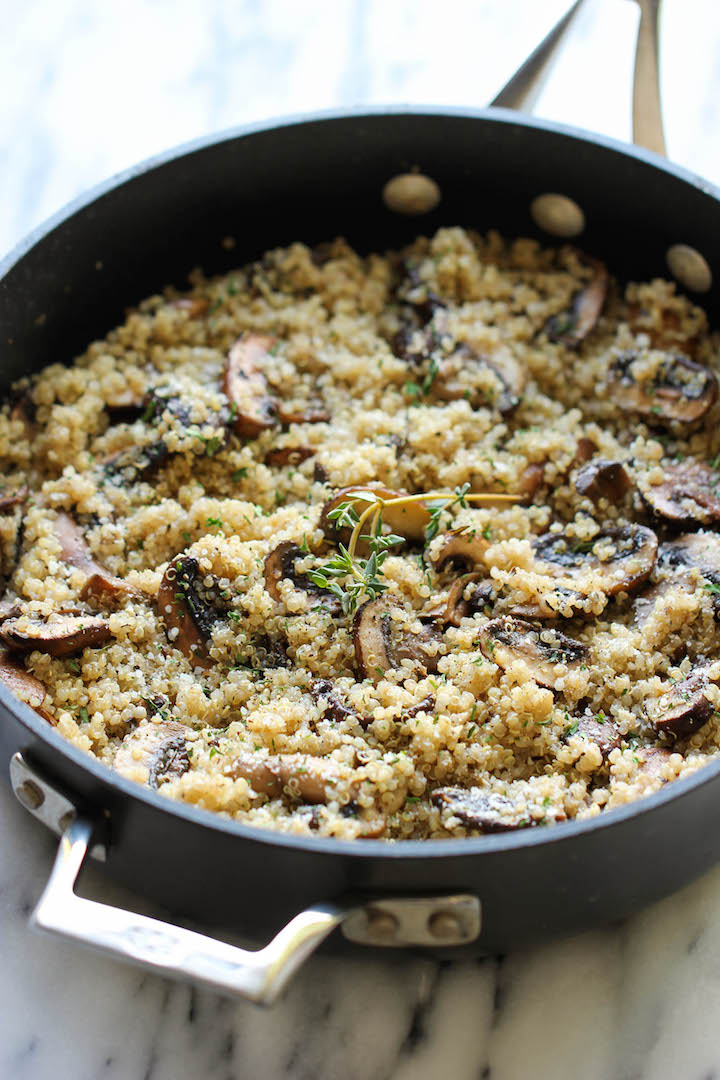 Replace rice with quinoa and cook this delicious and healthy garlic mushroom quinoa in less than 1 hour. It's a tasty side dish which is also perfect as the main course. Dried thyme and mushroom are guaranteed to give this recipe a mouthful of flavor–you'll never miss the meat!
6. Carrot Tahini Quinoa Burgers with Tzatziki
Enjoy your burgers the healthy way using plant-based patties, fresh cabbage slaw, and a tasty homemade tzatziki. This carrot tahini quinoa burger will end your cravings for your favorite comfort food without the guilt! Your patience is the key to prepare this burger from the patties all the way to its sauce. Don't worry. After the first bite, your effort will be paid off!
7. Veggie Quinoa Fried Rice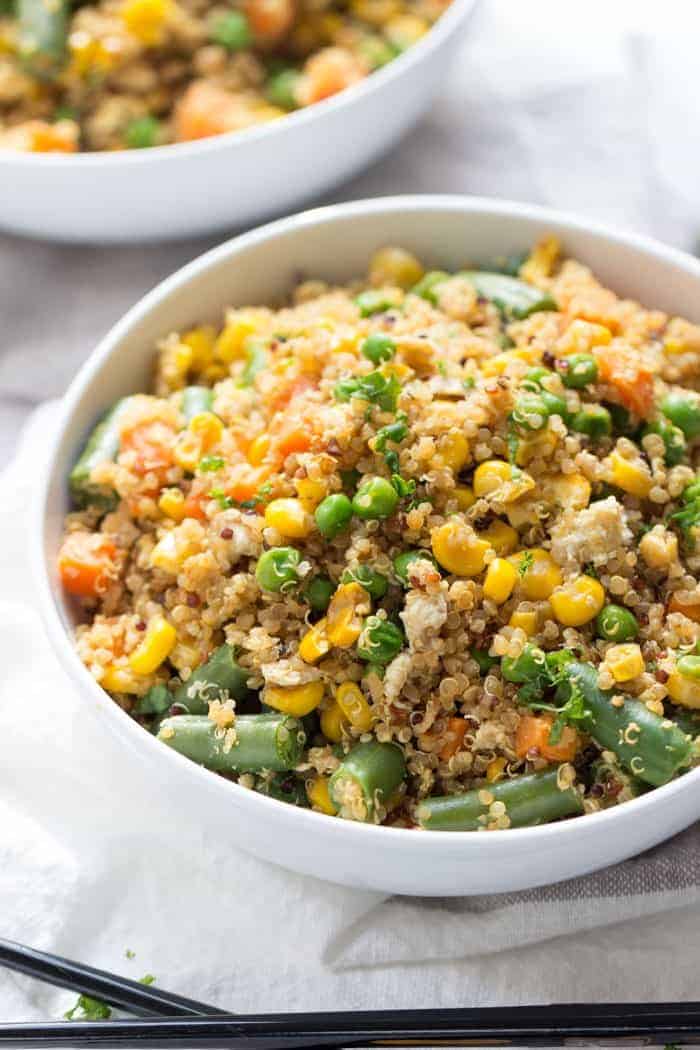 This quinoa fried rice is loaded with veggies and ready in less than ten minutes! It's packed with protein and contains twice as much fiber as any other grains. If you like this dish, what you need to do is cook the quinoa with veggies and garlic then add scrambled egg, soy sauce, and ginger and that's it! To make the cook time even shorter, just use pre-cooked quinoa and frozen veggies.
8. Quinoa Enchilada Casserole
This meatless enchilada will quickly become a family favorite. You'll never eat enchilada the same way again! This quinoa enchilada casserole is so cheesy and so flavorful as this dish is loaded with cheddar and mozzarella cheese, chili powder, and other incredible seasonings. It's impressive and not boring at all! And just like any other casserole dish, you have to spread your preferred mixture in a baking dish, add more cheese, place it in the oven and wait until bubbly perfection!
9. Quinoa Stuffed Baked Tomatoes
This is how you enjoy quinoa–inside juicy and sweet large tomatoes! It's a fun and appealing way to serve quinoa every day. How to make this dish? First, saute the sausage, spinach, and garlic. Then, mix them with herbs, quinoa, and cheese in a bowl. Get large tomatoes and fill them in with your prepared quinoa stuffing. Bake for 20 to 25 minutes, and voila!
10. Toasted Coconut Breakfast Cookies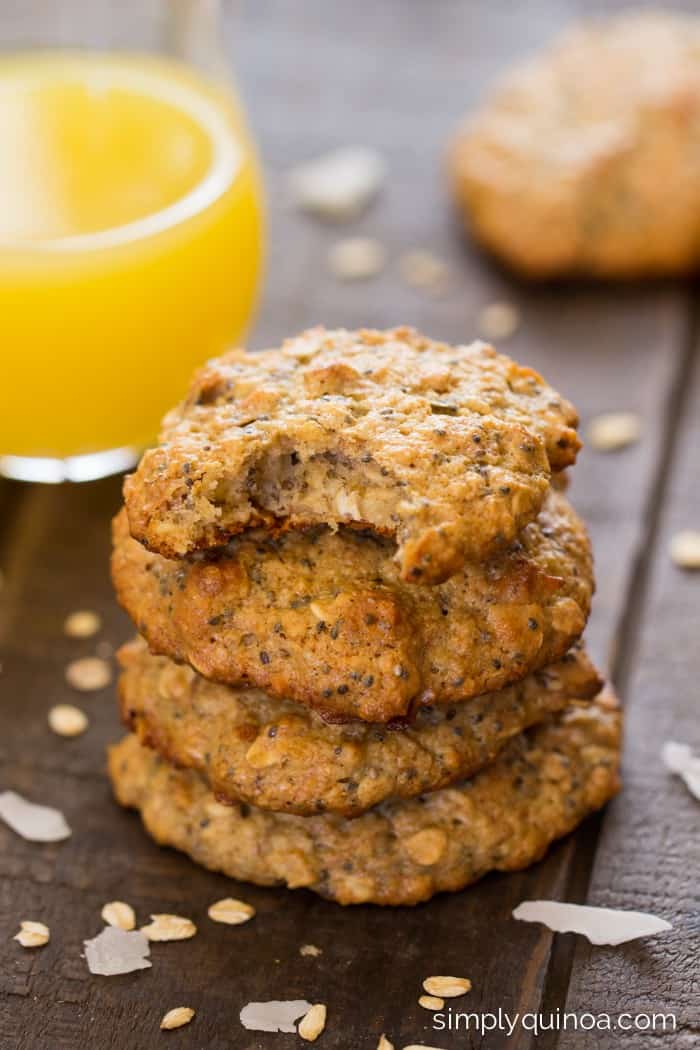 Homemade cookies are love! While you have your go-to cookies recipe, why not try these toasted coconut breakfast cookies and make it healthier. Aside from they make a great breakfast or snack, they are a good source of fiber and healthy fats. These are also easy to concoct. Combine all the ingredients and pop them in the oven for 15 minutes!
11. One Pan Cheesy Chicken and Broccoli with Quinoa
I've been in the quest for a healthy dish that will still be pleasing for my picky eater. He loves cheese so I tried to incorporate as much cheese in his meals. The first time I saw this recipe, I knew I need it! Luckily, it's healthy and easier to prepare. Cook everything in a skillet and wait for a few minutes.
12. Buffalo Cauliflower Quinoa Meatballs
Get ready for these "meatless" meatballs. They're the perfect addition to your diet plan. The meatballs are made with quinoa, garlic, cauliflower, and breadcrumbs. What makes these quinoa meatballs completely over-the-top? Its homemade buffalo sauce! For the sauce, just melt butter in the microwave then stir in hot sauce, garlic powder and chili powder. Easy!
13. Blueberry Breakfast Quinoa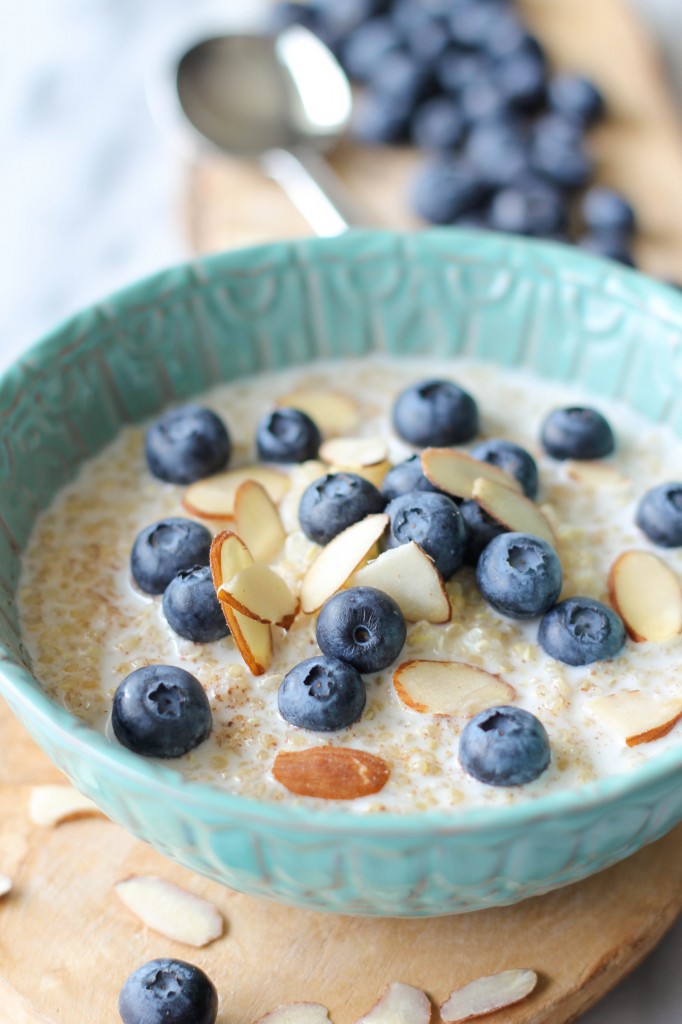 If you enjoy a delightful bowl of oats every morning, you'll surely enjoy this breakfast quinoa as well. It's really easy to make. Once you have all the ingredients, mix them in a bowl and serve with your favorite toppings. You should consider this recipe because honey, quinoa, almonds, and blueberries go well together!
14. Quinoa Pizza Crust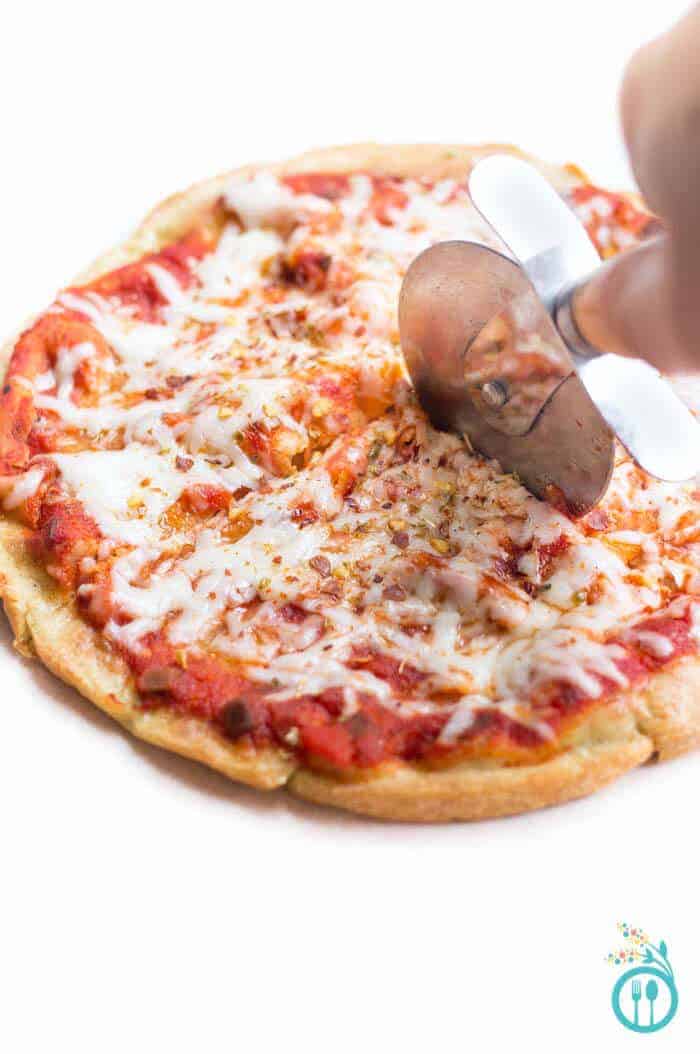 This is a must-try quinoa recipe you can use for pizza and also for cheesy garlic sticks. For the crust, you need quinoa, water, baking powder, olive oil, and salt. Blend them until smooth and creamy. Now, you have a healthy crust to use for your pizza recipe.
15. Quinoa Avocado Sushi
I'm a huge fan of sushi. Temaki or hand-rolled sushi, uramaki, and maki, you name it! I can gobble them all down in a flash! Thanks to this quinoa avocado sushi recipe, now I can eat my favorite snack anytime. This recipe requires simple and wholesome ingredients which you might already have in your fridge.
16. Dark Chocolate Quinoa Granola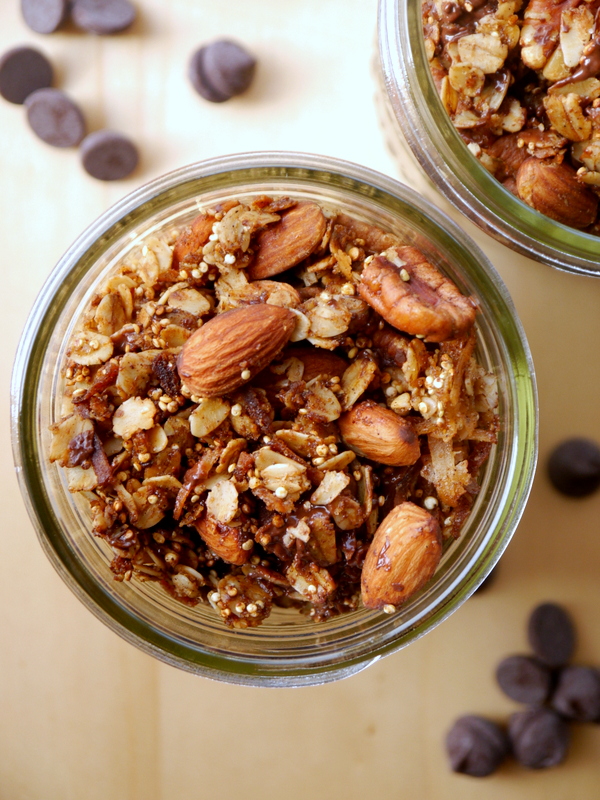 Have you tried quinoa in your granola? This dark chocolate coconut quinoa granola is my new favorite on-the-go snack! It tastes so good with almonds, pecans, dark chocolate chips, and sweetened flaked coconut. The tandem of quinoa and granola in this recipe is truly one-of-a-kind!
17. Cranberry Quinoa Winter Salad
Cranberry quinoa salad is a healthy and delicious dish chock full of fall flavors and holiday vibes. It's a special salad made by tossing cooked quinoa and cranberries with veggies, candied walnuts, and a homemade dressing. You can save this recipe for the holidays or prepare this any time of the year.
Kale Salad with Meyer Lemon Vinaigrette by @damn_delicious! Quinoa and goat cheese? Yes please! #salads #winter
👇👇👇https://t.co/V58stc0da1 pic.twitter.com/wLpY9MEyb3

— Homemade Recipes (@BestHomeRecipes) January 26, 2017
18. Homemade Quinoa Milk
Make this quinoa milk at home using only four super simple ingredients–cooked quinoa, cinnamon, dates, and water. It doesn't stop there because you can make this nutritious milk in just 5 minutes! It's a delicious milk for vegans and for non-vegans, too!
19. Spring Chili Quinoa Bowl
Don't get fooled by the list of ingredients. This spring chili quinoa bowl is actually a very easy recipe. What to do? Cook all the sliced veggies together with vegetable stock and let it simmer until nice and thick. Serve this with cooked quinoa, mashed avocado, green onion, sliced radishes, lime wedges, chopped chives, and homemade buckwheat crisps. This recipe is also versatile–you can add any flavor you want.
20. Quinoa Muffins
If you have a bunch of quinoa in your pantry and don't know where to use it, try this recipe. You won't regret it! It's a great twist on a classic and it's also easy to make. It starts by mixing the ingredients in a bowl, place them in muffin cups, and bake them for 30 minutes at 350 degrees.
21. Quinoa Turkey Stuffed Peppers
I already have fresh bell peppers, and since I'm planning to make this recipe over the weekends, I still need to grab some quinoa, tomato sauce, cheese and instead of using ground turkey I think I will go for ground beef. And the remaining ingredients, I already have in my pantry. I have a strong feeling, these stuffed peppers will be a big hit! Why not try it, too?
Learn how to cook quinoa and the ways on how to properly store and prepare it. Watch this amazing video from Clean & Delicious:

These 21 quinoa recipes are great reasons to make you keep quinoa at home. We know how quinoa makes us fit and healthy, but do we also know how good they taste when cooked with the right recipe? Let this list show you how amazing quinoa can be!
Which of these quinoa recipes are you planning to try? Let us know in the comments section below! You might also want to check out this list of 15 Healthy Cauliflower Recipes That Are Easy To Make. 
Don't forget to keep in touch, foodies!
Also, make sure to follow us on Facebook, Instagram, Pinterest, and Twitter!
Editor's Note – This post was originally published in May 2016 and has been updated for quality and relevancy.