Get your day off to a good start with these easy and healthy oatmeal recipes. Include these recipes in your morning routine and feel great all day!
The way you start your day has an impact on how it will end. And the best way to start your day is by loading up on a healthy and filling morning meal. Sometimes, people are too busy to cook breakfast in the morning and end up eating a granola bar or a slice of bread. If you're one of them, then this is the perfect time to switch things up and change your breakfast game. There are so many easy ways to get all the energy you need for the day. Why not try oatmeal? It's easy, quick, tasty, and won't leave you hungry until midday. And if you're also looking for a health-giving meal, oats fits the bill!
17 Healthy Oatmeal Recipes To Start Your Day With!
l love mornings. I love the smell of freshly cooked pancakes. Honestly, I'm not a huge oatmeal person. Not that I don't eat oatmeal, I just found it bland and boring. That's how I used to think! Until I found and gathered these astounding healthy oatmeal recipes. I've learned that topping my oats is where all the fun and magic begins because the options are endless. No more boring bowl of oatmeal for me! Oatmeal is really impressive for it can be insanely delectable and super healthy at the same time! And now I'm its biggest fan!
1. Clean Eating Apple Pie Oatmeal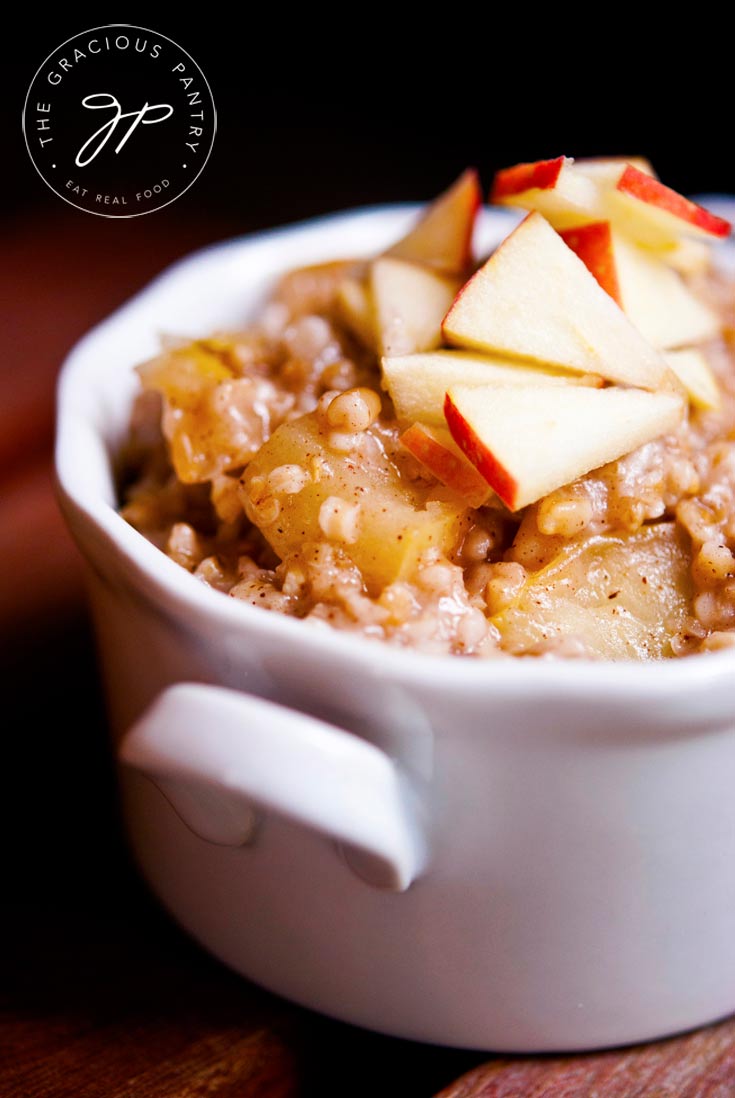 All the same flavors of an apple pie but 100% better for you! Make this clean eating apple pie oatmeal anytime soon for a healthy and delicious breakfast or comfort meal.
2. Baked Oatmeal with Berries and Coconut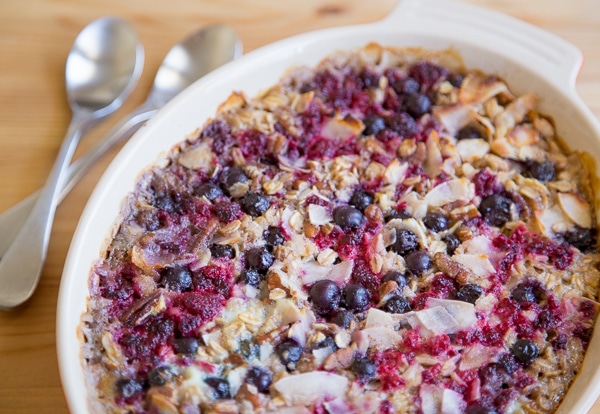 This baked oatmeal combines all the lovely flavors of mixed berries and coconut to make the most delightful, high-protein breakfast that can instantly feed a crowd!
3. Brownie Batter Overnight Oats
One bowl won't be enough of this luscious and chocolatey overnight oats with chia seeds and Greek yogurt. This beauty will have you licking your spoon and bowl clean!
4. Vanilla Cake Batter Oatmeal
A gluten-free, dairy-free, sugar-free and vegan oatmeal recipe that has the exact taste of your favorite vanilla cake batter! It's a breakfast treat sweet and lovely enough to be dessert.
5. Baked Steel Cut Oatmeal with Tart Cherries & Pepitas
This baked oatmeal with dried cherries and pepitas or simply, pumpkin seeds, is seasoned with ginger, cinnamon, and nutmeg–it's a mind-blowing flavor everyone will enjoy.
6. Superfood Oatmeal Bowl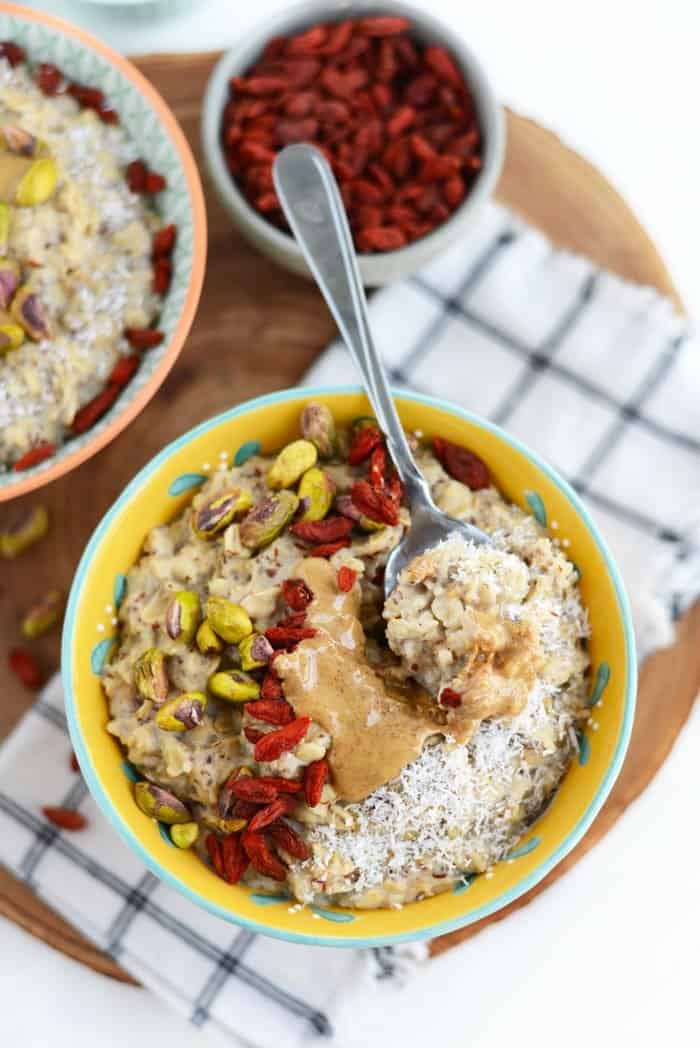 Get out of bed sleepyheads and enjoy a bowl of this nutritious superfood oatmeal jam-packed with chia and ground flax. But the real magic happens when you load up your oatmeal bowl with incredible toppings such as pistachio nuts, goji berries, almond butter, and shredded coconut.
7. Zucchini Bread Baked Oatmeal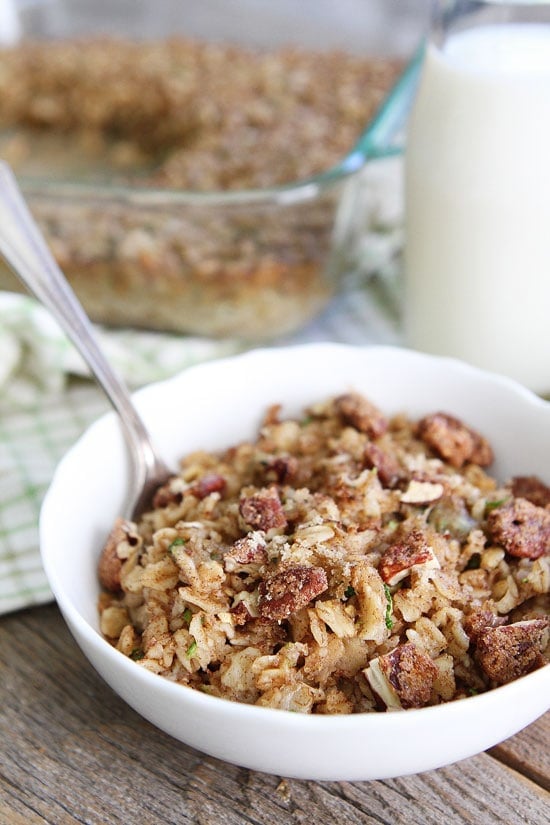 Zucchini bread and baked oatmeal come together, giving you a decadent breakfast treat filling enough to give you energy throughout the day. I know not everyone appreciates zucchini but give this recipe a chance and I bet you'll be astonished at how delicious it tastes!
8. Blueberry Peach Oatmeal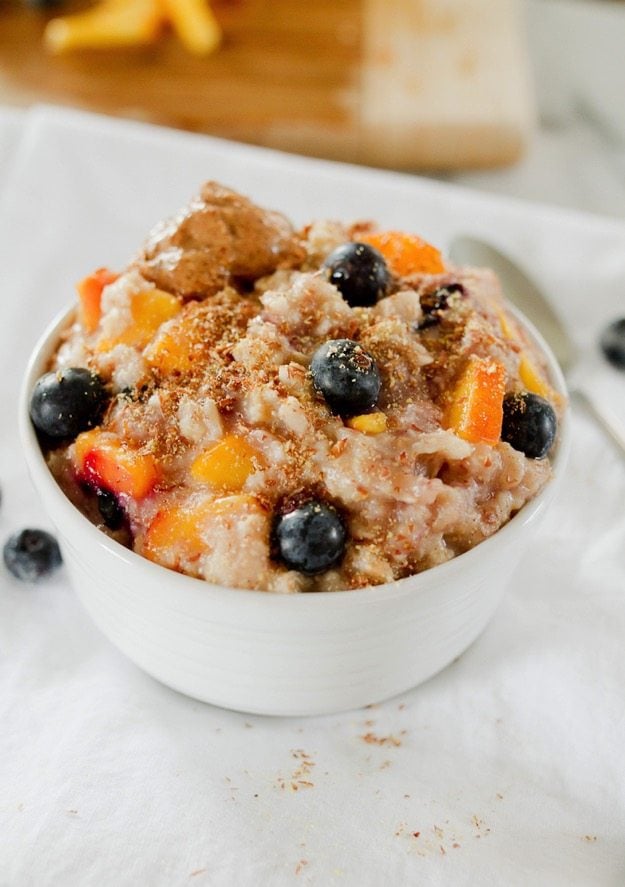 This blueberry peach oatmeal is full of goodness: fresh blueberries, fresh peaches, ground flax, and almond butter. It's so yummy, sweet, and fruity!
9. Skinny Cookies 'n Cream Oatmeal
A fan of cookies and cream? Try popping this fun flavor into your morning oats for some cookies and cream bliss! This skinny cookies and cream oatmeal is quite simple but tastes really amazing.
10. Espresso Overnight Oats with Salted Date Caramel
For a coffee enthusiast, this bowl of espresso overnight oats is truly a gift from heaven. No need to sip a steaming cup of coffee. Just put it in your oats and it's good to go!
11. Blueberry Cheesecake Oatmeal
Don't feel guilty gobbling up a whole bowl of cheesecake every day. With this blueberry cheesecake oatmeal, you can enjoy a sweet treat you can feel good about.
12. Peanut Butter Banana Overnight Oats
Peanut butter and banana just launched the best pairing with this oatmeal recipe. You will be stunned and ultimately satisfied with how the flavors are mixed together.
13. Blueberry-Pistachio Overnight Oats
The intense color on this oatmeal also portrays how intense the flavor is. Homemade blueberry compote brings this oatmeal recipe over the top.
14. Oatmeal-Rhubarb Porridge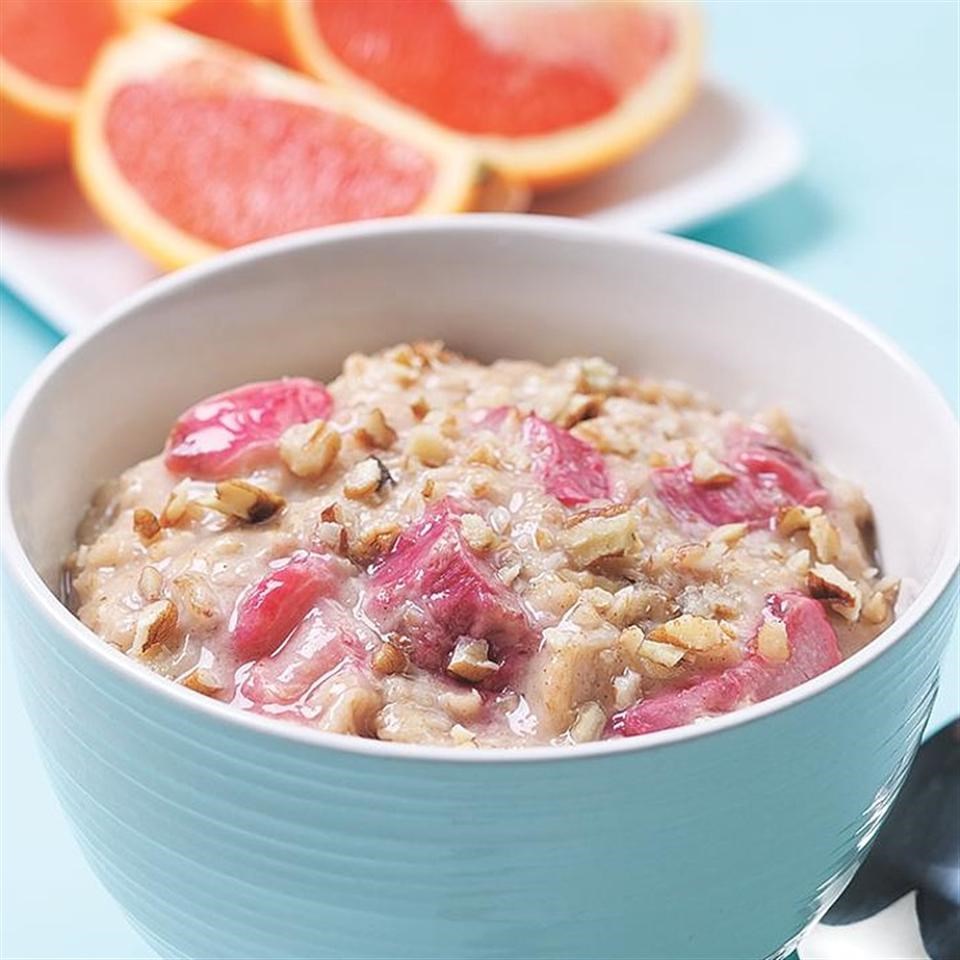 Rhubarb is a variety of perennial herb packed with vitamins, minerals, organic compounds, and other important nutrients. No doubt, this oatmeal-rhubarb porridge is absolutely healthy!
15. Pumpkin Pie Oatmeal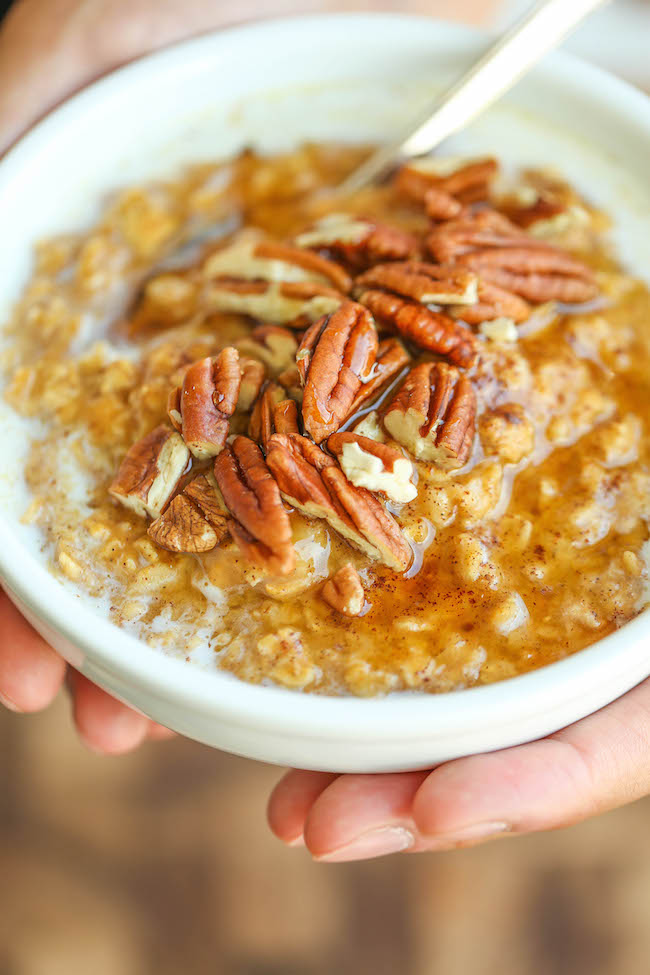 Start your day off right with a pumpkin pie–but in oatmeal form! It's a healthy meal with all the glorious flavors of pumpkin pie with pecans and maple syrup.
16. Chia Oatmeal Breakfast Bowl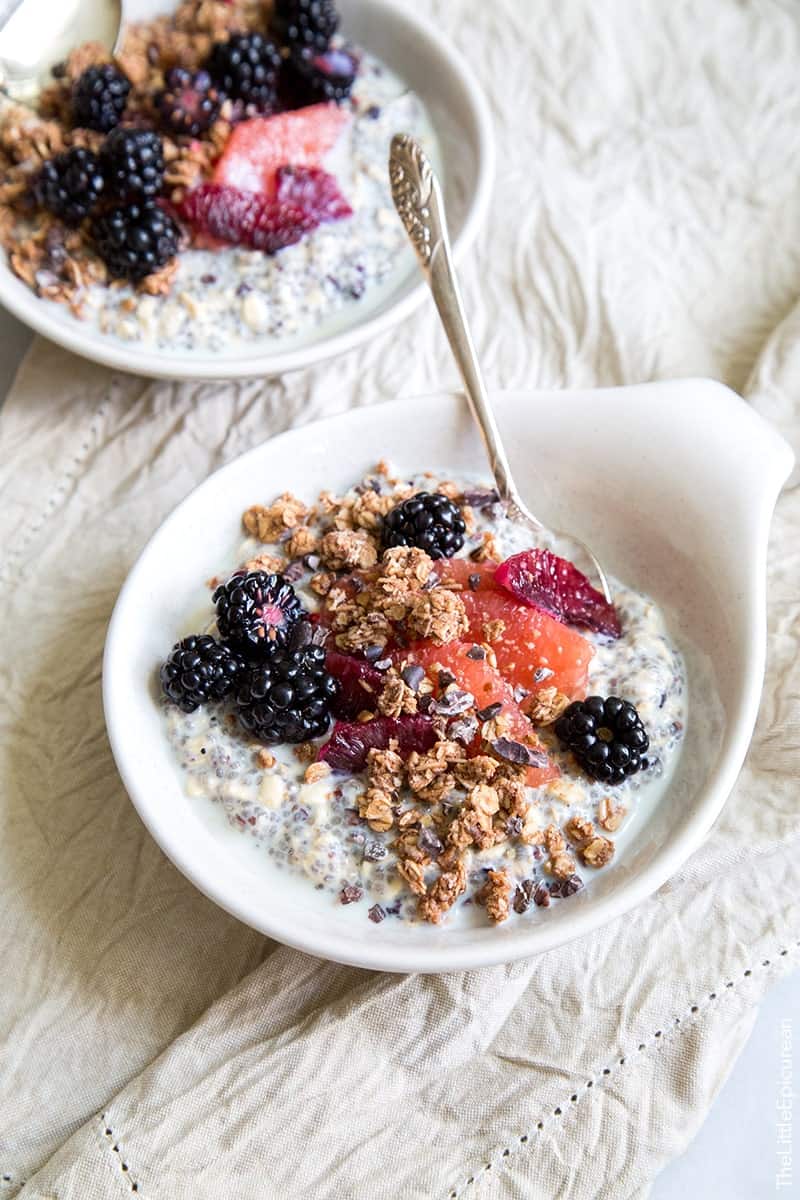 Oatmeal never looked so good! Make this healthy chia oatmeal that's loaded with fiber, antioxidants, and omega-3 fatty acids. It will keep you healthy and energized.
17. Carrot Cake Overnight Oats
This carrot cake overnight oats is not just a morning meal to me. It looks like something I will serve to my friends and family any time of the day. Something to feed their cravings for a delectable treat.
Still looking for more oatmeal recipes? Watch this video from Fit Men Cook and discover sweet and savory oatmeal recipes:

You've just witnessed a wonderful collection of healthy oatmeal recipes perfect not only for breakfast but also for dessert and snacks. And what could be better than a bowl of indulgent oatmeal on a lovely morning? It's rich and creamy, and can be served warm or cold. Aside from that, oatmeal is packed with vitamins, minerals, fiber and antioxidants. What's not to love?
What do you think of these healthy oatmeal recipes? Which recipes are you planning to try? Share your experience with us in the comments section below. You might also love these 12 Healthy Breakfast Recipes To Start Your Morning Off Right.
Don't forget to keep in touch, foodies!
Sign up for our newsletter here!
Also, make sure to follow us on social media too: