Find the perfect Thanksgiving pasta recipes to add to your menu. These pasta recipes are the perfect fit for the most festive meal of the season!
Thanksgiving Pasta Recipes To Keep The Evening Alive
Pasta is great any time of the day, and is appropriate for practically every special occasion. It's versatile to complement any flavors you choose. And since pasta noodles come in different shapes, you're sure to get variations of textures and a unique pasta experience every time. Pasta dishes can be extra tasty, flavorful, fit to feed a crowd, and will leave you satisfied for longer. Also, they're super easy and most of the time ready in 30 minutes or less! Take a look at these scrumptious and festive Thanksgiving pasta recipes to find the best one for your menu!
1. Veggie Lovers Baked Pasta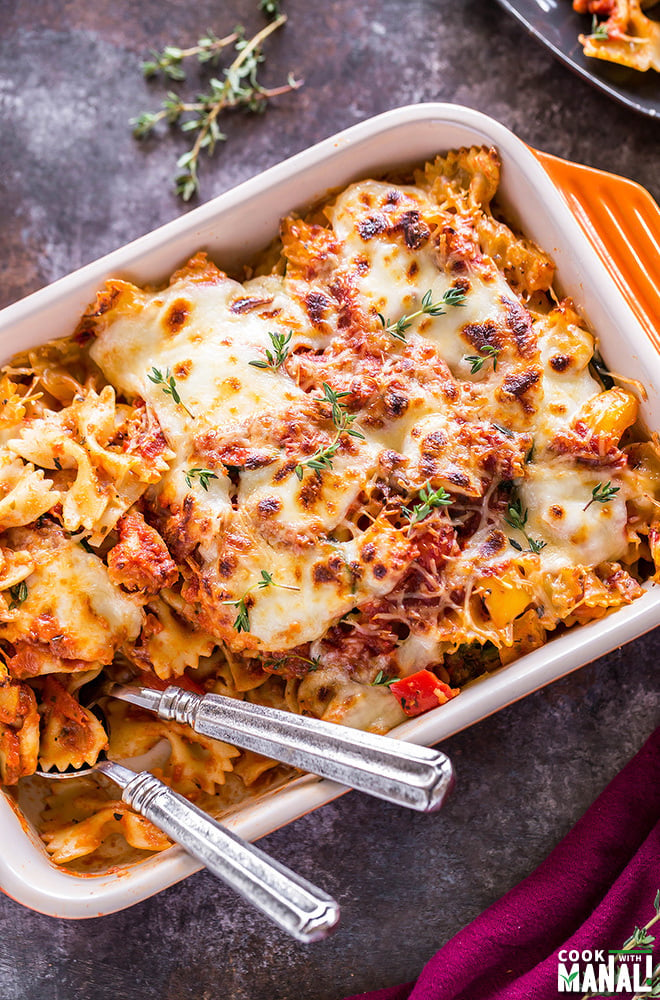 Baked pasta has always been a favorite in our home and it keeps getting better and better every time. This recipe here instantly become a favorite last weekend. It's a pasta loaded with fresh and juicy vegetables. Even without meat, this baked pasta dish is still satisfying.
2. Vegan Butternut Squash Stuffed Shells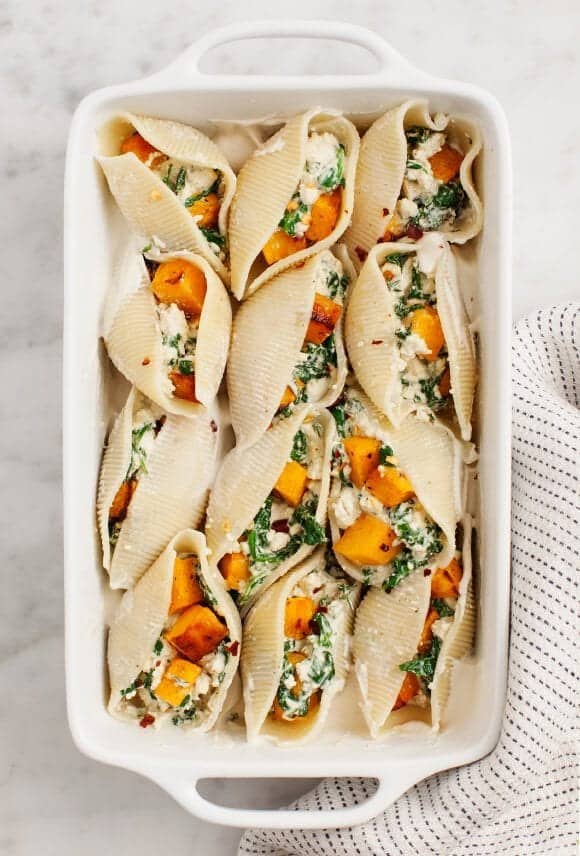 These vegan butternut squash stuffed shells are the most beautiful pasta you will see today! Jumbo pasta shells are stuffed with butternut squash, spinach, and crumbled tofu filling in a creamy cashew sauce. Something fresh and new for Thanksgiving!
3. One Pan Pumpkin Macaroni and Cheese with Beer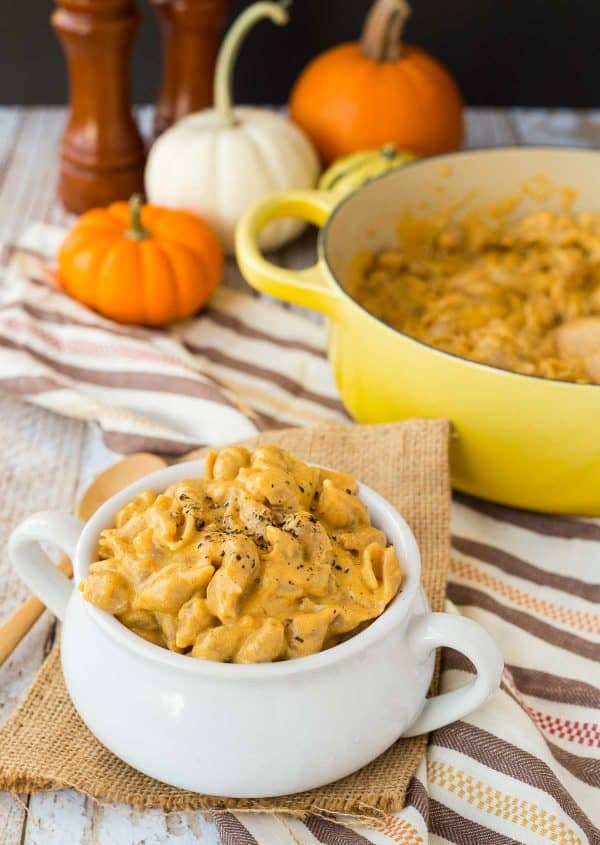 An ooey-gooey pumpkin mac 'n cheese recipe with plain pumpkin puree made even better with a touch of beer. Have this cheesy comfort meal ready in as fast as 30 minutes! It's a diet-friendly version thanks to pumpkin and whole wheat pasta.
Double the layer, double the slice ? This pumpkin pie recipe is NOM. https://t.co/ZCwUneM3zQ pic.twitter.com/oFcEb3pbc4

— Homemade Recipes (@BestHomeRecipes) November 22, 2016
4. Butternut Squash Alfredo Pasta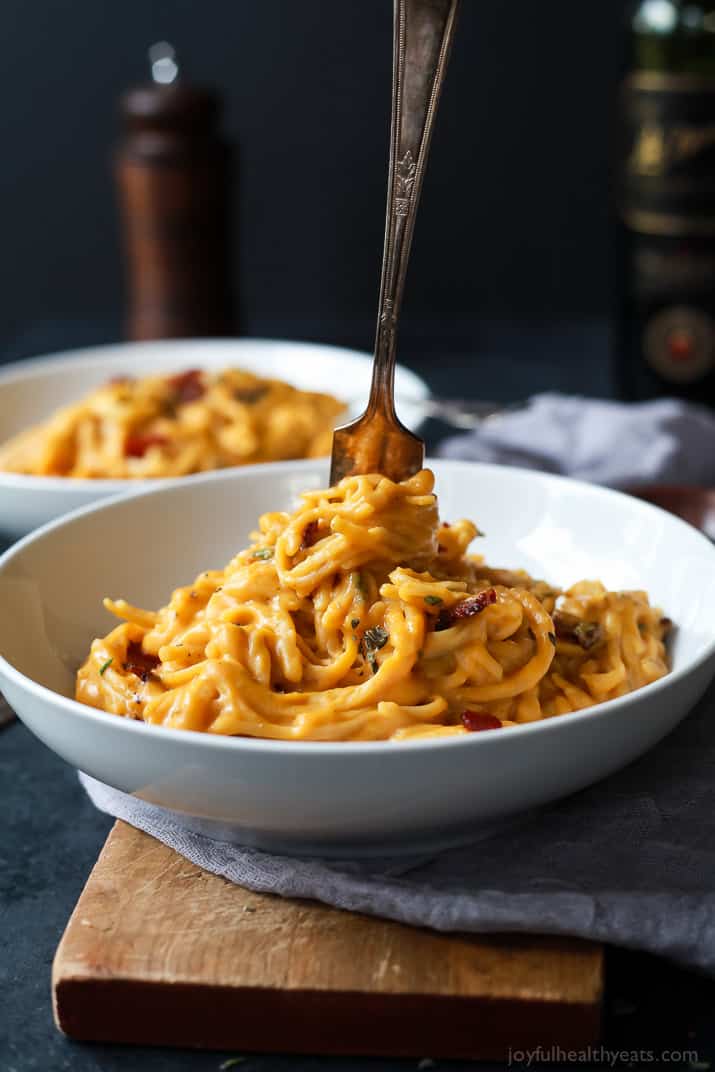 When Alfredo pasta meets the wonderful flavor of fall! This hearty butternut squash Alfredo pasta is extremely creamy, rich, and a little salty, thanks to the bacon. Going gluten-free with your Thanksgiving meal doesn't get any better than this.
5. Pumpkin Ravioli with Brown Butter Sauce and Pecans
This pumpkin ravioli pasta could be the most subtly flavorful pasta you can share with your family. It is delish and will give you an aromatic mouthful of fall flavors in every bite. You can't go wrong with fresh homemade ravioli!
6. Chicken Taco Pasta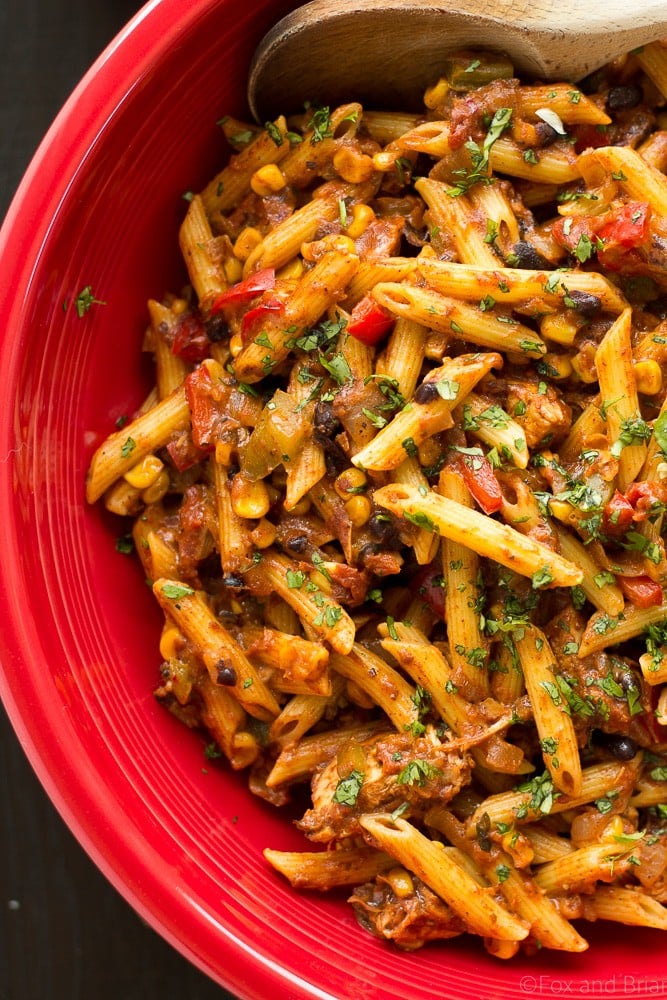 If taco pasta is your thing, this recipe makes for a perfect Thanksgiving dinner that takes less than 30 minutes to prepare. Now you're bound to enjoy your favorite Mexican comfort food in hearty pasta form.
7. Butternut Squash and Spinach Lasagna
A completely vegetarian lasagna recipe with all the goodness of not only one, but three kinds of cheese including ricotta, Parmesan, and mozzarella. Each layer is filled with butternut squash, vitamin-rich spinach, and melty cheeses.
8. Roasted Garlic Tomato Spaghettini with Garlic Parmesan Bread Crumbs
Treat yourself a spaghetti recipe with mixed cherry tomatoes, fresh basil, and fresh rosemary topping with a subtle garlic taste. Parmesan bread crumbs add a texture you'll fall in love with. This spaghettini is easy enough for a weeknight meal and tasty enough for Thanksgiving.
9. Creamy Autumn Pumpkin Pasta
Whether you want a filling dinner, a holiday treat, or a healthy comfort meal, this creamy pumpkin pasta perfectly fits the bill! It's easy and quick, vegan, gluten-free, and nut-free. Could you ask for more?
10. Pumpkin Pasta with Sausage and Apples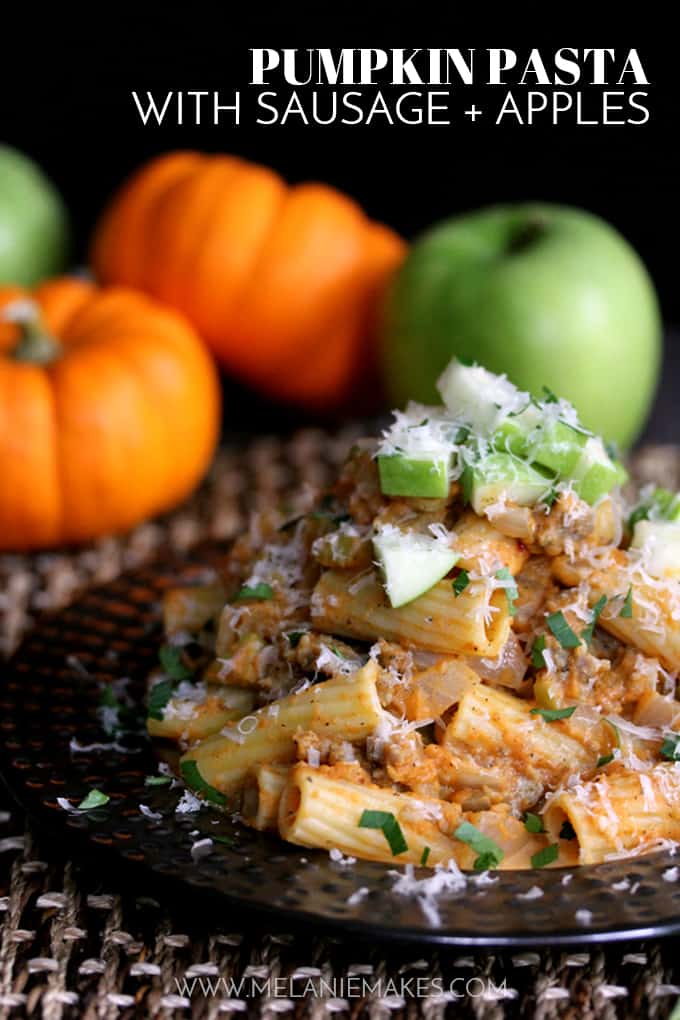 Apple isn't just for garnishing this insanely good pumpkin pasta recipe. It's actually mixed into the sauce! It may seem unconventional at first, but it works and tastes pretty good, too! You'll be craving this even after Thanksgiving.
11. Baked 4 Cheese Butternut Squash Rigatoni
This butternut squash rigatoni pasta is smothered in a rich roasted squash sauce with roasted garlic and a few bits of pepperoni to add some spice. It has a four cheese combo of ricotta, parmesan, fontina, and mozzarella, so how can you not drool over this pasta dish?
12. Autumn Crunch Pasta Salad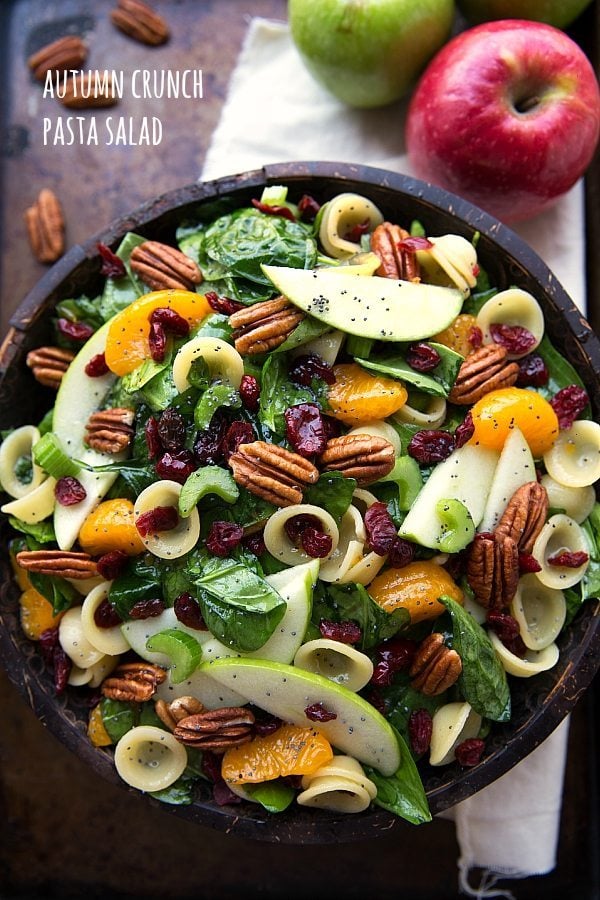 Pasta salad isn't only for summer! Serve this refreshingly flavorful fall-inspired pasta salad and it'll excite everyone in the table. It's fall harvest perfection jazzed up with feta cheese and a delicious poppy seed dressing.
13. Garlic Mushroom Pasta
Savory, meaty mushrooms are an inexpensive and nutritious way to enhance the flavor of any meal. They have a delicate earthy taste that makes the perfect substitute for meat. This fettuccine pasta is simple and quick with just mushrooms, Parmesan cheese, butter, and garlic!
14. Butternut Squash Pasta with Chicken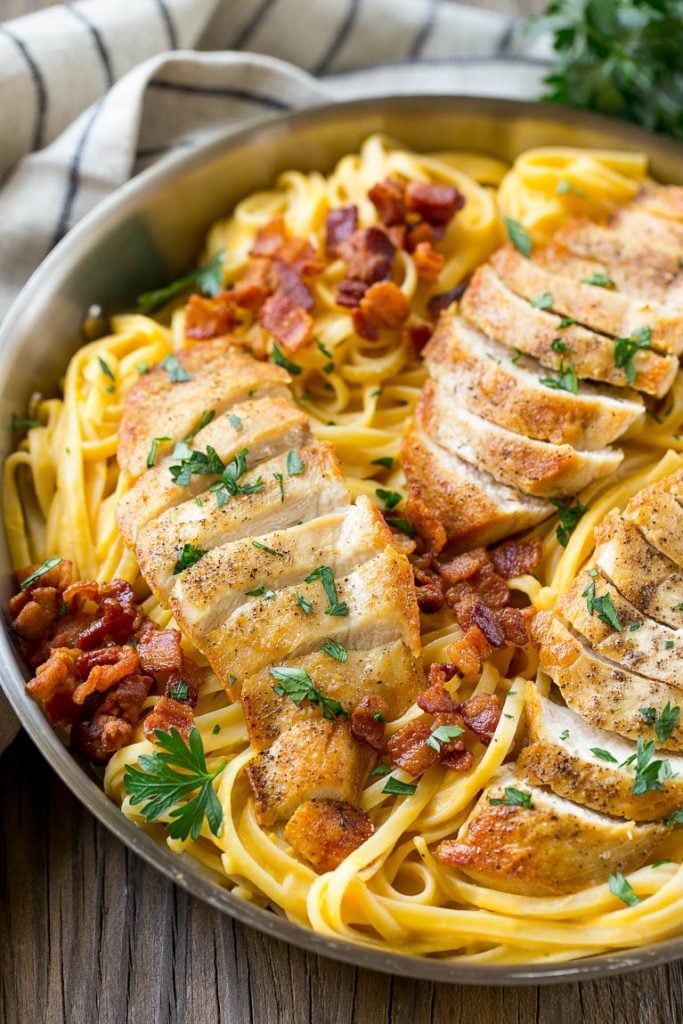 What makes this linguine pasta in a creamy butternut squash sauce extra special is the crispy bacon bits sprinkled on top along with slices of chicken breast—grilled or roasted. This is truly a hearty meal that deserves to be part of your Thanksgiving feast!
15. Bowtie Pasta with Bacon and Brussels Sprouts
Brussels sprouts may not be the most popular vegetable around, but with the right recipe, flavors, and seasonings to make it shine, Brussels sprouts can become your (and your kids') new favorite veggie. This recipe for bowtie pasta is a great way to start loving Brussels sprouts!
16. Gnocchi With Pomodoro Sauce
This pillowy potato gnocchi is enveloped in a quick and simple tomato sauce flavored with herb-infused olive oil. A solid pasta dish to cook for Thanksgiving.
17. Butternut Squash and Spinach Tortellini
Balance your Thanksgiving weeknight meal with a healthy pasta recipe enriched with protein, fiber, and vitamins. Put together a rich and tasty butternut squash and spinach tortellini and have your dinner ready in 30 minutes!
Watch this video from The Domestic Geek and learn more about preparing a good Thanksgiving dinner meal and making it over the top.  
I know you're planning to have a joyful Thanksgiving celebration, and it'll be awesome if you find space for any of these pasta recipes at the table. These Thanksgiving pasta recipes are guaranteed to make hearty and filling dishes that will surely satisfy everyone in your home. Instead of sticking to your usual pasta recipe, why not give these recipes a try!
What do you think of these Thanksgiving pasta recipes? Which recipe is your favorite? Share your thoughts with us in the comments section below.
Up Next: 15 Thanksgiving Sweet Potato Recipes
Don't forget to keep in touch, foodies!

Also, make sure to follow us on Facebook, Instagram, Pinterest, and Twitter!
Editor's Note – This post was originally published in November 2016 and has been updated for quality and relevancy.